If you're a new, emerging act and you're trying to get yourself known, the standard way to do this nowadays seems to be: (i) releasing an ok song by way of creating some buzz; (ii) releasing another ok song, this time perhaps as part of an EP, in support of some small-scale gigs you're doing in East London or, alternatively, Camden; (iii) releasing yet another ok song with a video that looks like it's had some money thrown at it, in the hope that music blogs might write more prominent 'Introducing' pieces about you, before (iv) finally unleashing your big hitting Obvious Big Single upon a yearning public to promote your eventual debut album. This should, hopefully, lead to (v) selling quite a few records and graduating to larger live venues.
Well, strangely, Swedish/Australian twins Elektra and Miranda Kilbey, monikering themselves Saint Lou Lou, appear to have mixed stages (i), (iii) and (iv) up by putting out an Obvious Big Single, accompanied by a rather excellent video, as their first ever release. Of course, that's very generous of the Scandipodean sisters, but by giving us 'Maybe You' so early in the game, they are causing a bit of panic. What if they can't better the brilliance of their buzz single? Or, worse – what if they DO better the brilliance of their buzz single? Could the music world cope with an act that consistently obliges? After all, we all love a bit of a moan on Twitter about how 'this is not as good as the last single'. Many factors to take into account here, readers!
Heavily blogged and Tumblred, 'Maybe You' has been available to purchase for ready money since August and the video has had much affection from music lovers as well as aesthetes. The staying power of the song in the past few months is testament both to the songwriting as well as its delicious performance by the Kilbeys. It's elegant and draws you in instantly. Whilst not yet generally available to listen to in recorded capacity, other Saint Lou Lou compositions we've heard, like the soaring 'Skylights' and the super-catchy 'Julian', promise very, very exciting things from this duo come the new year. On the back of a pleasing live set at Birthdays a couple of weeks ago, we caught up with the siblings to find out more about what's in store for them in the forthcoming months.
'Maybe You' has had phenomenal response online. Out of all the material you've recorded so far, was it an obvious choice for the first single as far as you were concerned?
Elektra: After we recorded 'Maybe You', we all thought it to be a beautiful and melodious tune, but we did not particularly feel that it was "the one". We were in the midst of trying to find our sound and the song was one of a few things we were working on during that time, so eventually we decided to share the song on Soundcloud just for fun to see if people liked it.
Miranda: Ultimately, there was no master plan behind the release, we were just curious to get a response from our surroundings. And that's how it happened!
Who was the song written about?
Elektra: It tells the story of a failing relationship, be it between two lovers or siblings. The disappointment that comes along with it and the hope to try and make things work that one last time.
You've worked with pop-amazers Richard X and Hannah Robinson. What can you tell us about your collaboration with them?
Miranda: It was great fun. They are very professional people who were so easy to collaborate with, super chilled but also super effective. We combined our strengths and created a dream-pop super-ballad!
Are you familiar with Richard's back-catalogue for other artists? If so, do you have a favourite Richard X production in terms of a song?
Elektra: Yes! We were very excited to work with him, just by looking at his résumé. He is a pop genius! We have loved Sugababes since we were kids, so we were especially impressed with the fact that he had produced our favorite, 'Freak Like Me'.
Someone I showed the 'Maybe You' video to described you as a "Lana Del Rey Times Two". Is that a compliment for you?
Miranda: Lana Del Rey is fantastic. We simply adore her music, visual persona and creativity. With that said, the comparison between us and her probably stems more from the fact that we are young females with black and white music videos, rather than having similar music styles and looks.
Elektra: But being compared to an artist you admire is, of course, a compliment!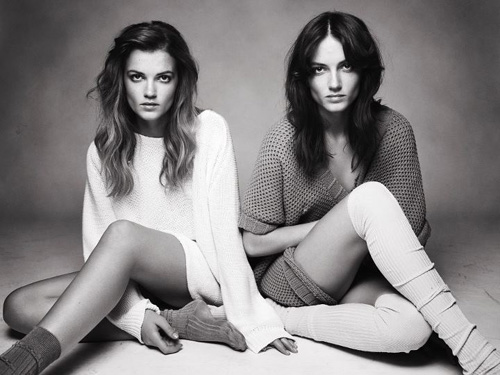 How did your deal with Kitsuné come about?
Miranda: About a week after we put 'Maybe You' up on SoundCloud, they reached out to us and it went on from there. We've always been fans of Kitsuné and listened to their compilations, so it felt very natural to release our first single with them.
You've done some low-key gigging in London recently. Where was the first show you played as Saint Lou Lou and what was it like?
Elektra: The first official gig was in Stockholm at Popaganda Festival, in August this year. It was pretty scary playing your first gig at a big day festival in broad daylight, to a lot of people. It was like the big reveal for us, no one had ever seen us in real life and, presumably, had no idea what to expect. To us, pretty much never having stood on stage, it was like being thrown in at the deep end, at the same time as it was so exciting to finally meet an audience and play more of our music. To make matters a bit worse, we had flown in from Paris the night before and Miranda had come home with tonsillitis and 40°C fever and couldn't talk. But on the day, we had a lot of whisky and coffee and just got up there.
Miranda: And in what seemed like 2 seconds, it was all over. In hindsight, it was probably not the greatest gig, but you need to start somewhere…
Having to'd and fro'd between Stockholm and Sydney, where do you think of as home at the present time?
Miranda: Hmm… We've been living a bit all over the place since August, being in London, then Sydney and then on tour. We feel very at home in Sydney with our Australian family but, equally, as 'at home' in Stockholm with our Swedish family.
Elektra: Miranda has a flat in Stockholm still with all our clothes and stuff in it, so that is the only place where we actually come home, if home is defined as a space with all your belongings in it.
Would you say that 'Maybe You' is a good indication of the general sound of your 2013 debut album or are there likely to be any left-of-centre sonic surprises?
Elektra: It's hard to describe what the rest of the album will sound like at this stage, as it is a work in progress. 'Maybe You' is in one way the foundation of the "Saint Lou Lou sound" to us, so it will follow the footsteps of it. We will stick to the ethereal soundscape, but there will probably be a few surprises – we might be more pop than people suspect.
You've cited Cocteau Twins as an inspiration. If you could have written one Cocteau Twins song yourselves, which one would it be and why?
Elektra: 'I Wear Your Ring' from Heaven or Las Vegas. That whole album is amazing but 'I Wear Your Ring' was the first Cocteau song we ever heard, so it's still our favorite. It's like this rush of sound of exoticness. These seemingly foreign words… and the verse starts out so powerful and captivating from the first word – ethereal in its prime. "Men are so nice… Men are so useful… He pleases me fine..". The lyrics are completely sublime.
When can we expect to hear your next single?
Miranda: In the new year! We have a little collaboration coming out in the coming month as well. Expect a pop dream, next level Thelma and Louise storytelling and simplicity.
'Maybe You' is available now through Kitsuné Maison. Listen to Saint Lou Lou's dream compilation here.