- Photo by Pyry Antero
The new season of Best Fit little sister site Ja Ja Ja's upcoming showcase is edging closer, so ahead of it we speak to Helsinki based band Phantom. They'll be playing on a live bill that includes some of the best sounds coming out of the Nordic countries in one of London's finest live music hangouts, The Lexington. So while they are a long way from home we delve beneath Finland's 'deep and dark' music scene to discover a little about the band origins.
It soon becomes clear that almost everything that is needed to be known is in the band's name – haunting music, genre defying eerie soundscapes, "You can't run from your own shadow", Hanna Toivonen unnervingly sings on The xx co-signed track 'Scars' – all of which is derived from 'phantomising'; a musical hybrid of Toivonen's jazz credentials and Tommi Koskinen's production prowess, encompassed on the evocative four-song Scars EP which undoubtedly hints at more great things to come.
For those who don't know, who are Phantom?
Phantom is Hanna Toivonen and Tommi Koskinen from Helsinki. It is originated in the deep, dark underground of the Helsinki music scene (it's just deep and dark down there anyway). Hanna is the singer and songwriter, also a former jazz student from Sibelius Academy and the co-Founder of a soon-to-be-launched music discovery app Clerkd by Mukava Music. Tommi is the producer and sound designer (Phantom & Kitkaliitto), a new media and sound design student in Aalto School of Arts and UDK and also Co-Founder of AudioDraft.
Why did you decide on that name – there's something wonderfully ghostly about your music?
Actually it has parts of both of our first names (and a P), but right after we decided upon the name we started calling our musical "phantomising". It put together both of our backgrounds and described the soundscape we were after. It worked really well for the Scars EP and the band name was perfectly concretised with the 'Scars' music video by our friends at Delicode Ltd. The music of Phantom is certainly something that is eerie and ghostly.
What made you want to go into music?
Both of us have been involved with music for most of our lives. With very different backgrounds of course. Hanna has been doing classical, jazz and pop for years and Tommi's been doing electronic music for over 15 years. We got together as Phantom simply because it was easy and fun to work together and we realised that the sound that we created was something we both agreed on and liked.
Could you explain the single 'Scars'? What's it about and what was the recording process like?
Hanna: This is actually the song that kick-started the whole project. I composed the draft of it on an airplane from Sydney to London and thought instantly that I wanted to finish it with Tommi. Then we decided to do a whole EP, a music video for it and went to SXSW to release them.
Tommi: Hanna originally played the raw piano and vocal sketch of the song and it felt instantly that there's big potential in the song. One day we recorded the vocals and piano tracks at the studio and then we started working on the soundscape. Without any conscious decisions, the production and the sounds were drifting towards trip hop influenced downtempo filled with sonic textures of granular synthesis, analogue tape delays and massive reverberations. Piece by piece, iteration by iteration, it just all came together pretty quick. We recorded and finished the whole Scars EP songs in just one month. After a regular work day at our daily jobs, the work continued almost every evening at the studio.
The music has a bit of an R&B feel about it. You guys are Scandinavian and at first people don't think that place goes with that genre – when you go deeper down though, you see the likes of Neneh Cherry and even Robyn and Little Dragon for recent examples. Is this a genre that you grew up listening to?
We had no conscious decision to make any particular kind of music, so the hints of R&B must be very subliminal in there. Neither of us is an R&B person, but with our different musical backgrounds combined, it might have evoked some grooves and arrangements like that.
What artist has had the single most influence on the band's sound?
It's really almost impossible to name any single artist that has had most influence. Our different musical backgrounds just influence the music we're doing and blend with the "phantomisation" process into something that's called the sound of Phantom.
Do you feel that the burgeoning Nordic music scene is given enough credit? People seem very bogged down with the American and British scene and do you feel Ja Ja Ja has helped shine a light on what's going on over there?
We think there's a rise of the Scandinavian music wave coming soon. A lot of interesting material is coming out from the region these days so it will definitely get the attention eventually. In the end, the region where the music comes from doesn't matter that much. The culture of the region obviously has some influence to the sound, but it all eventually comes down to just individually good songs and artists. It might be also a cultural difference here, but in Finland for example the producers don't come as easily out of their bedrooms to broadcast their creative work out to the world. They need a little bit of push for that and websites like Ja Ja Ja can really help them to get their music out there. We don't know for sure, but it was probably the Ja Ja Ja blog post about Phantom that triggered The xx to notice us.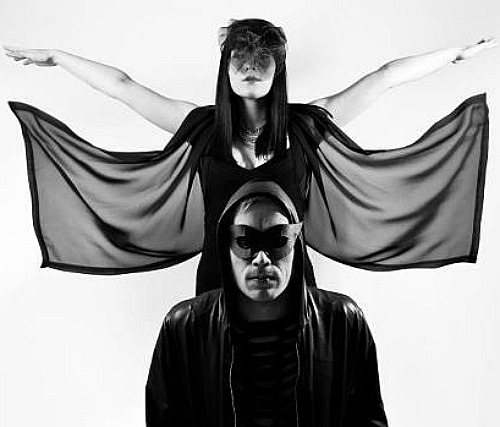 Photo by Pyry Antero
To inform us a little, who is your favourite and current Nordic artist at the minute – someone who we should check out (except for yourselves of course!)
Hanna: Lately some Scandinavian artists I've been listening to Gracias, Highasakite, Milesmore and some Husky Rescue remixes.
Tommi: I would say one of the most interesting producers from Finland is Desto. I'm really looking forward to seeing his live show with Jimi Tenor at the Insomnia Festival in Norway. I haven't listened to the albums yet, but seeing Karin Park from Sweden live was really inspiring for me.
The xx gave you a co-sign didn't they!? How did it feel to have a band as successful as them share your music?
First we really couldn't believe that they had shared the 'Scars' video. We both respect and like The xx a lot, so it felt quite extraordinary that they had accessed our music and liked it enough to let their fan base know about it :).
Aside from the next week's showcase, what are your upcoming plans with recording new material and touring?
We have some gigs lined up for the rest of the year and we're currently working on our first album and we are really making finishing off the album our first priority. We expect it to be ready by the Summer 2013. We are still considering all the options with labels, management, booking etc. and are talking with handful of them at the moment.
Lastly, can you describe your music in 5 words or less?
Phantomised (Cinematic, Eerie, Electronic)
Phantom will be playing Ja Ja Ja at The Lexington in London on Thursday 27 September. Tickets are available here.

They'll also play at the Dalston Victoria on 30 September.