- Photo Credit: Matthew Acton
The release of Embers' video for 'Hollow Cage' in November prompted a kind of miniature Kony Effect among initial viewers gobsmacked by what they were witnessing. Two thousand-plus views of the video in the first 72 hours might not seem a lot in a wider context, but for an unsigned band from Manchester that's not bad going.
The video itself is a beauty, featuring Embers performing live amid a sublime backdrop of crisply lit neo-gothic stonework in Manchester's Gorton Monastery. Credit must go to the band that such surroundings couldn't distract from the performance itself, which over seven and a half minutes unfolds from a minor chord piano line into a multilayered symphony of strings, pealing guitars and choral vocals. Ironic that a song called 'Hollow Cage' should fill such cavernous surroundings so emphatically.
It seemed almost natural to watch the video and wonder: How are they doing this? What's really going on here? Unlike the Kony video's creators Invisible Children, however, research into Embers revealed no shady figures, only a young Manchester four piece who have been quietly but steadily building a following over the past year or so, helped by a handful of videos showcasing the band's ambitious – and already stunningly accomplished – cocktail of post-rock scope and Hans Zimmer-esque theatrical assault. If they are eventually outed as some sort of Invisible Children-style collective, we'll at least be able to come back to these early videos and say "Yeah, but aren't they incredible?"
Before getting too carried away though, it seemed wise to speak to the band. They had a lot to say for themselves.
Hello Embers, how was your 2012?
2012 was kind to us – it was our first full year together as a band and we feel we developed a lot. We're very proud of what we've achieved and we stand by everything we've put out.
On your website you describe yourselves simply as "A band consisting of four people. We write music we like." Is there an intentional move on your part to stay out of the limelight and keep the focus on the music?
I don't feel it's a case of us intentionally avoiding the limelight. It's more the case that we feel the music and all the art that we create around it will always be held in higher esteem then anything we could lead with on a personal basis. As a band we put so much of ourselves and our time into the music; the focus is on the music because there's very little left over from us as people worth presenting beyond what we create. All of our influences, be it Sigur Ròs or Arcade Fire, put the music first beyond the personalities in the band and that just makes sense to us.
In that case, could you elaborate just a little bit for us?
Embers are Will Clutton, Nathan Howard, George Agan and Steven McInerney. We've been together for around 18 months now. Three of us had previously been in a band together but it fizzled out long before it went anywhere. We had a few months out while we gathered our thoughts and we decided to start again and set out to be everything as a band that we weren't able to be previously – be that down to lack of experience or perhaps not a clear enough vision. So about 2 years ago we started talking about the new band that became Embers, Steven was working with Nathan at the time and the band formed from there.
A lot of people will have discovered you as a result of the two phenomenal live performances recorded in Gorton Monastery . The effort that seemed to have gone into filming those videos demanded a reaction, which you certainly got. Were you surprised at the extent of their impact?
I think we were all very taken aback and flattered by the reaction we got from the videos. We poured everything into creating them and it took a lot of time and an extraordinary amount of effort and patience so we were delighted with the reaction. We had absolutely no idea how they'd be received so it was certainly appreciated to see it made a genuine impact on people.
With those videos in mind, you come across as a very accomplished live act, even though you only played your first gigs a few months ago.
Three of us were in a band previously, which no doubt helped us. We'd already developed a pretty good understanding between ourselves as individuals, and we already had a vague idea of how we were planning to push forward with this band. We were pretty lucky really, as things just seemed to click for us as a band pretty early on, which gave us a good starting point. We're also shameless perfectionists – we spend a huge amount of time talking over our parts and really trying to make sure everything we do is as good as it can be. It feels like it's mainly all this time and effort that we've put into our music that has brought us on most as a live act, which is great I think.
How did those recordings come about?
We knew that we wanted to do something very ambitious and we wanted to try and contextualise the scale of music that we try to make in an environment equally as grand. The Monastery seemed perfect, and through a lot of hard work, a little bit of luck, and some very kind people willing to let us use the venue, it all fell into place.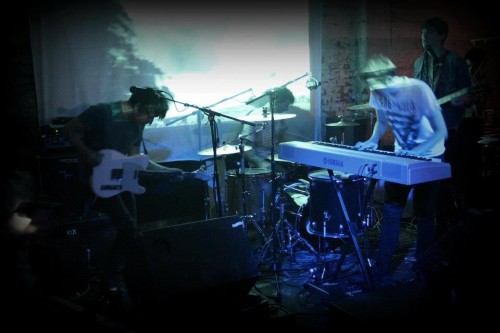 Photo Credit: Matthew Acton
It's rare to find a young, unsigned band that can afford to create such beautifully elaborate videos. Have you got a shady benefactor? Are you the Manchester City of cinematic post-rock?
Ha, sadly not, though that would have made things a lot easier. We organised and financed the session completely within the band, which wasn't easy. We're just lucky to have some very talented friends who were happy to help us make the video, be it filming it, capturing the audio or performing with us, who shared a vision of what the session could be. We were aware when trying to set up the session it could have all fallen apart at any stage because of our limitations. Thankfully though, through a lot of hard work and support across the board, it came together.
Can we expect epic stage sets and additional musicians at all Embers gigs?
Perhaps not at all Embers gigs but as many as we can, yes. We worked exceptionally hard to create visuals that accompany all of our tracks when we perform live, and that aspect is something we want to continue building on as a band, combined with additional musicians. The bands we admire do this incredibly well – they create a great atmosphere live and it makes the gigs they do genuinely memorable experiences. We want to do that too.
The two key influences that have been linked to Embers are Sigur Ros and, more generally, film scores. Would you say that these are fair enough?
I'd say that is fair. Within the band our influences vary but the type of music that we feel we want to make at this stage is anything that draws the listener in and moves them emotionally – we just want our music to be as cinematic, grand and adventurous as it can possibly be. We're drawn to music like this, hence the love of Sigur Ros, Arcade Fire and composers such as Hans Zimmer or John Murphy – they're all masters at what they do.
Are there any other artists that you would say are important to you creatively?
You can do anything these days from your own bedroom, and in many ways you have to. It's creative Darwinism in a way – to survive and stand out in the early stages you have to have a vision of what you want to be, be able to contextualise your music and out of necessity take influence from other sources. It just so happens that comes instinctively for us, and it's something we enjoy doing. With our influences on recent projects it's ranged really; be it the film Heima when creating our projections, or Phillip Glass when writing a string part, right through to the production of Eno or the films of Adam Curtis. There are a wide variety of reference points that go into anything that we create and we like to think it makes our music all the better for it.
What sorts of themes drive you as songwriters?
There isn't a consistent theme with the songs and I don't think there ever should be. We try and keep our music as diverse as possible – we like the idea of a collection of songs being like a film score, constantly changing and shifting from one little world to another, providing contrast and mood, and appealing to different thoughts and emotions. Diversity in sound and context adds to the experience you get from a band, and we certainly enjoy playing the songs more too. We'll never understand how some bands can just play variations on the same song style or mood. We can't imagine anything more uninspiring or mundane.
You're still unsigned – is that your own choice? Surely you must have had offers?
We've been lucky to have had a lot of interest around the end of last year but at the moment we are unsigned. We're a new band, and we're not really concerned with these things. The focus will always be on what we're creating, and that's our priority. We realised the importance of being completely self sufficient during our first few months as a band and we decided to put it on ourselves to make whatever we could make happen, happen. Undeniably life would be easier if we had a good level of support behind us, but we're very aware of the pitfalls of relying on that.
What have you got planned for 2013? Is an album in the works?
It would be nice to have our first album finished by the end of 2013. As far as where we'd like to be, I guess it's just a case of continuing to build on the momentum we've gained up to this point. We've got some plans for the start of the year that are pretty exciting and hopefully all will be made clear within the next few weeks.
You have previously tipped Halls for success. Is there anybody else you think we should be looking out for this year?
Two fellow Manchester bands, PINS and MONEY, should have a very good 2013.