Having already spent a few years in the music industry, Kelli Scarr and Dan Chen have had the chance to not only garner much experience to mould their craft, but also to experiment with the sounds that would lead them to create their latest project, Color Of Clouds.
Collaborating on music for years under this moniker, this isn't the first time the Brooklyn-based indie pop duo have worked together, having previously toured in another band, which they admit didn't let them play the music they wanted. But now, with their recently released Nine of Arrows EP out in the world, Color of Clouds are now finally able to fully explore their love of layered synths and what Scarr calls, "the dark side of nostalgia."
You two have known each other for a while now, but how did you get together as Color of Clouds? And why now?
Kelli Scarr: I had a few songs lying around that were slated to be released on my first solo record, but I knew that it was going to take a while to finish and I really wanted to get the songs out while they were still fresh. We were also interested in a creative platform where one of the main goals was to get songs on TV and in films, so we re-purposed these songs with that in mind and added more along the way.
Dan Chen: Yup – so we've actually been writing and recording together as Color of Clouds for a few years now. As we've gone along though, and especially with this new EP, we've begun to "find our sound." The music has evolved into something more tangible, and more mature in some ways – certainly no longer just focused on TV and film (although being part of a movie soundtrack is always nice). At any rate, it's because of this more cohesive sound that we decided to give the project a little more of a push this year.
So how did you both get into music?
Scarr: I got into music first through church and then started singing the National Anthem around town at rodeos and sporting events. It's all been downhill from there.
Chen: I grew up playing classical piano, and then played guitar in an indie rock band in high school.
I read that you were in a band together at some point called Moonraker. Can you talk a bit about that?
Chen: Moonraker. Five people in a van, touring the US and Canada, sleeping on floors. We had an indie deal and refused to perform any of the songs that the label put out for us, because we thought they were 'dated' (i.e. we were bored of playing our old songs). We were headstrong, to say the least.
Scarr: Half of the guys were studying film at Boston University and playing instrumental music on the side. They decided they wanted a singer, so they posted these ridiculous fliers on the Berklee campus, and I was green enough to respond. But for real, there seemed to be a lot of serendipity that brought us all together to have some really epic musical experiences. We are all still great friends.
What is the story behind the band name, Color of Clouds?
Scarr: I was interested in a guy who was telling me about receiving a text message from a girl that said "Clouds are your color." I told him how horrendously cheesy she was and then promptly stole the text message and flipped it into our band name.
You both have had your own separate projects (Scarr: Salt & Samovar, Moby; Dan: Nicole Atkins, Eddi Front). How did working on those other things shape the way you make music for Color of Clouds?
Chen: Well, production-wise, I have learned a lot from working with Nicole . She's been able to hire these great producers – Tore Johansson, Lenny Kaye, Phil Palazzolo; they each have different approaches, but share an ability to execute a grand vision for an album or project. I learned ways to build unique textures by blending instruments together – that's sort of the way I put together the layered 'out-of-tune-ness' that you hear on our synth parts. Working with Eddi Front is always a huge experiment. We'll record random sounds like the two of us stomping on old road-cases, and the glitchy whir of broken organ components; we've created an assortment of sounds from scratch in the studio. Eddi has such an edge to her. She loves mistakes, and loves sparseness. She is a constant reminder to me to keep experimenting in music.
Scarr: I wanted Color of Clouds to be different than all of my other projects. I didn't want to rehearse or worry about PR or touring. I also wanted to experiment with my voice in different ways and sing about things I wasn't getting to address in my other bands. This project has been a lot of fun.
How do you go about the songwriting process?
Scarr: Usually Dan builds a track and passes it off to me to play around with lyrics and melody. Sometimes we'll write in the same room, but it's rare. I like the alone but together approach to electronic music. Sharing vocal takes and production feedback, etc. via email.
Chen: For the song 'Nine of Arrows', we just sat in a room and jammed until a verse and chorus section appeared. But like Kelli said, that's rare. More often we begin by sending ideas back and forth through email. Eventually, of course, we always end up hashing out the details in the studio together before we record all the final parts.
What song on the EP was the most memorable to work on?
Chen: I liked working on 'Reaches You' the best. It went through many revisions, starting off extremely full of instruments and parts, but steadily getting stripped down as we went along. And then Kelli sang this amazing vocal on it that was meant to be just the rough vocal. She sang other versions later, but that first 'rough take' was transcendent, so we ended up keeping it.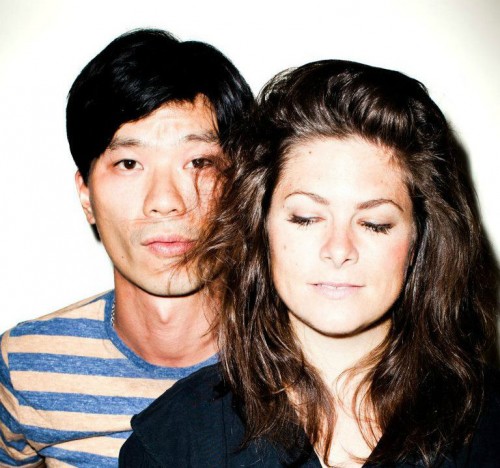 There's an 80s synthpop quality to your music. Where did that stem from?
Scarr: Growing up in the 80s, then seeing the movie Drive recently and falling in love with the heavy synth sound all over again. It made me see that this music still works today and I love how it can emote the dark side of nostalgia.
Chen: I love synths. Synths, synths, synths.
What is the song 'Nine of Arrows' about?
Scarr: I got my cards read by a dear friend last winter and nine of arrows was my jam. The card resonated so much with where I was at at the time. There are many interpretations of this card, but the one I chose to apply to this song surrounds finding strength in how far you've come and not worrying about how much there is left to do. I thought that this theme somehow floated nicely above the sounds that Dan was making.
How has being in Brooklyn influenced your sound?
Chen: Brooklyn's been home for so long that I'm not sure how exactly it has influenced our sound… I suppose since there is a huge music scene here, with so many little sub-niches of music, there's a certain energy that can be tapped into here. There have been many times that I've gone to check out a band at a random neighborhood venue, and been just blown away by the opening act. Brooklyn is good for inspiring moments like that.
Who are you listening to right now?
Scarr: Iris Dement, International Submarine Band, Angel Olsen, Karen Dalton.
Chen: Prince's new stuff, Bat for Lashes, Gambles. That new song by David Bowie!
Any musical guilty pleasures?
Chen: Hmm…does the Prodigy count? I still love 'Out of Space', and 'Poison'. Hah.
Scarr: I love all country music, but the only stuff I feel guilty about is when I catch myself singing along to all the words with Carrie Underwood.
Can you name us a song that you wish you wrote and why?
Chen: Beastie Boys 'So What Cha Want'. No explanation necessary.
Although your EP recently released, when can we expect a studio album?
Chen: Hopefully next year? We tend to write in small batches, three or four songs here and there so it might take a little while, but we'll get there.
And finally, what's next for Color of Clouds in 2013?
Scarr: Touring Asia in September! Finally we can say "big in Japan" for realz!
Chen: Yeah, we've recently signed record deals with two indie labels, one in Korea and the other in Japan, and we're planning to go out there. Probably Hong Kong, too. The Paju Folk Festival is already confirmed, just outside of Seoul!