Cardiff is a city whose presence has become increasingly prominent over the past few years. This could be attributed to various things, the fact that it hosts the ever popular Swn Festival each year for example, or the fact that there's a hella good BBC Introducing show transmitting from the city. But it's more likely that this has all been going on for a long time, it's just that now we're sitting up and paying attention. We caught up with Among Brothers, one of the bands heading up the city's musical charge, as they head off on a UK jaunt. Find out more about them here before catching them at the following dates:
06 Jun 2012 – The End, Birmingham
07 Jun 2012 – Barfly, Camden London
08 Jun 2012 – The Independent, Sunderland
10 Jun 2012 – Undertone, Cardiff
Can you tell us a bit about Among Brothers – who you are, where you're from and how you guys came to be a band?
"We're five friends who met at Cardiff University, and started writing music as Among Brothers whilst we were all living together in 2009. We had all been playing music together in various capacities for a couple of years prior and a few of us had played some gigs in different bands together. It just seemed natural to start something more focused whilst living under one roof. We would practice in our living room or put all our instruments into a makeshift bindle and take them to a practice room in a trolley. Not much has changed, except that our trolley now has an engine and we call it a van. We're split between Cardiff and London now too."
What's the Cardiff music scene like, in your opinion? Is it a good place to be in a band?
"The Cardiff music scene is great because there is so much variety. A lot of cities are perhaps known for a particular sound or genre, but Cardiff has so many different bands you couldn't really describe the 'Cardiff sound', which means we get a lot of gigs with interesting bills and you get a chance to play with your friends even if they don't play a similar type of music to you. Local promoters do a lot to help out new bands, as do the local radio stations. Even with the variety of music, there's still a strong sense of community in Cardiff, and with so many friends in bands doing really ambitious innovative things with regards to the way they write, release and perform their music, we find ourselves constantly pushed and inspired to do the same.
There have been a few worried articles about venues closing down recently, but what people don't seem to mention are the new venues that are opening, new promoters putting on shows, and even existing venues starting to put bands on. Swn Festival is a perfect example Cardiff's thriving scene – it's sort of like Christmas for music in Cardiff."
What/who are your main musical influences, and which artists brought you together as a band?
"We listen to a wide variety of music, but there is certain common ground. Bands like Sigur Ros, Efterklang and Anathallo have influenced our sound the most, but we all have a lot of time for commercial pop as well."
What other influences are there over Among Brothers' music?
"We often write songs based on stories or books that we've been reading, or a film that we've seen, but it can be anything really. For example, 'Sam, Isaiah And The Wolf' was loosely based on a book by Reif Larsen called The Selected Works Of T.S. Spivet."
What do you think is the best thing about being a band in the current musical climate?
"Because the music industry is so saturated, artists are having to work so much harder to make their music heard. Nowadays, as a band, you can be almost completely self-sufficient, writing, releasing and promoting your own music, which means having complete creative control over your output. It's so exciting because people are always finding new and interesting ways to release their music, everything is a lot more DIY which makes the finished product a lot more rewarding. It's also nice to see that in recent years, the major labels have been trying to keep up with the indie's (and DIY bands) rather than the other way around."
You've got a pretty rounded view of things, being the creators of the music that's subsequently released through your own label. Why did you decide to create a label and what do you think the benefits are for a new band doing that?
"The main motivation for starting the label was to unite a load of amazing bands around in Cardiff. We wanted our first release (a compilation called Zero Years of Barely Regal) to document what was going on in Cardiff at the time of release. It wasn't just a shameless vehicle of self-promotion! As well as releasing Among Brothers material, the label is a way of us helping out bands that we really like. The obvious benefits of starting your own label is not having to wait around for anyone – we can release things as frequently (or infrequently) as we want. I suppose the aim for most new bands is to get people to listen to their music. One barrier for new bands is that some people aren't interested in listening to 'unsigned' music, so setting up your own label is an easy way to remove that stigma immediately. As stupid as that sounds, there is some truth in it."
What's your favourite part of the music making process?
"It's very hard to pick one specific thing, we love everything about making music, but if we had to choose: the very initial stages of a song, where we'll be playing with a particular sound or loop and using that to figure out how the rest of the song is going to be built."
How does an Among Brothers writing session typically go?
"Usually Alex will write the foundations of a song at home – this might be a particular loop or sound or vocal melody. Then we all get together and discuss how we think the song might progress. This is always an interesting part of the writing session because there will be a lot of different ideas. One of us might suggest taking the song in a direction that the rest of us would not have necessarily thought of. This usually involves recording a lot of different ideas and sharing them via email. Once the skeleton of the song has been written we then take it to the practice room and flesh it out. Quite often, the song will change quite a lot at this stage because taking it into a 'live' setting puts it into a different perspective."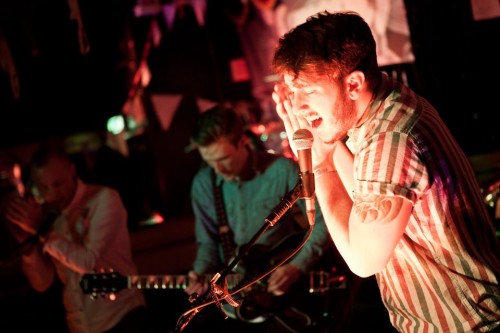 What's changed for you guys since you released your debut EP Homes?
"Before releasing Homes we had only played a handful of shows and we didn't have any preconception of how the EP would be received. Looking back, we were very naive. After the release we started getting more and more gig offers so we were forced to think about performing our songs in a live context. I don't think we were completely confident in playing live until our second tour, but it's one of our favourite parts of being a band now. We're always striving to improve that aspect of the band and we'll hopefully continue to get better as we keep playing together."
Can you tell me a little bit about your latest single 'Keep'? Where did the idea come from?
"The song is based on a story that John came up with about a father who makes himself believe that the world is about to end, so he builds an underground shelter and locks himself and his children inside for their own safety. We used the narrative as a basis and built the music around that. We recorded the song on an Island in the middle of the Thames. The only way to get to the island was by foot over a tiny bridge and it was full of abandoned buildings and rusty boats. It was a really fitting location to record a song about isolation."
Who are you listening to and enjoying at the moment?
Isaac: 'Something' by Chairlift, and the Winter Villains songs on their Bandcamp.
Alex: 'Instinct' by Niki And The Dove and 'Both Lights' by AU
John: 'Starships' by Nicki Minaj and 'Call my name' by Cheryl
Matt: 'Always' by Xiu Xiu, 'Self Immolation Family' by Self Defence Family and anything by Run, Walk!
Adam: M Ward's new album is fucking incredible. If I were a folksy singer-songwriter type I'd basically give up because I'd never be as good as him. Beach House and Ducktails also please me.
What does the future hold for Among Brothers?
"After our June tour, we'll be working on a follow up to Homes, so plenty of writing over the next few months."
If Among Brothers had a motto, what would it be?
"Never knowingly under-stoked."