AlunaGeorge have certainly been keeping themselves busy this year. You Know You Like It was released to acclaim across the board back in April and the London based duo have just completed a tour supporting Friends.
Their tracks have been remixed by the very capable hands of Lapalux and Raffertie, and the pair's knack for putting sensual, soulful yet playful vocals against a sublime electronic and bass driven background has led the duo to be touted as one of the most exciting musical propositions of 2012.
We caught up with Aluna Francis and George Reid on a sunny Brighton evening before they took to the stage at The Great Escape festival to find out where they've come from, where it is they're planning on going and the key to writing a perfect AlunaGeorge tune.
So you both met on MySpace, I believe?
A: Pretty much, yeah! It's quite funny because it didn't seem weird at the time, but when you say that now… it sounds a bit geeky! Like a dating agency or something.
G: Back when MySpace was new, I had some awful music up there – as you do. And I came across Aluna's band at the time, and thought 'that's pretty good'. Then left it alone, and about a year later, I was trying to find a Van Morrison song on the internet, and their band had done a cover of it, so they came up again. Then another year goes by, and they were a featured band on the front page, and I was trying to get some remixes done as my band had just split up. So I got in touch about doing a remix, and that was pretty much that. Then we hooked up to do some writing, and it came out completely different to her band, so… yeah. She had to be stolen!
A: No, it was more that I was given an ultimatum by my band. All or nothing, I wasn't allowed to do any other projects. So they kind of shot themselves in the foot there, I went for nothing!
Both of your backgrounds are in bands then?
A: Quite different bands though.
G: I was in a really sort of… techy guitar band for about four years.
A: And mine was quite electronic, left field, avant-garde stuff.
When did you reach a point that you realised you could make what you were writing together into a full project?
A: It was quite a while, it felt like we were messing around for ages.
G: Immediately there was something really fun about it. But I'd say it was about 6 or 7 months before we thought 'well, shall we just put this music out and see….' because there was no real idea apart from that we thought that what we were doing was quite good and it was fun doing it. So we kept writing, got the name….
A: Very original name…!
G: I just thought her name was too good not to use! But she needed some convincing… so we put mine on the end!
A: I couldn't bear to have a band just called 'Aluna' or, 'Aluna' with other words added to it…
How does a writing session for AlunaGeorge tend to go?
A: It's always different. The only basic rules of thumb are that George is the production side of things, and I do the vocals/melodies/lyrics side of things.
G: Then we nitpick and 'suggest' things to each other.
A: It depends, sometimes one of us will have something to bring to the other, or we'll just start from scratch, or we might have quite a finished thing…
G: There are loads of different ways and starting points, but it's nice to have different ways to do it – it's never standard.
How did you approach the first live shows?
G: Well it's taken us right up until now to get it to the point of how we want it. Because I think when you have finished a song that's been made, pretty much entirely on a computer, you think 'ah. Shit. How are we going to do this live?' So it's kind of reverse engineering and we look at what we can do live and what's going to be electronic. But when we first started, it was really basic just because… well, equipment's expensive! Neither of us had the money for it! So we did the first few gigs with this really basic set up, then we could buy another bit of equipment, so we built it slowly like that. Now we've got a couple of musicians that play with us. We've always had someone to play percussion…
A: This weird kind of, standing up business… No drummer's that happy with that set up!
G: The guy in Friends seems to do all right…
A: Yeah, but he's a gymnast! He does use his whole body to kind of… work. But if you're not that great with your body, it could look really weird to be standing up and drumming. It's not a natural thing.
G: It's tricky because you want as much of the sound of the songs to come across, but because a lot of people are still seeing us for the first time, they're hearing a lot of our songs for the first time so you want something for people to get out of it. So we've added a live bass as well as the hybrid of electronics that we use live. It's good though, and I think it's important because it's so easy to be this kind of 'dead' act. A lot of the time you'll have someone with a computer just… not doing much live and as much as it sounds good, and 99% of them are triggering stuff… you just never know!
A: I couldn't conceive of having fun on stage without the other musicians. The three of them together makes it feel like there's an event happening.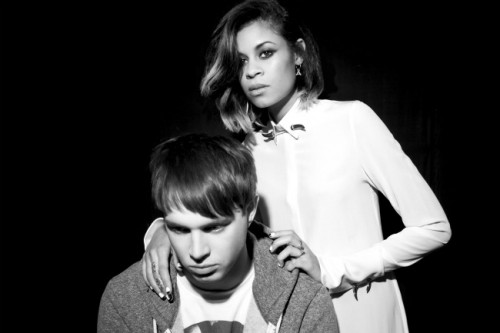 If you had to pick a motto for AlunaGeorge, what would it be?
A: Umm…. if it makes you laugh, go for it! I'd say that in a lot of our music, that has been the motivation for choices! Which can end up sounding good.
G: We struggle to be able to take ourselves too seriously as it is just the two of us. But I think having a good rhythm is a good backbone for most of our songs.
A: If you feel awkward moving to it, it's no good.
G: If you can hum it back, brilliant!
Who or what are your biggest creative influences?
G: Well for me anyway, i'd say other music. On the production side of it, I listen to experimental hip hop stuff so that was something I really wanted to try and do at the start of this.
A: For me, singing and writing lyrics is the only thing that really does it for me. When you're struggling to know what you want to do, it's very obvious when you hit on something that makes you feel like you don't want to be doing anything else. The concept of 'anything else' is way gone for me!
What do you have coming up for the rest of the year?
A: Well, we're hoping to get the album in the bag. We're recording now.
G: Yeah, just try and get the album done. We've got a few festivals over the summer. But I think the album's the main thing, then we'll see when we can get it out, and maybe another tour towards the end of the year.
A: The Friends tour that we've just been on has been so much fun! We're basically just hanging on to the tour because it's been so great, if we can get to America… I don't know, that's a big step.
G: I think we have to get to here first!
AlunaGeorge will release their You Know You Like It EP on 12″ in June through Tri-Angle Records, and catch them live at the following dates:
03 Jun – Koko (w/Benga) London
15 Jun – Hultsfred Festival, Hultsfred, Sweden
30 Jun – Bissfields Festival, Winchester
06 Jul – Lounge on the Farm Festival, Lower Hardres
09 Sep – Bestival, Isle Of Wight, United Kingdom