Slonk is Bristol's Joe Sherrin, and Sherrin is a mainstay in the city - he is (or has been) involved with Milo's Planes, Me, You & Thomas, Let's Kill Janice, Fuzzy Plums, OCDeirdre, and Holy Stain, but it's SLONK that's been hogging the spotlight lately thanks to the magnificent record Songs About Tanks.
As a figure firmly bedded into Bristol's eclectic musical scenes, Sherrin has been able to recruit a few familiar names for the LP, including the likes of rapidly rising Aldous Harding collaborator Fenne Lily and premier psych troubadour Oliver Wilde. Phillip Collings (Gin Birkins), Jamie Cruickshank (Human Bones, The Gnarwhals), and Emily Isherwood (Nugget) also make appearances across the heartache-strewn collection of songs.
"We're Both Going To Be Fine" is the spectacular album opener, rising over three-and-a-bit minutes to a fist-pumping, chest-thumping opus full of love and hope and agony. It's a beautiful contrast of despondence and peace, strings, guitars, drums, and piano that recalls early Arcade Fire, with harmonies congealing into a congregation of pain. Despite the overwhelming intensity of the emotion, it's no tearjerker - it's a stunning track that sets the template for SLONK's new record.
Take a listen below and find out more about Sherrin and SLONK in our interview after.
Can you tell us about SLONK?
SLONK is a recording project I started a few years back where I play around with poppy songwriting and lo-fi recording in my bedroom. It's fun. I mean most of the songs sound crushingly miserable, but fun all the same.
What do you try to do with your music?
More recently I've been using SLONK as a vessel to write more personally and honestly, which is something I had previously tried to cloud with fancy language and important sounding nonsense. Largely that's been going well; it's been a big release for me recently, though the problem with being so open and honest in songs is that it's usually taken something shit to happen for you to write like that and by the time you release said songs you'll feel differently and dissociated from the subject. Well, that's what's been happening to me anyway...
But really, I don't try to do anything with my music; I'm just happiest when I'm recording so all I'm really trying to do is make songs I'm happy with. I'm incredibly selfish really.
You're involved with lots of other projects - what does SLONK provide that these others don't?
SLONK is my own thing. Any free time I have I'll be recording or playing music in some capacity in my room so SLONK is just that really - me playing and writing stuff on my own. I don't enjoy it any more or less than being in a band, it's just different, a more solitary way of doing things; I can get away with being as emo as I want when it's just me and I like that.
How do you find time to do it all?!
I've always had a lot of my fingers wedged deep inside musical pies so I don't really have a hard time squeezing it all in. A couple of my bands have ceased to exist/taken indefinite hiatus very recently and Milo's Planes (my main band) can only do stuff outside of the other band members' busy university schedules, so I've had a bit more time recently to focus on SLONK.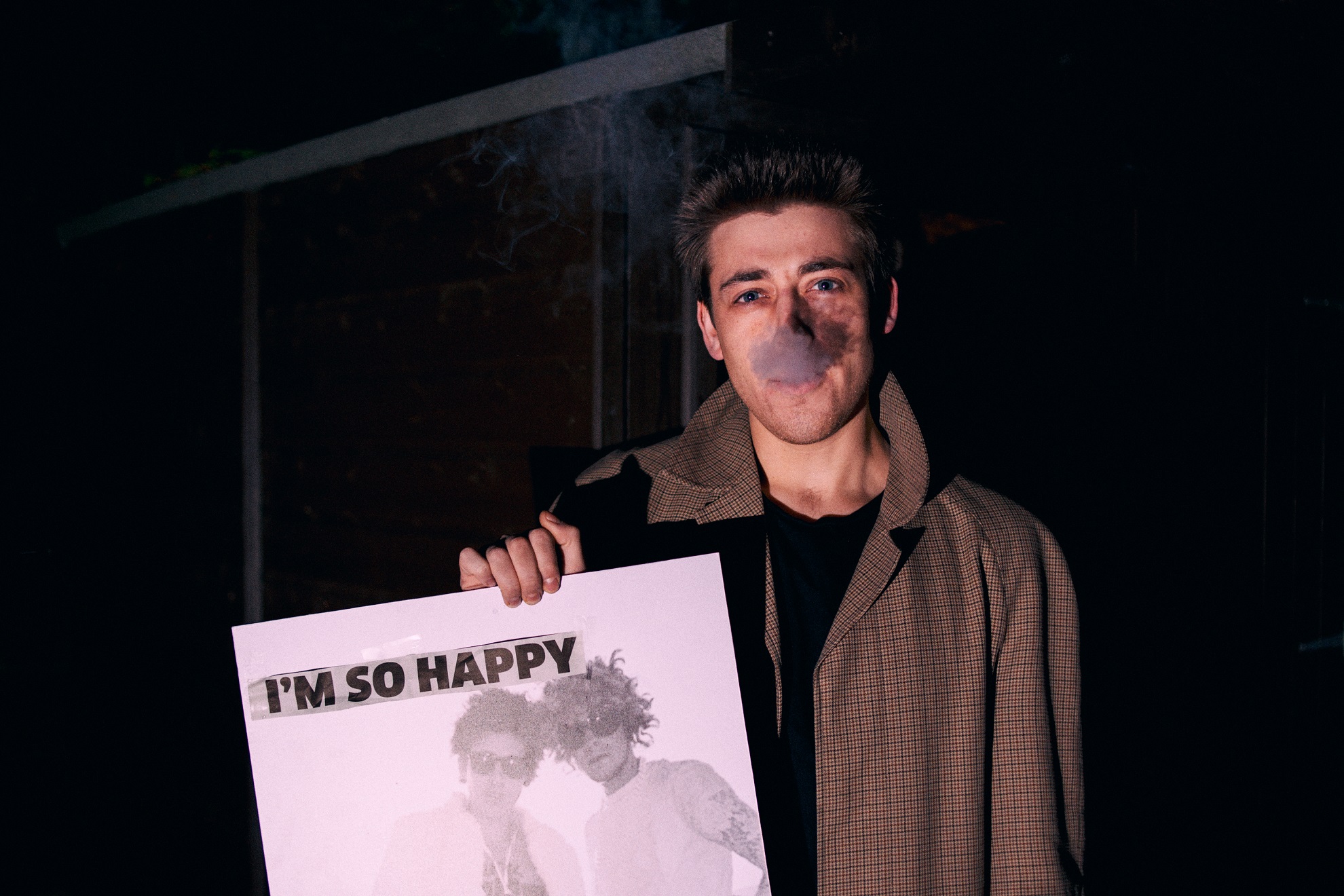 Can you tell us a bit more about Songs About Tanks?
My long-term partner left me and I moved back to my parents house. I wrote and recorded the vast majority of it during the first week or so of moving back there.
Initially conceived as a stripped-back acoustic album I recorded the album straight away and had it done within a few weeks. I soon abandoned that idea after repeated listens, seeing a potential in the songs to do something grander than I would have normally done. Due to the subject matter I wanted to do something a bit special them so I sort of just used the original stripped-down tracks as a platform for something bigger and set about enlisting help from friends to add various instruments and voices to the recordings.
What ideas and themes do you explore during the record?
Loneliness, loss, and general sadness combined in one terrible broth. So it's just one miserable theme really - the 'boo hoo my girlfriend left me' theme - a theme that bears no real relevance to tanks either, some may be disappointed to know.
Due to the album being written during such a small and precise space of time there's no real variants to the theme here; it documents one or two weeks of sadness and rarely expands beyond that - which makes it a fairly limited album but also a very pure and honest one.
I'm really proud of it. When making it I thought "SLONK, this is going to be unbearable to listen to in a few months time," but actually I still don't mind playing most the songs. I'm a lot happier now and for the most part the songs are just songs to me - though there are a couple on there I'll never play again.
How did "We're Both Going To Be Fine" come together?
That was the first song I wrote for the album; I wrote it two days after my ex-partner left me. Whilst walking to meet her that day (it's a five mile walk by the way, not just a nip down the road; I'm not that good) I was thinking about what I wanted to say to her and found it easier to write everything down as a letter to her. So that's what it is really, a letter for her. I wrote the whole thing over the course of that walk.
I really think it's the best song I've ever made; I managed to say exactly what I wanted to say at that time and the whole writing/recording process was completely effortless - although it's really sad I think it's kind of perfect. I already had the chords, structure, melody, and general idea of how I wanted it to sound sorted from a few weeks prior, I initially intended the song to be for our band, so by the time I got back home I had it fully formed and ready to record. I recorded it the next morning whilst my family were out at work.
How has the response to the single and album been?
Yeah, really great! Breakfast Records released it as a limited edition cassette bundle, where the cassette was housed within handmade matchboxes accompanied with a photo album... those sold out within two days which was very humbling! All the reviews I've had have been positive too so, yeah very happy with the reaction it's all gotten so far!
What should people expect from the live show? How do you recreate the lushness and textures of your music live?
That changes quite frequently to be honest. Through all my involvement with many other bands and projects you get an idea of how short my attention span is, so in keeping the songs interesting I like to change them up as much as possible. Sometimes I play solo with an acoustic, sometimes I play with Phil on drums (who played piano on the album), Oliver Wilde on bass, and Fenne Lily singing backing vocals and other times it's just me and Phil playing the songs very loudly where I'll play through two amps and do a lot of screaming.
I never really intended to recreate the album in a live setting - there's so many layers and instruments it'd be stressful to try and achieve that. SLONK is largely a fairly introspective recording project for me and playing live is more about having fun with the songs, it's nice to keep them separate.
What's next for SLONK?
Breakfast Records have just released a CD version of Songs About Tanks - I rammed it full of bonus tracks (12 to be precise) so you get your fiver's worth. Some of those bonus tracks are from previous releases that people may not have heard, songs that appeared on compilations, new mixes of a few Tanks songs and a few live tracks. So grab one of those if you missed the tape bundle!
Am playing the Louisiana on 27 May for Dot To Dot Festival - that'll be a loud two-piece affair and we'll be playing a good dollop of new songs too.
In terms of releases I'm just finishing up the recording of drums and lead vocals for the bunch of songs that will make up my next album - currently got about 25 songs to dissect into something coherent. Will have that all done by end of month I imagine, and then I can start harrassing people to add overdubs to the songs; was so chuffed with all the contributions by friends made to Songs About Tanks that I'm going to do it again with this new album. Certainly hoping to have some of the same people involved in Tanks on this one too but it'd also be good to get some more people involved; as many as possible!
No plans of how and when that'll be released yet - will start worrying about that once it's all done.
What's next for you? Do you have any other projects you're working on?
Yeah my band Milo's Planes are gearing up to release our third album Individual Development Plan - that's out end of May on Gravy Train Records (Milo's Planes also playing Dot To Dot - at the Gryphon at 8:30pm!) so we've got videos and new stuff on the way very soon!
On top of that Fuzzy Plums (a project me and Josh from Human Bones/Breakfast Records) will be making our debut live appearance at Breakfast Records Elevenses Compilation launch gig on 20 May! I'll also be playing the drums for Cagework (Sam of American Enthusiasm fame) that night too so come down and bring me a towel.
Besides that I'll just be recording and mixing the new SLONK album intermittently and hopefully writing new Milo's Planes stuff when they're all back this summer.