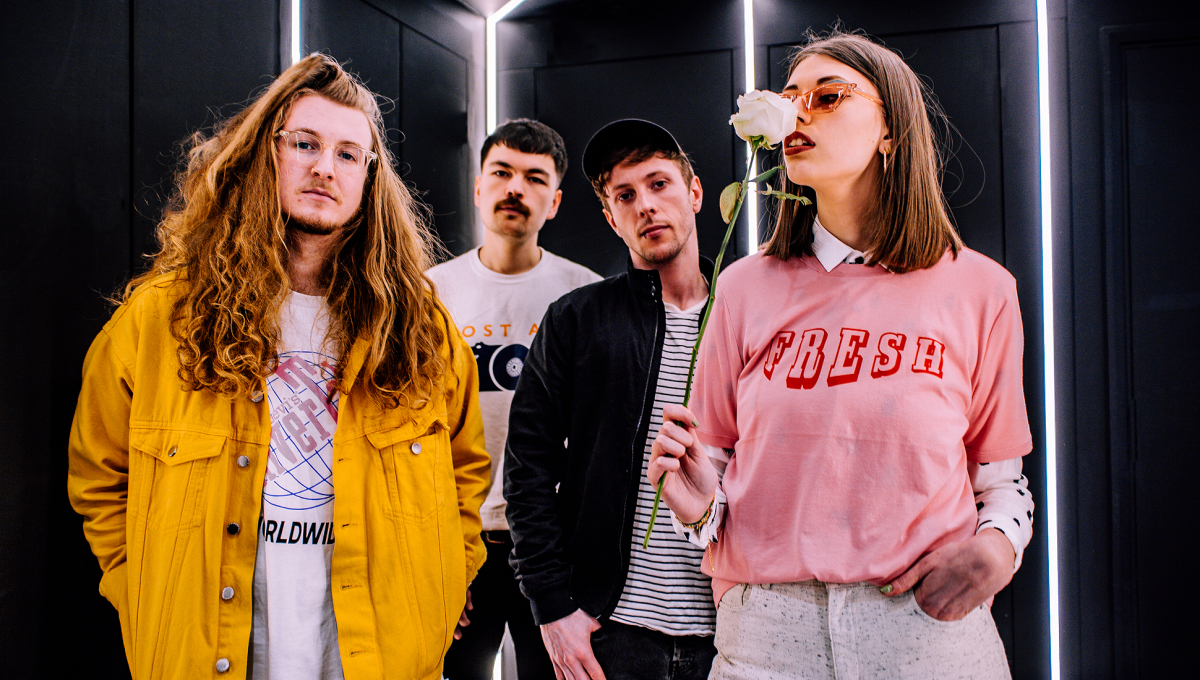 Brighton darlings Orchards bottle summer in brand new track "Double Vision"
The four-piece channel spritely guitars on their second single of 2018, quickly following "Luv You 2" with this concentrated dose of unbound energy.
The sugary vocals of Lucy Evers adds a crystal clarity to the "Double Vision", soaring effortlessly through glittering, jaunty riffs and punchy drum-beats. It marks the next step towards the release of their long-awaited debut EP Losers/Lovers, which is set to be released on 6 July via Big Scary Monsters Records.
Despite its euphoric, festival-ready demeanour, "Double Vision" also lyrically touches upon Evers' experience with anxiety and depression and finding the strength within herself to be more open about her struggle. "I have struggled with anxiety and depression for a while but was always so ashamed to talk about it," she explained. "The lyrics for this song were the start of me accepting the truth and realising that I shouldn't be afraid or feel alone.
"The lyric that I feel resonates the most is 'Leave me alone / I'm out in the cold / But I am happy with myself here'. To me, it's about coming to terms with the fact that I'm struggling but am learning to live within this new state of mind and I'm starting to love myself again. This song is almost the perfect way to get those emotions out - being on stage performing is very much my happy place, so we wanted that to be reflected in the video. It's simply just us loving being on stage and partying with everyone."
Filmed by director and long-time collaborator Dan Chase, the video for "Double Vision" was recorded during Orchards' recent tour supporting Minnesota trio Tiny Moving Parts, and is a palpable riot of joy for both the band and their fans. "We just love performing. It's honestly as simple as that," shares guitarist Sam Rushton of the Orchards live experience. "We all love being on stage. We don't have a 'stage plan' or anything like that, there's no secrets chats about stage presence. We write tunes for people to party to so when we're on stage playing those tunes and people are partying to them we're in our element. I mean come on," he adds. "Diving around a stage sweating it out with your best mates is a pretty fucking good place to find yourself."
We caught up with Orchards to talk about their new EP, their eclectic musical influences and their growth as a band.
BEST FIT: Your new single "Double Vision" is perhaps your poppiest single to date. Was it an area of your sound that you wanted to explore more?
Sam Rushton: "I don't know if it was a conscious thing with this song, we've always had the poppier vibe in our songs and I guess with this one it just came to the forefront a little more. The new stuff we've been writing has been a lot more focused on melody and, I think that being the case, it's lent itself to coming across 'poppier'. We love pop music so it's always going to bleed into our writing process in one way or another!"
What does "Double Vision" mean to you?
Rushton: "As it's the second single we will be releasing on Big Scary Monsters, a label we've loved for so long, it symbolises a real progression for us. It's taken a lot of hard work and personal sacrifice to get this EP together and the fact that we get to release it on such an awesome label means a lot to us. This year has already been mad and we've only released one single! We've embarked on an exciting journey now and 'Double Vision' is just the next step."
You're not far from releasing your debut EP Losers/Lovers - congratulations! Does it feel like a long time coming?
Rushton: "WE'RE SO EXCITED! It does feel like a long time coming but it feels like the right time. Before this we were throwing around the idea of an album or possibly more singles, and then when Big Scary Monsters came along everything just seemed to fall into place and Losers/Lovers was the outcome. People have been asking us for so long about a longer release and we're happy that this is it. The beginning of this year has been mental for us already and the actual release of Losers/Lovers and our release party will only add to the madness."
Lucy's lyrics are always relatable, and Losers/Lovers touches upon personal loss and mental health struggles. Do you feel it is important to be as transparent as possible when bringing your own experiences into your creative output?
Lucy Evers: "Definitely! I wish my answer was more complicated than that, but yes. It's therapy for me; it's how I process the scrambling in my head. I believe all creative people use their passion as an outlet to some degree, whether conscious of it or not. Releasing a song that has been a struggle for me to write becomes a 'release' in itself.
All the lyrics on this EP symbolise some kind of loss or love, hence the title. This is just the beginning of my journey through mental health and depression, but being able to express my concerns and emotions through music is the best way of processing. Jumping around on stage with my best friends then becomes the place to let loose, forget my worries and reflect. Personally, the last year has been a huge battle for me, but being able to use music as a therapist is blessing!"
How do you feel you've matured as a band since you first shared "Peggy"?
Rushton: "We've begun to write a lot more with the melody at the core of the track, basing songs around that rather than a riff or a bass line. I don't know if 'matured' is the correct way to put it but we've definitely started having more fun as a band. With all that's happening around us and the awesome people we've got to meet and work with, it's been hard not to. We think that's reflected in the songs we've been writing. 'Double Vision' was written with summer festivals and drinking in the sun in mind, we want everyone to get involved with the party we're having!"
Why did you choose to focus on melodies so much this time around?
Rushton: "One of our favourite things about performing live is the audience reaction. Having them sing back to us is exhilarating and we wanted to write melodies that would not only connect with people, but make them want to sing it at the top of their lungs. We've also found that a lot of the music we've been listening to personally has been a lot more melody driven and it's hard not to be influenced by that. Bands like Everything Everything manage to have such interesting musicality whilst still writing absolute pop melody bangers and this is what we're striving for."
Losers/Lovers is quite hefty at eight tracks long, but you've made room for some fan favourites including "Peggy" and the previously released "Honey". What is it about these tracks that has made them so durable?
Rushton: "They are classic Orchards. We are all such perfectionists and the first three singles (including 'Darling') were us establishing our 'brand', so to speak. They are classic Orchards songs and they were and are necessary to our growth as a band. They're a part of our history I guess, a lot of people who know about us got to know through hearing them songs, whether it was on a Spotify playlist, radio or Reddit that's how they found us.
Playing them live is always interesting as we get to see the audience's reactions to them. It's so sick to see that the songs have made connections with people and it validates all the hours we've put into those tracks. They'll always be our babies and we think it's time they saw their first physical release."
You have quite an eclectic range of musical influences ranging from Led Zeppelin and Stevie Nicks to current pop stars Anne Marie and Dua Lipa. How do you channel all of these genres into something cohesive?
Rushton: "We have such a diverse taste in music as a band. I think that's the key to what we make. We don't like to pigeonhole ourselves, so when we are in a space together the "Orchards sound" is just what comes out. We never aim to write a "Dua Lipa melody" or a "Mars Volta-style" middle eight, but when we write we just let whatever happens happen. We try to go as far as we want to take it and then rein it in and form the craziness that sometimes occurs into a weird pop song for everyone to have a dance to."
What are you most proud of in regards to your new material?
Rushton: "We are proud mostly of our growth as musicians. There is always room to improve and hone in on your skills and these songs have been a great way of growing as not only a band but as individuals. I think touring has taught us a lot about ourselves and about the direction the band is going. We're proud that this new material is going to be our first ever physical release and that we get to do it with an amazing team behind us. We're so lucky that a lot of really lovely people have put their trust in us and the way we thank them is to write our arses off and then get on stage and dance them off too."
Is there anything else you would like to add?
Rushton: "We'll be heading back out on tour later this year and we just want to see more people getting involved at our shows, more dancing please, more confetti please, more party please. Come say hello, we like to make new friends."
Losers/Lovers will be released on 6 July via Big Scary Monsters Records.