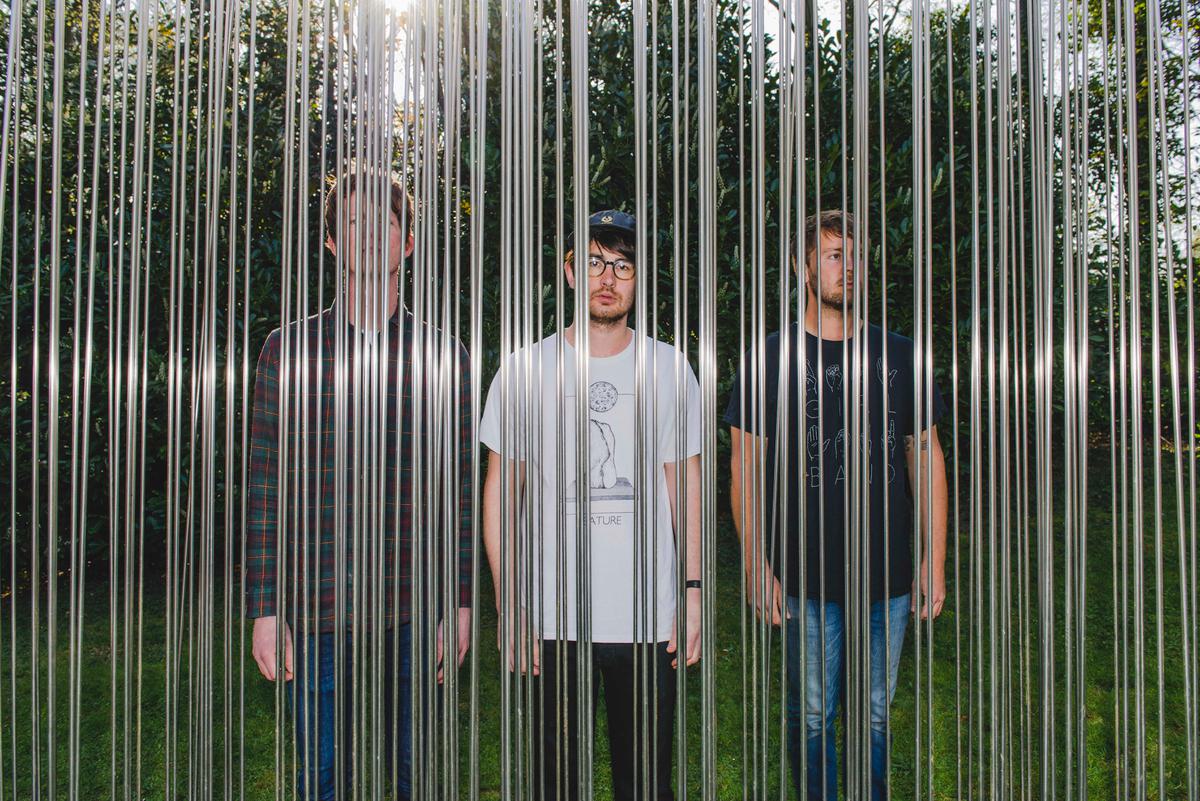 Track By Track: TRAAMS on Modern Dancing
19 November 2015, 17:43
Chichester trio TRAAMS have let us into their wonderfully loud world, and explained how latest LP Modern Dancing came to be.
Arriving back in August, the lead track "Succulent Thunder Anthem" was (and still is) a giddy, bone-gnawing take on rock. It made the prospect of Modern Dancing very exciting indeed.
The album, released last week, hasn't disappointed - we said "TRAAMS have managed to develop their own brand of cadence-clever punk music and on Modern Dancing, the end product oozes natural style and effortless ability."
2/3 of the band, vocalist/guitarist Stuart Hopkins and bassist Leigh Padley, explained the ins and outs of the record to Best Fit. Stream it below, and then check out what they had to say.
Costner
Not actually about Kevin Costner. The guitar part reminded me of a Ennio Morricone song that's on the Untouchable soundtrack, a film obviously starring Kevin Costner. This was one of the first songs we wrote for the record and we've been playing it live since early 2014. If memory serves me right I think we debuted it in Brussels* but I am probably wrong about that. Adam is normally the best at stuff like that but he straight up refuses to do interviews.
(* Adam says it was Leeuwarden)
A∩B
This song was originally written as a second part to opener "Costner" but we filled it out a bit and it grew a character of its own. We link them on the record and when we play them live. The working title for this song was "Mark E. Smith In The Desert" as we thought it sounded like that when we were first playing around with it. Don't really know what that's meant to mean but it made sense at the time.
Succulent Thunder Anthem
We wanted this one to be just a bit of fun really. It's not big or clever, but we really enjoyed making a hard and fast pop song out of it so it had a place on the record.
Sister
For a brief time TRAAMS were a two-piece band, I (Padley) joined after one or two shows. During our first few rehearsal sessions the lads were showing me bits of material they had and Stu played me the "Sister" riff. We didn't really work on it but I had that bloody riff stuck in my head for years so I reworked it and reintroduced it to the band. Stu and Adam nailed it and it became a favourite of ours to play live.
Silver Lining
We've had "Silver Lining" in some form or another for a while, we could just never finish it. It used to have this massive bombastic section at the end that sounded like Queen or something, it was pretty cheesy. When we decided to back off at the end instead, we came up with a new ending and that's probably my favourite section of the whole album. Especially the high bass notes Padley is playing at 2:55.
Modern Dancing
We wrote this between the two album recording sessions. It came really quick. Adam and I started playing almost simultaneously and it just clicked straight away. It's probably the slowest song we've ever written and also the most different to our other tracks. There's a nice fluidity to it I think.
Neck Brace
This song was the one that transformed the most in the studio. We cut a lot of fat off it. We once ended a show with it when we first had it in the bank but it went on way too long. We kind of wanted to make an anthemic mix of Let's Wrestle and Interpol. I'm not entirely sure if we succeeded with it in that respect but we really liked the outcome and we will hopefully get it back into our live sets at some point. Adam and I (Padley) looped the bridge section over and over when we were writing it because wanted it to be as tight as possible. It's really rewarding to play that bit, kind of like how I imagine a Djent or Groove Metal musician may feel about nailing a cool bit. The working title for this one was "Succulent Thurrock Anthem".
Gimme Gimme Gimme Gimme (Love)
This was another song we wrote in between the two recording sessions. It came together in about an hour as we played it through over and over. Similar to "Succulent Thunder Anthem" in that we wanted to make a fun slab of fast pop. I think it falls somewhere between The Undertones and Lullabies-era Queens Of The Stone Age.
Two Sides
Stu had the chorus for this ditty for a little while before we got a song out of it. I (Padley) really enjoy locking in with Adam on this one. It's quite a sturdy rocker but it's just a Fun-Punk-Funk song thingy.
Car Song
I (Stu) didn't realise I'd written this song until Padley played me a recording of it. He'd recorded me playing through the door of our practise space whilst he was outside having a cigarette. We didn't change it. It's pretty much exactly the same as that original phone recording. He also had to work out the chords I was playing for me to do it again.
Bite Mark
Another song that was shaken up a bit during the recording sessions. It was essentially a massive jam for a time but we knew there was a tidy little pop song in there somewhere. It was great building it knowing that we wanted it as the album closer, I think that helped us identify the bits that needed to stay and the bits that didn't. I think it's about being a bit of a piss head.
TRAAMS' second album Modern Dancing is out now on FatCat.