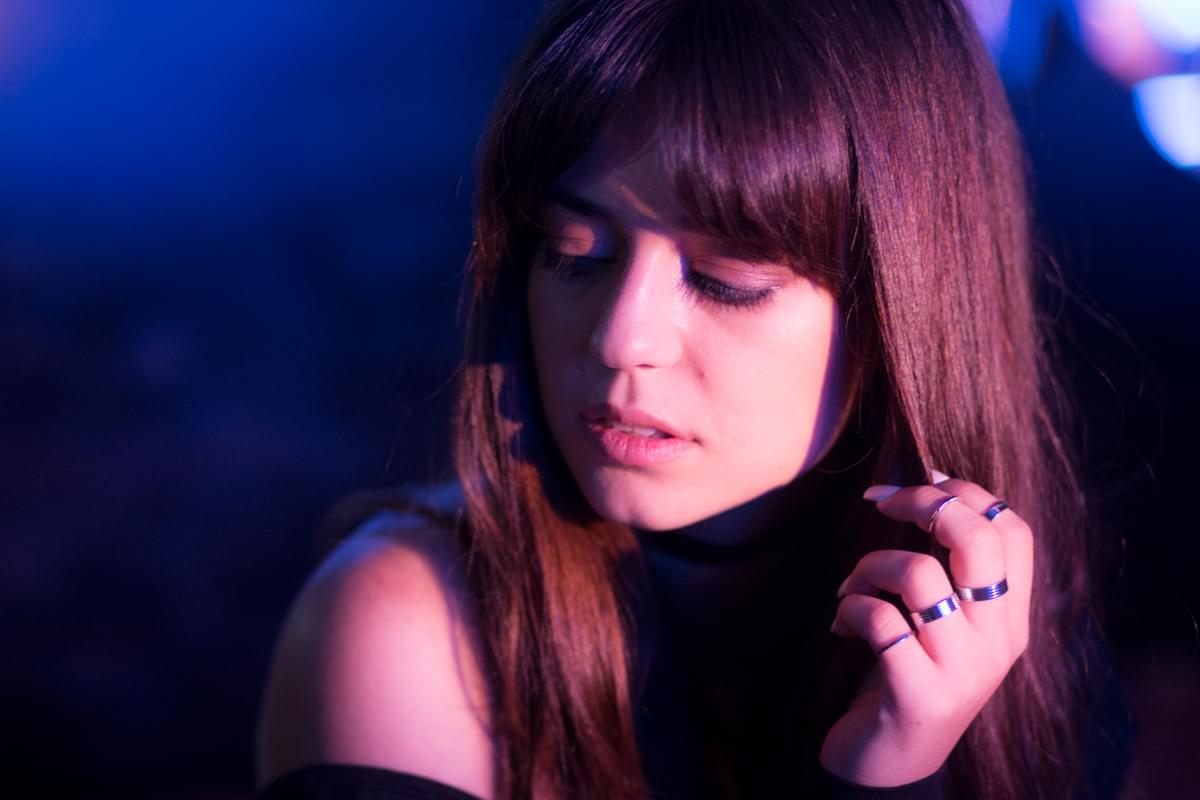 Track By Track: Dominique on her debut self-titled EP
06 December 2016, 15:00
New York-based triple threat - producer, songwriter and vocalist Dominque - talks us through the inner workings of her debut self-titled EP, premiering at The Line Of Best Fit.
My EP revolves around development and self-growth. The process of creating it in itself was a period of artistic development, in which I had to push myself to be a better writer and producer. Throughout the many months of working on the EP, I also did a lot of soul-searching and psychological growth.
Over two years ago, I released my first track "It's Only You", and its subsequent, completely unexpected success caught me off guard and sent me spiralling into a period of major self-doubt. I became terrified of working on new music because I couldn't help but put tons of pressure on myself to make something I thought would do as well as my debut. I no longer felt brave enough to experiment, and making music started to feel more like work instead of a release. Technically, I've been working on my debut EP since that time, but my fear of writing a bad song made it impossible to make much progress at first.
I also wasted a ton of time searching for a producer with the right sound. When I write a track, I usually know exactly how I want the production to sound. This made it difficult to find a producer, because I was searching for someone with a sound that I already created, instead of finding a producer with a signature style that I loved and wanting to collaborate with them. A little over a year ago I decided I needed to just become a better producer and start doing my own productions. That sparked a new phase where I had to force myself to be brave enough to be creative again and delve further into the intimidating art of production.
Bottled Up
I started writing this song right around the time I decided to start producing my tracks. I made so many attempts to produce it at first and got nowhere. I had no idea how to materialize what I was hearing in my head. About six months later, I was practicing sound design and created that stuttering synth sound in the opening of the track. I immediately thought it'd fit the song perfectly, and got to work on the skeleton of the track. This was by far the most challenging song of the EP, and wasn't totally finished until about a month ago.
I was inspired to write this song after reading a story on Reddit of a woman who was experiencing abuse from her partner and had been hiding it from everyone in her life. It made me think about how sometimes, when we're being treated poorly, we're so ashamed that we let it happen that we keep it to ourselves and never reach out for help. I love the idea of juxtaposing really dark topics with bright, pop production, so even though this is the most lyrically ominous song in the EP, it's also the most pop and upbeat sounding.
Good Girl
I started this around the same time as "Bottled Up", but this one was much easier to produce. For some reason, hip hop influenced beats come more naturally to me, especially the drum and bass programming. The track is about trying to break free from the conventions and ideas imposed onto you as a child, especially ones that you can logically dismiss but still be emotionally controlled by.
Love You Better
When I started this song, I had been self-producing for about six to eight months, so I was able to begin work on and finish it more quickly than the others. This track is about getting rid of your fears of being hurt and opening up, so that you can truly accept someone else's love. It resembles my debut track in structure, and I actually used a sample of the bass sound in that song for this track's bass as well. When I recorded this with ZeniF, the engineer I work with, we spent a ton of time on vocal layering and experimenting. It can get a bit lonely working on tracks by yourself all the time, so having these collaborative sessions to record vocals are a huge treat.
This was the second single from the EP and it was so exciting to see how well it was received. It was placed on Spotify's New Music Friday and in a bunch of in-store playlists, like H&M's, Forever 21's, and Zara's as well as being picked up by Entertainment Weekly! As an artist, it's a wonderful feeling knowing the music you've worked so hard on is being recognized, but this response also symbolized that I was able to conquer some of my insecurities and write and release a song that did better than my debut.
If I Could Go Back
By the time I wrote this song, I had put in a ton of hours producing and composing, so I was able to finish all the writing and production in two days. I wrote most of the chorus in a couple of minutes after spending some time reminiscing about college and how I used to be a bit shy and quiet. I've become more confident since then, so I began to wish I could go back to those years and make the most out of them, without letting my shyness get in the way.
I Think I'm Fallin' (Alternate Edit)
This track has quite the history. I wrote it soon after I released my debut single, and its lyrics reflect how I was feeling at the time. I was bouncing back and forth from feeling confident and empowered to scared and insecure. It was one of the most frustrating times of my life. All I wanted to do was write, but my fear was making me go through a huge writer's block.
This was also one of the songs that I spent an entire year trying to find a producer for. I had produced the demo for it when I wrote it, but didn't think I'd be able to turn it into a full production. I eventually attempted it, and decided to release one of the multiple versions it went through, despite not being 100% happy with it. I've always loved the melody, and I think that because I was still a new producer when I tried to make the track, my lack of skills kind of sabotaged its potential. I decided to return back to it and utilize what I learned since putting that song out, and re-mix and master it with ZeniF. I'm so happy with how it sounds now, and it's really the icing on the cake for this whole EP, as it shows the progress I've made as a producer. I had to face a lot of fears throughout this whole process, and I think that now that I'm finished with my first EP, I feel more confident to begin work on the second. I'm so excited to finally be releasing this body of work and to be moving on to the next.
Dominique is out 7 December.
Get the Best Fit take on the week in music direct to your inbox every Friday