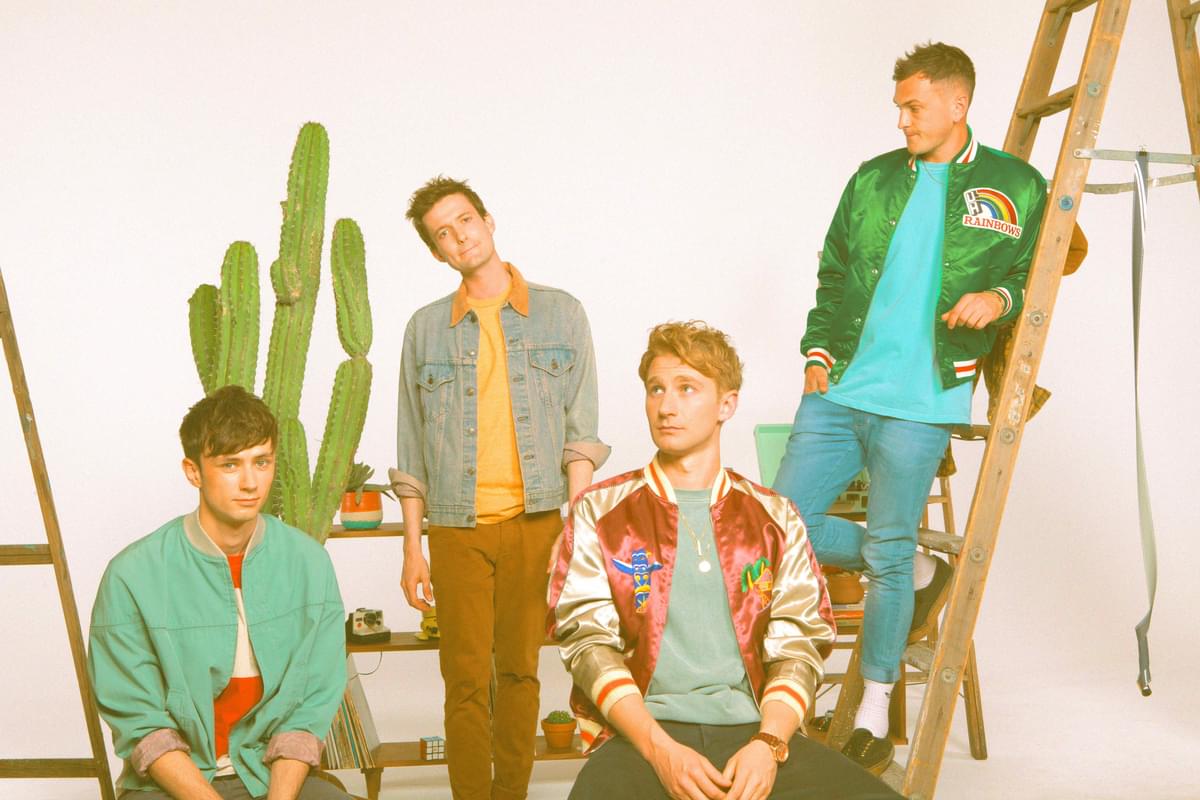 Glass Animals on the cast of How To Be A Human Being
02 September 2016, 14:30
Dave Bayley, frontman of Glass Animals, writes about the cast of characters that inspired each song on their new record, How To Be A Human Being.
I don't want to go too far into the lyrics. One of my bandmates once came up with an explanation for a track on ZABA, and he asked if that's what I had meant it to mean – I said that it was something completely different to me, and he felt like his interpretation was incorrect. I don't feel like that should ever be the case – each person's interpretation is 100% important. It's much more interesting for everyone that way.
Life Itself
People often tell dark stories with a smile on their face. The undercurrent of what they're saying can be quite said. There's definitely a bit of gallows humour.
This is obviously about a guy who's quite strange. He was never given a chance to integrate into society and so just spends more and more time alone at home becoming even stranger, even weirder... he creates these little inventions. We made him a website.
Youth
The characters on the album, for the most part, are made up. There are elements of them that are true, and there's quite a lot of autobiography throughout... I think "Youth" in a strange way is a little bit autobiographical.
When you make music you spend a lot of time with weird gadgets in a small basement making weird sounds... I remember walking out of the studio at one point, having been in there for days, and just noticing how odd people looked. I didn't feel comfortable. There are people who spend much more time alone than I did – our bus drivers for instance. They hardly see anyone. It's incredible that they drive overnight to get us to the venue and by the time we're awake they've already gone to bed... it's kind of amazing.
There's definitely a large proportion of the population locked behind doors watching Netflix for hours on end, never experiencing daylight or real life. I wanted to get to that fear those people get when they finally emerge and see the world.
Season 2 Episode 3
Everyone knows someone who spends way too much time sitting on their arse watching TV and eating crisps. Doing absolutely nothing. Polishing their butt in the groove of the sofa. I had a housemate like that for a while, and when he'd finally stand up from the sofa there was a proper, visible dent where his body would go. We'd find crisps, bits of cake, and pieces of chicken... no one else would sit there.
It's about someone not caring about their life so much that they left everything go. It all falls apart. The narrator is watching their partner decompose and become this super slob; the narrator is saying they've had enough, and the lazy partner doesn't care.
Pork Soda
We recorded that as a 'crack choir'... we put up one mic and got everyone in the band to sing as a different character. Joe was a little girl, Drew was a huge fat man, Ed was an opera singer... by the time you have a couple layers you've got loads of different characters and it sounds really thick, really street. It sounds like you're on a road with hundreds of passersby joining in.
The title came from a tattoo on a woman's arm. She was absolutely lovely and so sweet and she brought us some gifts. On her arm was a tattoo of a pig with the words 'Pork Soda' in the middle in huge writing. I asked what this amazing tattoo was about, and she said it was about a drink she used to make as a kid. Bacon soda.
Mama's Gun
I've got a story that applies; it helped me form the idea.
I was in a taxi with my little brother (he came on tour with us for a bit) driving through Atlanta. I was chatting to my brother and all of a sudden the lady in the front turns round and asks what we're doing in the city, just small talk.
Then we drove past a strip club. This driver told us she used to drive long-haul trucks across the entire US, and the best way was to stay awake and do the whole thing in four days – just keep going and not stop. The way she'd do that was by taking heaps of crystal meth and cocaine. She could go coast to coast without stopping and do twice as much compared to sleeping and resting.
One day she took it too far. She took too much crystal meth and too much cocaine and blacked out. She woke up in a strip club, seeing all these strippers dancing on poles. She had to ask a stripper where she was, the state she was in, what day it was... this driver lost a month. She was on an epic bender. She was in a completely random state. She had no idea where the truck was. She still doesn't.
She woke up and knew she'd done something really, really awful... but she's not sure what. She feels like she's done something so bad while blacked out, and she'll never be able to know or find out what.
The song is about all those feelings of guilt and fear and not knowing why.
Cane Shuga
It was one of the beats I did for Joey Bada$$ in our session. I had time to make a few, and this was one that was left over. He preferred the one we used to make "Lose Control", but the band really liked this one.
Premade Sandwiches
This is sort of an intermission. It's designed to give you a break from the music for a second.
It's actually me talking literally as fast as I humanly can, pitched down like Madlib. I put on an accent as well. It comes from a big stream-of-consciousness piece I wrote – the original is so long. It's about five pages and a couple thousand words. I had to cut it down from about five minutes to 36 seconds... it was a bit relentless originally.
You don't hear spoken word tracks on albums much anymore. I'm a big fan of John Cooper Clarke and Gil Scott-Heron; this is my nod to them.
The Other Side Of Paradise
I became completely obsessed with watching basketball. When I'm bored I'll go to YouTube flick it on; it's so fun to watch. I watched a documentary called Hoop Dreams which is definitely worth watching, and that really inspired the basketball side of the song.
Take A Slice
It's sleazy. We had many names for it before "Take A Slice"... there was a big list and some were pretty gnarly. This is as sleazy as we'll get. There are lots of weird, hyper-sexual samples hidden in it that you might struggle to hear but are definitely there, and there are lots of references to all of these weird places we went to in Florida full of muscle cars. "Muscle" was a working title. Florida is incredibly seedy in places.
Poplar St.
There's probably a Poplar Street in every town. Everywhere we went when we were on tour in Australia had one. It's a generic suburban road name, isn't it?
There's a lot of references to The Graduate. It's about a relationship, not necessarily one of mine, and not necessarily true... (I'm not saying how true it is or isn't).
Agnes
It's my favourite song on the record.
It was very hard to write and I have no idea how we're going to do it live. It's epically sad. It's a dark one but there's optimism. It still makes me sad to think about... singing it during the recording I was tearing up. It came so easily though, writing it I mean. I put in a lot of references from my favourite novels and to biblical passages. Very sad for me.
Subscribe for news and competitions