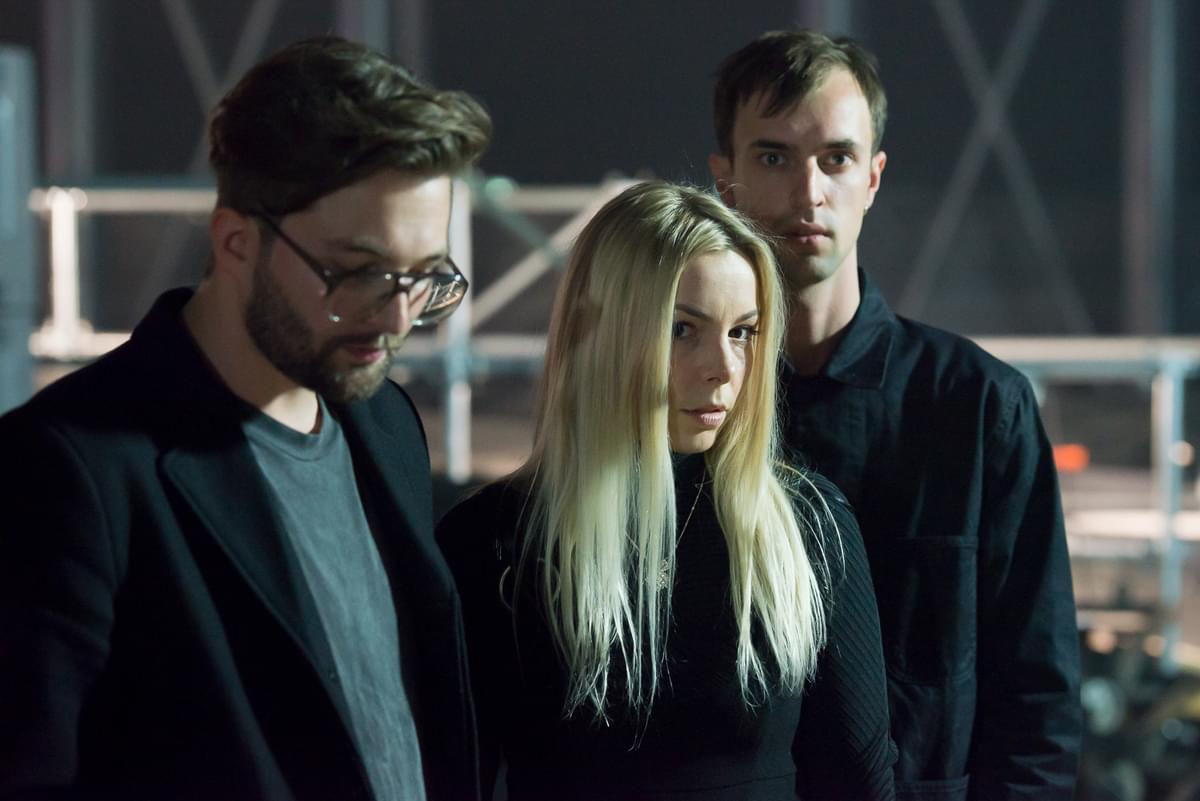 The Dark Euphoria of HÆLOS
05 January 2016, 18:45
HÆLOS talk to Emma Finamore about the destruction and reconstruction at the heart of their creative process.
"Music is a unifying force, it's something that binds people together," says Arthur Delaney, sitting beside me in an east London studio. This could sound glib coming from someone else, but as part of HÆLOS – creating delicate, nuanced sounds for that moment when the dust starts to settle just as the sun starts to come up, in the post-orgasmic glow of a night out – it seems totally on point.
When Lotti Benardout, Dom Goldsmith and Delaney quietly allowed their debut track "Dust" to surface in late 2014, music fans were instantly mesmerised by the echoing, darkly hypnotic soundscape, but also by the mystery surrounding HÆLOS: a press shot of three faces, photocopied, spliced and fuzzed together, was all they gave hungry music bloggers to sink their teeth into.
Cut to the final weeks of 2015 and the three-piece have spent the year creating moods and setting tones; reimagining chilled-out trip hop and electronica into what they have dubbed "dark euphoria". They've earned plaudits from Annie Mac and Zane Lowe, signed to Matador and are on the cusp of releasing their debut LP, Full Circle.
To scroll through the band's Instagram is to step into a twilight universe of shimmering lunar eclipses, bleak shadowy industrial landscapes and mystical astronomical drawings; but the birth of the band was something much more of this earth. They met via mates-of-mates, at parties, through flat-shares and estate agents; average London life, really.
Each was working with another of the group on different musical projects, until there came a point when these started sounding less like disparate ventures and more like smaller parts of the same ultimate whole.
"Tearing up the genres, piecing it back together and in the end it's something new."
This was in August 2014. "Then it accelerated quite quickly," says Benardout. "When we had that first session together and we felt that electricity in the room, it felt like we'd found the sound. And because of the other projects we were able to pull together songs pretty rapidly."
But far from rushing to put out material, HÆLOS took the time to really craft something of substance. "We wanted to make sure we had an idea of a full record, a semblance and identity, before putting anything online," says Goldsmith. "Yeah, the backbones of the idea," agrees Benardout.
The band share a love of the atmospheric trip hop and turntablism of the '90s – Portishead, Massive Attack, James Lavelle's Mo' Wax label (DJ Krush, UNKLE, DJ Shadow): "The kind of music we were putting on when we got home from a party, spinning tracks, exchanging music," says Delaney – as well as the production of Four Tet and Dan Romer, and the sheer chutzpah of Radiohead.
"Radiohead are the pinnacle – they lead the way in that commitment to calibre," says Delaney. "You've got to work through a lot of pain to get to where you want to be." Goldsmith also cites Radiohead as a pivotal influence, introducing him to dance music: "I was 15 and my favourite guitar band brings out Kid A, and it felt like, 'Cool, you can do anything you want'."
HÆLOS talk about a Venn diagram of shared tastes (which Goldsmith charmingly calls a "Zen diagram" – either a mistake or a clever play on words that totally works in context), the centre of which is pretty full. In fact they've just finished putting together a 24-hour playlist for Spotify, and have at least 14 hours of tracks which they all completely agree on.
"Radiohead are the pinnacle – they lead the way in that commitment to calibre"
But far from just shared musical influences, this band draws on a deep pool of intellectual inspiration: literature, art, film, current socio-political affairs. Lyrically, they're influenced by dystopian sci fi writer JG Ballard, and by Swiss poet/novelist, Hermann Hesse, whose work explored the deeply human pursuit of self-knowledge and authenticity.
"The album's ended up being a sort of collage," says Delaney. "When you create art, it can't be anything but a collage of everything you see, read and hear in your life. Tearing up the genres, piecing it back together and in the end it's something new."
And you really can hear this collage approach in their output. "Pray" is a new, modern, ecstatically pop, take on 90s old school trip hop. "Dust" layers shimmering harmonies over a slowly building soundscape; Benardout's cut-glass, crystalline vocals lending a delicate yearning quality, reminiscent of Dummy–era Portishead but totally her own.
"Earth Not Above" begins like a moody tribute to Massive Attack but then breaks into a dancefloor-friendly beat. A track yet to surface, from the forthcoming Full Circle, "Oracle", is distinctly less dark, a sort of soulful, chill-out take on 90s euphoria.
The idea of this clash of influences, of cycles, of creating order out of chaos, runs like a thread all the way through how HÆLOS talk about their music, but also how they work together. "We're starting to see our own patterns when we work together and recognise that for us, everything has to go through these cycles," says Benardout.
"We always get to this point where one person is happy with something, but it then needs to be broken down again to really get it, which can be quite painful," agrees Goldsmith. "You sometimes have to say goodbye to things that in their own right are quite good, but overall are holding things back. And then we get to the point where everyone's happy and it literally just cruises – and a whole song will come really fast. But it takes a few days of pain first."
The album-creating process sounds like a scaled-up version of this sometimes-painful song-writing process. "It was quite austere," says Goldsmith. "14 hours of recording and mixing, all day every day. There was no room for anything else."
HÆLOS created Full Circle in various locations, but it's a studio in Dalston that they have the most visceral response to. "It got really dark," say Benardout and Delaney in near-creepy unison. And they mean both literally and figuratively: they describe a dark, windowless room, followed by an equally dark vibe, and dark lyrics that came out of that lack of air, space, light.
"Arthur and I had a really good fight there," laughs Goldsmith. "But – going back to those cycles – we hit a point where something broke, and then an even stronger bond was formed afterwards." Delaney agrees: "It's those same cyclical processes of destruction and reconstruction – we go through that every time we create a song."
The song's titles seem to reflect the idea of natural rhythms and rotations – using elemental words like "dust", "earth", "sun" – and Delaney sees this as part and parcel of making music that's relatable: "When you're writing an album it's got to work microcosmically and macrocosmically – it's got to scale up from personal experience to something that's significant to everyone."
"But we definitely didn't make it for other people, we made it for ourselves – to help us stay sane, in a room," says Benardout, bringing it back round to the personal again.
"There's a neurosis, we're all really neurotic"
The band's name even follows this train of thought; HÆLOS wanted something that means something to everyone, as well as to themselves. "A ring or a halo is a symbol that's scientific, and also used in iconography in many different religions," says Goldsmith. The original piece which has become their LP artwork – an enchanting, almost, eerie eclipse – is up on the wall beside him, and it's interesting how many different things it could be to different viewers: a religious halo, an astronomical eclipse, shimmering water, flames.
"That runs through the lyrics – we're trying to find these archetypal icons that humans use to connect to things that are larger than themselves," says Delaney, and he describes the experience of being in a club, the music becoming a "holographic landscape" in which everyone finds themselves situated; a transformative place: "All normal rules and boundaries drop down because they're inside this space."
But this near-mystical attitude to music belies a whole year of very real, very worldly, hard graft. HÆLOS are insanely hard working and have crammed about three years' work into just one. The group talk about how art and creative output often reflects the era in which artists live, and how they happen to be operating within an austere moment in time, in an expensive city, full of cuts to creative and social resources, and pressures to earn enough money to live.
"There's a neurosis, we're all really neurotic," says Goldsmith. And you can see this in the impressively high production values, as well as the sheer number of songs they've produced in a short space of time.
"It's funny, when we were talking about getting into music as a job, we were like adamant that we wouldn't do 'banking' hours," laughs Delaney. "If we'd wanted to do banking hours, we'd have gone into banking, we thought. But actually, it turned out to be about double banking hours."
And those hours won't be cut anytime soon: 2016 is all about touring for HÆLOS, who will be in States in January as well as at Best Fit's new music festival in London, and then back out to the States in March. Of course, the live show has been put through the same process as the music: "We took our live show, and ripped it up," says Goldsmith. "But now it's ready to go out on the road."
"It's been an interesting year for that too," says Benardout. "We'd be out doing shows, working on the live stuff, and then back into that really close, intimate environment again to work on the record – like going between extrovert and then introvert. I'm really looking forward to enjoying the record with other people."
They talk about the process of interpreting studio-based music into a live environment, and Goldsmith describes the moment HÆLOS click as: "Transcendental, universal…there's absolute clarity of thought in your mind – nothing exists except the next note. Which is quite wonderful to experience."
They were at the Pitchfork music festival in Paris just weeks before the attacks of December 2015. "Our sound engineer was meant to be at that music venue just a few days after it all happened," says Benardout. "It felt really close to home, as it obviously did for lots of people, and reminded you how little control you have."
"We took our live show, and ripped it up...but now it's ready to go out on the road."
"It feels like we live in quite a dark time," adds Delaney, and we sit for a while, reflecting on the atrocities of the last few years, the world over, and the suffocating hatred building up on all sides. "But there's been lots of positive stuff that's come out of it too," says Goldsmith, citing Antoine Leiris, a man who lost his wife during the Paris attacks but who made a moving statement about how the people who took her couldn't make him hate – they could take everything from him but they could not force him into hatred. "We want to help spread light and respect too."
And right there – that captures the dark euphoria of HÆLOS: moody, reflective, full of shadows, but always with one eye on that shimmering crest of light, slowly peaking just on the horizon.
Full Circle
is released by Matador on 18 March. The band play at Best Fit's
Five Day Forecast
on 11 January.
Get the Best Fit take on the week in music direct to your inbox every Friday