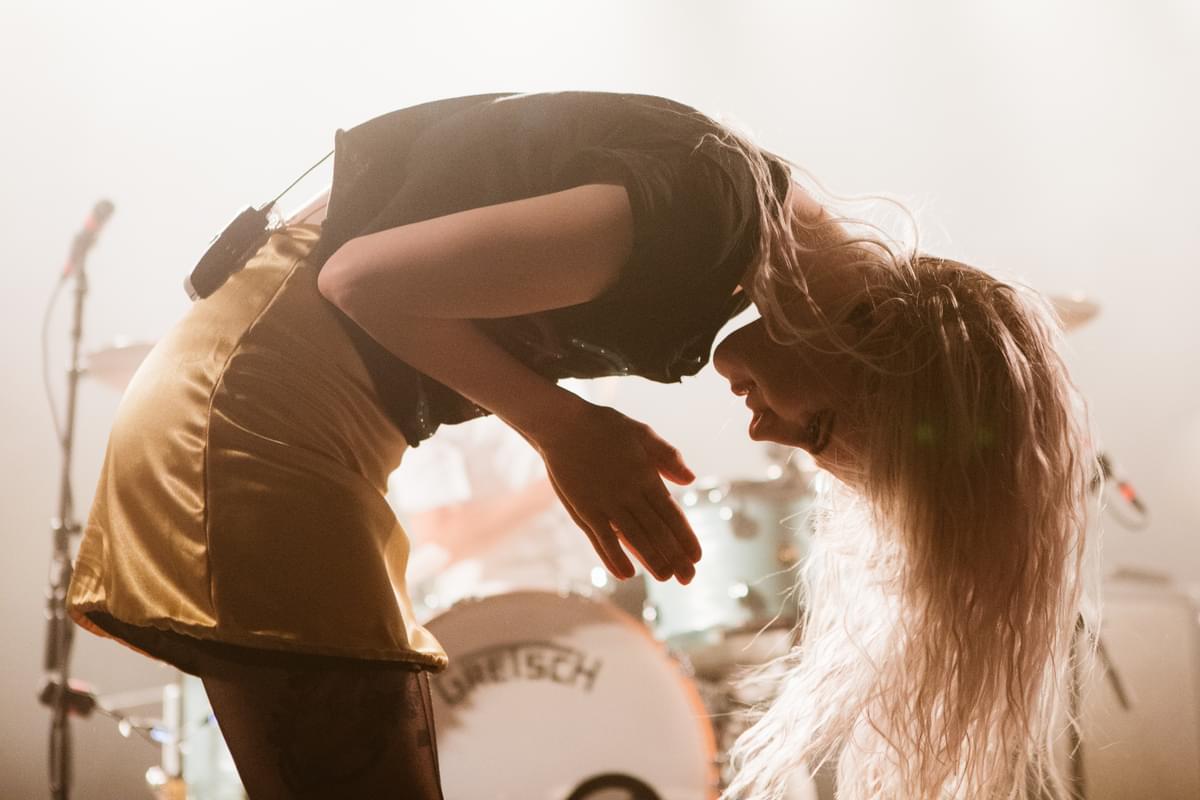 A Recurring One-Hit Wonder
26 July 2017, 09:12
Terminally uncool and ingenious, Paramore have been at the intersection between the alternative and mainstream for more than a decade, writes Emma Madden.
After several reformations, rejigglings and genres, Paramore have consistently been a cartoonish touchstone of each zeitgeist.
They survived rockism into poptimism, Hawthorne Heights into Haim, and this year, they've returned once more from blank slate beginnings. From the back of their previous self-titled effort, which the band described as 'genre-neutral', a new evolution of Paramore has emerged. The previous version was tied up neatly with a Grammy winning single from the apt self-titled record (since its subject matter was about growing up in the band itself), but their latest may be their most impressive yet.
Earlier this year, we saw Hayley Williams brush herself off from a car wreck in the "Hard Times" music video and emerge from it with white hair. She swapped her significant orange hair for blank signification and made the first etchings on the band's tabula rasa. Despite each of the band's records seeming to represent a different era in the Paramore continuum, since 2007's breakout Riot, the band has relied upon a similar formula. One that would ensure them the perfect marriage between the alternative and the mainstream; between rock and pop.
From their angsty emo beginnings, to their flirtations with tropi-pop and '80s revivalism, they've been fulfilling pop music's caches and phases since the mid-noughties. Throughout all these little nudges, the band has stayed anchored to their picture of the alternative, to the formative memories of jamming to Radiohead and Elliott Smith together as teenagers. Paramore is one of music's more successful products because of this enduringly successful duality. They are, as member Taylor York has said, "too pop for rock music and too rock for pop."
In the recent history of popular music, we've seen the charting of this not-quite-neat duality, but only in short bursts. Consider the one-hit-wonders of the past half-decade, for instance. The "too pop for rock music and too rock for pop" hits such as Foster the People's "Pumped Up Kicks" and Gotye's "Somebody That I Used To Know" may have given the respective musicians enough money to last them through their retirement, but they've yet to successfully apply this algorithm again since. Those 'blurred lines' one-hit-wonders seem to satisfy a certain cache by accident. Paramore's is instead entirely intentional. They move neither with the torrents of rock and pop, but to where the two camps intercede. They are, in other words, a recurring one-hit-wonder band. Such is the brilliance of Paramore. Each of their albums is a product of the music they'd been listening to the previous year - the alternative breakthrough bands of that time - while still sounding invigorated rather than derivative.
Their first album, the monolithically emo All We Know Is Falling was a relative non-success. The genre, which was of itself near-extinction, catered to the adolescent whim and evaporated into obsolescence just as quickly. The album can be fun to listen to in hindsight, with lyrics like "Maybe if my heart stops beating it won't hurt this much" that are so bathetic, they're almost charming. But it gets old quickly, and the absence of some pop relief is felt strongly.
Their follow-up record Riot rectified the dud debut and revised the band's method which had previously consisted of a genre saturated with itself. While still maintaining elements of emo, the band took these skeletal details and merged them with the one-hit-wonder-scoring genus of the time: pop-punk. Coming into vogue in the closing years of the '90s, pop-punk ameliorated emo with a tongue-in-cheek self-reflexivity that was so sorely needed. The same too could be said for Paramore's juvenilia. Taking hints from the unashamedly teenage and jocular bands like Good Charlotte and Bowling For Soup, Paramore revived their sound with the pomp and gravitas of pop-punk, while still retaining their sparkling emo breakdowns. Riot's opener, "For A Pessimist, I'm Pretty Optimistic" is one of the album's better examples of a track that auspiciously whooshes back and forth between the two genres. It borrows the bravado and countermelodies of pop-punk while taking time for moments of emo meekness.
However, Riot's breakthrough hit was the ferociously adolescent "Misery Business". This was a song that effectively reconciled both the alternative and mainstream arenas. This was a song that you'd hear at the indie club as much as you'd hear it on primetime radio. This wasn't a pop song, nor was it an indie song - so why was it there? Because it took the 'best bits' from them both, reifying them into a giddy, scream-along tantrum of an anthem. It took the not-so-good bits from Paramore's emo and pop-punk peers also. With much of the genres' subject matter filled with flagrant misogyny and slut-shaming sanctimoniousness, lyrics like "Once a whore you're nothing more" helped to place the band alongside their emo epoch. Moreover, it was very timely for female-on-female slutshaming. In 2006, internalised misogyny was very in. Paramore may not even have existed without it. Avril Lavigne's 'one of the guys', tie-wearing, femme-hating brand of pop-punk created a huge thirst which needed slating. Incidentally, Hayley Williams happened to fit inside the cookie-cutter.
Despite decrying the song's subject matter today, it's no coincidence that "Misery Business" would go onto be the band's breakthrough hit. It issued a uniquely time-specific example of both how music should sound, and women should behave in the third-wave of emo subculture.
Although this culture was soon rendered illegitimate; becoming so waned from the mainstream market that it was debunked as nothing more than mere 'mall music', Paramore held onto the sinking ship right until its bitter end. Their third album, Brand New Eyes catered the Twilight-era well but its progression from the previous effort was just as sophisticated as Twilight to New Moon (the outstanding "The Only Exception" really is the only exception to this rule).
The band clung to what some have since called 'the last subculture' right up to its overdue death. While there are plenty of bands who never recovered from the loss of pop-punk and emo, others could re-channel. Those deemed The Big Three of emo and pop-punk - My Chemical Romance, Panic! At The Disco and Fall Out Boy - all came back around the same time, once the maudlinness of their previous age had materialised into nostalgia. Although all three comebacks charted highly, unlike Paramore, they couldn't convert their commercial success into a critical success.
While Paramore noticed a hunger for newly-formed nostalgia, what set them apart from their emo contemporaries was their ability to experiment with a post-subculture zeitgeist in which the mainstream and middlebrow had been slightly elevated. They took their cues from the chart-savvy alternative acts of the 2010's, specifically citing Alt-J's An Awesome Wave as indispensable inspiration for their 2013 self-titled album. A band that describe their music as "pop music masquerading as experimental music", Alt-J provided the perfect template for the next iteration of Paramore's alternative-mainstream approach. Never had the band's algorithm been so transparent or so successful. It's immediately clear on Paramore's third album. The opening track, "Fast In My Car" sounds like an emblematic Riot-era song at its base, but its layers of vocal effects, change-ups, and descent into a maelstrom of sound placed it into the pop-alternative arena at the time. Although the band describe the album as 'genre-neutral', what with its moments of pop, emo, and ukulele interludes, it is instead a hodgepodge of genres. Each song represents the genre-duality that Paramore has always relied upon since their initial success. "(One Of Those) Crazy Girls" merges 1960s doo-wop with the spunk of stadium rock; "Future" marries lo-fi experimentation with straight-up emo, and so on.
"Paramore's borrowed algorithm worked even better for Paramore than it did for Alt-J. Alt-J won a Mercury Prize but Paramore won a Grammy."
Just like Alt-J's An Awesome Wave, Paramore's third album took the most clamant aspects of each genre. Years after 'the last subculture', with nothing to do than to test the waters, Paramore's borrowed algorithm worked. It worked even better for Paramore than it did for Alt-J. Alt-J won a Mercury Prize but Paramore won a Grammy. While Alt-J are a band of derivation, Paramore derived them further in a way that was loveable and camp. In the process, they eschewed Alt-J's severity - the thing that, paradoxically - has prevented the band from being taken seriously. In a world where performativity - in politics, gender, music - is constantly being exposed, Paramore's turn towards pop was timed perfectly.
Just as it does in this year's 'Hard Times', the marimba signified this rearrangement from earnest emo to unblushing pop. The band's take on the shortly modish tropi-pop (as popularised by acts like Justin Beiber and La Roux), where the marimba is a staple instrument of the genre, may have won them their first Grammy award-winning song. "Ain't It Fun" took the chart-pandering tropes (the marimba, the gospel choir) of the moment and imbued them with Hayley William's fervent lyricism and the classic Paramore pop-punk guitar line. The song was a testament to the band's authenticity. That no matter how formulaic, trendy, cool or uncool the track - Paramore finally achieved what their previous efforts couldn't - they could now authenticate the artificial. The winning combination of the vapidly fun marimba and Williams' pithy take on adulthood: "You're not the big fish in the pond no more/You are what they're feeding on" made Paramore's voice stand out in a musical landscape awash with feckless trends.
Their newfound cachet had in part come from the simple process of growing up (a large chunk of the album's subject matter.) The Class of Third-Wave Emo had all grown up, and they seemed to react to this development similarly - by taking things way less seriously. By this point, their self-referentially 'authentic' music of the mid-noughties seemed just as artificial as the poppy fads that lasted no longer than a carton of milk. In the words of an irrelevant dead guy, growing up requires "a greater engagement with artifice", and this is precisely what happened to the musical world in which Paramore were operating. Their movement towards pop on an album about growing up was fitting, because pop itself had grown up. With the help of poptimism, pop music had gained prestige. Once deemed vapid, pop music was now being credited for exposing the myths of authenticity. Guitars, bearded men in the woods, Oasis- became just as transparently inauthentic as basically anything Katy Perry has ever done. Alternative acts shifted towards pop, meaning that Paramore followed.
They were now firmly in the centre of the indie and pop venn diagram and this was largely guitarist Taylor York's doing. For a band that has always insisted they are more than just their frontwoman, York has proven just that. He began to find his voice in the making of the third album, and has since gone onto provide Paramore's successful algorithm. Tentatively sending Williams the marimba-filled midi of an early working of "Ain't It Fun", York principally steered the band towards poptimism. He took note from the bands that had successfully colluded indie with pop; the alternative with the mainstream in a post-subculture landscape. It was now that Paramore struck up a close relationship with critic-beloved bands like CHVRCHES, as well as the press itself - as they began to make their move from commercial success, to the more enduring critical success. Their self-titled effort was a seminal one, because the band had finally discovered that the closest way to get to authenticity was to expose it.
This year's After Laughter concretised Paramore's poptimist position, and has been the band's best album to date. In the four-year hiatus between their last release and this fifth LP, the musical milieu had shifted in Paramore's favour, as though in accidental anticipation of After Laughter. Carly Rae Jepsen's Emotion won the war against rockism; bands like Fickle Friends et al disassociated the guitar as a signifier of rock and made it an instrument of pop, and indie-pop had finally been legitamised. No longer was the dual-genre seen only in short spurts, in the form of one-hit-wonders. Now it began to dominate. Not since the 1980's, when the avant-garde entered the charts (bands like Talking Heads and The B-52's were probably played at your aunt's wedding), have the borders between the mainstream and alternative been so blurred. Though their respective audiences seem to be as distinct and separate as ever. How many pop-exclusive consumers would claim to be a fan of Paramore? Likewise, getting any NME-reader to admit to the fact that the new Paramore album straight up bangs would be nigh on impossible. It's because of this pandering to both extreme kinds of consumer, that they ultimately remain isolated from it.
"While a band so commercially successful as Coldplay still try to attend to both mainstream and alternative audiences - they are ultimately deemed the uncoolest band in the world because of it."
To take one crude example - while a band so commercially successful as Coldplay still try to attend to both mainstream and alternative audiences - they are ultimately deemed the uncoolest band in the world because of it. Where the all-encompassing method has led to the critical detriment of others, it's created Paramore's successes. Bands like Coldplay are lampooned because their music isn't pop enough for pop music, nor is it rock enough for rock music. While Paramore's oversaturated "too pop for rock music and too rock for pop music" formula doesn't just make them uncool, it makes them radically uncool. Their camp, anachronistic take on the already tired 80's revivalism niche, parodies just this. To be sure, Paramore always seem to be both one step forward and one step behind.
While The 1975 seemed to kill '80s revivalism, on After Laughter, Paramore revived it again shortly after. As the band did for the first time on Paramore, they've again imbued the synthetic with the organic. Although we're beginning to see a trend of apologism for bands equally as banal as The 1975, After Laughter inadvertently tells them to hold their breath. The worn-out disco polyrhythms, neon lights and the barrage of '80s signifiers which seem to serve no real purpose, are reappropriated by Paramore with a function. On "Hard Times", Hayley gives her most outstandingly hammy impression of David Byrne. The neon lights in the music video burn on, as her bandmates join in with their campiest 80's ideals, and shout out the seemingly vacuous title: "Hard times!" Each element of the record is a trendy-turned-campy pantomime on the obligation to remain superficial; to be 'fake happy'. This time, Paramore specifically take the modish and nebulous superficialities of their crowding indie-pop arena. The music itself uses the inauthenticities of their contemporaries to expose their own authenticity.
Of course, the album's musings on mental health and the feeling of hopelessness are far more pressing. Yet the borrowed poppy tropes on this album demonstrate the strain to be artificial, to always smile, to be grown up. Paramore certainly have grown up and have learnt to form an engagement with artifice that is not only compelling, but oftentimes brilliant. They have created a musical formula that has adapted near-perfectly to the concerns, fashions and revivals of each epoch. It's true that Paramore have always had a talent for spotting the trends of the alternative-mainstream intersection. Yet with each effort, these musicians prove that Paramore is a band that will outlive obsolescence.
Get the Best Fit take on the week in music direct to your inbox every Friday