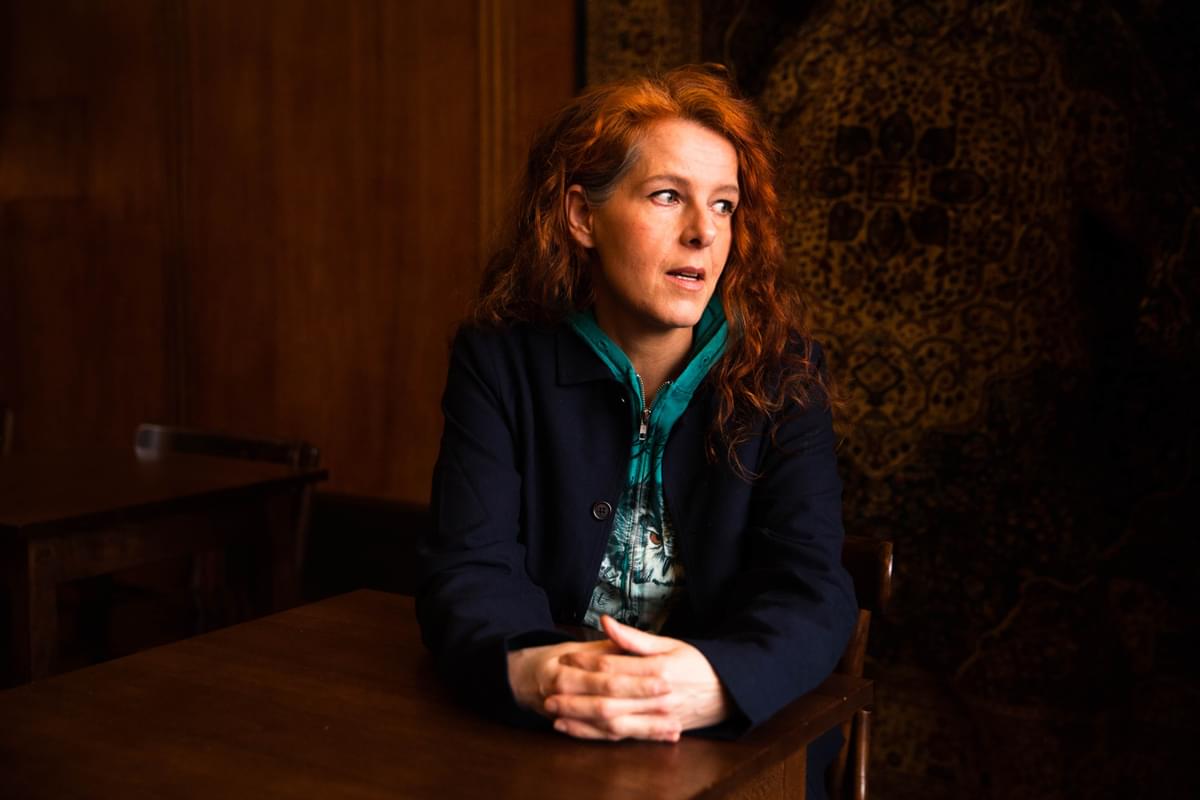 Warrior Woman
29 May 2018, 07:30
Neko Case left her comfort zone for new album Hell-On, inspired by the women who shaped civilisation. She takes Alex Wisgard through the journey.
When Neko Case describes herself early in our interview as "kind of a rabbit-holer", she's ostensibly talking about the creative process behind her new album.
However, the admission also provides something of a warning about the strange, unexpected and often-hilarious tangents our conversation regularly takes: "I'll go a long way for one thing, and then come all the way back to the beginning, or completely remove whole sections. I don't know, it's just done when it reveals itself.
Case makes a face, checking herself somewhat. "That's not a good way to say it, because it always sounds so cunty." She adopts the overblown voice of an artiste, doubling back on her earlier thought to make fun of what she just said. "'I'm just a vessel for the muuuse.'"
We chat again a few weeks later, the conversation turning to the track "Gumball Blue" (more on which later), when Case astutely expands on her efforts to balance obliqueness with relatability in her lyrics. "It's like fashion. They only make, like, one shape and three sizes, but people look at it and think 'That's so cool, I wanna wear that!' And then they try it on and they realise it was made for women shaped like boys, and they're really uncomfortable in the fabric…I want everyone to be able to wear my designer collection, and feel like they look HOT, you know what I mean?"
See? Rabbit-holer.
Although Case's new record Hell-On comes five years after its predecessor, it can hardly be said that Case has been idle during this time. Over the last three years, Case coordinated Truckdriver, Gladiator, Mule—a lavish box set reissue of her catalogue, wrote and recorded a collaborative project with kd lang and Laura Veirs, both of whom make appearances on this album, and joined the New Pornographers on last year's Whiteout Conditions, and toured for each. And that's to say nothing of her life outside of music, the most significant upheaval being the electrical fire which burned down her home during the album's recording–a tragedy she has owned majestically across the album's artwork and promo videos.
Case's recent burst of creativity could also be a response to the difficulties she faced during the making of her last solo album, 2013's The Worse Things Get, The Harder I Fight, The Harder I Fight, The More I Love You. That LP was "made at a time when I was really depressed. I made the record not about that, but despite that." Her tone turns almost apologetic. "I didn't phone it in. It was just difficult".
By comparison, Hell-On was much easier to make, thanks to the fact that, as Case puts it, she "wasn't deeply depressed at the time" ("Man," she immediately asides. "Does that sound like I'm a fuckin' asshole…"). The sense of being "completely present" during its creation encouraged her to take the effort to leave her comfort zone. She collaborated beyond her regular cast of players—"I didn't have to let go of anything if I didn't want to, but other people have better ideas sometimes, y'know?"—in at an unfamiliar studio in an unfamiliar country, leaving behind her "man friend Jeff, three dogs, three cats, five chickens and two horses" for six weeks.
"It's really fun to realise the things you don't normally do which are really obvious things most of the time."
One particularly surprising way Case found to get out of her comfort zone had been hiding in plain sight for nearly twenty years; Hell-On is the first Neko Case album to see her writing with her New Pornographers bandmate Carl Newman. "Sometimes I'm kind of amazed that we haven't done this sooner, but then when I think about what both of our schedules are like, it kind of makes sense. We both are in several bands, he has a kid…we're busy as hell. And we didn't know if it would work! Y'know, you don't wanna bum out your long-time collaborator…"
The two Newman/Case co-writes on Hell-On sound like the joint work of no two other songwriters, thanks in no small part to the fact that Case happens to prefer the elements of songwriting which Carl doesn't (and vice versa). The most revelatory of the pair is "Gumball Blue", the album's understated masterpiece, which takes the subtle electronic touches which have graced recent New Pornographers albums and refracts them through nuanced layers of Case's production.
Midway through, an air-raid siren begins to dominate the track, while the backing singers (made up of the other New Pornographers) ominously chant the phrase "no sound". Suddenly, the track stops dead, the siren morphing into a dial-tone, with Case's vocals hyper-compressed to sound like they're coming from the other end of a scratchy phone line. It's the most breathtaking detail on an album loaded with them.
One line which piques my interest seems to be aimed at her partners in crime; "I've lived singing your songs," she sings. "Long-legged mazes and English geometry." Before I have the chance to ask her about that moment, Case explains. "It's about Carl and Dan [Bejar]!" She chuckles. "It's kind of a love song about the New Pornographers. I didn't tell Carl that because I didn't want it to be awkward. I have to tell him that now, and he'll be like thaaaanks…"
When I enquire about the title of the song, it leads to one of our conversation's best rabbit holes–a diatribe which doesn't exactly answer the question, but is all the more interesting for it. "Do you get blue raspberry flavour in the UK? There's no blue raspberries! Blue is not a food! You don't eat that! There's such a specific kind of fakeness to blue gumballs. But bubblegum flavour is the most revolting. It's like clown flavoured – it's like what a clown would taste like if it was fresh. Fresh clown meat."
Case made the decision to co-produce half of Hell-On with Lykke Li producer Björn Yttling at a studio in his native Sweden thanks to his impressive resume—"He worked on 'French Navy' for god's sake!"—and his general pop savvy. "He said to me 'You know, sometimes people are really busy worrying about the transitions in a song, like how to get from the chorus back to the bridge. Sometimes the hook should just be the whole song.'
This is most obviously borne out in "Bad Luck", a song which Yttling "insisted on doing from the ground up" on Case's arrival in Stockholm. Arguably one of the most straightforwardly catchy tracks in her catalogue, its lyrical conceit was simple—"I like fairy tales, and I thought that there's a lot of superstitions in the world, so I could make some up and tie them in in some way." Yttling's response was to stick the chorus at the very start of the song, a pretty standard trick for some, but one which Case describes as a "balls-out" move. "It's really fun to realise the things you don't normally do which are really obvious things most of the time."
"Bad Luck" is also one of the songs on Hell-On featuring a new cast of players, including Yttling's bandmate Peter Morén, and former Go-Between Robert Forster, to play on the track. This was another way for Case to get out of her comfort zone which, as she puts it, "ended up being just another comfort zone! I sell it as a hardship when really it was pretty darn delightful."
"You have to get over a lot of being afraid. It's like being nude in public."
Elsewhere on the album, you can hear Guided By Voices guitarist Doug Gillard and Calexico multi-instrumentalists Paul Rigby and Joey Burns; "You cannot get them out of the studio when they get in there," Case notes approvingly. One collaboration we had discussed during our last interview three years ago, however, has still yet to materialise: her elusive synth-pop record with John Grant. "I floated a title past him," she says, filling me in on the record's progress (or lack of). "He floated some album cover ideas past me, so...it's real in our minds."
And whilst no Neko Case album could be considered bereft of creativity, the influx of ideas spurred on by working with new people is what makes Hell-On her best album since Fox Confessor Brings The Flood. That 2005 LP was a turning point, the moment she was first able to hear what her voice really sounded like. When previously talking about Hell-On, Neko has talked about increasingly accepting her voice, which she describes as "not pretty or well-trained", seemingly in an attempt to bait journalists into complimenting her.
"You have to get over a lot of being afraid. It's like being nude in public," Case explains of this revelation, quickly noting "not that I've been nude in public. But it's like how you imagine you would just have to black out the situation. You have to walk out of the room and go some to put clothes on. It's just whatever machine kicks in to get you from point a to point b. You just have to throw yourself at that stuff."
When I ask if she ever considered taking lessons, particularly after she mentions her lack of natural vibrato–a rare quality in a singer–Case says no. "Some people just don't have vibrato, and I have to go 'Oh that's OK! My throat isn't shaped that way.' kd [lang] said she could teach me how to do it, and then she said 'No, you know what? You should just sing the way you sing.'"
Paradoxically, it may be this acceptance which encouraged her to bring other vocalists in to feature on Hell-On, including her first two duets. On the the winding seven-minute epic "Curse of the I-5 Corridor", Case's pure tone is joined by the gravelly tones of Mark Lanegan. When I ask where the inspiration came from to rope him in as her gruff counterpart on the song, Neko smiles.
"Obviously the man is one of the greatest singers. You wouldn't want it to be somebody else because he Mark Lanegans terribly well! No one can Mark Lanegan like Mark Lanegan can", she explains. The decision also came from the pair both being from the same area of Washington, through which the I-5— "a super cursed, dirty toilet of a highway"—runs. "The song meant so much to me, so to have somebody that I'd been running into since I was seventeen years old as the other singer on the song meant a lot."
Another of Hell-On's most striking tracks is "Sleep All Summer", a heartbreaking duet with her guitarist Eric Bachmann, who originally wrote the song for his band Crooked Fingers. Adding to the list of incredible interpretations for which Case is responsible, it's a song with which she has a long history, once tweeting "I tell Eric he's an A-hole for writing that one whenever I see him."
"I still do!" she insists when I bring it up. "Stupid, stupid perfect song. I remember the first time I ever heard that song. It was on a small radio station in Tuscon, Arizona, and I had to pull my car over and cry. It was such an honest song about love." The track became a mainstay of her live sets after the release of The Worse Things Get..., bringing not just Neko but her audience to tears on an almost nightly basis, a response which led her to approach Eric to record it.
Compared to the rendition released a few years ago by The National and St. Vincent for a Merge Records compilation. there's something genuinely magical about the fragile, haunting arrangement the song bears on Hell-On. Case is just happy that the album might allow more people to find the track in the first place. "If that's how they get that song into their system, we gotta do it. Eric deserves a lot more lovin' for writing that one. He's a self-effacing southerner, so sometimes you gotta give them a good shove. A big loving shove."
"Sleep All Summer" is Hell-On's emotional apex, and it's expertly sequenced immediately after the album's focal point, a mighty paean to female power entitled "Winnie". Featuring a "Greek chorus" of voices, the charge is led by Gossip's vocal powerhouse Beth Ditto on the song's stunningly affirmative refrain: "We were warriors!". When I mention Ditto, Case clutches her heart, screaming "She's a PEACH! She came in[to that song] like a Valkyrie. It's a little bit meta, but she plays the part of the lady who I'm madly in love with in the song."
"Winnie" was one of the moments on the record inspired by Adrienne Mayor's book The Amazons, which retraces and exposes the unsung contributions women made to ancient history. Partly as an attempt to make sense of the current state of the world, Case has found herself becoming something of an acolyte of ancient history: "It's obviously been a really bad time in America for a really long time, and it's been a bad time all over the place, but we're supposed to study ancient history. Why would we work so hard at trying to find it out? We just never seem to learn from any of it."
"Women helped form civilization. It's still there, and it's still ours to go and reclaim. The bodies were buried, but not very deep – we can bust this myth."
"This book was such a positive validation," she continues. "Yeah, we really were there! I fucking knew it! All the women I know who are creators know it. And it's just one of those things that validates everything – you feel like you naturally understand.
Case's enthusiasm for The Amazons is rooted in the "excited, positive way" in which it was written, and she has even provided a pull-quote for recent editions of the book as well as talking about it for a recent Best Fit podcast "[Mayor] really points out all of the history where women were actually there, where we're told we weren't. We helped form civilization. It's still there, and it's still ours to go and reclaim. The bodies were buried, but not very deep – we can bust this myth."
"This book was such a positive validation," she continues. "Yeah, we really were there! I fucking knew it! All the women I know who are creators know it. And it's just one of those things that validates everything – you feel like you naturally understand. That isn't something that's explained to you, it's innate. So it was a real – the skies parted, and I was like…yes!" Neko raises her hands to the sky, her voice lowering to a reverent stage whisper. "Thank you!"
The revelation about ties into the anxiety Case expressed feeling as one of the few women starting up in the Washington music scene of the mid-nineties. "The me back then was definitely doing a lot of chronic math," she notes, echoing a key line in "Winnie"—"Sick on chronic mathematics / I just wanted to hear music." She elaborates on the formula behind these maths, describing the way she experienced listening to music growing up: "Where are the women? What are the women doing? You don't even know you're doing it. The woman's point of view in that song just seems to end at a brick wall right there. Why didn't it go forward? Did the character give up? You're always doing the math. Always."
When I ask how the Neko Case of twenty-five years ago would respond to her new record, she hones in on that aspect of her song writing. "Hell-On would lessen the chronic grip of the math [for her]. It would be a math I immediately understood."
Case's glowing book report leads to a new conversational rabbit hole. I ask her – less as a journalist than a luddite – how best to approach reading about history, a topic in which I have struggled to take an interest. After admitting how my mind conjures images of military history-laden bookshelves of the mid-life-crisis-bound, I leave our interview with a reading list (The Amazons, for starters, but also Tom Holland's Dynasty, and Margaret MacMillan's The War That Ended Peace), as well as some perspective on the subject's importance.
"One of the reasons I got really into history is that I also got really into World War Two, like a forty-year-old British man," she explains, as my face visibly reddens. Case quickly clarifies the comment. "I think that is an adorable way to put it! But our World War Two history always started with when the Americans got into the war. But that was one thing – you need to get the other perspective here. [Also] I just wanted you to thank me for the victory…that I had nothing to do with. I wasn't vital to it. 'Neko Case single-handedly ended Hitler.' You're welcome. Don't mention it."
"The way history is taught in school is that you go from the beginning and you go up. You just have to find your anchor point. You're building this bridge – these are your peers, from there to there, so you have a little span. Things really start to make sense, and the patterns start to stick out. History is not like dates in a book – it's just crazy happenings that explode possibilities into other happenings. And the chaos of it, and the weird unexpected turns – those are the parts that make you go woah. This could go in any direction at any time."
Not unlike a conversation with Neko Case, really.
Get the Best Fit take on the week in music direct to your inbox every Friday