Two hundred years later, of course, a western pilgrimage means something different. For some, it simply happens because of a job offer or a necessary move. For many others, it comes from a longing of warm weather and sunshine for more than four months out of the year, for the opportunity to own a house or to drive a car, for personal space that New York commuters crave during rush hour, for vegan friendly bites and green juices, fitness crazes, and tanned skin.
For singer, songwriter, actress, and native New Yorker Lola Kirke, the dream of moving West falls in-between. She's someone who has never belonged neither here nor there, not quite in 1968, but not in 2018, either. Her western quest is current, but its motivations feel emblematic of decades past. Kirke's movement west represents mystery, passion, freedom, and most importantly, truth.
It is the release day of Heart Head West, Lola Kirke's debut full-length that melds Americana and country, Laurel Canyon-inspired folk, psychedelia, and even jazz to express love, death, the American dream and America's reality, all into ten tracks. Later in the day, the 27-year-old will hold a record signing at Brooklyn's Rough Trade, and in a week and a half, she will perform a three-night, sold-out residency at Williamsburg hipster haven, Union Pool. But before all that, she meets me at Veselka, the East Village's favorite 24-hour eatery for classic Ukrainian dishes and diner comfort foods. She looks like her music sounds, referencing a previous time in a worn tank with the Rolling Stone logo emblazoned on its front, paired with light-wash cutoffs. It is the morning after Kirke's late-night performance of her new album for her family and friends, and she's now excited to be reunited with the restaurant's spinach and mushroom omelette.
"If you had told this 16-year-old girl who wanted to dress like Gram Parsons that one day she would make a record and it would be cool and people would like it...I don't think that I would have ever believed in myself to be able to do something like that."
The week has involved typical album release duties, from press appointments, to rehearsals, to livestreams. "I feel like all I've been doing is carrying either large guitars, suitcases, or boxes for a week between my apartment and Midtown," she tells me, adding that after our interview, she'll be heading out for a massage.
Another inevitable duty at the time of a record's release is sharing its whole journey on social media, bracing oneself for the response, and making the decision to click on those album reviews. "I'm trying not to focus on the response too much," Kirke tells me, noting her overwhelming email inbox. "There's a lot of immediate gratification as an artist in this world right now. I can't imagine the artists that we love and admire of yore refreshing to see how people liked Anna Karenina. I guess today I would like to give myself permission not to participate in the storm."
Kirke often feels pressure to underplay successes, to remain humble and prevent herself from having an oversized ego. But having a record of her own is an accomplishment that she wants to allow herself to be proud of. "I think it's really important to hold space for the things we achieve in our lives," she says after explaining her desire to find out her new album's birth chart in a birthday book. "If you had told this 16-year-old girl who wanted to dress like Gram Parsons that one day she would make a record and it would be cool and people would like it...I don't think that I would have ever believed in myself to be able to do something like that."
That 16-year-old girl grew up in a family of artists. Her dad is Simon Kirke, English drummer of classic rock bands Free and Bad Company, and her mother, Lorraine Kirke, owned and designed for the West Village's cult boutique, Geminola, famous for dressing characters of Sex and the City. The Kirke children all went on to pursue their own careers in the arts (Domino Kirke is a musician; Jemima Kirke starred in HBO's Girls), but not without serious encouragement from a young age. "My family worked in this very strange way where we each were put into our own box. So I guess we think of artists as this Dionysian thing where there's no boundaries, and there were no boundaries, but there were these limitations," Kirke remembers. "It was like, Jemima was the painter, Domino was the singer, my brother, Greg, was the photographer, and I was gonna be the actress."
And an actress she became. Kirke's breakout role was as the star of Amazon's Mozart in the Jungle, on which she played Hailey Rutledge, a classical oboist with conducting dreams. Additionally, she was cast in the film adaptation of Gone Girl and in a leading role opposite Greta Gerwig in Noah Baumbach's Mistress America.
But before her castings and successes, Kirke felt out of place within her creative family as the youngest child. "My sisters were very, very beautiful, and I looked like a little boy because I had cut all of my hair off," she describes self-deprecatingly, remembering feeling ignored by family and friends as a child. "As I've been gaining traction as an actress, I've seen that shift. It's kind of funny to come into your own and then people pay attention to you." Kirke says that being creative and making art, and feeling accepted and loved, have always existed in tandem. "I think that so much about why I make art is about wanting to be loved. I wanted people to pay attention to me and affirm me and that was a way to do it that I saw."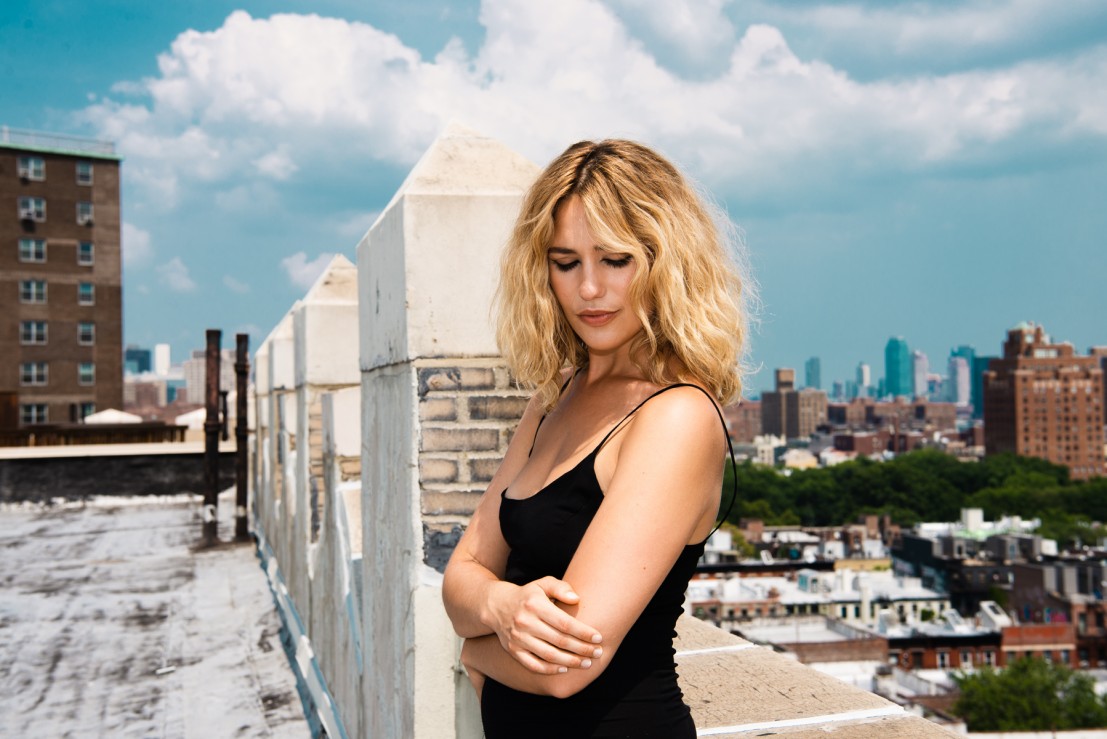 However, creating music hardly crossed Kirke's mind growing up. Part of her reasoning for this came from existing in a shadow of cock rock, when she rarely felt that women could make the same kind of music her father and his bandmates did. "I think as a little girl, I just wanted a musician to love me as much as they fucking loved their bass guitar," Kirke says, sighing, half-joking. Kirke also had trouble seeing herself as a potential music-maker next to her talented sister. "Domino was this exception to me in this male-dominated world. Domino really has such a stunning voice, and I didn't. That wasn't what I was told I had from a really young age. I was told I had an interesting voice," she laughs, rolling her eyes. "God, being a human is so brutal."
To survive in the brutal world of human living, music listening became a solitary, fantasy-filled experience for Kirke. She was not creating music growing up, but she was consistently, rigorously listening. "I always had an encyclopedic knowledge of the kind of music that I liked," Kirke remembers. "I realized that was a skill that not everybody had, because I'd be with people and they'd be like, 'What? Why do you know every note of that guitar solo in that weird Eagles song?'" It's a quirk she demonstrates during our conversation, associating certain songs with memories and feelings, from referencing a video of Rick Danko of The Band, to thinking about Kacey Musgraves' clever roasts and zingers, to recalling how much she used to lament to the Beach Boys' "I Just Wasn't Made For These Times." "I think that finding this other era that you imagine that you would've been more loved and appreciated in was something that I really did," Kirke says, adding that she now believes she exists in the correct era. "I don't think I would've been able to do what I'm doing before. I love now. I mean, I hate my cell phone, but I love now."
As a London-born, New York-raised teen, Kirke found unlikely solace in country music. To explain her affinity for the genre, Kirke often refers to a quote most commonly attributed to country songwriter Harlan Howard, which said that a country song is "three chords and the truth." "I think that three chords sounded very manageable to me and the truth was something I'm really interested in telling and understanding," she says. "I know a lot of people who have aspirations for something that they aren't in. I think that's a very human thing."
Country musician Gram Parsons has undoubtedly served as Kirke's musical role model. With stars in her eyes, she tells me about his upper class upbringing in Florida, how he attended Harvard while wanting to be a musician, throwing in a reference to "So You Wanna Be a Rock 'n' Roll Star" by the Byrds. "I think there was a sense of him in the world of country music that he was just a rich kid who could buy his way into being a musician.I was always intrigued by his ability to fake it until he made it. Because I really do think he made it," she asserts, adding that the Rolling Stones have cited Parsons as an influence. "As someone who felt I wasn't American enough to like American music, or I wasn't a man, so I couldn't play music, seeing somebody put on a costume and go out there and really succeed was so exciting."
Parsons is also the figure who coined the genre "Cosmic American music," which is how Kirke likes to define her own songs. Unlike Americana, which Kirke says is art that pertains to aspects of American history, she says, "Cosmic American music is art that's about the cosmos as it pertains to Americana. It's a dreamier version."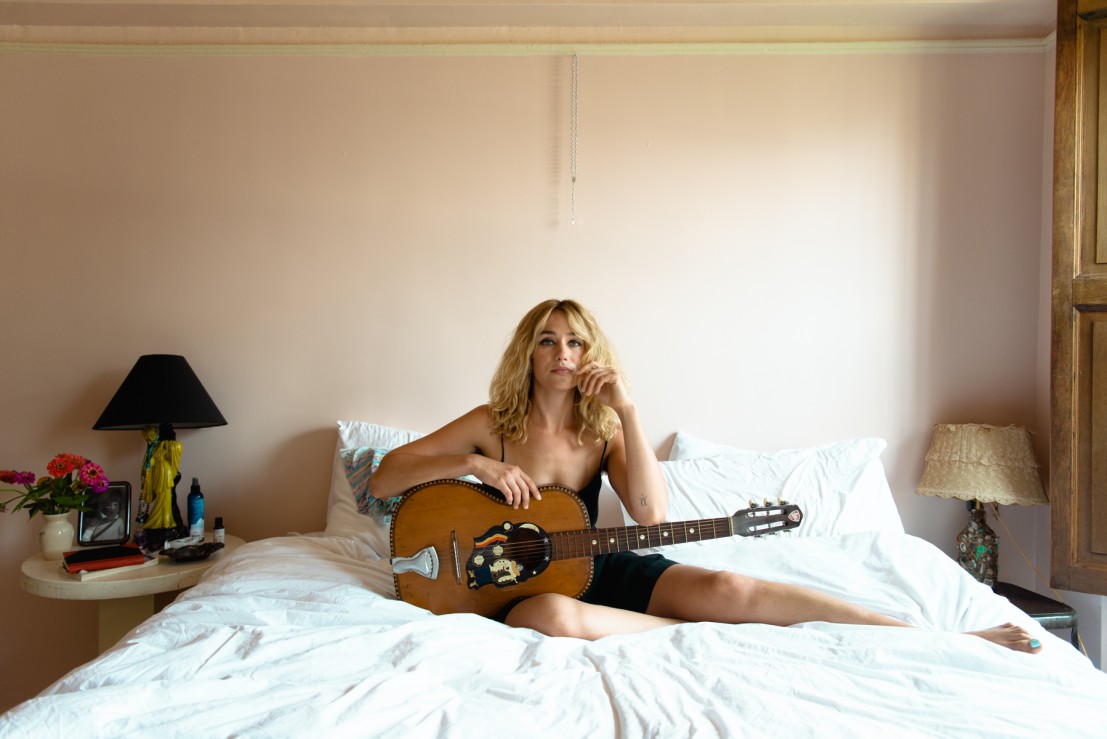 It took years of listening and admiring her American idols for Kirke to finally pick up and stick with an instrument: the ukulele. "You could bring it to school and annoy people all day long with it," she recalls, grateful for the little uke that paved her journey toward playing the guitar and the bass. "It made me feel competent as a musician in a way that recorder class or anything else made me feel like I was gonna fail forever." Kirke began learning guitar as she studied at Bard College, where she involved herself in different music scenes and groups. She dabbled in a ten-piece band where she felt like a "glorified bat mitzvah dancer," covered "Angel From Montgomery" around town, and found her place in an all-girl country band. She explains, "We were at this very liberal school playing this music that's associated with something, I think, more conservative. But I think that they really talk about their feelings in country music." In her unrealized quest for truth, Kirke was beginning to find answers through a personal cultivation of the art she only ever intensely consumed, never so passionately, truthfully created.
It was at this time that Kirke also discovered the therapy, self-actualization, and power that resulted from songwriting. "Songs are like problems to solve or ways of solving problems," Kirke says, explaining her enjoyment of the pop structure of songwriting, which provides a way to construct the messiness of her feelings and thoughts. "Songwriting has given me such a space to get to understand myself." Kirke says that as she journeyed through college and later into her acting career, she was always writing.
Moving west with her partner and frequent collaborator, Wyndham Boylan-Garnett, was what ignited Kirke's musical journey into her current career. While the pair searched Airbnb for a Los Angeles escape, they fell upon a place with a recording studio built in. "We had no sense of practicality," Kirke says of the time, adding that they continue to act this way today. "It was like, 'And we're gonna make a song every single day! And we'll be barefoot all the time!' It was very idealistic." The recording studio actually was put to use, and after Kirke performed some songs she had written at a house show, she decided to record them. The result was Kirke's debut release of 2016, simply titled EP, a collection of songs that convey the power that comes from a woman singing blues songs today. As "sad girl music" becomes a jaded music marketing term, the blues have been sung longer than recorded music has existed. "I don't think I really write music when I feel happy," Kirke says.
What has been written since, from 2016 onward, is most of what makes up Kirke's debut record, Heart Head West. The album was mainly recorded at Palomino Sound in East Los Angeles, where Kirke was joined by old friends and collaborators, exhibiting that sometimes the search for truth comes from finding people one can trust. Shane McKillop and Justin Flint of the band Amo Amo play bass and drums respectively, and Lilah Larson of Sons of an Illustrious Father plays lead guitar. Wyndham Boylan-Garnett produced the record, after having produced Kirke's EP. "He's a person I fall more in love with as I watch him work," Kirke sweetly mentions. "He has a patience with people and a way of communicating creative ideas without ego that's so inspiring." The album is varied in its instrumentation, making it difficult to pinpoint one genre, besides Cosmic American, of course. "One second it's jazz flute and then there's a fucking fiddle happening and we're burning down the barn," Kirke says, maintaining that the record expresses what sounds truest to her tastes.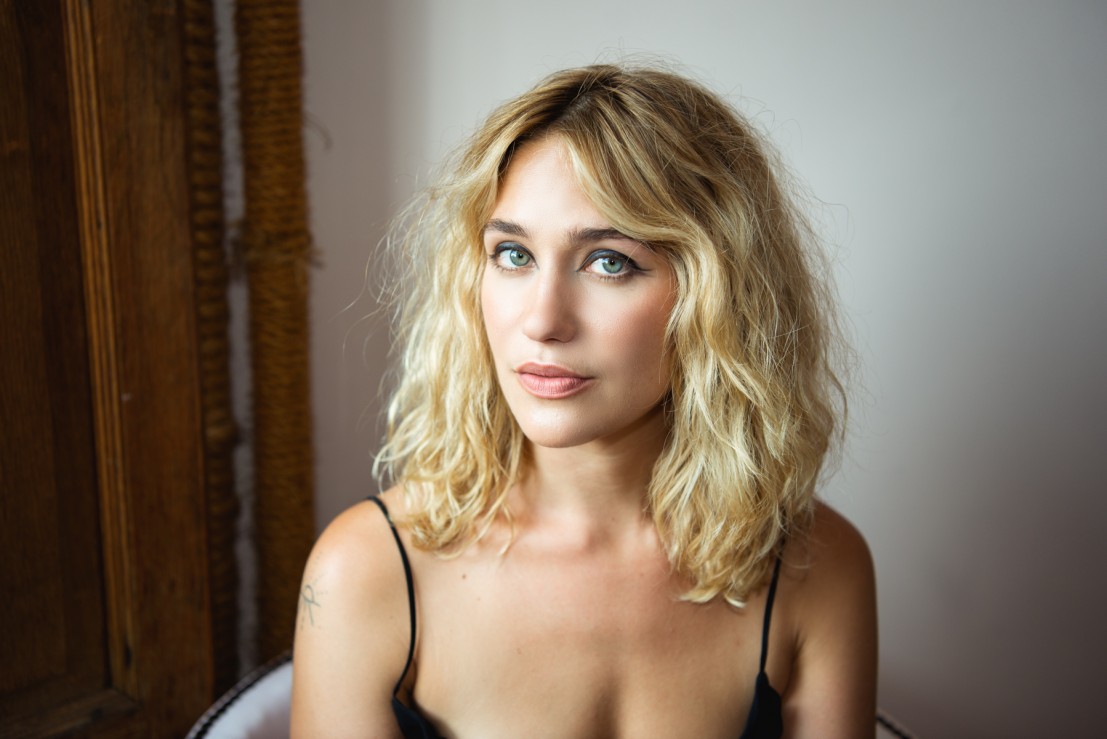 Heart Head West is just as varied in its content, as Kirke grapples with finding the truth in her feelings about what has taken place within the past two years. Much of this was instigated following the 2016 U.S. presidential election. The track "Bad News" was started a week before the election, and finished the week after. "I thought shit was gonna change," Kirke sighs. Apart from this track, however, Kirke's lyrics seem to come from a very personal, internal place. The album's first track, "Monster," was written for a friend struggling with drugs and alcohol. "I didn't know how to be there for that person. Then I was at a party and I got really, really drunk and suddenly felt tremendously alone," Kirke says. On the track, her pitch dips and rises with a sliding guitar, as she insists, "I'm not a monster, just someone who wants to belong." "I realized often that for me, with getting fucked up, it is about wanting to belong, it is about kind of alleviating social awkwardness and feeling more ease with yourself," she says.
The next track, a twinkling ballad, "Born To Die," is one of the record's more personal tracks, which Kirke wrote about her younger brother who passed away last year. "Sometimes I wonder if that's too cynical of an approach, because I don't think he was born to die," Kirke says, feeling less sure about the topic than she had when she wrote it. "I don't understand the meaning of life, nor do I understand the meaning of his, but I sense that it's greater than just that."
"Simon Says" is another family-related track, which Kirke wrote about her father during her parents' late divorce when she was 23, and how her home would never appear the same, she says. "I think that that's something that happens to so many adults. People pass away, houses get sold, cities change." Kirke's lilting vocals convey the power of country's vulnerability-- we feel an edge rise in her throat to spill out the words, "They all said it wouldn't hurt anymore/ Least not the way that it did before/ But it does," as a cymbal builds and crashes.
Upbeat, joyous songs give the album more groove, like "Supposed To," a rollicking barn dance with lyrics that feel like a continuation of "Tomorrow Morning" from Kirke's EP. "They're totally both about cleaning my apartment," Kirke laughs, agreeing with my comparison. "I get really into the idea of tidying because it gives me the illusion of control. The things that I think I'm supposed to do to be my best self, whether it's being free like Joni Mitchell, because she's the ultimate goddess of exploration, or having my apartment be immaculate." But as "Tomorrow Morning" was so much about uncertainty, "Supposed To" is about letting go of what you can't control. "When I feel hated, I did it right," she cheers in the bridge with a confident twang.
The only song that Kirke wrote collaboratively on Heart Head West is "Turn Away Your Heart." After the song came to her in a bar bathroom in Italy, Kirke returned to her hotel room and FaceTimed her longtime friend and fellow songwriter, Lily McQueen. "She was just like, 'I wrote this melody and it reminds me of you.' She sent it to me and I loved it." McQueen tells me on the phone from her homebase in Los Angeles. The song portrays the simultaneous smartness and simplicity that formed the greatest country and folk songs of Johnny Cash or Linda Ronstadt. McQueen also joined Kirke in the harmony vocals of the track, and admired Kirke's attitude during the recording process. "In the studio, she just knows what she wants. She really won't let up until she gets it, which is a very admirable thing, because in the studio I can sometimes feel scared to ask for what I want," McQueen says.
In "Sexy Song," Kirke expresses that she knows what it's like to not get what she wants. "So many women want to have sex when someone doesn't want to have sex with them. It's not talked about that much. Growing up in the generation where sexuality was broadcast by Monica Lewinsky and Sex and the City...You will be shamed publicly, but you should be fucking everybody because that's how you'll be fabulous," Kirke presses, wide-eyed. How many narratives have there been where a sexual woman felt unsatisfied? When are a woman's sexual needs ever portrayed as unmet, unorganized, or unaccompanied by someone's gaze? "That song was about reconciling my own sexual empowerment with feeling totally sexually disempowered," Kirke says, confident that other women have and do feel the same sense of longing. "I'm always so refreshed by any people who talk about their failures. It makes me feel okay about mine."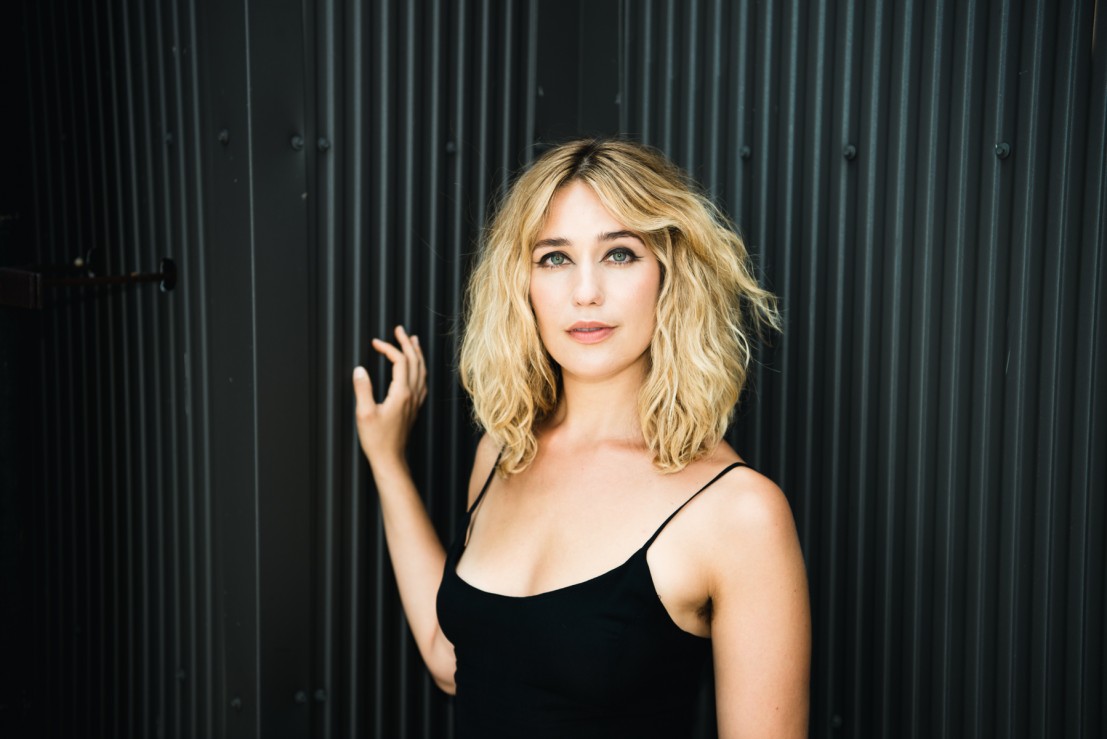 Once a listener encounters the eighth song on Heart Head West, they will notice that the title track is not a song at all, but a reading about a place that feels like home. It begins with an inhuman voice, like what a news station plays to cover up an interviewee's identity, before it speeds up to reveal it is Lola Kirke reading aloud, only to be sped up again to sound like a helium-filled voicebox, before it slows down to slow lowness..
The passage serves as an introduction to the next track, "Out Yonder," which Kirke wrote about years before Heart Head West came into fruition. Consequently, the song is noticeably different from the rest. Besides its psychedelic reverb and singsong jazz flute, Kirke's lyrics are dreamier, whimsier, more cosmic, perhaps. Most importantly, the song introduces the overlying theme of Heart Head West in its final verse: "Though my head was strong my heart headed west/ And the empty howls of lust did sound like thunder / And the milk that came as dust did make me wonder/ Is there any way to trust what's way out yonder?"
Kirke was introduced to California by a friend, Audrey Turner, and they made a pilgrimage to Gram Parsons' home in Joshua Tree when she was 19. "After that, I started longing for the west in such a deep way," Kirke remembers. "I think that the ideals of the West are just moving towards freedom. California was this final destination of freedom." Still, part of her feels like New York is home, as the song and the title of the album suggest. She continues, "I think I have so much discord between my heart and my head all the time." She tells me that the back cover of her album was supposed to be a picture of her in the desert, wearing Croc shoes with the "I Love NY" logo on them, but they had to be removed for copyright concerns. "The point is this tension between these two poles that represent very different things," Kirke says. Her heart heading in one direction and her head staying somewhere else demonstrates that neither place ever feels fully right.
And as Kirke oscillates between two rival coasts, she also expresses her longing for another era with the last track of Heart Head West, a cover of Jim Ford's "Point of No Return." Kirke told me that she adored the track the first moment she heard it, but she couldn't help but yearn for a Dolly Parton version. Understanding that this was unattainable, Kirke decided to sing it herself. "I just think the longing in that song is so beautiful. That song I get really emotional when I sing live, not because I'm a scorned lover or anything, but just because of that pain of wanting someone to change," she says. On the second night of Kirke's Union Pool residency, it truly did appear to be among the performances that seemed most passionate. Minus the thumping, upbeat drums and playful backup singers in Jim Ford's original version, the husky quality of Kirke's voice plays a central role, singing, "Oh, baby, what does it take?" She alters the meaning of the song using only her voice, making the truth of a woman's vulnerability and heartbreak its major themes.
"Now that I'm putting out my own music and revealing myself in this completely different way, it just feels really strange to be suddenly part of a tradition that has given me so much love in my life," Kirke says about finally releasing her debut album, being able to redefine the genre she has grown to understand and cherish, from proving that women can and should sing the blues, to considering what certain classic country ballads would have sounded like if they were sung by women. Lola Kirke had to write her own songs to obtain her own truth, and like so many artists have done for her, perhaps her music can lead someone in the direction of theirs.
Heart Head West is out now on Downtown Records. The Line Of Best Fit presents Lola Kirke live at The Lexington, London on November 30. Tickets are on sale now.