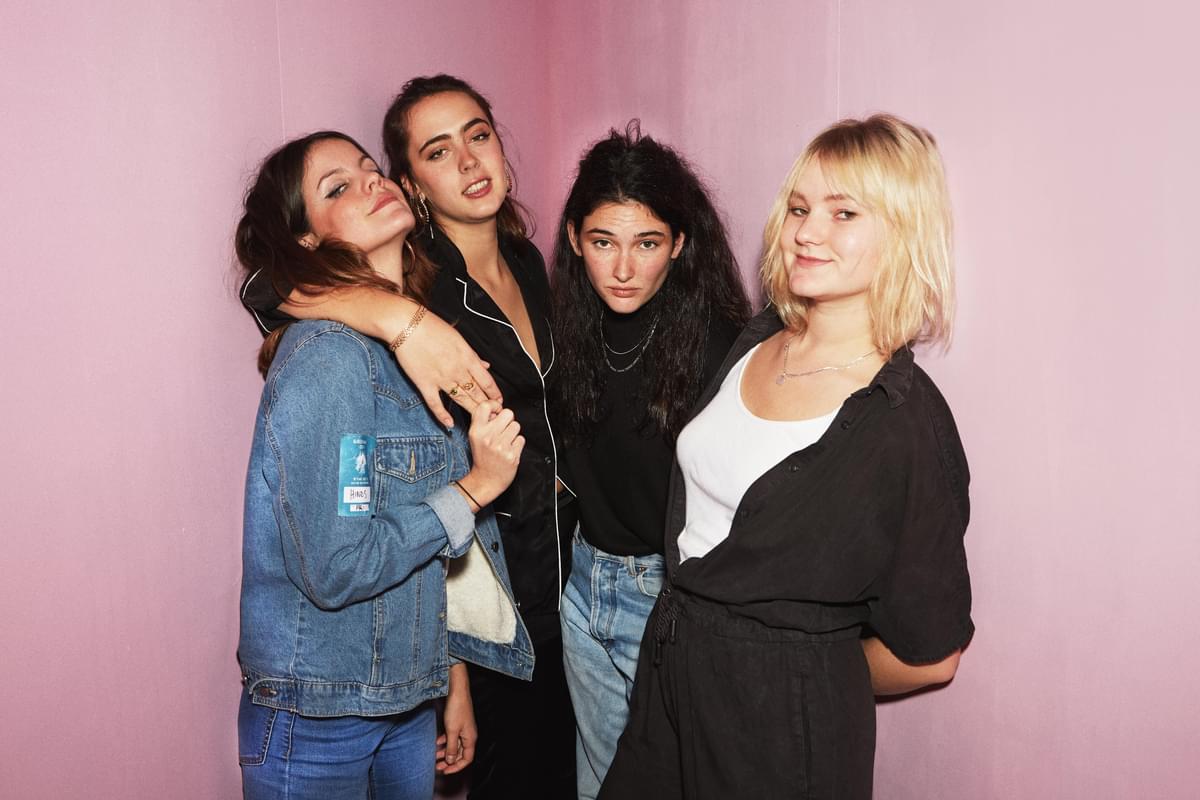 How Hinds learned to say no
06 April 2018, 08:00
The new album from Hinds sees the firebrand Madrileñas sounding more honest and more real than ever. They've finally learned to appreciate what they're good at too, they tell Ellen Peirson-Hagger - and that means learning to say no.
Hinds are in a predicament. They're in the midst of rehearsals before they head out on the road again – to SXSW and on to more American shows, then back to Europe for a tour that'll be in full swing by the time you read this. But they're struggling: "We only want to play the new record, but we know that's horrible for fans. Bands have done it to us before, and we don't want to be that kind of band," says Ana Perrote.
That kind of band – if putting their preferences over their fans' is what that is – is certainly not Hinds. The Madrid-based four-piece, formed of Perrote and Carlotta Cosials on vocals and guitar, Ade Martin on bass, and Amber Grimbergen on drums, are the epitome of a band who give it their all – for their fans and for each other.
Two years after the release of their debut record, Leave Me Alone, and on the cusp of the release of their second, I Don't Run, Hinds still make sure each of them has a can of lager in one hand, a cigarette in the other, and a bright grin on their face at every opportunity. Hinds are out to have fun – that much is clear in every essence of their production, from their bouncy party-like live shows to their entertaining and unfiltered social media output.
It's clear too when I speak to Perrote and Martin while they're back home in Madrid for rehearsals. They laugh loudly and willingly, and tell all their stories with wide-eyed wonder.
That doesn't mean Hinds aren't a serious band. They've been fighting for success from the very beginning, when songwriting duo Perrote and Cosials met through their then-boyfriends, musicians who thought music was for men to play and women to listen to.
Perrote and Cosials soon abandoned their boyfriends and started writing songs together. In 2018 Hinds play with a determination that sounds wild on stage and on record, and they've had that determination right from the very beginning.
They found Martin and Grimbergen in 2014, became a four-piece, and were supporting The Libertines and The Vaccines before the year was out. The following February they played Thailand and Australia, then they headed to the US, while somehow finding the time to record Leave Me Alone in the midst of it. There's no doubting that Hinds work hard.
"When you're on tour, you never know what could happen...you're in an unknown city with people you don't really know. If you have a little bit of FOMO, you're fucked." - Ade Martin
Photos of Hinds on tour show the four musicians jumping up and down, stage-diving, and venturing into the crowd as much as possible. After a show they'll hit the town.
"We all party a lot," says Perrote, "But I think there are two teams. Sometimes me and Amber go home early. I have to be careful with my vocals – I don't know how CC [Cosials] does it!"
But there's more to going out than simply getting drunk. Hinds seek a life outside the four walls of their tour van and the venues they play, as Perrote tells me: "We're in the van the whole day, from eight in the morning until 4pm, and then we play a show. The only moment we can talk with someone who is not in our team, or we can actually walk in the street and meet other people, is after the show. It's so exciting to feel free!"
With everything they say, Perrote and Martin have a sense that they're living on cloud nine, experiencing a dream of a life that they know could end any second.
"It could be the last day that you're ever gonna be in whatever city," Martin suddenly says, her words quickening, "I always feel like: if I don't do this now, who knows when I'm gonna come back?"
They both nod and giggle, overwhelmed by the enormity of that realisation.
"We have this internal rule that if Alex Turner suddenly shows up in Manchester, you call me and you wake me up" - Ana Perrote
The excitement gets too much: Perrote takes a sip from her water bottle and chokes, Martin starts patting her on the back, and they both explode into fits of laughter as Perrote continues to splutter. Their vivacity is contagious, and soon I'm laughing too, warmed by their spirit and their amusement at the simplest of disturbances.
Once Perrote gets her words back, she's all fired up. "It's just about living it!" she cries, "Because we can go through the day existing, but we're just being driven to shows and interviews. The only time we live is when we play a gig and when we hang out afterwards."
This very sentiment is strung right through I Don't Run, which attacks with bright guitar lines and an energy which seems to be trying to run away with all the enthusiasm in the world. The exuberance with which Hinds attack their melodies is every inch the sound of living.
"When you're on tour, you never know what could happen," suggests Martin. "You're in an unknown city with people you don't really know. If you have a little bit of FOMO, you're fucked."
Suddenly Perrote remembers something, and chimes in, "Si! We have this internal rule that if Alex Turner suddenly shows up in Manchester (because these things happen on tour!), you call me and you wake me up, and if I don't pick up, you come to the hotel, you wake me up, and you make me come. That's a really big rule. If something crazy is happening, they're gonna wake me up and I'm not gonna miss it."
Perrote is defiant. Hinds are on alert. I feel like an old friend indulging in the tales of my far more adventurous, reckless gang who run circles around the world, brandishing guitars at every turn.
Perrote tells me about the time they were playing the Echoplex in LA. After the gig, as the band hung around the merch table, their tour manager came running to tell them Hollywood actor Joaquin Phoenix was in the smoking area.
"We were like 'For real?!' and we started running towards him. Then we learnt that Will Arnett was there too – he's a fan! – and Josh Radnor was also there – he's a fan! You could see the three of them checking on each other like 'Fuck! I'm not the only Hollywood star here.'"
With their trio of Hollywood actors, Hinds were led to an after-party where the bar took the form of open vending machines. "Endless drinks!" Martin grins.
"We don't give a fuck. We just run in and see everyone..." - Ade Martin
Hinds will never be very good at acting cool – they're fans just as much as musicians – and they don't care to try either. They love playing festivals – they're already announced for Primavera Sound, Best Kept Secret, Latitude, and Reading and Leeds this summer – because they love getting to hang out with other musicians.
"With us it's like having four fans backstage," Martin tells me. "Whenever we know there's someone in the dressing room we want to meet, we just go! Other bands normally wanna keep it cool, like 'Hey, I'm a fan of yours, and I'm playing here too,' but that's not us. We don't give a fuck. We just run in and see everyone."
So follows a star-studded reel of names as they shout, competing for airspace and fiery in their elation.
"We saw Vince Staples and the Future Island guys!" says Martin.
"And Mac Demarco!" finishes Perrote.
"I spoke to James Blake once!"
"Albert Hammond Jr. too!"
Martin remembers that one fondly too: "We went backstage with him and he doesn't drink, so we got to drink it all."
That meeting paid off: Hinds have just finished a string of US co-headline shows with the Strokes guitarist.
Perrote and Martin are charming, full of an indispensable exuberance that is so rare in an industry of musicians trying to act cool and nonchalant. Hinds do what they do for the sheer joy of it – and it's no wonder that the bands whose dressing rooms they scramble in to welcome them with open arms. "Slaves were the only ones who were actually fans of us before we met them!" Perrote jokes.
For all the drinking, dancing and partying, Hinds are an impeccably focused set of musicians. They haven't allowed their willingness to have fun to lead to a life of excess.
Leave Me Alone presented them as a no-nonsense quartet of party-starters with a tight ear for melody and a danceable rhythm. Even before that, early tracks "Bamboo" and "Trippy Gum" – released as Demo on Bandcamp while the band was still a duet – marked Perrote and Cosials out as an energised pair who were more than willing to record lively rock and roll without a shadow of artifice.
I Don't Run embodies everything that first made Hinds so loveable – a down-to-earth attitude from lyrics to production, and rhythms that push your feet up and off the ground – but it is also record full of tightly-wrought riffs and masterful playing.
There's a real tenderness to the album that wasn't so apparent on Leave Me Alone. Alongside party-starters "The Club" and "New For You" are tracks such as "Linda" and "I Feel Cold But I Feel More," which sway with a sweet longing and blissful harmony.
"Now that we've played for a few years, we know what we want." - Ana Perrote
Perrote reckons the band have their time on the road to thank for this thoughtful progression.
"Touring made us better," says the guitarist. "We played so much, listened to each other, saw other bands, listened to more music. Leave Me Alone was made up of the first songs we wrote. Usually the first songs a band writes are not supposed to be released. If we were a normal band, a slower-increasing thing where the first record hadn't come out so soon, I Don't Run would be our first record. Now that we've played for a few years, we know what we want."
"Leave Me Alone was such a mess of writing, of recording, of mixing, of releasing, of touring," Perrote continues. "Everything was in such a rush because we were offered the biggest opportunities a Spanish band has ever had. We couldn't say no to anything. We thought we're not missing this train because it's never coming again! Our fourth ever show as a band was in London, at the Sebright Arms. It was sold out. It was all industry people. Our fourth ever show!"
She pauses, reckoning with the pace of it all. "We should have said 'no' – but we said 'yes' because we weren't gonna have the opportunity again."
Up until March 2016, Hinds were a 'yes' band – they were picked up and promoted within an inch of their lives. Once Leave Me Alone was released in January 2016, Hinds were spun around the world, touring and touring.
Usually, they'd be on the road for three or four weeks, then head back to Madrid for some down time for a week or so, time enough to do their laundry, see their mothers. This time they toured non-stop for several months.
"Suddenly we realised we weren't gonna get any time off," Martin explains. "That March we were in the US and there was one day when we were all sharing this shitty room and we woke up and we were all like 'I can't stand this. I wanna go back home. This is horrible.' We called our manager and had the biggest fight. It was the worst feeling: I love this, I am the luckiest girl in the world, but I don't wanna do this."
Now, Hinds know they might sometimes have to say 'no' to an offer – they can't be everywhere at once, and they definitely can't be everywhere at once and still give every live show their all. Saying 'no' on the odd occasion, they've learnt, doesn't detract from Hinds' relentlessness or success.
Perrote nods, "We need to be able to appreciate what we do. A Hinds show without Hinds wanting to be there doesn't make sense at all. Our shows are so much better when we're happy. We're just trying to make our team understand that."
But when they have different labels and management in every location – the UK, Europe, the US – everyone fights over them.
"No one understands that we never say no, because we don't know how to say no," says Martin, "We love this job so much, so we don't wanna fuck it up!"
"We can enjoy something that is sad, or enjoy something that is really powerful and serious. It's just about giving the emotions to the maximum." - Ana Perrote
It's lucky, then, that the four band members get along so well. "We love each other a lot," says Perrote. "And that means we always make a huge effort to get along. Maybe it's because we're girls, or because of the way we were raised, but we don't fight. Fighting and saying something nasty to hurt another person is not the first thing that comes out."
"It's amazing how bad you feel after a show that you know you've ruined," she continues. "It's a horrible, horrible feeling because we know how much it costs for people to pay for a ticket, and to travel, and how excited you can get to see a band that won't come back to your town for a long time, and to be with your best friends in the crowd."
Even if they do become exhausted or fed up, Hinds use all of their emotion to make a more exuberant live show. They bring their joy, thrill, heartache, anger, anxiety, maybe their restlessness at being on the road for so long.
There's a conversation before each gig: What kind of show will they play? Will it be laid-back, or is it going to be rapturous? Well, it depends how Perrote, Martin, Cosials and Grimbergen are feeling.
"We can enjoy something that is sad, or enjoy something that is really powerful and serious. It's just about giving the emotions to the maximum," explains Perrote. "We can have a great time, not because we're laughing all the time, but because we're feeling so many things. Honest emotion is definitely a goal. If we're sad, we use it."
On record, Hinds play with more technical 'mistakes' too, 'mistakes' they leave in in order to sound more emotional, more honest, and more real.
"Perfection is overrated," Perrote quips.
"We never want to lose the feeling," she says. "We record everything live, without a click drum or anything. We play on instinct. If we want to play faster in the chorus, we just play faster in the chorus."
Perrote and Martin laugh when they explain the shock Shawn Everett, who mixed I Don't Run, had when he worked with them. "He got so excited that he was working without Autotune!" Perrote cries.
"The mistakes are important to our vocals and the way we play," she continues. "Even the things we sing about – they wouldn't make any sense if they were perfect. If I'm yelling and I'm losing my voice in the end, it's because when you yell, you actually lose your voice."
"And you're yelling because of what you're saying! We have to do it like that," adds Martin.
Our conversation turns back to touring – to the vast number of dates that lie ahead on the Hinds tour schedule. This time around, Hinds have been more open with their teams: they need time off, little snippets of time in Madrid to do their laundry, see their mothers.
For all the trials and tribulations of living out of a van for weeks on end, they are more than willing to walk new streets, hang out in new cities, and ransack other bands' dressing rooms for free booze.
They've laid out the difficulties of touring, but still they'll go at it again. Is their optimism important?
Perrote and Martin look at each other. "Yes!" they shout, both at once.
Perrote takes the helm: "So much. If you're not excited about it, I don't think you can do it. You might be tired, but you just have to think: 'I wanna wake up today. I don't know where the fuck I am, but it's gonna be a good show.'"
I Don't Run is out now via Lucky Number
Get the Best Fit take on the week in music direct to your inbox every Friday