The band's ninth album, Lamp Lit Prose taps into a revolutionary joy with tropical beats, major keys and uplifting choruses, all contradictory characteristics to the introspective self-titled record released in 2017. I talk to Longstreth a few days after his solo performance at Eaux Claires festival in Wisconsin run by Aaron Dessner from The National and Bon Iver. It was a unique spin on the festival standard which found the line-up being published on the day of the event and it's easy to discern his high spirits about the record's release and the weekend he's just had. "I was playing a solo set in this weird kind-of treehouse in the middle of the forest. I've never played anywhere quite like that," Dave tells me. "People were climbing trees and stuff during the set." This scene conjures up that primal feeling and sense of community you often catch at a festival, the sort of feeling you get when you're sat beside a bunch of strangers by a firepit in the small hours.
"There was more of a connection between the artist and the people who were there for the weekend. It was a really cool festival. I think Justin and the Desseners are trying to do something a little different, a little smaller and I really appreciated the connection."
The recalling of the details in this particular scene is telling of the headspace Longstreth finds himself occupying in the creation and release of Dirty Projectors' latest album, Lamp Lit Prose; namely, the importance of connection and community. These two elements have always been an integral part of Dirty Projectors' work, Dave calls the band a 'shape-shifting entity'. "I've always tried to assemble the band around what the songs are," he explains. Ever since its formation in 2003, the Dirty Projectors name has hosted a number of different faces throughout the years; you only have to look at the band's past members list on their Wikipedia page to see the extent. The only constant thread throughout the band's existence is Longstreth.
Dirty Projectors' journey is chronicled in their wildly adventurous catalogue ranging from the lo-fi beginnings of The Glad Fact to the expansive electronics of the self-titled LP released in 2017. The latter came after a five-year hiatus for the band and served as a fresh start of sorts, but a reflective, moody and melancholic one at that, and for good reason. Not only had the staple members of the group disbanded, Longstreth's relationship with long-term girlfriend and fellow band member Amber Coffman came to a halt. There was no tour and very few live dates in support of it.
Lamp Lit Prose comes out just 18 months after the self-titled release. Even though Longstreth doesn't necessarily see a connection between the records, as a listener it's hard not to view them as related entities even though they are opposing forces in may ways; it sounds as if it's a knee-jerk response to that record. "There's not really a relationship between the two albums but it makes sense that it follows the previous one. The feeling was very solitary for the self-titled album. The record projected aloneness for sure", Dave reflects.
"There's an image of community in a lot of the music that I make and interpretive depth, meaning and artistry in collaborators is something I really seek out."
The resulting album did just that. Tracks such as "Little Bubble", "Keep Your Name" and "Up In Hudson" all beautifully soundtracked the turmoil and tailspin of heartbreak, endings and new beginnings. Despite featuring some of Longstreth's best songwriting and his trademark playful production, there was a distinct absence of community spirit that had become such a quintessential part of the band's sound. Gone were the lush female vocal harmonies and bright folky guitar lines of Bitte Orca and Swing Lo Magellan. "I wanted to return to Dirty Projectors and make a body of work that outlined and opened a wide spectrum of feelings and emotions."
Lamp Lit Prose is both a progression of the band's new dabbling in the worlds of Hip-Hop and RnB and a reconnection with the more organic palate of previous releases. It's also an attempt to reclaim the energy of community and the band dynamic which can be heard from the sonics right through to the artwork. "Right Now", the album's urgent opener, directly references this; "there was silence in my heart / and now I'm striking up the band". The trademark red and blue icons peppered across the artwork of numerous Dirty Projectors' releases was darkened out on the self-titled LP in memoriam of the band's first chapter, now it reemerges animated and suspended in mid-air amongst an explosion of floral debris.
"I think at a certain point I was making this record and threw down some vocals of everything I had, listening back I felt like the album wanted to be more of a community, a conversation rather than a monologue. There's an image of community in a lot of the music that I make and interpretive depth, meaning and artistry in collaborators is something I really seek out. With these songs, it seemed that the right thing was to reach out to friends and people I have worked with over the past couple of years and just invite them to enter the fabric of them."
After pulling together the bones of the songs with long term rhythm section Mike Johnson and Nat Baldwin, Longstreth built on, overdubbed and collaborated until a bustling community formed in the walls of the LP. To help construct the conversation he wanted to have, Longstreth assembled the likes of Haim, Robin Pecknold from Fleet Foxes, Syd from The Internet, ex-Vampire Weekend member Rostam Batmanglij and Dear Nora.
So, why was community and collaboration so important to the songwriting and recording process this time around? "Feelings of hope and optimism felt important for this album in a lot of ways and for my country politically. It's important to locate joy, community, togetherness - optimism right now seems natural and it seems necessary." Optimism and joy can be located at numerous spots in the album, it's in the giddy shuffle of "Break-Thru", in the tropical rhythms of "I Feel Energy" and in the doe-eyed wonderment of "I Found It In U". It also features some of Dirty Projectors' most straight-up love songs, "Right Now", "Blue Bird" and "You're The One" all expose Dave's romantic side.
The songs also critique and hang questions on the political and social landscape. Longstreth looks at the wasteland through the lens of the distracted and self-obsessed modern eye on "That's A Lifestyle" which makes some stark social commentaries that would make Bob Dylan proud. "Who could look up from the numbers and say "Something ain't right"?" he asks, and "who will stop wasting the lives of the brave based on a lie?". To Longstreth, songwriting is the perfect arena to discuss such complex matters. "I love that song. There's a little bit of tension between the brightness of the melody and the difficulty that's addressed in the language. And that's unique [to songs]. What other medium can do that?"
"I was more interested in doing other things such as writing, producing and doing arrangements for people for a couple of years. It put a different spoke on the wheel which was crucial for the music I've gone on to make now."
Despite his idiosyncratic approach to songwriting, Longstreth has an undeniable knack for writing pop hooks which shines across the 10 tracks on Lamp Lit Prose; album highlight "What Is The Time" is case and point as it struts along with a melodic finesse almost reminiscent of Justin Timberlake. This ability to construct earworms that still contain an essence of obtusity and askewness have captured the likes of Kanye West, Solange and Paul McCartney.
"After we were done touring on Swing Lo Magellan [in 2012, before the hiatus] I was really prepared to put Dirty Projectors down for a while. I was more interested in doing other things such as writing, producing and doing arrangements for people for a couple of years. It put a different spoke on the wheel which was crucial for the music I've gone on to make now." Longstreth's writing and production credits glimmer with star quality. He contributed to six tracks on Solange's A Seat At The Table, lent his melodic hand to Kanye West's "FourFiveSeconds" collaboration with Paul McCartney and Rihanna and penned string arrangements for Joanna Newsom's last record, The Divers. But, how have these experiences impacted his process?
"I've taken different things away from each of the collaborative experiences that I've had. I think the experience allowed me to become more imaginative because when you're just working as a producer to somebody else's vision, you realise you're pursuing a kind of mental image which allows you to refine what you're doing in a different way. You can get closer to the whole process, you can allow the finished song or recording to contain the absolute imprint of that very first inspiration. Whereas, I think before I had these experiences, I was maybe more - not process based - but I regarded process in a different way, in the way you start with one thing and end up with another. Working with artists like Solange and Joanna Newsom showed me that it's one and the same."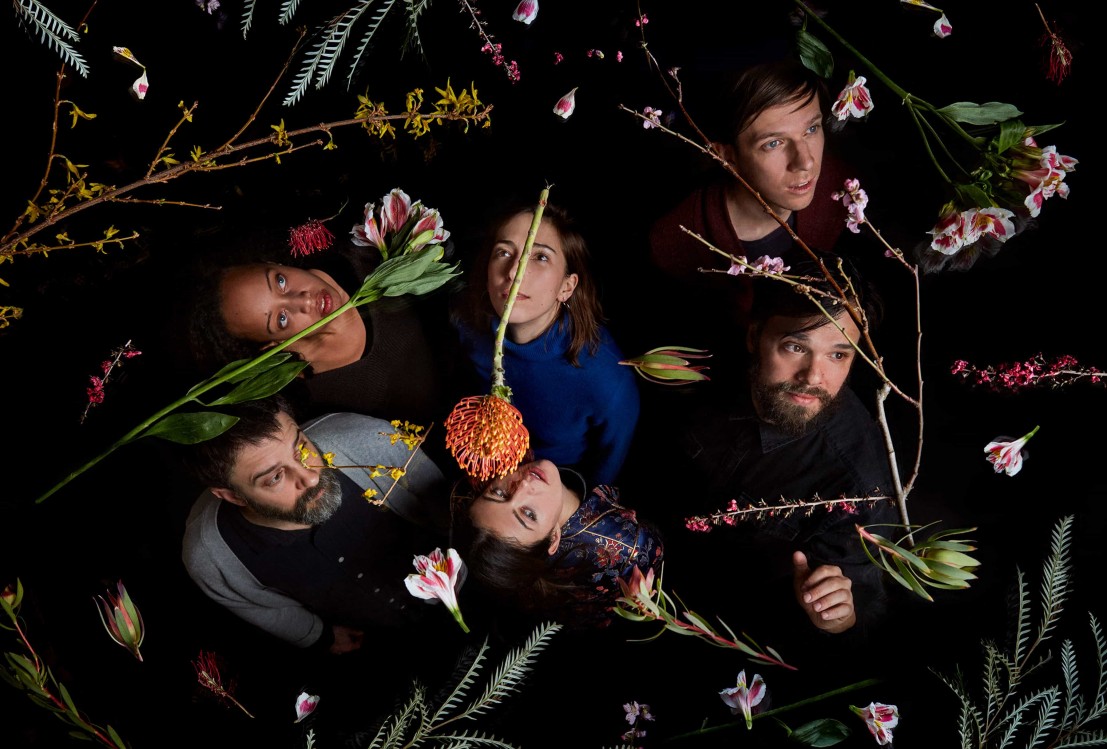 Even though he didn't work directly with or meet McCartney, the Beatle seems to be well aware of him; he's shouted Dirty Projectors out in recent interviews. During an interview with DIY Magazine McCartney said, "The other day I was reading an article about this guy from Dirty Projectors who's a band I like, and it says that his latest claim to fame was that he wrote the middle eight for "FourFiveSeconds". Oh, so that's how that happened!" "It is kinda crazy man," Longstreth recollects. "Paul's a hero of mine so what do you even say to that? I love his music so much. He taught us what's possible to do in a song, in my mind. I like his new songs, too."
Longstreth is currently riding the crest of a creative streak which looks set to continue. "Right now, it feels like I have so much music coming out of me, of my own, it's been a period of inspiration with tumbling ideas and energy - which is awesome. I've been wanting to get this music out, get it to the world and share it."
This new material has also given him a chance to get out on the road again. It's been a long time since a full Dirty Projectors tour and Longstreth has been pining to get back on the tour bus with a full band line-up; the old rhythm section is back on board and three new members have been added to the live outfit. "We just did a month's tour around the states, it was so awesome - it's the first Dirty Projectors tour in five years and it was really amazing to go out and play for people and to have people there for us. It was such an exchange. We play a festival in Japan at the end of July. We're playing Green Man which is a festival I love and psyched to play. The shows in London are gonna be awesome. I'm really excited to get out there." And he means it; the promo video released for the tour finds Longstreth and his new recruits literally jumping for joy.
Is it a band, or is it a solo thing? This is a question probably posed to Dave Longstreth a lot and one he's most likely asked himself. It turns out it's sort of both. The metamorphic nature of Dirty Projectors has gifted Longstreth with a freeing medium, last time it was definitely a solo thing, but this time it's a full on band affair. "I love the new band right now, I'm super psyched. I think we're kinda cooking," Dave critiques.
Lamp Lit Prose is out now via Domino