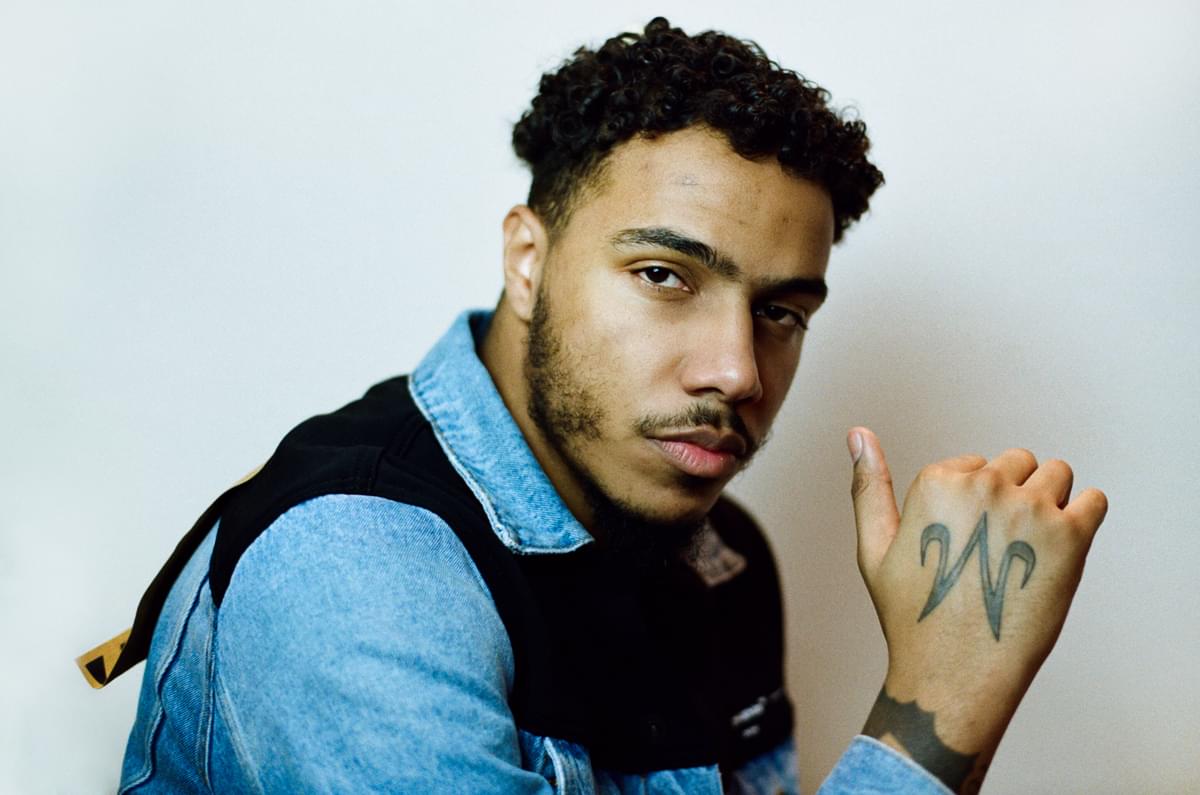 Breaking Convention In Style
06 February 2019, 08:00
AJ Tracey is on a mission to shirk genre norms and enshrine his individuality. Hayley Millross meets the west London rapper to discuss his prismatic debut album – just don't call him a grime artist.
There's a standard misconception amongst the musically ignorant that rap and grime are encased in the same box. And AJ Tracey is tired of being put in it.
The genre of grime and the narrow conventions that exist within it set some unhelpful parametres. Grime, which in recent years has seen Stormzy lead the charge, is teaming with musicians who according to sections of the nation's media fit a certain mould. There's no one more determined to unpick these seams than a 24-year-old from Ladbroke Grove.
Today's phone conversation falls in the middle of a busy afternoon for Tracey. Hopping between interviews and photo shoots in west London to promote his anticipated album, it quickly becomes apparent that he's a man in high demand.
He opens up our chat by explaining how he'd like to be defined. "[I'm] not necessarily a rapper," he says, "I just don't want to be known as a grime artist." His frustration is telling; it's seems that he's had to clarify this many times before.
Regardless, it's a valid subject to broach given the current circumstances of the music industry. "It's just a box. My whole life, I have been put in a box. You know, how people describe ethnicity? A lot of white people would say that I'm black or mixed race and whatever. I'm from Trindad and I'm from Wales. I'm as much from one as I am the other."
Born Ché Wolton Grant (named after the Marxist revolutionary Ché Guevara) AJ Tracey derived his stage name from a hard man on the estate he grew up on. It indicates that he wants to stick to his roots. But Tracey's roots in London branch off in interesting directions, not least because his Welsh-born mum was a DJ and his Trindad-born dad was a rapper.
Unlike some artists in his circle, his family has had first-hand experience of the industry. Their constant rotation of the likes of James Brown, N.W.A and LL Cool JJ piqued his interest in music. "I just started writing little raps here and there," he said, "I guess it was always a hobby in the back of my head but I didn't take it seriously." It was only when he reached his teenage years that writing became something real for him. His music career began to form with grassroots releases on SoundCloud.
From a distance Tracey aesthetically possess some of the traits of a stereotypical rapper. The music video for his latest single 'Psych Out' was filmed in Atlanta's most notorious strip club, Magic City, and is, well, full of scantily clad women. The video for his preceding single 'Doing It' is pimped out with flashy cars and rogue alligators. It's easy to assume that Tracey fits comfortably in the mould. But there's something unique, something different about him.
Tracey's eponymous debut album, out this Friday (8 February), makes a bold move by marrying a throng of sonic themes from drill to dancehall. His decision for the record to be self-titled is at once simple and clever. "I didn't give it a name because the narrative is literally me, myself. It's about me and my story so I thought it was most appropriate to just name it after myself." The belief he has in his album is also striking. "I think this is my best body of work I've done – hopefully everyone else will enjoy it."
"It's just a box. My whole life, I have been put in a box"
To assert that Tracey's music steps away from the ordinary might be something of an understatement. The soloist's selling point is his deft wordplay; the seamless way that he can craft metaphors and throw them into a song. And, like with his previous EPs and mixtapes, on AJ Tracey he flaunts this natural skill in abundance.
His debut has a variety of collaborations including Not3s, Jay Critch and Giggs, and also features producers Swifta Beater and NYGE. Tracey is however incredibly particular about who he works with. He keeps a tight-knit community of friends, and even more so with collaborations.
"There's nobody I'd really want to work with to be honest," he says. "I'd have to vibe with them and see what they are about in real life. I respect a lot of artists but there's no one that I am pining to work with."
When asked to think bigger; to think about a possible dream collaboration, he shoots for the stars. "I guess I'd love to do a Christmas song with Mariah Carey. That would be sick." But don't expect another remix of Carey's colossal 1994 hit 'All I Want for Christmas Is You'. Tracey's desire would be to make a whole new song entirely.
"I'm not trying to make America listen to things they don't listen to"
AJ Tracey, which has been two years in the making, plays with a variety of genres that Tracey is happy to list confidently. "Literally, pretty much every genre under the sun. I've got drill on there, I've got garage, like UK garage on there. Obviously 'Butterflies' [a collaboration with Not3s, released in May 2018] has got like dancehall sounds on it. I've got straight UK rap. I've got an American trap style in there. I've got literally everything." Using such a dynamic range of musical approaches on this album comes with a risk: one that Tracey appears happy to take – and embrace.
He's unfussed about breaking America, for starters. Though he's confident that his album will engage a UK audience, he says infiltrating the market overseas isn't "my aim".
"I don't mind if they don't [like the record]. A couple of people know my name over there, so hopefully they take it in. I'm not trying to make America listen to things they don't listen to". He doesn't name-drop yet, but we know that Drake co-signed him.
There is one thing that he plans to reward himself with regardless of the reception of AJ Tracey at home and across the pond. "I want a dog so I'm probably going to buy one." he says. When quizzed about which breed of dog, he chuckles. "I want to tell you but then everyone reading this will get the same dog as me, so I guess I can't." He does let slip with a name though. "I would call it Noriago [pronounced Nor-e-a-go], because Noriago is such a sick name. Because when you can call your dog Nori, it's bare cute."
There are countless ways that an artist can feel or appear successful. It can show through their riches, which traditionally in rap music is paraded with gold and diamond-encrusted chains (Tracey does in fact have this gifted to him regularly). Elsewhere, "success" can be displayed through sales and chart positions (Tracey's latest single 'Psych Out' recently become his third UK Top 40 single). Alternatively, it can be a combination of all of these things coupled with a basic desire to give back to your family.
When asked what defines success for him, Tracey's response is one of humility."I think that I was successful from the first time I was able to give mum money," he says. "That's success. For me, doing what I love, being able to put food in my mouth, have a roof over my head and make sure my family are good. That's success for me, I don't really care about the other stuff."
Part of his success comes down to mastering the art of social media. Mingled in amongst promotional tweets are Tracey's more personal missives: obscure phrases translated as lyrics and tweets about football. "I do [that] because I want people to know what I am like as a person as well as a musician. It's like an insight into my life."
"I don't want my songs to be politically fuelled or filled with today's events. Just turn on the news and watch that. I want to make feel-good songs"
It's hard to bypass addressing Tracey's second biggest passion – football. He's a die-hard Tottenham Hotspur fan and has the team's crest stamped on his right arm. He was also the poster boy for the club's 2016/17 season kit launch with Nike. We bond over Tottenham's current form in the Premier League. "I'm not really supposed to speak on that but I'm hopeful. Our team gets better every year. We do better every year, so I'd hope for some silverware." But the excitement overwhelms him. He continues: "I'm not crossing my fingers, I know it's coming regardless. Liverpool are really good but we are the best team in the Premier League."
Naturally, the conversation turns to FIFA and which one of his tracks would best suit a future soundtrack. He talks with immense pride about how the music used on FIFA is predominately British. And he feels that he would fit in perfectly. "Probably the garage track [on AJ Tracey]. UK garage is our genre. Everyone can listen to garage and enjoy it, it's feel-good music. And the kind of music that's on FIFA is uplifting. There's feel-good, memorable tracks on there and it's strongly British. I know you've got the other influences on there, but it's mostly British music. 100 per cent British music."
This talk of Britishness calls current affairs into question. Fans of Tracey may remember that he appeared in a campaign video for the Labour Party during the 2017 General Election. But his debut record is pretty starved of politics. Instead, he navigates away from referring to his support for Jeremy Corbyn and distracts listeners from the impending Brexit. Tracey wants his music to be completely separate from all that.
"Music in general, as much like football or any other form of entertainment, it's escapism and I feel like it's not really escapism if you are bringing people back to reality," he explains. "I do touch on a couple of subjects in my lyrics briefly, but I don't want my songs to be politically fuelled or filled with today's events. Just turn on the news and watch that. I want to make feel-good songs."
For the people who will try to follow in Tracey's footsteps and pave themselves a career that mirrors his, Tracey reiterates the importance of individuality. "There's no set criteria but I guess the best thing to do is just be yourself and just come with something different."
Is it important for an artist to cross boundaries or genres with their music? Tracey believes that it's free choice; the artist should be in firm charge of their own career. "If they want to, then yeah, but if you want to be just a grime artist and be successful from that then you can. It's up to you. I feel like as an artist you can do whatever you want," he says.
"When I'm on stage, I feel like my fans are very responsive to me and they really are just there for me. So much there for me that, like, maybe even the music is secondary sometimes"
Tracey has a string of live dates in the pipeline including a sold-out headline show at Brixton Academy in March. He firmly believes that performing live is the best part of his job. "Just being on stage – I love the crowd's reaction."
An artist buzzing off an audience's reaction is commonplace, however, Tracey believes that his fans are part of a community that brings something different to the concert hall. "I feel like not everyone's fans are the same," he says. "Everyone has different fans and obviously you can't say that you know them individually because there's hundreds, if not thousands of them.
"When I'm on stage, I feel like my fans are very responsive to me and they really are just there for me. So much there for me that, like, maybe even the music is secondary sometimes and that they are literally just there to support me as a person which I think is amazing. A lot of people don't have that. I just like the connection." It's a bold yet honest claim that points to a power he's harnessed through a self-made community.
We return to the topic of identity in rap music and how there's often an assumption that UK rap can only be authentic if it originates from the streets of London. But Tracey firmly asserts that this is not – or should not – be the case. When asked whether rap can resonate from cities other than England's smoggy capital, he says: "Yeah, 100 per cent. One of my favourite rappers is Mist and he is from Birmingham. As long as you believe it and you've got a passion for it, you're good, no matter what city you're from."
Mist (real name Rhys Thomas Sylvester) began his rap career after being released from prison in 2015, and started in a similar way to Tracey by posting candid freestyles about his life on Soundcloud to generate a buzz. Rap can come from any circumstance or neighbourhood.
Tracey also brings up Drake who, as previously mentioned, gave him the official nod of approval. The superstar has used his power to shake up the notions of rap on a global scale. "Once upon a time rap was only from New York, really. And LA. And nobody wanted to listen to Canadian rap. But now Drake is one of the biggest rappers in the world. It is what it is. People will open up eventually."
Although Tracey is understandably focused on and excited about his upcoming release, we can't help but wonder what's next. "I might just go to Trinidad and just not do anything," he says. But then he remembers just how busy his life is becoming.
As well as playing Brixton, he also tours a number of cities across the UK throughout March. Then it's a 14-date tour of Europe. But there's more to come. "There should be some other dates that will be announced soon enough. I guess I'll be doing tour for most of the year and then festivals in the summer," he says. He's already been announced to play The Great Escape, Longitude and the sold-out Wireless Festival. So maybe after the summer season, he might get some well-desired rest? "I might break out my pen and pad and maybe do some features." He clarifies further: "There's going to be a little bit of music but it's not going to be constant. It will just be like here and there."
Indeed, there's a cunning method in Tracey's future plans; one that keeps fans happy but also leaves them wanting more. "I don't like my fans being without for too long but also, I don't want to over-saturate. It's about finding the balance." His confidence for his craft shines through even more. He believes that his fans will approve of him and his music no matter how long the wait.
"They [the fans] are always going to appreciate when I bring out new music, but it probably won't hit as hard." Like in his music, he suddenly whips up an analogy. "Obviously, if you've been eating all day, when it's dinner time, you're full. But if you've been hungry all day and its dinner time, it's going to taste ten times better. But also, if you starve someone for a week and you try to give them jibs and jabs, they're going to get malnourished. It's about finding the balance."
That confidence is going to carry him a long way. Though he may embody some of the clichéd stylings of a modern-day rapper, beneath the surface he's barely like the majority. Tracey's determination to carve his own path, paired with wit and charm, dispels any perceived notions of arrogance. Instead, his assured, multifarious approach to making music brings something different to the game; it breaks with convention. And it's done so in style.
AJ Tracey is released this Friday, 8 February
Get the Best Fit take on the week in music direct to your inbox every Friday