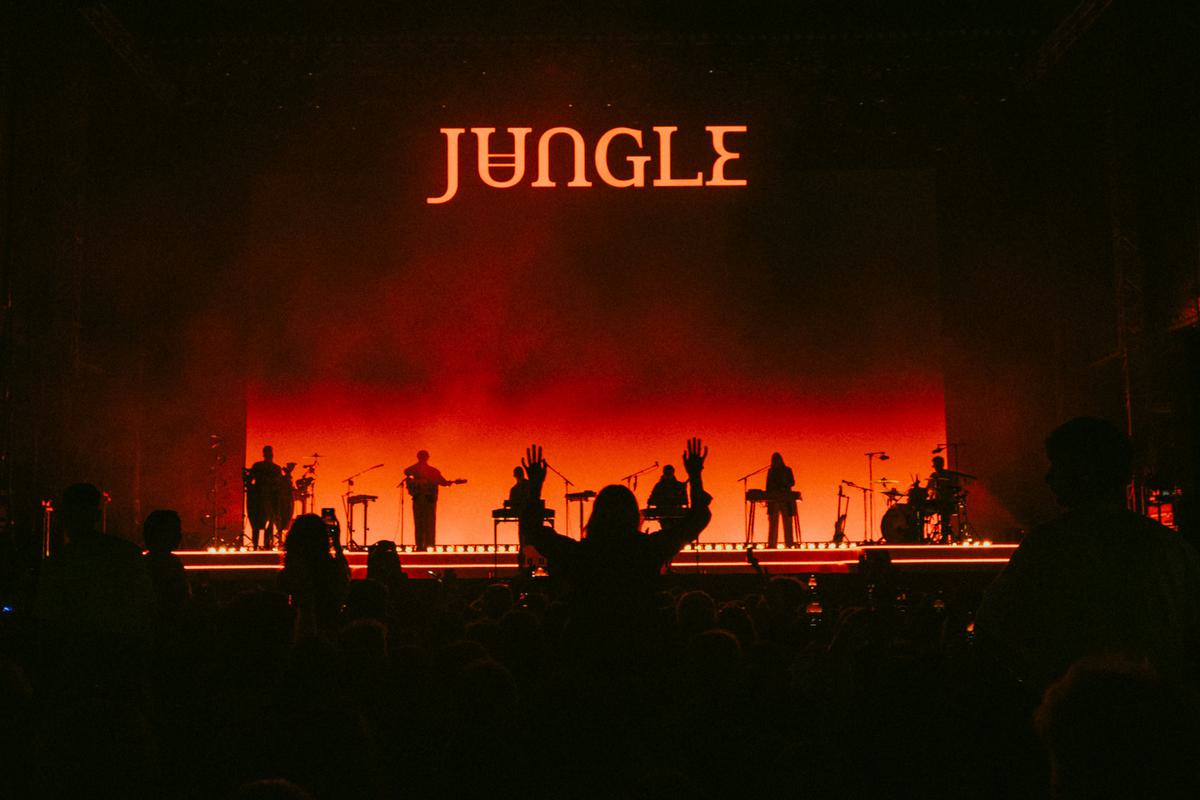 Jungle are staying in their lane – but they're certainly not lazy
28 August 2023, 00:00
As Jungle headline their biggest UK festival to date at All Points East, David Cobbald tries to pin down the secret of their success.
What, truly, is the key ingredient for a band's longevity? That's the question that comes to mind most often when discussing bands whose discography rarely ventures from the beaten path, and so rarely does it provide an answer.
Is it time? Is it consistency? Is it willingness to change, or being steadfast in your sound? Or is it nothing to do with the music at all – is it simply the package it comes in?
When it comes to Jungle, the lines are blurred. Ten years since their self-titled debut album, we've been taken on a journey consisting of three more records (For Ever, Loving In Stereo, and this month's Volcano) and one two-track single (2022'S GOOD TIMES / PROBLEMZ). Each release, while venturing into new, unexplored pastures, has become more predictable than the last – and that could be due to the fact we have more evidence to make an educated prediction of the next step, but it could also be because it's all becoming a just a little bit too similar.
After all, you go back to your favourite restaurant because they'll be able to provide your favourite dish or experience over and over again – you may be adventurous and try new things every so often, but that can be hit or miss at the best of times. Are we returning to the familiar sounds of Jungle because it's our comfort food? Have they simply perfected their recipe?
Even their artwork is a familiar face, with the solid branding of their typographic logo surrounded by a border in the same colour (although, granted, the singles are where they get creative) – it's just a matter of being surprised by the colours chosen. Same goes for their videos – trademark films in a set location per album, with intricate and beautiful dance routines flowing around the space, but even some of the dancers are the same across the albums. I think, at least in this sense, each album is a different chapter of the same story – not an entirely separate project.
It's a constant battle to appease fans when it comes to new music from an established act. It can be polarising when a legacy artist takes not just a step but a hop, skip and a jump away from their previous works – think Gaga's Joanne, Tranquillity Base from Arctic Monkeys, Bring Me The Horizon's amo, or Lorde's Solar Power. Some are successful, while others completely tank – and either way, this often comes with a dash of 'selling out' to the masses or caving to a label's expectation. I think what's commendable about Jungle in this case is their rock-solid ability to stick to what they know and not bend to popular demand or pressure from external sources. Yes, they've opened their tracks to include other artists (with Volcano consisting of seven features compared to their debut's zero) and invited in collaboration, but they've remained true to themselves all the same.
But if you think about it, who else is doing it like Jungle? Few bands come to mind, and while the likes of Franc Moody (another two-piece surrounded by a morphing collective) are in a similar space, there's no real reason for Jungle to be changing for competition's sake.
What's noticeably different about Volcano compared to their first three works is the experimental air to it. It's a minute change compared to what they could've done, but it's a change all the same – and it's working. As they grow exponentially – with a headline slot at All Points East – it seems that Jungle are on an upward trajectory even after all these years. After all, their gigs are where it's at. The shows with their ever-changing collective accompanying the duo are well known to be high-energy, dance-inducing parties – they have enough hits to appease most people, let alone the deeper cuts that the fans in attendance will be there for.
The proof really is in the pudding for their set at All Points East. As they fly through tracks old and new, blending one into the next, it's clear that their fanbase isn't waning with time. Classics such as "The Heat" get an identical reaction to classics like "Candle Flame," and each is treated with the same amount of enthusiasm from all on stage. Giant videos of Channel Tres and Bas join the band for "I've Been In Love" and "Romeo," all the while the light-show visuals flick between reds, oranges and whites behind them.
A 25-song setlist is impressive, and is testament to the vast applicability of Jungle's music. At no point does a song lose momentum or feel out of place or have sense of being dated. Their ten-year-old music feels just as fresh on a main stage today as it did back then, and that's no easy feat. Every new album of theirs simply adds to their arsenal of hits to bring out at any moment, and it's exciting to think what they'll add next.
There's a certain lack of audience interaction with this set, and while that may be for time reasons, the songs also speak for themselves. "Are you ready London?" and "Thank you for dancing with us" are pretty much all we get, but I think that keeps the mystery of who Jungle are as individuals nicely hidden behind their sunglasses-adorned faces. There's no ego with Jungle, and that might be part of their success.
Jungle may be staying in their lane and evolving their sound with baby steps, but they're certainly not lazy. If their albums were truly identical or unoriginal, we'd hear it. Music fans, while they can be crazy, they can be fickle too – and it's only a good thing that they've stuck by Jungle over all these years. I think, when the formula works, why change it? When everyone else around you is jumping through hoops to stand out, the best thing to do is keep it simple.
Setlist
Us Against The World
Candle Flame
Dominoes
The Heat
Heavy California
Beat 54 (All Good Now)
PROBLEMZ
I've Been In Love
Back on 74
Casio
Romeo
Bonnie Hill
Cherry
Happy Man
You Ain't No Celebrity
Coming Back
Don't Play
All Of The Time
Holding On
GOOD TIMES
Keep Moving
Fire
What D'You Know About Me?
Time
Busy Earnin'