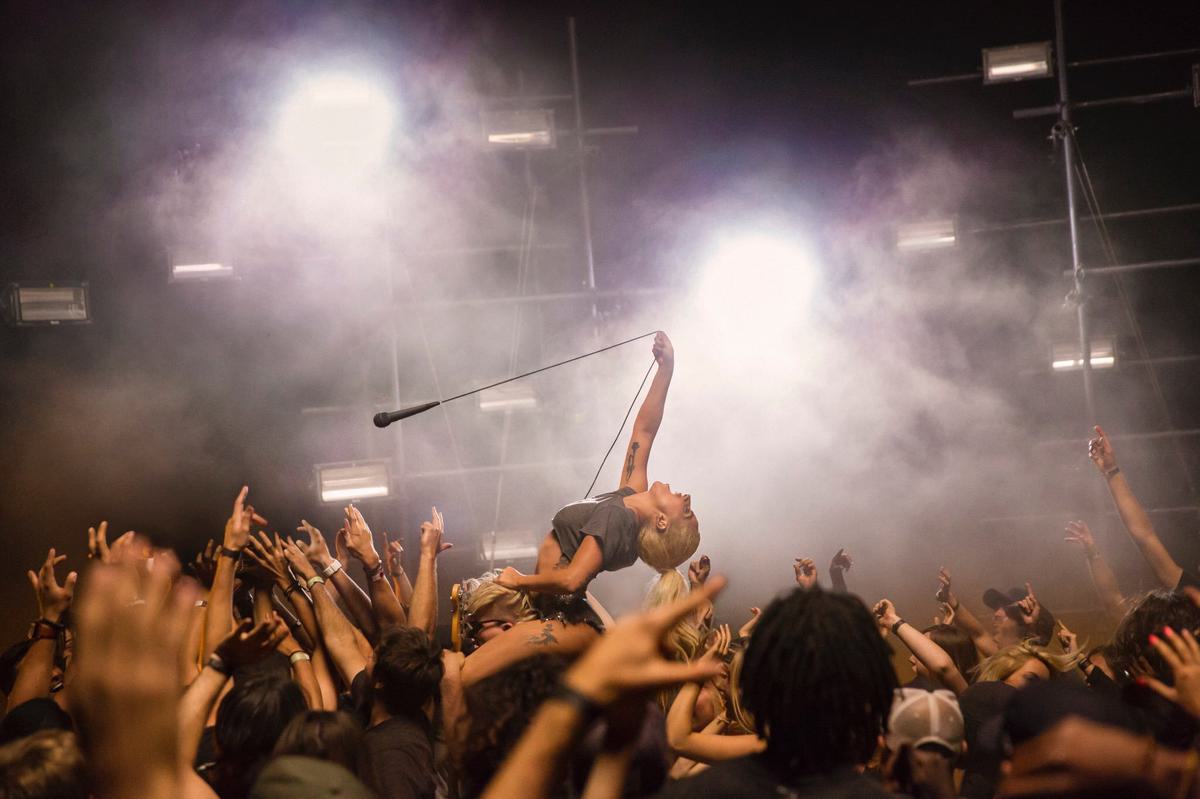 Odd Couples: The Weirdest Collaborations In Hip-Hop
14 April 2017, 08:45
Hip-hop is full of iconic collaborations, with rappers and producers smashing down borders of all kinds to work together - just recently we've had Kendrick Lamar x U2 and Linkin Park x Stormzy and Pusha T. Some work instantly, and others don't, and others just don't make a lick of sense.
Teenage Fanclub x De La Soul
1993 saw the release of Judgement Night, a deeply forgettable commercial and critical failure of a film starring Emilio Estevez and Cuba Gooding Jr.. While the very definition of a 'flop', it did spawn an intriguing soundtrack record that partnered a roster of impressive hip-hop talents with alt. rock and metal groups. Sonic Youth and Cypress Hill joined together, Ice-T made noise with Faith No More, and Mudhoney united with Sir Mix-a-Lot.
The most leftfield of the collabs though? De La Soul and Teenage Fanclub, sampling Tom Petty's "Free Fallin'", for "Fallin'". It sounds a bit like "Teenage Dirtbag" but with rapping.
Famously brisk flowsmith Twista jumped on a remix of Sting's "Stolen Car (Take Me Dancing)" (the original's video is pretty ridiculous looking back) for a B-side back when CD singles were still a thing. This version's actually heaps better, with the tantric Police frontman relegated to chorus duties and given no chance to sing about how the "smell of the leather always excited my imagination."
"Radio Song", the opening track from R.E.M.'s seminal 1991 LP Out Of Time, sees the college rock staples team with Boogie Down Productions boss KRS-One. While certainly not a bad collaboration - it's super funky - it's a surprising mix of '90s icons. Frontman Michael Stipe has since said that the song is meant to be "kind of taking the piss of everyone", himself included.
Busta Rhymes x Ozzy Osbourne
The dream team of Busta Rhymes and Ozzy Osbourne put out this bizarre duet almost 20 years ago - it's far from the first mingling of rap and metal, and it certainly wasn't the last, but is it the strangest? Maybe.
Focused around Black Sabbath's iconic "Iron Man" lick, the track sees Busta puffing his chest against gruff axes and stock hip-hop beats - Ozzy was brought into the studio for a new version of the chorus to add a dash of warbly glamour.
"I might get into a bit more know you know..." Ozzy said at the time to MTV. "It's a lot of fun, it really is a lot of fun. [pointing to Busta] This guy's great."
JYJ x Kanye West and Malik Yusef
This one's not necessarily as super strange as some of the others - although it's still not a career highlight from any involved - but the timing is definitely odd. A little over a month before releasing magnum opus My Beautiful Dark Twisted Fantasy Kanye linked up with Malik Yusef on "Ayyy Girl", the lead single from JYJ's "English-language global debut album". The K-pop stars, plus Ye and Yusef, saw moderate chart success (number 16 in South Korea!).
Eddie Murphy x Michael Jackson
After helping out with Michael Jackson's "Remember The Time" saga Eddie Murphy called on MJ to return the favour - and the King Of Pop agreed, apparently because "he thought the lyrics had a positive message". Jackson unashamedly hogs the spotlight here, with Murphy left mumbling along in the background. It's no "Party All The Time", that's for sure.
The video (co-directed by Klasky Csupo, the production company behind some of the most iconic '90s cartoons) was deemed so remarkably awful by MTV viewers it was "permanently retired" by the station. Ouch.
Although clearly a joke - it was created for the 2009 CMT Music Awards - "Thug Story" is still one of the more ridiculous collaborations on this list. T-Pain is no stranger to spoofs but given T-Swizzle's trajectory since 2009 this is just baffling... at least her rapping has got less tone-deaf.
Perhaps not as weird when it was released back in the hazy, halcyon days of 2009, but in a modern world where Gaga's a Coachella-headlining global superstar and Wale is palling it up with Jerry Seinfeld, it feels like an odd pairing. Factor in Mark Ronson's matchmaking (we can blame/thank the pop puppeteer for "Chillin"), the Steam sample - probably more known in the UK as the Gala Bingo song - and Gaga's surreal Gwen Stefani impression, and this is has WTF written all over it.
"If music was a high school," Wale explained back in the day, "I feel like I'[d] be the dude on the football team, and it would be like, 'okay, Gaga's having a party!' And you know all the bad girls are going to be out there."
System Of A Down x Wu Tang Clan
More a cover featuring one of the original track's members, this is a seriously eyebrow-raising release. Armenian-American metallers System Of A Down recruited RZA for a thrashy version of "Shame On A Nigga" - and they're very faithful to the original lyrics.
The track appeared on 2000 record Loud Rocks, a goldmine of an album featuring team ups such as Incubus and Big Pun, Sevendust and Xzibit, and Sick Of It All and Mobb Deep.
The Jonas Brothers x Common
Hands down the weirdest hip-hop collaboration ever. On one hand you've got Common, the award-winning actor/rapper/producer with a decorated discography as long as your arm, and on the other hand you have The Jonas Brothers, the Disney-raised, squeaky clean proto-One Direction. The results are Not Great (although probably better than the time they hired their bodyguard for a guest rap).
As Pitchfork noted during ahead of its expulsion into the world, the track's back and forth "sounds like a story about Common and the Jonas Brothers teaming up to rob a bank." It's a ridiculous song.