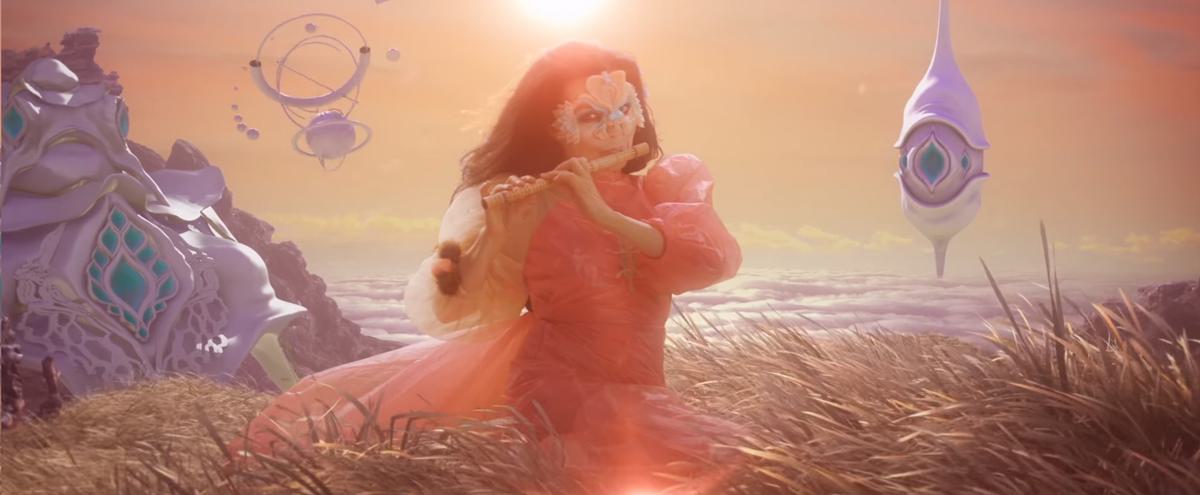 Here's All You Need To Know About Björk's New Video
18 September 2017, 11:17
Björk recently made a commanding return with "The Gate", the lead single from upcoming album Utopia, and now the Icelandic icon has shared a jaw-dropping set of visuals via NOWNESS.
There's a lot going on in this video - from rustic flutery to abstract orbs of colour to dancing constructs made from ribbon to that dress - and it's pretty difficult to take it all in with just the one viewing, so we've gone on a rummage to find out all the juicy details and behind-the-scenes facts you might've missed.
The first single from Björk's long-awaited new album Utopia (described as her "Tinder record") puts her in a totally different headspace looking towards love (more on that in a sec) and looking to a brighter future. "The Gate" is the first glimpse of Björk's post-Vulnicura phase - it's not totally clear how this "Utopia" will be represented (is it the lush, floaty part at the beginning of the video or the dark, nebulous abyss in the later moments? Both? Neither?) but this is the first time we see Björk's new world in some capacity.
Moving away from the heartbreak and devastation on Vulnicura, "The Gate" sees Björk rush headlong into love. As director Andrew Thomas Huang explains: "The doorway lies within the wound from Vulnicura, which now appears transformed into a prismatic portal channeled between the chests of two lovers. Not lovers in the quotidian romantic sense, but in a broader cosmological way. As a throughway into Bjork's new album, 'The Gate' is a declaration of hope sung by a woman refracted and re-formed into a luminous whole."
Björk adds: "I say 'love' in a more transcendent way. Vulnicura was about a very personal loss, and I think this new album is about a love that's even greater. It's about rediscovering love - but in a spiritual way, for lack of a better word."
Find out more about the meaning in NOWNESS' live interview with Björk and Huang.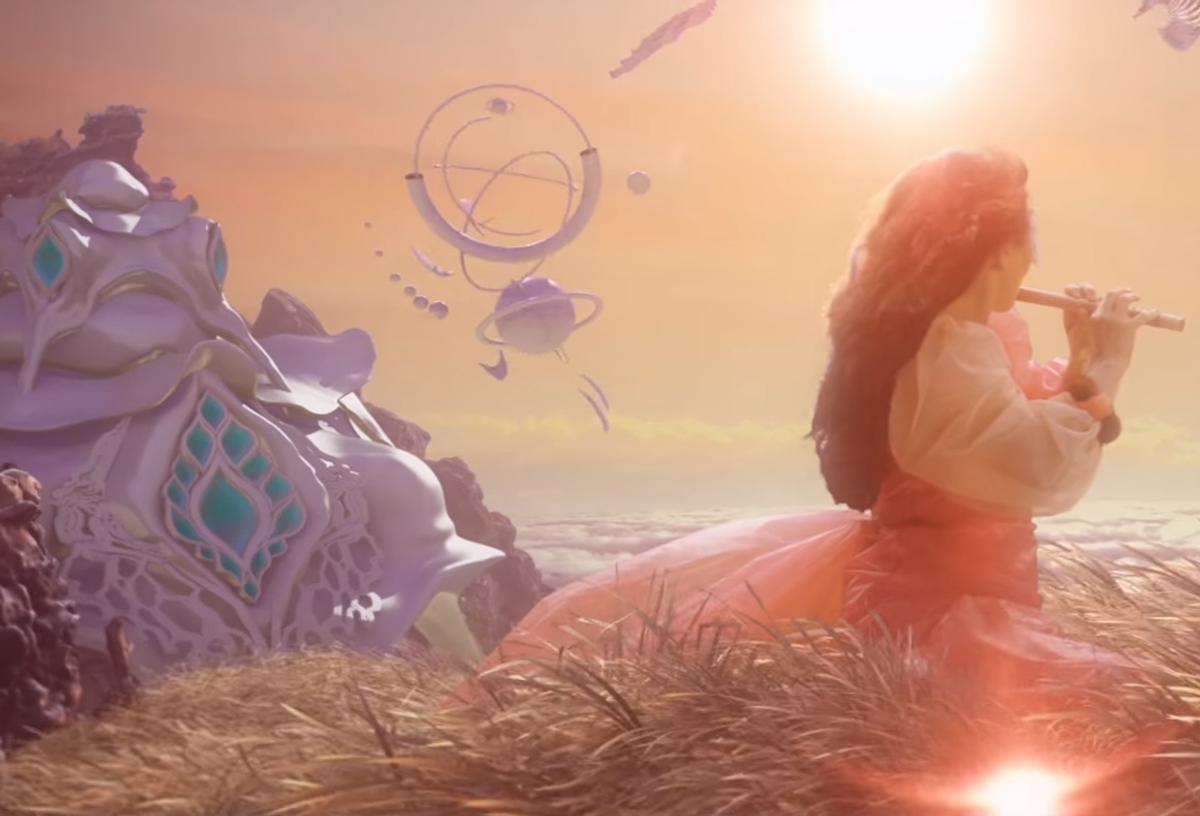 Previous Björk collaborators Wolf & Crow ("Family", "Black Lake") have helped make "The Gate" yet another feast for the eyes, once again helping the artist and team realise their visions. The clip relies heavily on various effects, with the LA-based company pulling out all the stops this time around; Huang calls their work "an exceptional feat", and he's definitely not wrong.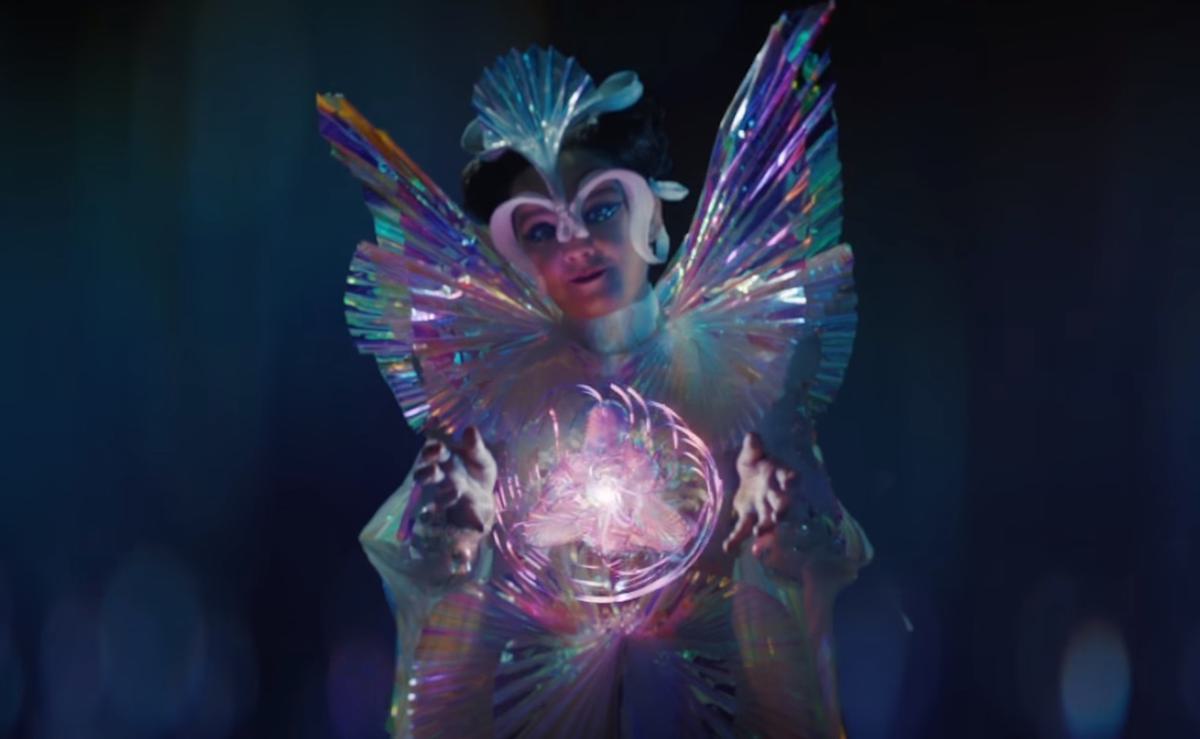 7
It's all about that dress
Björk's dress/gown took nearly 900 hours to create. 900 hours. As Gucci note, creative director Alessandro Michele designed the piece, which involved "550 hours" of direct creation and "320 hours" just on embroidery. As well as the intense labour that went into it, five metres of "iridescent PVC plastic", three metres of similar iridescent strips, and 20 metres of "pleated lurex organza" went into the final product.
Reach alert: organza is often used in bridalwear (although not exclusively)... is this a kind of wedding gown?!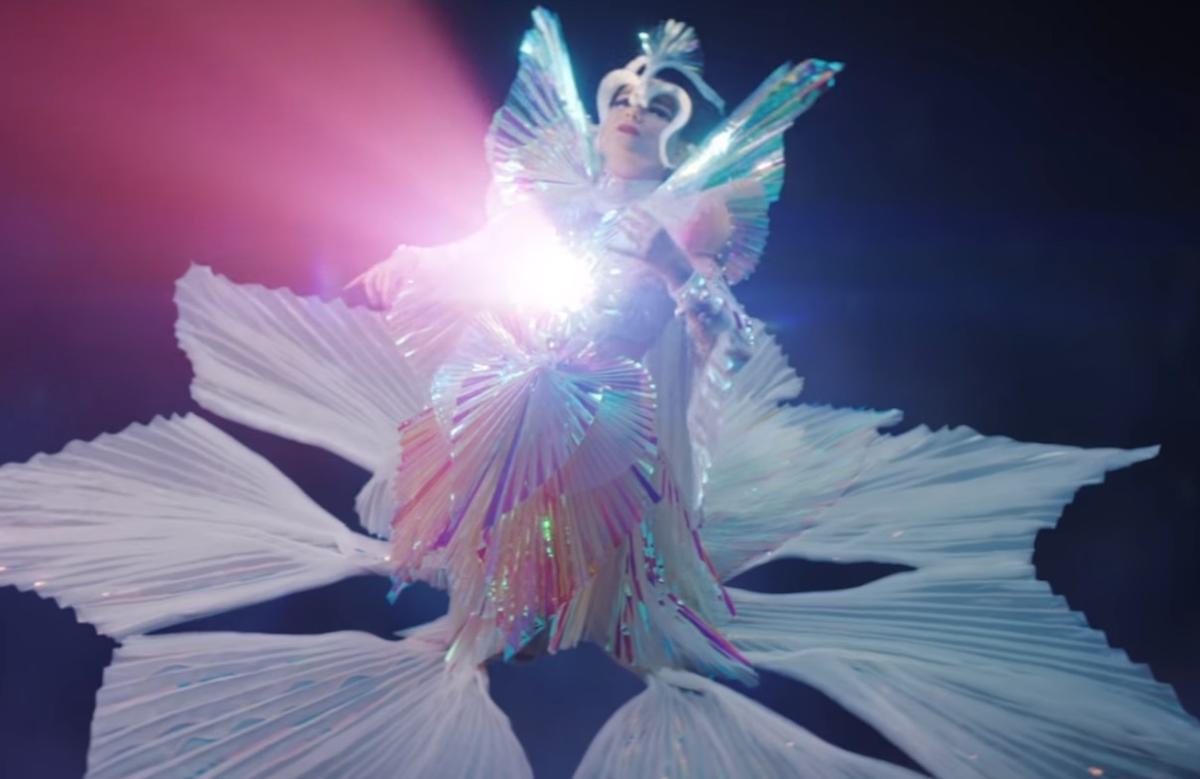 6
Those figures aren't pure CGI
Björk sticks to one spot for much of "The Gate", although she's by no means still, but it's the trio of coruscating figures that take centre stage with their twirls and leaps. Despite the figures looking like computer wizardry, that's only part of the truth - dancer Leo Morimune and choreographer Nina McNeely (MØ, Banks, Rihanna) are behind the movements, with the VFX crew presumably using mo-cap tech to replace flesh with foil-like tendrils.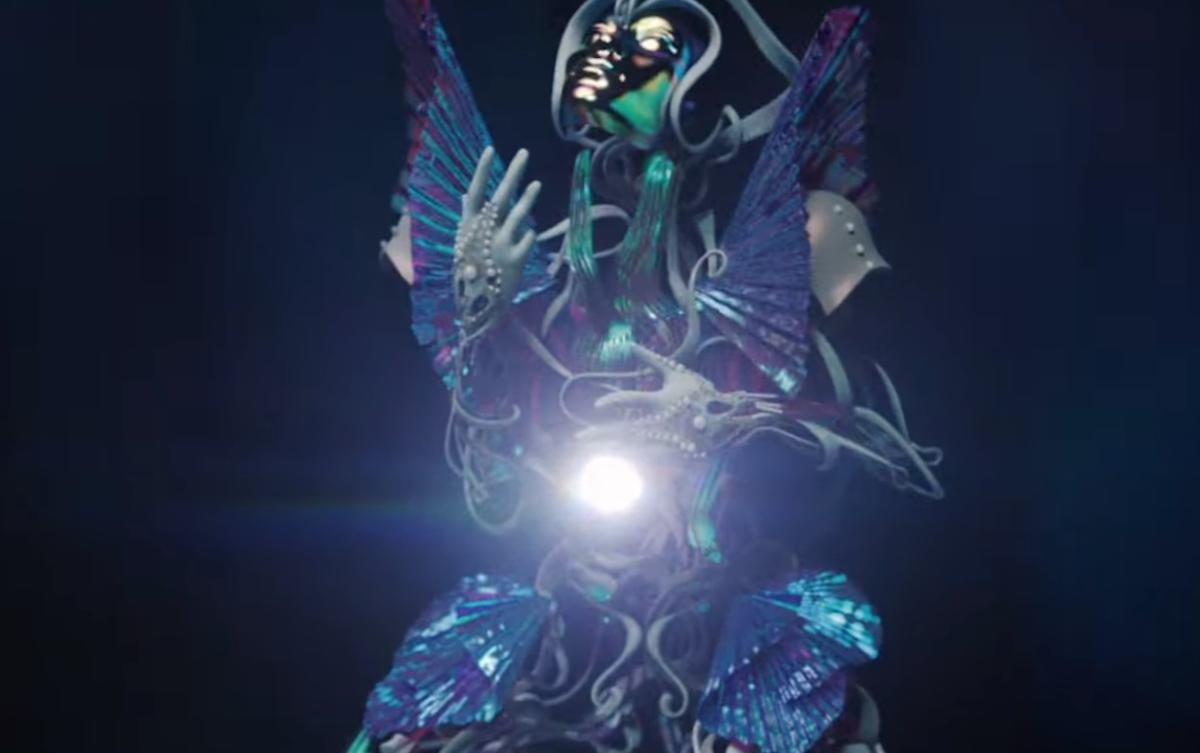 Although this is a Björk song by Björk with a video featuring Björk, it's not just about her. Yes, many others were involved in the physical creation process, but this goes beyond that, with director Huang explaining: "I feel it is a culmination of my five-year collaboration with Björk and James Merry. It's been such a nourishing three-way relationship and this film is the perfect synthesis of our brains and our hearts."
The aforementioned James Merry has been a key component in Björk's world for a while now - but the headpieces and masks are not just there to look pretty. "I think it's both hiding and revealing," Björk explained to NOWNESS. "It helps me be more expressive in ways I know I can be generous to people I don't know. Then I can be more generous and protective and give certain things to my close ones. In a strange way it helps me make that flow more healthy."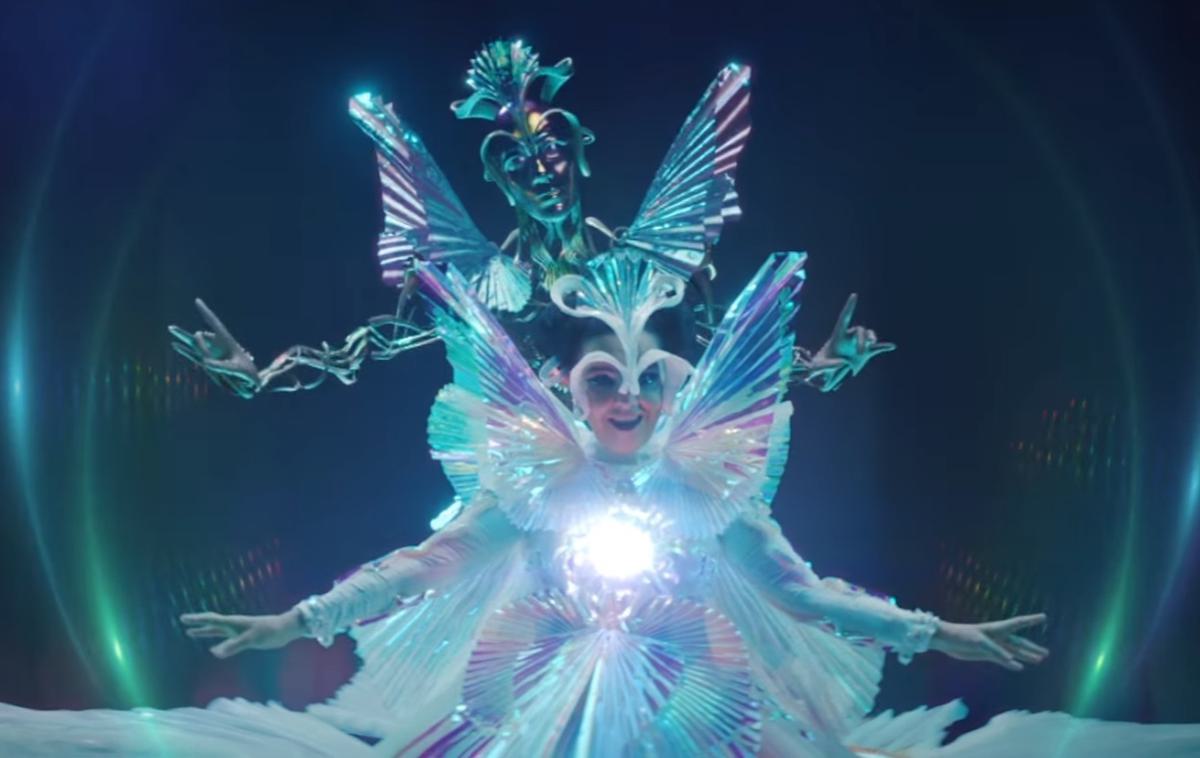 Every aspect of Björk's new video has been meticulously fine-tuned and finished off to a dizzying standard - it's gone under a microscope to make sure there's not a hair out of place, and we can thank Johnny Stuntz for part of that. The hairstylist - who counts M.I.A., Trent Reznor, Kacey Musgraves, and Billie Eilish among his clients - is known for his wild and original ideas - fits in pretty nicely with pretty much everything Björk does, doesn't it?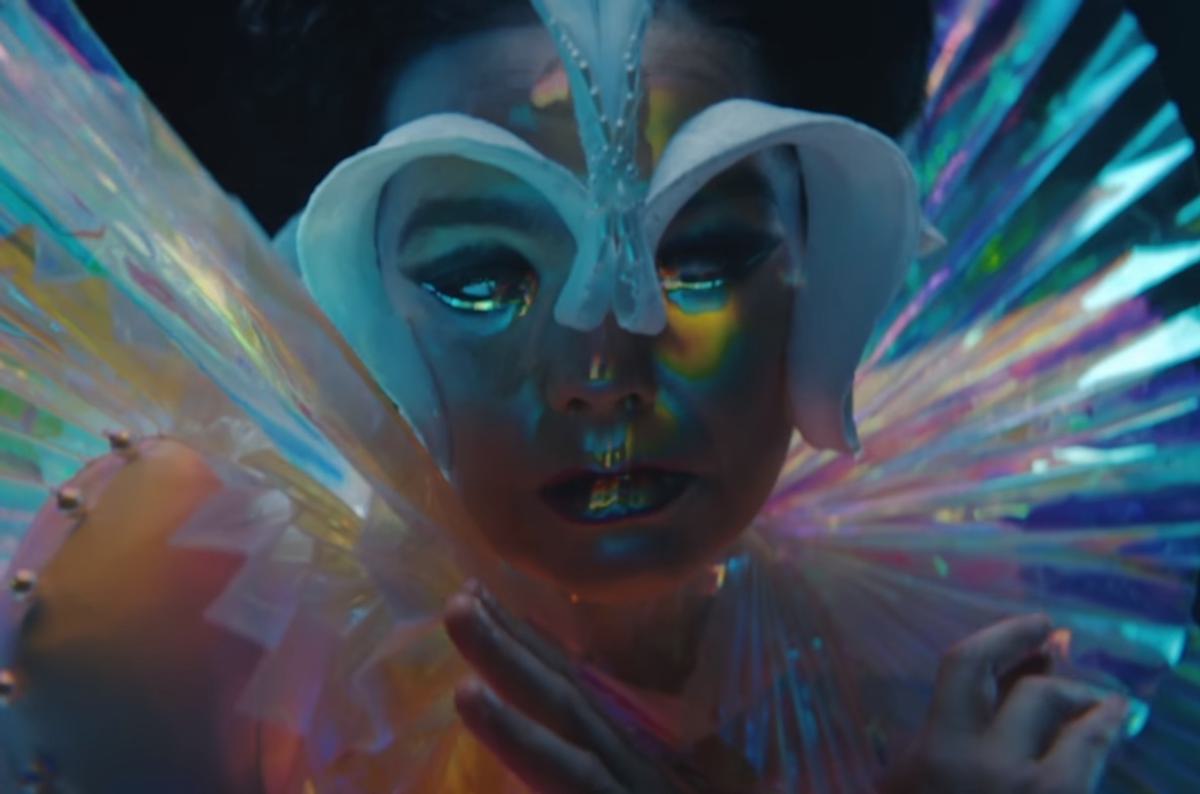 2
Makeup is also on point
It might be a bit tricky to properly see Andrew Gallimore's work during "The Gate" due to the VFX in play, but rest assured it's there keeping Björk's look 10/10 at all times - just look at those eyes if you don't believe us. Gallimore's worked with Björk numerous times in the past for various shoots and covers (Grimes and Dua Lipa are also amongst his credits) and has helped create some of her most iconic looks of the past few years.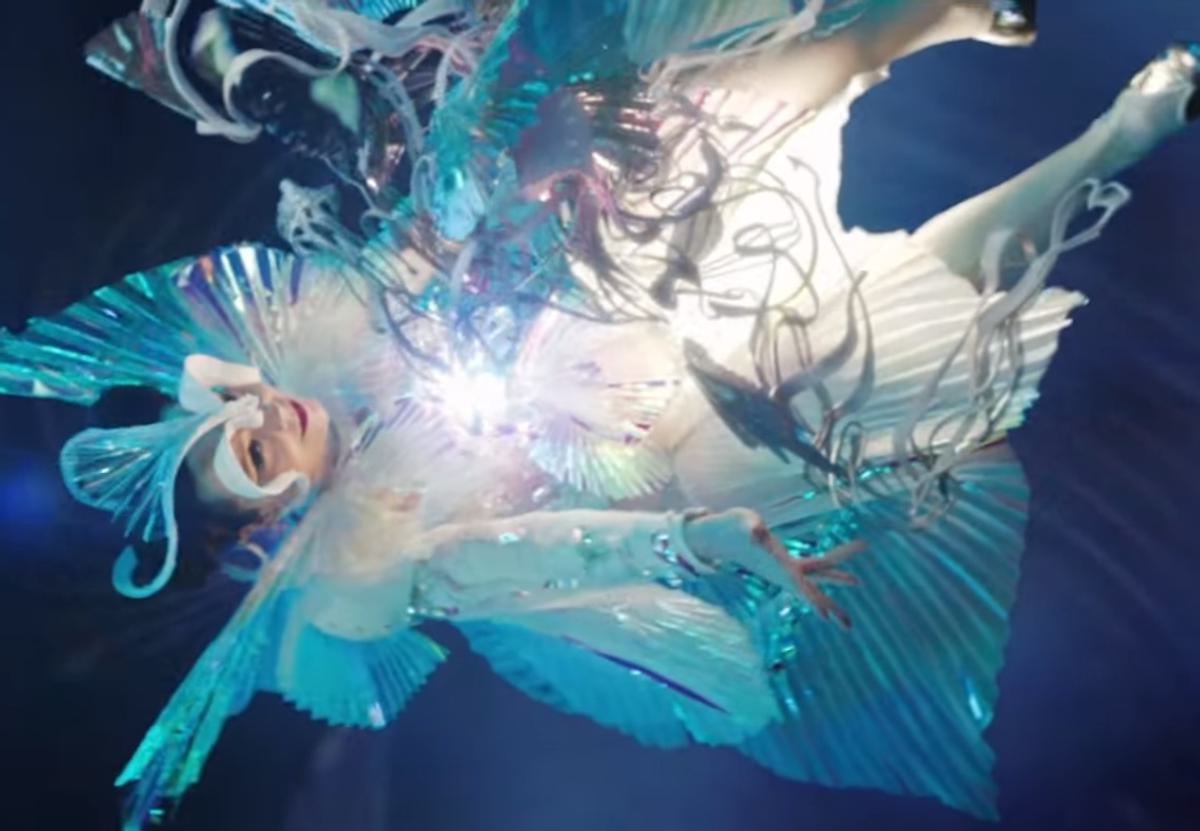 "The Gate" is the first taste of an album co-produced with Arca, aka Alejandro Ghersi. The Venezuelan producer/DJ helped out on Vulnicura too, but came in part way through the process - this is the first time that Ghersi has been there from the start - and the effects are monumental.
"It's the strongest musical relationship I've had," Björk told Dazed. "My favourite albums are Hejira and Don Juan's Reckless Daughter, where Joni Mitchell worked with Jaco Pastorius, and you can tell they're doing the tango. It's that synergy when two people lose their ego... it grew very naturally. A musical conversation that was cross-generational, cross-Atlantic, him encouraging me to go into this area that I sort of suggested years ago, but didn't necessarily go all the way."
Björk's new album Utopia is out in November via One Little Indian.