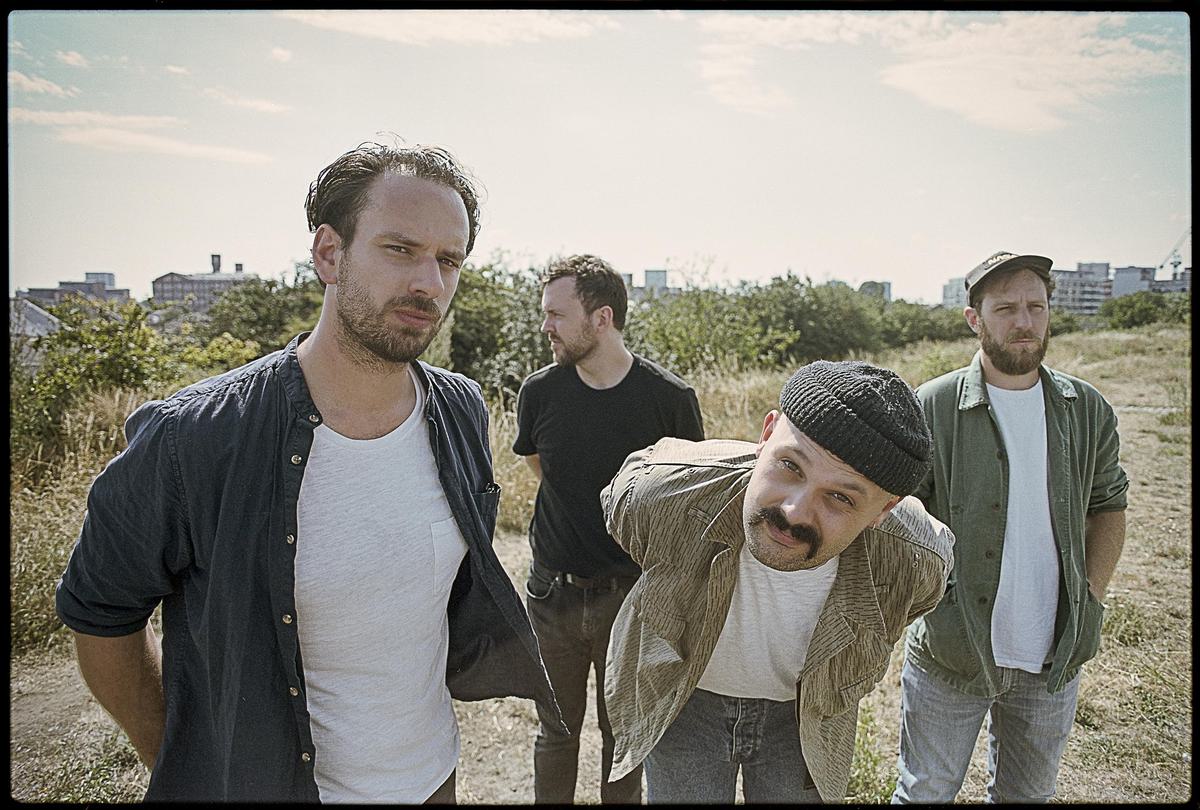 On the Rise

TV Priest
02 November 2020, 09:16
Blending the thumping tempo of post-punk with abrasive noise rock, TV Priest made a name for themselves after playing just a single show last year. How was this achieved? We sat down with frontman Charlie Drinkwater to discuss their unexpected journey back into the world of music.
Over the last three years, Fontaines DC, Fat White Family and IDLES have revived proto-punk influences into the mainstream. However, with their debut album Uppers, it's obvious that TV Priest aren't intentionally trying to be yet another South London band following this trend. "You could argue that the singles we put out are of a certain vein, but I feel like we have so much more to offer than just that," Drinkwater says. "Then again, I don't really mind being compared to them either. After all, I recently did the artwork for Fontaines DC's new album. The first time I'd even heard it was when they headlined the O2 Academy Brixton!"
It took the childhood friends a number of years to settle on the definite sound that would become TV Priest. Drinkwater's previous indie band Torches saw him support the likes of The Antlers and HAIM. Unfortunately, these high profile opportunities seemingly lead to nowhere. "There were about three people watching us at a free show. If that doesn't set you up for fucking failure, I don't know what else does. We were just really, really bad." The experience wasn't entirely negative, however, as Drinkwater saw it as a learning curve to stop comparing himself to his peers and perform in a band that actively plays gigs. "We just got to a point in our mid-20s where life got in the way and we just weren't into it anymore. It didn't help seeing our friends get signed either."
The buzz of their debut gig at a 'disused industrial freezer' in Hackney surrounded by family and friends was the confidence boost Drinkwater needed to take this project seriously. "Peep Show comparisons aside, I was more fucking scared at that show than I have ever been in my entire life. I had a friend come up to me afterwards after a few drinks that said 'this band is better than anything else you've done because you've actually lived'. To be fair I'm now 31 so if I can articulate that to a stranger, then we're onto a winner here!"
When asked about pushing their debut album release date back to Feburary as a result of their recent signing with Sub Pop, understandably, Drinkwater's response is one of disbelief: "I remember getting off the phone with one of the guys who runs the small label we were going to put it on. I didn't know if I wanted to cry or be sick! It's just an absolute dream come true you know? There is a part of me that wishes we could have released it sooner but hopefully Hand In Hive still stick with us."
For all their quips on Uppers about the negativity of modern living, there is also a furious sense of optimism and joy to be had behind the meaning of their music.
"Songs like 'House Of York' and 'This Island' are meant to open dialogues for people, as well as venting frustration," Drinkwater says. "It's about the meshing of information strands. It is supposed to be a snapshot of a time and place. I want the record to age—I don't care about making something 'timeless'. All my favorite records transport me somewhere else."
On the subject of the messages behind Uppers, the failure of the Tory government throughout the entire pandemic is an overbearing theme, especially given that there appears to be no end in sight for this. "To me, the best thing that art can do is inspire activism. We're never going to get anywhere if we just bang our heads together over nuances."
Whilst Uppers is filled to the brim with sardonically aggressive anthems, there is also room for broader soundscapes here. Recorded at a studio near Olympic Park, the band added "History Lesson" as an ambient track to take listeners out of the environment that they're in; which leads into the second half of the record on vinyl. "In London, there's constant building, and the march of progress never ends. At the same time, the city is constantly being demolished and re-updated and gentrified, so having an ambient cut was a really conscious choice to allow people to step outside of this musical sphere."
On the final track "Saintless", Drinkwater sings about becoming a father whilst facing extreme anxiety over his wife becoming ill shortly after giving birth. He says that this was a way of explaining to his bandmates how he felt at the time. Bassist Nic Bueth, who was primarily responsible for recording Uppers, recommended that the vocal takes were recorded in very few takes as Drinkwater brought the handwritten lyrics into the studio. The result is a raw, 7-minute rollercoaster that ends on a bittersweet note.
"I wrote the chorus 'we're no saints but that's okay' to explain that as parents we're fallible and bound to fail in lots of ways. But it's being together and the hope for a better future that makes it all worth it. We actually sat on it for a few months because I was worried that it was going to come across as over-emotional or that I was somehow 'egging' it but I'm happy with the final result."
Understandably, having to pull out of an upcoming tour because of the ongoing pandemic, when dates have already been rescheduled, is enough to frustrate any musician. However, it feels as if TV Priest have plenty to look forward to in the coming months—even if it means not being able to perform at socially distanced events like other post-punk bands in the London scene at the moment.
"Maybe in 6 months time I will eat my words, but right now I'd rather wait until it's absolutely safe to play shows so we can showcase what we're all about. I'm around vulnerable people and haven't even gone to the pub at the moment to socialise. I just hope that people enjoy Uppers and will have the patience to stick around for us."
Drinkwater says he'll never take the little annoyances when it comes to gigs for granted ever again when this is all over. "You've been in a practice room all day, then you have to drive around in a Vauxhall Corsa with a heavy guitar amp on your lap. One of your bandmates is late to the venue because their boss made them stay late at work, and even when he does show up, the soundcheck is dogshit. You think about all that stuff and now I wouldn't want it any other way!"
Uppers is out 5 February via Sub Pop