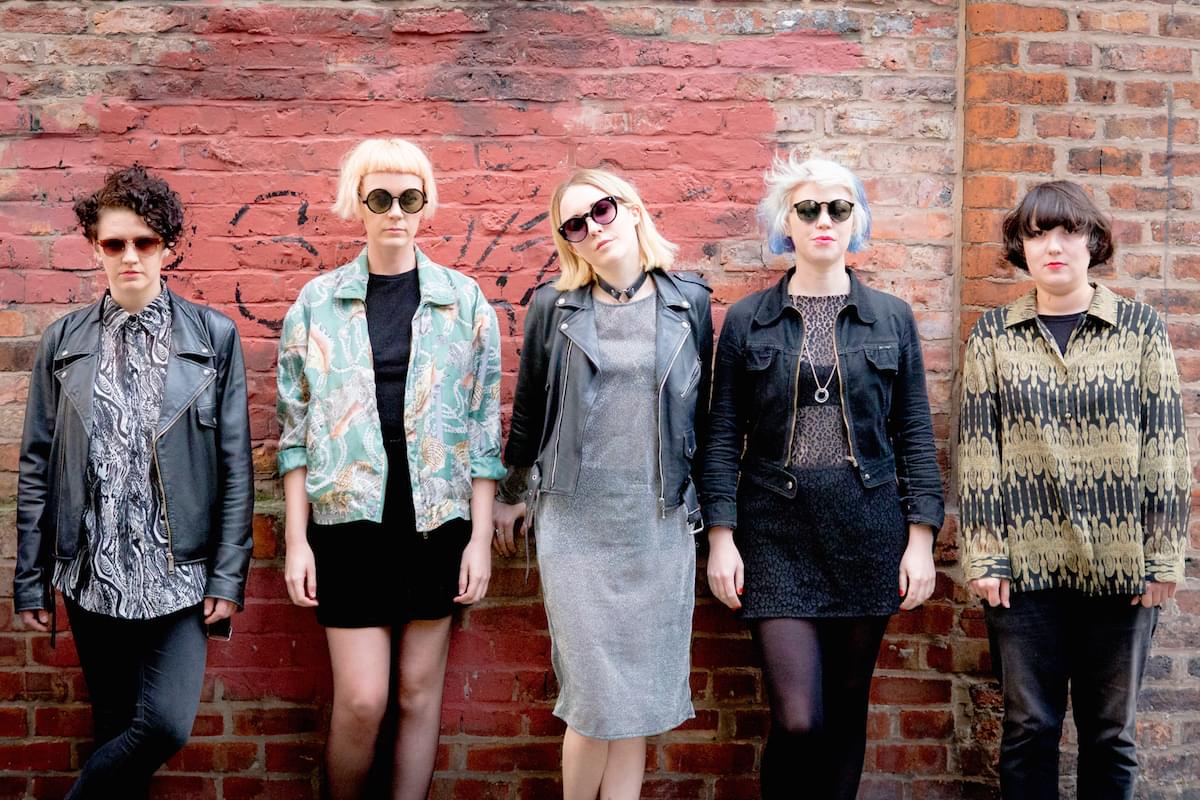 Northern Soul: PINS' Faith Vern reflects on the band's present and future
18 September 2015, 11:34
From outside Manchester's Port Street Beer House, Faith Vern points out an unremarkable old industrial building: "Everything was recorded up there," she says.
The city's hardly in short supply of these kinds of places, but the square mile or so surrounding us on a late summer's evening has an especially high concentration. A hundred years ago, the Northern Quarter was a hub of industry, all bustling mills and billowing chimneys; now, it's a bohemian maze of bars, coffee houses, vintage shops and venues. The death of the cotton trade in the mid-twentieth century left the area as a prime site for creative possibility - cheap space in abundance, no shortage of places to play rock music or exhibit art, and - as the old cliche goes - perennially grey weather to fuel the imagination.
The Northern Quarter has been at the forefront of the city's creative renaissance in recent years and, in turn, it feels as if - for the first time in a long time - there's a new crop of bands with a sound that reflects the rawness and grit of their hometown. PINS can be counted among them, and their second record, June's Wild Nights, demonstrates why; recorded in the Joshua Tree desert at Dave Catching's Rancho de la Luna - the home of Josh Homme's Desert Sessions - it melds the furious punk of their live shows with some poppy sheen and polish, to arresting effect. Since signing to Bella Union two years ago ahead of their debut LP, Girls Like Us, they've become one of their city's most prominent musical exports in a good long while.
"There was definitely a scene going on when we first started out," remembers Vern, who fronts the band. "We felt part of something. Sways Records, our first label, had a lot of stuff going on out at The Bunker in Salford; cool shows, pretty much all the time. Manchester's always been very good to us; promoters like Now Wave took us under their wing from the beginning. Good slots, good exposure. It felt as if people were looking out for us. We had our releases in Piccadilly Records from very early on. We never would've dreamed of that, to be honest."
In turn, though, that success has stunted their awareness of a lot of the city's subsequent musical developments - "I've lost track of what's going on in the small venues." Given how heavily they've toured, though, it's hardly surprising, and whilst Wild Nights might have been written in their hometown, they swapped the forty-or-so mile journey along the Mersey to record album number one for a slog across the Atlantic to California this time around.
"We could have just done it in Liverpool again, but we wanted to go to Rancho de la Luna; it was top of our list of dream studio scenarios. I think it was half that, and half a case of wanting to go somewhere a long way away from where the songs were written - somewhere where we'd feel abandoned. The Joshua Tree is only four hours from L.A., but there's nothing there - just desert."
The entirety of Wild Nights was laid down in just seven days in California, although that wasn't owing to budgetary constraints - "the exchange rate meant it wasn't any more expensive to go there than it would have been to make it here." In actual fact, having an additional week to mix the record in New York practically represented luxury by way of comparison to Girls Like Us, which was done and dusted in half that time. Still, some doubt remained about putting five thousand miles between themselves and their hometown in order to get the record made.
"It was a bit of a risk," admits Vern, "and we had discussions about it beforehand. If it had all gone wrong, I think we'd probably have ended up scrapping it. As much as we wanted to go to his studio, we didn't know too much about Dave. We knew he was in Eagles of Death Metal, and had a good CV in terms of the bands he'd worked with, but we'd only spoken to him over email - what if he'd had all these crazy ideas we didn't like? Once we got there, though, and he introduced us to his engineer, Hayden Scott, we realised what a perfect team they make. They were both just high the entire time! We took all of our own gear over, but we probably shouldn't have bothered - all of Dave's stuff was much better than ours. He's been collecting for years. The whole process just ended up a lot more relaxing and stress-free than we thought it might be."
PINS usually play as if their lives depend on it - with speed, guile and no shortage of aggression - and there was a notable disparity between that unbridled onstage energy and the general pace of Girls Like Us, which was a little more measured, a little more considered. Evidently, it's deliberate; Wild Nights follows a similar tack, softening edges in some places and leaving them very much exposed in others.
"We wanted to inject a little bit of the live energy into the album, so we recorded a lot of it together in the same room, but we were also looking to flesh the sound out a little bit, so there's keyboards on some songs, and more harmonies, too. I just think the actual songwriting itself feels a little bit more developed. Musically speaking, it's more interesting; little drum fills, the basslines, things like that - we wanted to explore how far we could go with the writing, and I think we all want to keep moving in that direction now. I don't want everything to be simple. I love The Ramones, I love fast punk, but you can't write that and nothing else."
Part of the impetus for this new vein of ambition - not to mention an obviously burgeoning level of confidence onstage - has been provided by an impressive run of support slots since Girls Like Us; they've been across the UK and Europe with the likes of Drenge, Babes in Toyland and Sleater-Kinney, with the latter "treating us like queens - all the salad and red wine in the world." More than that, though, shows like these, at venues as big as London's Roundhouse and Manchester's Albert Hall, have nurtured a real sharpness within the group.
"It's helped us feel better about getting up there now," explains Vern. "That was a big problem in the beginning - just downing beers to feel OK about standing in front of people. We feel a lot tighter now; we can play most of our songs. You enjoy the shows a lot more when you're not worrying about forgetting the words, hitting the wrong note or falling over."
In some respects, though, the band also find themselves in a state of flux; things are taking off sufficiently for them to have toured the States twice (the second time extensively), work with the likes of Catching and open for famous names, but they've yet to quite reach the point where they've left their old lives behind. Vern concurs. "I think we're still in that transition between normal life and band life. It's funny; we'll do something that feels like a huge deal on the other side of the world, and then come back and not know how we're going to pay the rent. Some of us have had to quit really great jobs go on tour and put the band first. I think Kyoko (Swan, the group's new keyboardist) is the only one of us without a part-time job. I'm not sure how she makes it day-to-day."
Even though the band are in a relatively privileged position in terms of the amount of funding they can call upon from various sources, making ends meet remains a daily struggle, especially on the road. "Our label support us with some money when we go on tour, and we were very lucky to get some PRS for Music Foundation funding recently, too. Our managers are very thrifty and very, very good at finding these little pots of money that are available to bands, too, but even though we're kind of fortunate in that way, it's still mostly difficult. The second half of the U.S. tour, we were just taking it a day at a time, hoping to sell enough t-shirts that we could find some place to stay. I suppose it adds to the sense of adventure, though - we had a lot of fun."
They've also dabbled in brand endorsements, too; as well as soundtracking the launch of the new Levis 60 range earlier this summer, their video for Wild Nights' lead single - "c" - worked as much as a promotion for Yves Saint Laurent as it did the song itself. "We'd spent most of our video budget for the whole record on 'Young Girls'," recalls Vern, "and we only had about £200 left for 'Too Little Too Late'. Our press lady asked if we could borrow some clothes for it, and they ended up sending about £10,000 worth up to Manchester. The funny thing is, everything else about it is very much homemade - we borrowed space from friends to film it in. Some of that stuff is worth doing; if it was, you know, fur or meat or something that went against our principles, we wouldn't do it, but if it's something that seems cool, you have to think seriously about it - we always need to make a bit of money."
Accordingly, the group are hardly likely to invite the additional financial pressure of the customary move to London in order to - if you believe the mythology at least - further their careers; instead, Vern insists it's never something that's seemed particularly inviting. "None of us have any desire whatsoever to live in London. It's only a few hours away, anyway - if we need to go down there, it's not a long way to go. I suppose you might miss out on DJ slots or being invited to parties, but do we really want to be doing that anyway? We went to the NME Awards, and it was fun to see what goes on there, but if that was your whole life, it'd be ridiculous. We saw Florence and the Machine and Charli XCX...is it XCX? They were dancing around and having a good time, but I bet it's really depressing once the free booze dries up."
The idea of sustained spotlight is evidently something Vern is uncomfortable with; when the topic of conversation switches to the future of PINS, she's non-committal on what's next, especially given that she and guitarist Lois Macdonald have already begun work on a side-project "which is more experimental, and more anonymous. I'm not the lead singer, and I want to step away from that for a little bit. I'm a bit tired of it."
Whether anonymity is something that's easily achievable in this day and age, though, is another matter entirely; after all, A&R and label reps from London were showing up at PINS shows as early as their third gig, at an arts space a few hundred yards from where we're talking. "I think it's one thing for people to know who you are as a band. As a person, I'd like to step back from being at the forefront of everything. With this new project, I still sing, but I don't want to be the frontperson. There's boys in this new band, and I think there were maybe more eyes on us in the beginning because we were a totally female lineup. It might be different now that there's men involved - they aren't going to get judged on how they look and dress and things like that."
That's a topic that, with a sad inevitability, has followed PINS around pretty much from the get-go; the second you use the ridiculous phrase 'all-female', there's a level of prejudice involved, and yet that hasn't stopped countless blogs, magazines and - especially unfortunately - the Bella Union website attaching it to the band. "There's a lack of equality that needs to be highlighted; you need to talk about it," says Vern. "We've been happy to be open about it. If you don't bring it up, it just gets ignored. In some ways, it's a little bit strange for us, because we've got a female manager, a female booking agent, a female press agent, and we're on a label where I think the gender divide among the artists is something like 45% women. We're fortunate in that respect, but for a lot of girls in bands, it's not that easy. Most places we play are pretty male-dominated. CMJ in New York - that was really bad for that."
Once a short jaunt around the UK is wrapped up later this month, the band are likely to have some free time, which has been at a premium so far in 2015. Vern and Macdonald intend to focus on their new group for a while, with no rush as far as a third PINS LP is concerned. "We're not under pressure from the label or anything," Vern explains, "so there's no plans for another PINS album in the near future. We definitely don't want to steam ahead with anything like we did last time; we were so excited about playing shows and how well the last record was received that we just got straight on with it. That was fine, but I think now, we need to step back, enjoy demoing, and make sure we've got a lot of songs to choose from. I'd never not do music, but it's going to be fun to have a change of pace. It's probably the right time."
Wild Nights is available now via Bella Union. PINS are currently on tour in the UK.
Get the Best Fit take on the week in music direct to your inbox every Friday