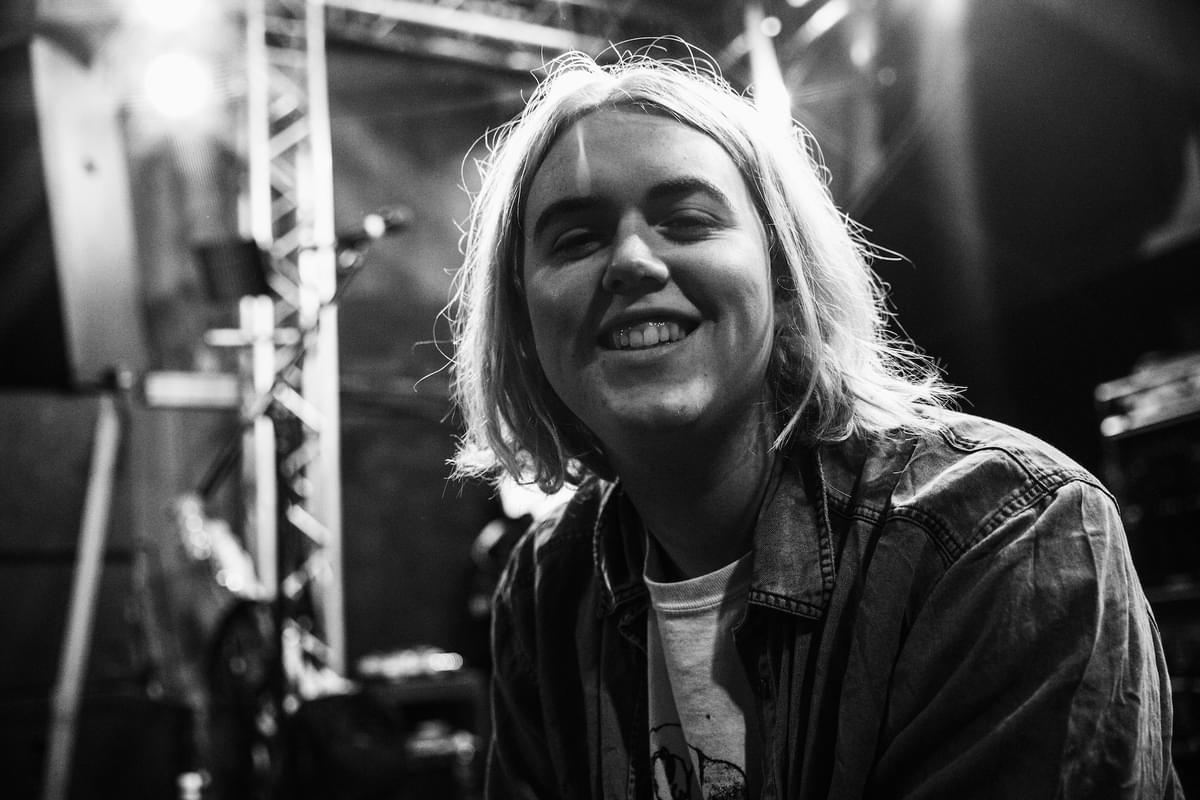 Oscar Lang is the nonchalant guitar nerd about to conduct a quiet coup of bedroom pop
17 December 2019, 12:04
Oscar Lang and his band are playing Call of Duty at a flat in Notting Hill. Eric Petsopoulos, the keyboardist, has the controller at the moment, and drummer Mac Luis is recording vocals for another project. The five are about to embark on Dirty Hit's UK tour with fellow Dirty Hit acts beabadoobee and No Rome. "It's been a pretty chill Wednesday," says Lang.
When he's not in the studio or onstage, Lang's life consists of "chilling with the boys" and watching "the most random shit" on YouTube, as well as playing video games. His current favorite? Red Dead Redemption 2. "That game is just crazy. It's just beautiful to look at. I honestly just sit in that game for hours and just like look at the hills and I'm like 'mmm graphics.'"
The band will be on tour for most of December, but they'll still get a few days at home to celebrate Christmas. Their most recent release, "Christmas is Home" is all about being home for Christmas with the ones you love. It was originally released on SoundCloud a year ago, but it has been revamped just in time for the holiday season.
"I'm actually not doing that much christmas-y stuff," says Lang, adding that he is "kind of sad about that. I only have about five days of Christmas experience when I get back from tour." His parents have a cottage in the Cotswolds, so he will have five days to enjoy a cozy countryside Christmas by the fire.
2019 has been a whirlwind for Oscar Lang. He was in school and working on his A Levels whilst also working on his EP Bops Etc. and getting signed to Dirty Hit. Now that Lang is 19 and out of school, he's ready to give music his all. In fact, we can expect another EP from him at the start of the new decade.
Oscar Lang's sound is almost indescribable. He tried to described it to NME as: "if you rolled Mac DeMarco, John Lennon and the Wii Shop Channel music into a ball and put it inside Kevin Parker's butthole."
Lang's favorite albums include Blur's 2015 album The Magic Whip and Connan Mockasin's 2013 album Caramel . Caramel is the album responsible for plunging him into the world of indie – "the record sounds like caramel. It's crazy," says Lang.
Lang straddles being a solo act and being in a band, mentioning the names he has come up with along the way: "I call myself Oscar Lang and the Wang Gang when we play live. That's our name. That's the way to represent it, really. It's Oscar Lang plus the Wang Gang. It's kind of like Anderson .Paak & The Free Nationals. It's that sort of vibe."
Bassist Alex Baldwin (19) has known Lang since secondary school. Guitarist Daniel Bath (21) found Lang through a friend of Baldwin's. Luis (19) grew up in Portland, Oregon, and was discovered by Lang through a band networking website. According to Lang it was "the weirdest fucking sort of fucking band website, it kind of looked like Craigslist. I didn't know who I was going to meet. It could've been a 50 year old man, but Mac showed up." Petsopoulos (25) is from Philadelphia, and found the Wang Gang through Luis.
Lang also has a history of collaboration with fellow Dirty Hit artist beabadoobee. He explains, "she hit me up in the DMs because we had mutual friends and she found my music and then I saw one of her songs on an Instagram Live she was playing." He then offered to record and produce the track for her: "that's how I ended up becoming a producer, because through recording it for her I basically ended up doing everything. On top of her guitar and vocals, I'd finish the tracks. I sort of treated them like they were my tracks back in the day, so I would finish them without bea even being there sometimes." Lang subsequently produced beabadoobee's 2017 single "Coffee", her 2018 EP Lice and 2018 album Patched Up.
Back then, Lang worked under the name 'pig'. "I originally had the name 'yum,'" he explains. "I wanted a short name. I had yum but it just didn't roll off the tongue like pig did. I found that there was only one other pig and I didn't think it would be a problem, and then fast forward a year and a half down the line with the other pig, it turns out it was a problem… I didn't think it was going to be a problem, but yeah, I had to change it. I like the name now. It shows who I really am," Lang laughs. "I've kind of forgotten my name was even pig."
Lang's work with Dirty Hit began with beabadoobee's Patched Up EP. "They sort of knew going in that I was sort of her partnership in producing and I was the one she felt comfortable with. I don't think they really wanted to drop her in with another producer straight away. Both of us were only 18, so we did the first EP together." In March, Lang also became signed to Dirty Hit. "They saw what I was doing and they just liked it, I guess, and now I'm here signed today."
Now, they're both on tour with fellow Dirty Hit artist No Rome. "No Rome and me were talking about getting a cat together because he's saying that he doesn't have anyone to look after a cat when he's working and stuff so I said I'd look after it," laughs Lang.
Dirty Hit's largest act is undoubtedly The 1975, who have become an international success. "It's super weird because I went to see The '75 when I was like 16 at Reading Festival, and then fucking three years later I'd have never suspected that I'd be in the fucking green room with them at Reading Festival when they played this year," Lang says. "It was kind of surreal that this much has happened, but you kind of get used to it as well 'cause they're just normal people. They're not special in any way; they just play music. That's what you sort of realise."
Shortly after being signed, he celebrated by buying a guitar. "I literally walked into the music store and was like 'what's the cheapest acoustic that you have with a pickup' and they hand me this Fender one for like 150 quid," recalls Lang. "It sounds great. It doesn't sound like a 150 quid guitar to be fair. So I play that live, but I also used to play a Fender Jazzmaster that the head of my label got me."
The best guitar Lang has played? David Byrne's. At one point his usual guitar was in the shop, and with about 20 vintage guitars in the studio to choose from, he asked to borrow one that belonged to David Byrne of Talking Heads. "I got to play that live a couple times, which was sick. The guitar sounded amazing. It's like a fucking dream guitar. It's insane how good it sounds."
Some of Lang's guitars are beloved enough to have names. His Fender Telecaster is called Mary. "She's beautiful," says Lang. "She's absolutely beautiful. She's matte light blue but I barely get her out because she's too beautiful, I don't want to damage her." His sparkly blue and tan Fender Jazzmaster that he holds on the cover of Bops Etc. has been dubbed Elton.
Lang fantasizes about owning a Vox Teardrop. "I just love the way they look. Oh my god, they're so beautiful. I don't think they sound that great actually but, I don't know, I just want one to look at it. It just looks so cool," says Lang. He has even bought a guitar purely based on aesthetics before, only to discover that it sounded "like trash."
Oscar Lang and the Wang Gang are relatively new to playing live, but find it euphoric. They especially hope to find their way onto the bill for Glastonbury. Their favorite festival to play so far has been Green Man Festival in Wales, the "chillest" festival Lang says he's been to. "Previous festival experience for me was going to Reading Festival when I was 16 which is just full of 16 year old kids off their tits on MDMA and everyone's just slopping around in the mud, and you end up after four days just smelling like utter shit. Going to this festival in Wales I didn't really know what to expect and then we showed up and it was just rolling hills in Wales and everyone's families walking around but also parents being kind of… I don't know… responsibly fucked up?" laughs Lang. "Everyone there was just responsibly fucked up. No one was being annoying and shouting, but everyone was still off their tits because it's a festival."
"Music has been a part of my life the whole way through. I wouldn't even say there was one section of my life where I wasn't doing some sort of music," recalls Lang. "I've always been listening to music with my family. We used to sing songs in the kitchen and stuff." Lang's formal music education began when he learned the piano at age six. He immediately took to creating his own melodies and stringing notes together, which he then wrote nonsensical lyrics to.
Lang's dad was a drummer, and Lang himself dabbled in drums when he was about 10, but never took it much further. Nonetheless, his dad's band's old cassette recordings were an inspiration. Lang's first guitar was a red Fender Squier Stratocaster that he lifted off his dad. This was the guitar he learned on, and it sort of became his after a while. Today, he plays guitar, bass, and piano (and some drums).
Mostly, he plays an acoustic guitar onstage and uses a vocal pedal. He learned how to use a vocal pedal from "hours of scouring youtube and digging deep down into music YouTube videos and old guys reviewing gear and stuff and then finding the vocal pedals."
In his early teen years, he recorded himself playing covers. Learning to use music production software on the covers, and posting the videos to YouTube. "[The videos] are long gone so don't even bother searching for them. Please do not find them ever," laughs Lang. "I put one up on my Instagram and people loved it. I might occasionally release one or two but I'm not going to release all of them because God, ugh! I've got to leave that behind me."
Everything up until To Whom it May Concern was self-released. The 2018 featured mostly romantic guitar ballads that sound like heartbreak on the first listen. "It's weird because To Whom it May Concern sounds sad, but in a way I wrote it a lot when I started going out with my girlfriend, Eliana, and a lot of the songs are about her so it's actually a really positive sort of vibe," Lang explains. Eliana was once in his band, but moved over to beabadoobee's band when she became romantically involved with Lang.
For Lang, genuine sadness can be heard on Teenage Hurt. He explains, "Teenage Hurt, my first album, that was when I was struggling at secondary school. It was just a sad time and I wrote those songs when I was really sad. I guess musicians are going to have it where songs are a way to write their emotions down. I feel like the most genuine musicians are the ones that lay their emotions out on paper."
After years of goofy jingles and cringy teenage YouTube covers, Lang has discovered his brand; a funky mixture of lo-fi guitar ballads and wacky synthesised alt pop, but that isn't all he's capable of.
"To be honest I just create too many different kinds of music that I can't limit myself to one thing," explains Lang. "Ideally I'd love to have just all different project names so people would understand it more, but it's just me like: 'I've got this stuff and I make it when I'm sad and I make piano music and then I like to bop around,' you know what I mean? I think it kind of shows my personality in a way because at the same time someone's not going to be completely depressed all the time, you know? There's gonna be moments when they're upbeat and having fun, so it's kind of like a mixture of emotions really for me."
He says the upcoming EP is going to have a mix of the soft, sad, and sweet vibe of To Whom it May Concern and the distorted synth sounds which we hear on Bops Etc.
Of his songwriting process Lang says: "It's weird. Sometimes you have days where like songs will just come out of nowhere and just hit you and you can bash them out in like a day." He continues: "I typically start with some chords and then sort of sing out a melody but don't have any lyrics, I just sort of mumble things that sound like lyrics to sing out a melody. Then sit down, write all the lyrics and then get to recording it."
"There's a weird mix of songs that I wrote when I was like 16 as well that I've always really loved, but definitely a lot of stuff I've written doesn't get released. Me and the lads have created a couple rap songs, we've created a couple dance tracks, we've got all sorts of tunes, so not everything gets released. I would hope not to be honest." If these songs were ever released, they would be released under a different name.
"If I do it, I'll definitely commit to it and just do a full EP and take it fully serious and act as if it's a real thing and not a side project. I'll use a masked profile or something and just see how it does," says Lang. "Just look out for all the rap songs coming in like the next four years, 'cause you never know, you might hear me on one of them."
For now, Lang and the Gang are focusing on their wobbly, wacky keyboards and moody guitar ballads, with kooky visuals to match.
The band's music video for "Hey" features the five performing and dancing around in front of a technicolor greenscreen. Lang sums the video up with a comment he saw online: "'The director: how much effects do you want? Oscar: Yes.' That really is just about how things went down. We said we wanted to do something that was just super trippy and we wanted to do it on a green screen." Lang continues: "I just wanted something to watch when I was high that would look really cool. I think we achieved it."
Lang points out that in London, on this particular Wednesday, it's oddly dark at 4:20pm (he also laughs). "It's kind of depressing. It's kind of cosy though at the same time. It's good for a sombre Spotify playlist, though, when you're walking through the streets of London and your jacket's flying in the wind, that's when the sadness comes, that's how Teenage Hurt happened."
Amsterdam is Lang's favorite city and, after only five days there, he fell in love. "I'm fucking praying for the day that it's legal in London because it's ridiculous that it's legal in like… Portland! Mac goes home and he tells me his tales of just walking into the shop and buying a fucking pound of weed for like 50 quid."
His wanderlust is balanced out by his love for his family and his home in South West London. He has a mixed family, with two stepsisters and two brothers. They are all very close. He recalls a family trip to New York City, in which his dad refused to let them take the subway and instead made them walk nearly thirty blocks in a heatwave.
Lang is excited to tour beyond the UK and hopes to make it across the pond next year. "I can't wait. I just wanna go mental in America!" His excitement wavers only slightly when I remind him that in America, he won't be able to drink.
Oscar Lang plays our new music festival, the Five Day Forecast, next month alongside Alfie Templeman and Sinead O Brien.
Tickets are on sale now
.
Get the Best Fit take on the week in music direct to your inbox every Friday