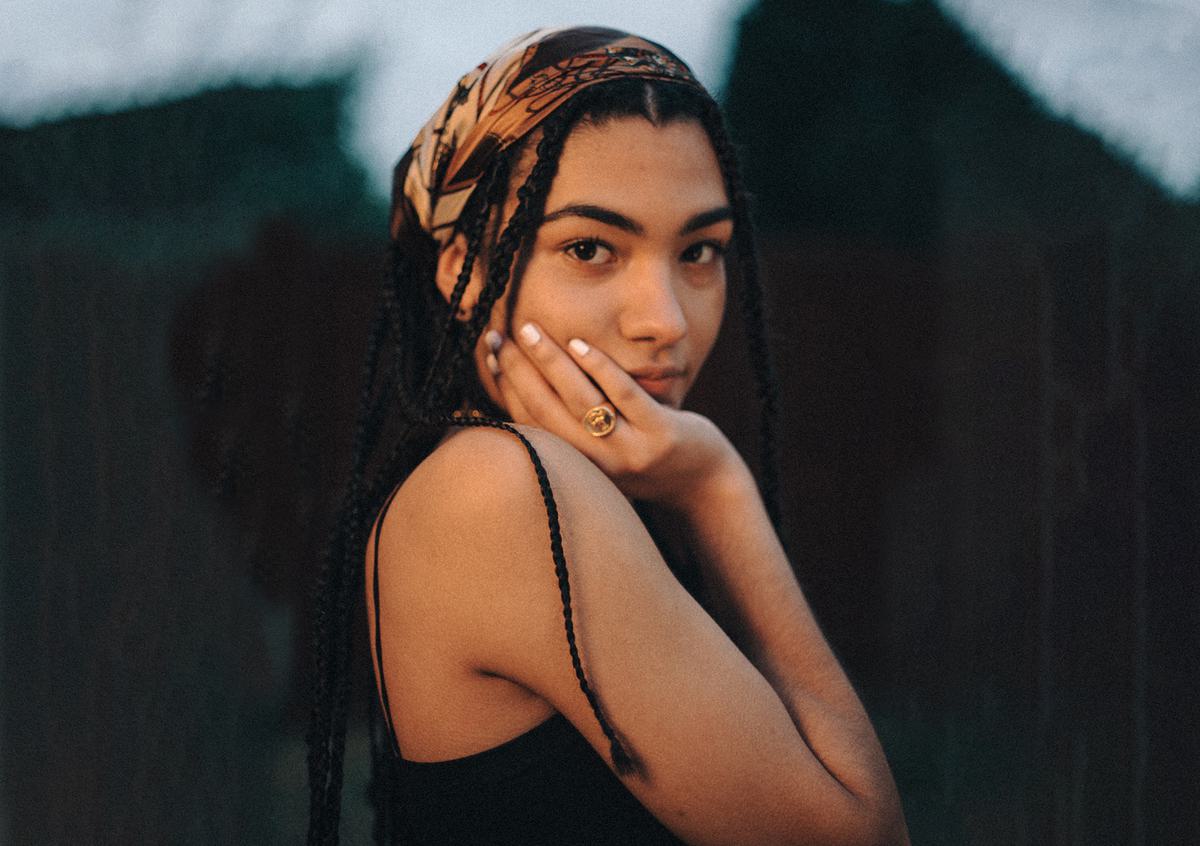 On the Rise

Olivia Dean
29 May 2020, 09:30
Taking inspiration from the confessional soul singers of the past, east London native Olivia Dean is ready to share her kitchen sink dramas with the world.
"I was reading this article the other day about the pressure to be creative right now, like, 'I've got to write this book! And do all this stuff!' But actually, we're in a pandemic – just chill," says Olivia Dean. "There's an internal pressure. Everyone on Instagram is doing these things so you think, 'I need to too'. But for me anyway, it doesn't feel natural. Just watch Friends, drink some tea and do stuff when it feels right."
The 21-year-old Dean doesn't seem to be an artist who bows to pressure or cares about what people think. She isn't worried that her next EP is "kind of on the burner" for the foreseeable, partly down to being distracted by the biggest crisis in a generation. "I was about half way into finishing my next EP before coronavirus went down. So I'm trying to get it done but it's quite hard," she explains. "As much as I want to get stuff out so people can hear it, I don't want to look back and think, 'Oh, that was a bit rushed' or that was done in a way that didn't feel right."
"The songs are done, it's just the finishing touches," Dean continues, speaking on video call from her parents' house in Walthamstow where she's been spending lockdown. New single "Baby Come Home", a lulling soul tune about missing an absent partner ("I made you a coffee, I don't know why / thought I heard the doorbell a couple times") is the first taste of the follow-up to last year's Ok Love You Bye EP.
That debut effort, which Dean worked on with Boxed In producer/songwriter Oli Bayston (Lianne La Havas, Lily Allen), spawned the relatable soul pop single "Password Change", about decoding a relationship. "I wanna talk but the football's on / is holding hands too much to ask? / I know you can multitask / is it me or the game that's wrong?" Dean sings on the track, her vocals skimming over rim taps, finger snaps and breezy piano.
Dean's journey so far has been something of an expected one given that she knew she wanted to be a singer as young as eight. "I was quite shy and I started doing musical theatre lessons on the weekend," she says, reflecting on her mother suggesting she train her voice properly.
In her teens, Dean got accepted to The BRIT School despite being convinced she wouldn't get in ("I was writing songs but I didn't really have the experience"). A two-year stint on the school's music course followed a switch from the musical theatre programme, which is where she developed her songwriting. But she doesn't "take to formal instruction very well," she says, laughing while shielding her eyes from the streaks of sun entering her room. At the moment she's trying to teach herself how to play the saxophone.
BRIT was "the best thing I ever did", Dean adds, which allowed her to be herself. There is no music scene "whatsoever" where she grew up in Walthamstow, at least from her experience. "I was just kind of that girl who was always in the school shows, singing in the assemblies. I was desperate to get to BRIT and get stuck in," she says. "When I got there I realised, 'Oh, everyone's that kid in assemblies.' I mean, I loved growing up in east London. I'm really proud of where I'm from. But in terms of music, BRIT was a really good thing for me.
"I travelled every day for an hour and 45 minutes to get to school. I'd be asleep on the way there and the way back. But it was worth it."
Credit: Theo Batterham
It was at the end of BRIT, which Dean attended at around the same time as the likes of Rex Orange County, Jade Bird and GRACEY, when she got her first career boost. "It was my final show there and my now-manager, Emily Braham, was in the audience. She came up to me after and said, 'Can I manage you?' And I was like, 'Um, yeah!' She's just fantastic. She inspires me every day."
Graham was working with Rudimental at the time, which eventually led to Dean joining the chart-topping DnB gang on tour. "I was singing one of their songs featuring Emeli Sandé on stage when they headlined V Festival [in 2017]. I was like, 'How did I get here? This is mental.'"
"I'm intrigued by stories and real life... I'm not really an abstract kind of girl - I'm pretty straight down the line."
Since then, she's been hard at work. "I've been writing for like three years now. I'm quite a perfectionist. In the past it was taking me quite a long time to figure out how I wanted things to sound. I'm not a producer; I'm a songwriter and singer. It took me a while to realise where things were going to fit, like in a puzzle."
"I'm not precious about collaborating," Dean says. Working with Eg White for her first single of 2020, "Crosswords", a beautiful acoustic song about early infatuation with a lover. "I really like working with people and having other minds on things. I do also write by myself all the time though, like I'm always writing lyrics. If I think of something I'll always write it down or put it in my notes app."
Where does she think her direct, conversational, domestic lyrics come from? "It's naturally how I would speak and say things. I find songwriting quite therapeutic and it's more for me kind of like diary entries stuff when I'm writing.
"I like all types of music but songwriting-wise, I love Amy Winehouse especially because you feel like you're getting a piece of her life. Even though it's specific things that you might not have done, it's still relatable. I'm intrigued by stories and real life. I think that's maybe why I write that way. I'm not really an abstract kind of girl; I'm pretty straight down the line."
Credit: Theo Batterham
Winehouse is a key influence – and certainly there's that rounded, soulful tone in Dean's voice – but Winehouse is just one of a long list of female singers she adores including Aretha Franklin and Carole King. She also loves Paul Simon "with all my heart". "Graceland...oh my god, when I heard that album I was like, 'Poooof!,'" she says, miming her brain exploding.
There's some darker music coming next, she reveals, which will be a side-step from her typically bright pop music. Regardless of tone and mood, Dean says her main aim is for people to connect with and relate to what she's singing about. "I just want people to feel like I get it, and they get it. We're all going through the same thing, really. It's so flattering when people say they hear themselves in my stories. Happy, sad – everything. I just want people to feel stuff."
And what about longer term ambitions? "I'm really excited to be doing an album. That's my goal, and when I do that I'll be pretty chuffed. I'd also like to play Glastonbury. Wouldn't everyone, really? That would be a dream. I will literally play on a hay bail – I'll play in a ditch if they'll have me!"
For now though Dean is taking a break after "writing pretty solidly for three years". With the world on pause, will she make songs beyond the confines of relationships? Politics, maybe? "I think I would. I feel like I've grown up even in the last few weeks. So I think naturally the subject matter will change, especially with everything going on now. I'm just down to try. I'm not someone who's set in a particular way of doing stuff.
"I do try to follow things but I'm not going to say I'm the most politically turned on. I'm reading the news but it's quite overwhelming for me. I'm a very emotional person."
Instead, she opts to engage with it all in "small doses". Re-runs of Friends sounds more fun anyway.