On his new album Black Mona Lisa, Billy Porter reimagines himself as the deluxe popstar we deserve. He may have one eye on the club but, as he tells Alan Pedder, it's gospel and torch songs that still have his heart.
Fluent in survivorship, Porter's dancefloor friendly reinvention is, on one hand, a roar of colossal self-belief; on the other it's a call to action for a world that's lost its spark. On Black Mona Lisa, he's in the mood to celebrate, pulling "love and joy and hope and peace" back into focus after an antagonising half-decade or more.
For the New York-based artiste (Porter warrants the 'e'), music has always been a universal language of connection. Growing up in a Pentecostal community in Pittsburgh, much of his early life revolved around the church and gospel music. It also revolved around profoundly traumatic abuse within the strictly religious family that he eventually escaped from, throwing himself fully into the world of musical theatre and dance as a teenager, finding a lifeline through art.
Openly gay at 16, he landed his first major Broadway role as the Teen Angel in an adaptation of Grease aged 25. A few years later, he made his first attempt to cross over into the mainstream pop world with a self-titled R&B album. But, forced out by a "violently homophobic" industry, he returned to theatre, joining the original Broadway cast of Miss Saigon, playing the role of an American Marine. Two more albums followed: a live album of showtunes and self-penned songs in 2005, and a more streamlined Broadway set in 2014, which won him a Grammy.
Incredibly, Porter had already notched his first entry in hot pursuit of EGOT status a year earlier, winning a Tony Award for Best Leading Actor in a Musical for his role as drag queen Lola in the Cyndi Lauper-penned Kinky Boots. In 2015, he landed his own television special, but it was his role as Pray Tell in the lavish, celebratory, often heartbreaking Pose that made him a household name around the world.
Two days after his 50th birthday, Porter won an Emmy for the show, becoming the first openly gay, Black man to win Outstanding Lead Actor in a Drama Series. "The category is love!" he said at the start of his James Baldwin-referencing speech. "I'm so glad that I lived long enough to see this day."
Speaking to me on camera from a London hotel room earlier this year, it's love and gratitude that Porter wants to talk about most. He's been in town for several weeks in his role as co-producer of hit queer, Black musical A Strange Loop (named after a Liz Phair song, no less!), and has spent the day on the set of a photo shoot. He seems somehow both exhausted and almost volcanic in energy, often leaping off the sofa and tilting his laptop to the ceiling or, when especially riled up, pacing the floor with it shaking wildly in his hands.
He's understandably agitated about returning to New York the next day. Just a few weeks earlier, he and his husband of six years, Adam Smith, had announced their divorce, and Porter's pain seeps through the screen. As we talk, he's in tears one moment and filled with burning ire the next. "I'm going through a lot of shit right now," he says, apologetically, wiping his eyes. "It's been fucking hard and I just want to get this year over with."
Black Mona Lisa arrives after a considerable wait – the first single "Children" was released so long ago that the album also features an all-new version featuring "the Grace Jones of jazz" Lady Blackbird – but Porter keeps his frustration largely in check. After all, he's already been waiting a lifetime to live out his technicolour art-pop fantasy. Brought into being with the help of Justin Tranter, the enby co-writer of songs by Lady Gaga, Britney, Ariana Grande and more, Black Mona Lisa was preceded in March by Porter's first official headlining tour as a musician, a journey he says was "life-altering, redemptive, and so healing."
As he explains, "The last time I was out in 2017, playing in much smaller venues, I really struggled because a lot of people came thinking that they were coming to see Lola from Kinky Boots. They were so confused by my rage and my activism and my politics. I called out Trump in my hometown and they came for me in the newspaper. I was really nervous going back out, because the division has only gotten worse now, and I will never fucking shut up or be silenced. But, you know what? This time people came to see me because I'm such a loudmouth. People came because they like what I say, and that I mean what I say, and they know I'm not ever gonna take it back."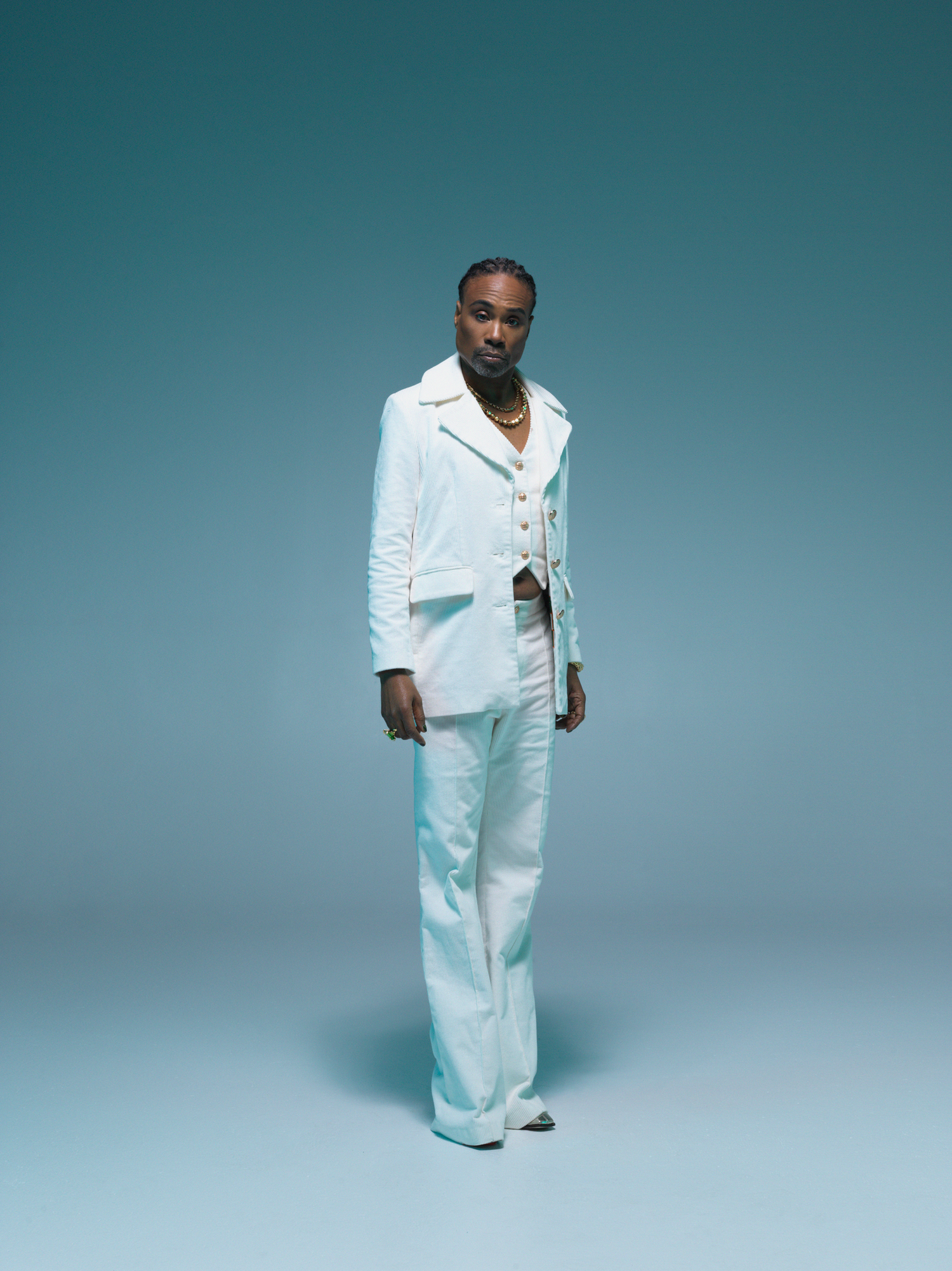 Porter is proud that his shows attract people of all ages, races and sexual orientations. He gleefully tells the story of one man in the audience who shouted out, "Yo, my wife dragged me here and I didn't know who you were, but I fucking know now." "The crowd went crazy," he says with a huge grin. "Straight Black men have wanted to harm me and murder me from the minute I was put on this Earth, but this guy was there screaming that I was the shit. It was so redeeming. There was something so spiritual and positive in that, for me."
For someone who has been playing characters for so long, it's clear that Porter is revelling in finally being celebrated for his full uncensored self. His vindication and healing feels righteous. It feels deserved. It's time for the Black Mona Lisa to shine. But first, an admission about his Nine Songs: "I'm going to be really truthful with you," he says, locking his gaze to the camera. "I hate making lists."
"I hate that the world is predicated on good, better, best. I hate that everything has to be rated from one to 10. I hate it because there are too many influences in my life. There's not one thing that's the best or the greatest. It depends on the day. It depends on the moment. It shifts and it changes, so the way I participate in shit like this is that whatever comes to my head is what it needs to be in the moment."
"I started writing down songs and by the time I'd finished there were about 25 of them. So I said, 'Let me choose nine that represent what I'm thinking about today, in this moment, right now.'"
"For Every Mountain" by Kurt Carr & The Kurt Carr Singers
BILLY PORTER: Gospel music is divine music. I'm a gospel head. I grew up with gospel. I started singing in the church when I was five, and I've found a lot of solace and a lot of healing in the music.
I have been able to separate the message from the ministry for a long time, but that's gotten harder and harder for me to do. I'm a lot less engaged in the gospel music space than I used to be, because the rhetoric and the dogma surrounding the LGBTQ+ community is disgusting. I'm over it.
This song and the next one I chose, they both come from a bygone era. I'm talking 20-plus years ago. But they still move me. I still find "For Every Mountain" so inspiring. I'm a Black queer man in this world but I still believe that there's a higher power that guides me and protects me.
This is still one of my go-to songs when I need to be encouraged and inspired. I'm a leader. I'm an activist. I'm a mom. I'm a daddy. I'm all of these things, and sometimes I need help. Sometimes I need to be held, I need to be inspired, I need to be encouraged. And "For Every Mountain" is one of those pieces that helps me to refill my well.
BEST FIT: As you say, gospel hasn't completely left you. I know that you've been working with Kurt himself on a gospel musical. How is that going?
It's been magical. We are trying to get it off the ground. You know, he's such a natural storyteller and he's also very grand. Do you know his music?

Honestly, you've got me listening to him for the very first time.
Well, go back and listen to the rest of his stuff after this. He's like an orchestrator. The music is big, it's huge, it's stadium sized, it's humongous!
He's a fan of Broadway. His favourite musical is Wicked. It's funny, because a couple of albums ago [2013's Bless This House], the last song, "Solider On", ends like the end of Wicked. Most people in the church don't know where that comes from, but I do.
We have mutual friends, and one day he came to see a show that I was in. He came backstage afterwards and I was like, "Hey, I'm glad you could pry yourself away from your favourite musical and come to see something else." He just laughed and said, "No, no, that was my favourite musical."
So, Wicked was something we bonded over. Later he told me that he'd always wanted to write a musical. Apparently they called him Mr. Broadway in the gospel arena. I was like, "They call you Mr. Broadway as a pejorative?!" and he laughed and said, "Yeah, they make fun of me." So I said, "Well, let's write a musical together then!" – and we did, and it's gorgeous.
I'll be directing it. I'm in the process of trying to figure out how to get our workshop going and get it on its feet, but I think it's really good. It's sort of a new form of musical, like a hybrid between concert and narrative. I need to get it on its feet to see how that would work and how well it would blend in practice.
"Through The Storm" by Yolanda Adams
BILLY PORTER: I first saw Yolanda Adams sing a song called "Even Me" at the Stellar Awards [a long-running gospel music awards show] on TV in the early '90s. This was long before YouTube and all that stuff, but somebody had recorded it. And, wow, that voice was just… wow. The power and the intention that she sings with. I became a huge fan.
"Through The Storm" is a song from her second album of the same name, and it speaks to me so much. You know, even though my life has been very, very difficult sometimes, I try to lead with joy. I try to lead with grace and compassion. And this song is one of those pieces of music that keeps me going.
The lyric and the intention of the song is that you can get through it all, no matter what. Just keep going. Whenever I feel blocked or I feel like I can't move forward, this is one of the songs I listen to. It's beautiful, and then that voice. Bitch! Nobody else sings like that.
BEST FIT: Have you ever performed together?
No, but I have met her. Actually, I would love for her to be in the musical. I'm trying to manifest it right now.
"I Have Nothing" by Whitney Houston
BEST FIT: You've often said that you've wanted to be the male Whitney Houston since a young age. Why have you chosen this particular song of hers?
BILLY PORTER: Yeah, I fell in love with Whitney's music since the very first time I heard her, probably when I was about 13 or 14. I must have heard it on the radio and I remember I was just gobsmacked. Like, who the fuck is that?! And once again, she's one of one. She became my favourite.
You know, she was a church girl. I'm a church boy. I sing like that. Of course there's only one Whitney, but we're cut from the same cloth. We're grounded in the same instincts. It's almost like I could predict where she was gonna go before she went there, vocally, because we're from the same background.
When The Bodyguard film came out, clearly "I Will Always Love You" was the big moment. But what I really love about "I Have Nothing" is that it had this sort of element of surprise. It's the one that sneaks up on you as the power ballad of the '90s.

Why did I gravitate to this song? Well, I've always taken a fancy to a victim torch song. I mean, what queen doesn't like a victim torch song, right? That was at a certain time in my life, and although I've since moved forward from relating so hard to the victim aspect, at this moment, because I'm going through this fucking hard divorce, I've realised I'm back in that theme.
Actually, it was when I was looking at the list that I sent you that I realised, 'Oh, that's a lot of victim torch songs right there.' [Laughs loudly] I've gone back to them, you see.
Incredibly, you did actually get to become the male Whitney, in a way, when you stepped into her shoes to play the Fabulous Godmother in the remake of the Cinderella film musical.

Yeah, that was amazing. I tried to channel as much of her spirit as I could, while also doing my own version.
I only just realised when reading up on this song that the woman who co-wrote "I Have Nothing", Linda Thompson, was actually an ex-girlfriend of Elvis Presley's, and their relationship was one of the inspirations behind the song.
Damn. I did not know that. Wow.
"I Love You More Than You'll Ever Know" by Donny Hathaway
BILLY PORTER: When I was a kid, growing up in the church, there was no music in my church or in my house except gospel music. Of course I would hear pop songs on the radio and at parties and all that stuff, so it's not like I didn't know anything. But I did not know Donny Hathaway.
Around the age of 17, a few people started telling me that I sounded like this guy, and I was like, 'Who's Donny Hathaway?'. I'd started making money at the time, so I was able to do some research and go and buy his CDs.
Okay, so I started with his greatest hits [laughs]. And oh my god, when he started singing I swear I just couldn't stop crying. There's so much humanity in his voice. There's so much love in it. There's so much pain in it. His voice is just so pure, and I was so incredibly moved that people thought my voice sounded like his.
I guess "I Love You More Than You'll Ever Know" is the obvious choice. Another victim song! But I… I just love this song so much. I've been away from it for a while, because I've been trying to keep away from victim stuff as I said. But, yeah, Donny Hathaway. I love him and I love this song.
BEST FIT: You've also chosen a song by Lalah Hathaway, which we'll get to later. I'm embarrassed to say this but, until today, I had no idea that she is Donny's daughter.
Are you kidding me?! [Roars with laughter] She sounds just like her father, only with a higher voice.
"All to Me" by Shoshana Bean
BEST FIT: Lalah is a good friend of yours, and I gather that so is Shoshana Bean. What does this song mean to you?
BILLY PORTER: Shoshana is slightly younger than me, and I've watched her bravely navigate the Broadway versus mainstream music struggle. It really is a struggle for people like us. The internet and social media have cracked open a space where there can actually be a conversation, but there was no conversation before. None.
When I put out my first album I had already been in four Broadway shows, but the record label wouldn't let me talk about that with the press. That's crazy. And now they have made me stop promoting my theatre shows on Spotify and other DSPs because it confuses the fucking computer. So once again, I'm supposed to apologise for my success because y'all don't understand?
[Gets riled up] How dare I be talented and multifaceted? There are all these motherfuckers who want to be famous as recording artists and then come and do a Broadway show. But I already did it. I've been trying to cross over and people don't respect that.

I swear, I don't want to hear the word 'algorithm' one more fucking time. I have worked for 50-plus years of my life to cultivate something that deserves better than a fucking machine that can't aggregate pop music and theatre music at the same time. It's so condescending and it's based on nothing.
What I love about Shoshana is that she has never stopped. She has become this gorgeous, beautiful recording artist in spite of all of it. When this song, "All To Me", came out a few years ago, I was really in a rough place with my husband. I was in a rough place with him a lot. This song spoke to me, especially the line that goes, "All the ones who came before / everything they shamed you for / give it all to me."
Ultimately, he wasn't able to do that. But I still have hope. I still believe in love. Oh god… [starts to cry].
I'm sorry, but this song just means so much to me. It's one of the songs that I use on my playlist when I have to do emotional scenes in film and television. I have a playlist that I go to, and there are three or so songs that I just toggle back and forth. I think the rest of them are coming right up, actually.
"Here's to Life" by Shirley Horn
BILLY PORTER: This song is what they call the last great American jazz standard. I was actually introduced to Shirley Horn's music through this song. I have a lot of creative friends and we often share the things we love, so I don't remember exactly how I discovered it, but I remember the first time I heard it.
[Dabs at his eyes] Even thinking about it makes me emotional. You can really hear the life lived in her voice. The simplicity and the confidence of her singing is… what's the word? There's a joy in it. [Starts to cry again] I'm very emotional today, please forgive me. I'm just going to surrender to it.

You know, when I was younger, my voice was very specific. Nobody could do what I could do. I was a gospel singer with the range of someone like Jennifer Hudson. I had a terrible time at school until I signed up to talent show in the fifth grade and won it. Then the bullying stopped. So, for me, for many years, it was all about singing as high as I could and as loud as I could for as long as I could. I didn't get it at the time, but it was all about ego. See me. See me. See me. Don't dismiss me. Don't dismiss me. I'm here. I'm here. I'm here, standing on the mountaintop singing at the top of my lungs.
The day after 9/11 happened, on the 12th of September 2001, I lost my voice completely. I was living in Los Angeles at the time. Acid reflux took over, and there was a period of about five or six years where things were really tricky. I lost my range. I felt like I'd lost everything. You know, I'd had vocal cords of steel. I could do anything. I could just roll out of bed and sing anything, until all of a sudden I couldn't. My whole identity was wrapped up in my voice and it was devastating.
I don't remember who it was – one of my angels, maybe – but someone said to me, "Billy, it's not about how you sing. It doesn't matter if you can't sing like you used to. You are anointed. You have a gift, and that gift doesn't have anything to do with your range." [Chokes up] And then they sent me that song.
BEST FIT: Beautiful. And that's the genius of Shirley Horn, isn't it? It wasn't all about range, it was about the patience in her singing. She sang with so much patience and made every word count.
Yes. Patience is such a great word. Hearing her, and hearing this song, helped me to heal. It helped me shift my focus and to celebrate life.
"I've Learned to Let Things Go", composed by John Bucchino
BILLY PORTER: I was in a musical revue of music that John Bucchino wrote. I loved the wisdom in this song, and the patience – I have to reuse that. For me, it's the lesson that forgiveness is more for the forgiver than the 'forgivee'. You have to learn it, and you have to practice it every single minute in that song. I'm dead. I'm just dead. This song just fucking kills me.
I grew up around the theatre and John Bucchino is my theatre generation, along with composers like Jason Robert Brown, Adam Guettel, and Pasek and Paul. He's a part of that generation of writers – my generation – and [mimes his head exploding] wow, he just has this profound wisdom of how to move forward [chokes up] when a relationship dies.
BEST FIT: When you perform a song as emotional as this, how do you get through it?
Well, child, I'm a trained bitch!
I went to drama school and they teach you how to do it. How to bring all your own shit and your own emotions in and direct that back out to tell a story. To communicate.
For a lot of singers, a lot of musicians, it's all about the sound. It's all about the singing. I have to watch all of these artists singing with their eyes closed [grimaces]. I'm so glad that I went to acting school where somebody said that when you sing with your eyes closed, you're just masturbating. You're just congratulating yourself on your own voice. And that does nothing for the audience. Share the fucking gift!
I mean, that's one of the greatest lessons I've ever learned. Because when that is your intention and that is your action, the tears can come but they don't overtake you. Because it's not about you. You're not masturbating, you're actually trying to connect.
"So They Say" by Lalah Hathaway
BILLY PORTER: This is another closing track. I think it's on her second album [A Moment] from the early '90s. Why did I choose it? Again, it's the wisdom in the lyrics. "Time heals all wounds, so they say" – I don't really feel that yet – "and the sun's gonna shine, come what may, so they say."
I love the idea that the songwriter, the singer, is actively seeking healing and actively moving themselves forward to something that looks like peace. Something that looks like grace. Something that looks like healing. And that fucking voice! Did you know this song?
BEST FIT: Another one I'm learning from you.
[Gets excited] I'm glad I'm introducing you to so many things that you didn't know!
It's a real education for me.
Oh, good. That makes me happy. I get concerned when people ask me for these kinds of lists, because I've gotten to a place where I just don't have time to listen to a lot of the newer stuff. I'm not as engaged with the most current artists as I was in my 20s and early 30s, and sometimes I feel like that's what people are looking for. Honestly, it makes me feel old. This industry is so ageist already, so I do get nervous about these things. I'm really glad it's working out the way that it is this time.
All I care about is that the songs mean something to you. It doesn't matter at all how old they are. The way you've talked about your choices has been wonderful. Going back to Lalah, I saw a beautiful version of you singing this song, during the pandemic.
Yeah! That was the time when we were Zooming and recording and going to benefits from the house [laughs].
I'm happy that I can resurrect songs like this that not a whole lot of people know. I can redo them, and I can use my power and my celebrity to actually give them the dues that they deserve. Lalah don't even sing this song no more. I told her and she was like, "That one?!"

"Peace on Earth" by Rachelle Ferrell
BEST FIT: I watched a video clip of you on what was, I think, another Zoom event, for Rachelle Ferrell's 60th birthday. You talked very briefly about how this song is your favourite and how it's got you through decades. What can you tell me about your journey with this song?
BILLY PORTER: The discovery of that woman's music has been so important to me. Once again it came through a bunch of my friends, and even to this day it's hard to process her talent and her gift. She plays for herself. She fucking plays just like she sings. I went to see her at, I don't know, one of them New York clubs, and I literally said, "I give up! That's my standard, and if that's the standard I give up. Why bother? Why fucking bother?"
The lyric, the leadership, the lesson, the teaching, the unapologetic evisceration in the bridge of this song... it goes so direct that it's too much to even talk about it. She's like, "Where is the love? Where's the fucking God in your life?" Whether you believe in God or whatever it is, you know what I mean?
This song is so peaceful and then she really goes in on how we treat each other and how we behave. We can't do nothin' until we look at our fucking selves! Black people are the most homophobic people on the planet! Okay, I'm generalising, but I have lived that version of the story. I got online during the beginning of George Floyd, when all these motherfuckers were walking in the streets marching for their rights, and then beating up a trans girl at the 7-11. Same people! How fucking dare y'all? You ain't getting nothin'. Nobody's free until we're all free. Fuck y'all!! How dare you? I don't give a fuck whether you like me or not. I don't like you either!
For me, that's what this song does in that bridge. There is a fire in that bridge! And when you see her do it live, she spins it a little bit. I saw her and she did this thing where she just kept repeating, [starts screaming] "Where is the God? Where is the God? Where is the God?" over and over. It was so, so good.
And I don't know where she is [in the culture]. I do know why she's not a household name, because hers is not simple music. It's not easy to sing along to. It's not, but it's fucking brilliant.