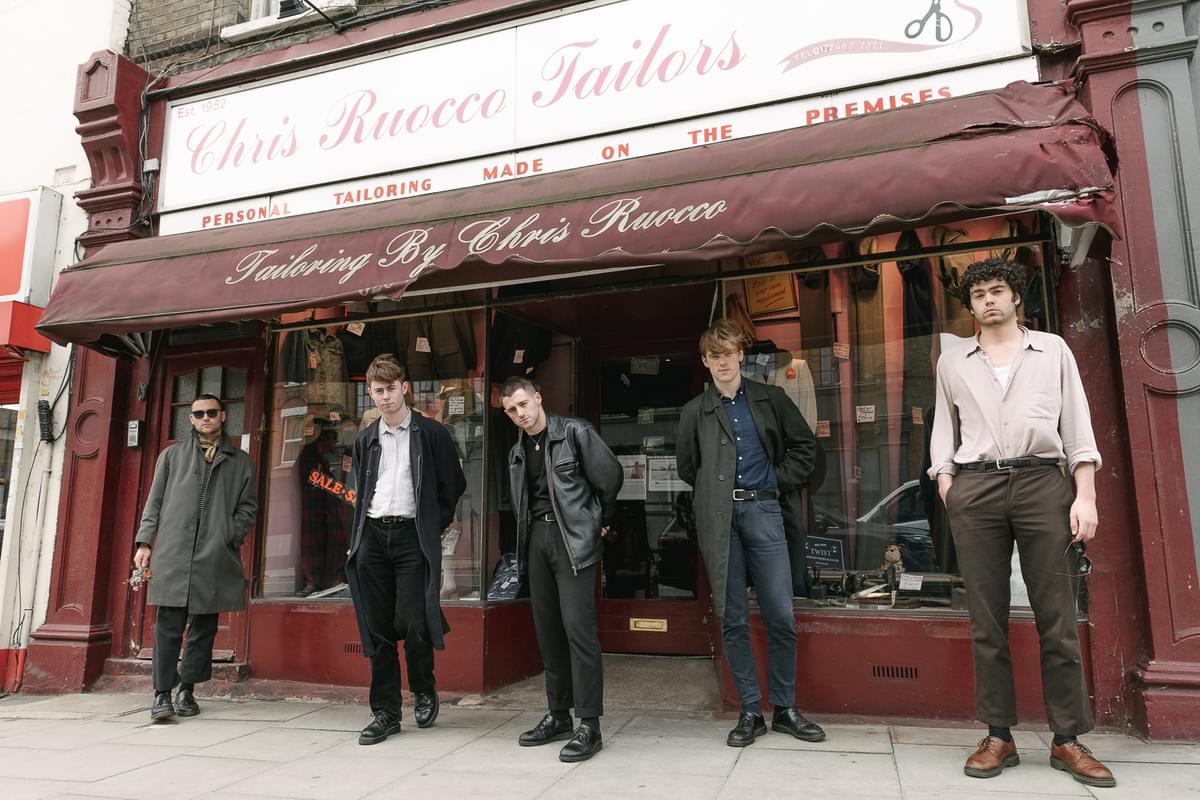 On the Rise

The Murder Capital
05 November 2019, 12:00
Dublin five-piece The Murder Capital are a band drenched in sentiment: unassumingly emotive and very much doing their own thing.
"We feel at home in places like this," says Gabriel Paschal Blake, bassist of The Murder Capital, while settling into a corner of a north London pub. Blake, guitarist Cathal Roper and drummer Diarmuid Brennan are sat down, surrounded by Irish flags, pints of Guinness and a strange Queen-themed fruit machine. It's the perfect setting for an interview with one of the most talked about bands from Ireland. When we meet they are about to play next door at The Dome – just one of many sold-out shows of their autumn and winter tour.
The Murder Capital are completed by singer James McGovern and guitarist Damien Tuit. They all met while studying at university and were recruited by McGovern because he needed a band for the songs he was writing. The line-up was formed with a little help from fellow Irishmen Fontaines D.C. "We asked Tom [Coll – Fontaines' sticksman] for any suggestions for a drummer and D [Diarmuid] was looking for a band to be in. James was talking to Grian [Chatten – Fontaines' frontman] about how we couldn't find a bassist," explains Roper. "That band curated the rhythm section," Brennan says, laughing.
Ever since The Murder Capital burst into earshot at the beginning of 2019 with debut single "Feeling Fades" and brooding, powerful live performances, the buzz surrounding them has swelled rapidly. Debut album When I Have Fears arrived in August: a dark, snarling two-headed beast of passion and vulnerability. With its title derived from a John Keats poem, the band explored multiple avenues of inspiration in order to create the record.
"I think a lot of our songs are usually talked about before an instrument is even touched," Blake explains, "an idea or a feeling we want to give off or a concept or an emotion. We always go back to [American photographer] Francesca Woodman and her work. We were watching a documentary about her family and that aligned our brains very quickly – 'Green and Blue' came out of that."
Blake continues: "I really like Beckett and Joyce. Surrealistic art. I think a lot of the time your inspiration tends to come from things that aren't music for the actual body or theme of what you're listening to. We were watching a lot of Stanley Kubrick and that brought us together in our heads."
"We deal a lot with the uncertainty of things, the human experience," adds Brennan. "That's a big thing that pops up in our psyche. Grief too."
"One of the things we learnt as five young fellas is how to communicate correctly with each other. In this day and age, being in your early twenties is your second puberty," says Blake. "You're understanding how to be an adult, how to relate properly as a grown person. I think we were doing a lot of that within each other throughout the writing and recording of the album. Our mate described it as a coming-of-age album and I didn't realise that that's what it was until it was finished and we listened back."
As a band facing a huge amount of hype from critics and audiences, it's understandable why lackadaisical comparisons can leave a bitter taste in the mouth. Mention The Murder Capital and connections to Fontaines and English punk aren't too far behind.
It's something that the band have noticed themselves. During their photoshoot around the streets of Tufnell Park they strike up a conversation with the owner of a flower stall they were using as a backdrop. "Fontaines D.C.?," I hear them say trying to explain their sound, "IDLES?" which is met with laughter. "It's just easy to label," says Roper. "That's all it is. It's a quick thing to do. There's nothing wrong with those bands, we love them. That scene is amazing. I think every band ever doesn't like a quick label."
The Murder Capital have not shied away from calling out lazy journalism, refusing to be tossed into the growing pile of English punk: "It's alright saying to your friends, 'You should listen to these guys, they sound like that band,' but when you hear from a journalist doing that...it's just very lazy," Roper says.
With comparisons coming in left, right and centre, it's surprising to gain insight into the actual 'Dublin scene' from the inside. "The 'Dublin scene' was created by English journalists," explains Blake. "There's so many fucking brilliant bands that are coming out. Just Mustard aren't even from Dublin. None of those bands are actually in Dublin anymore."
"None of us are even from Dublin, we just met there," continues Roper. "In south London there are a lot of bands that do sound closer together. They're doing a lot of their own thing. That might sound like a dig but it's not."
"Calling it the 'Dublin scene' is just labelling whatever's coming out of Dublin and putting it into a group." Brennan adds. "Even within Dublin you can't compare the bands that are there. We don't sound like Girl Band. Nobody sounds like anybody. Everybody sounds like their own thing."
With The Murder Capital, and arguably Irish punk right now, there's a poeticness: a delicacy and a laconic undercurrent that's almost incomparable to English punk. Unashamed to hold a mirror up to their own emotions and welcoming others to do the same, they are brutal and vital. "I think for a long time in Ireland – starting a band or getting into music –there wasn't really ever a big promise of anything to come out of it," Blake says.
"The reason that you did it was that you wanted to make meaningful art that would be there for longer than you were," he continues. "Going through your own psyche and your own problems and finding a way to express that in other ways than just going out and getting pissed and not being able to talk about it.
"The coolest thing that happened in Dublin was that the art was made for art's sake before any promise of coming to London and playing a show. Two years ago, if you'd have said to me that we were going to be here tonight playing a show, I'd have fucking lost my mind."

The Murder Capital continue their UK and European tour (
see dates
).
Get the Best Fit take on the week in music direct to your inbox every Friday