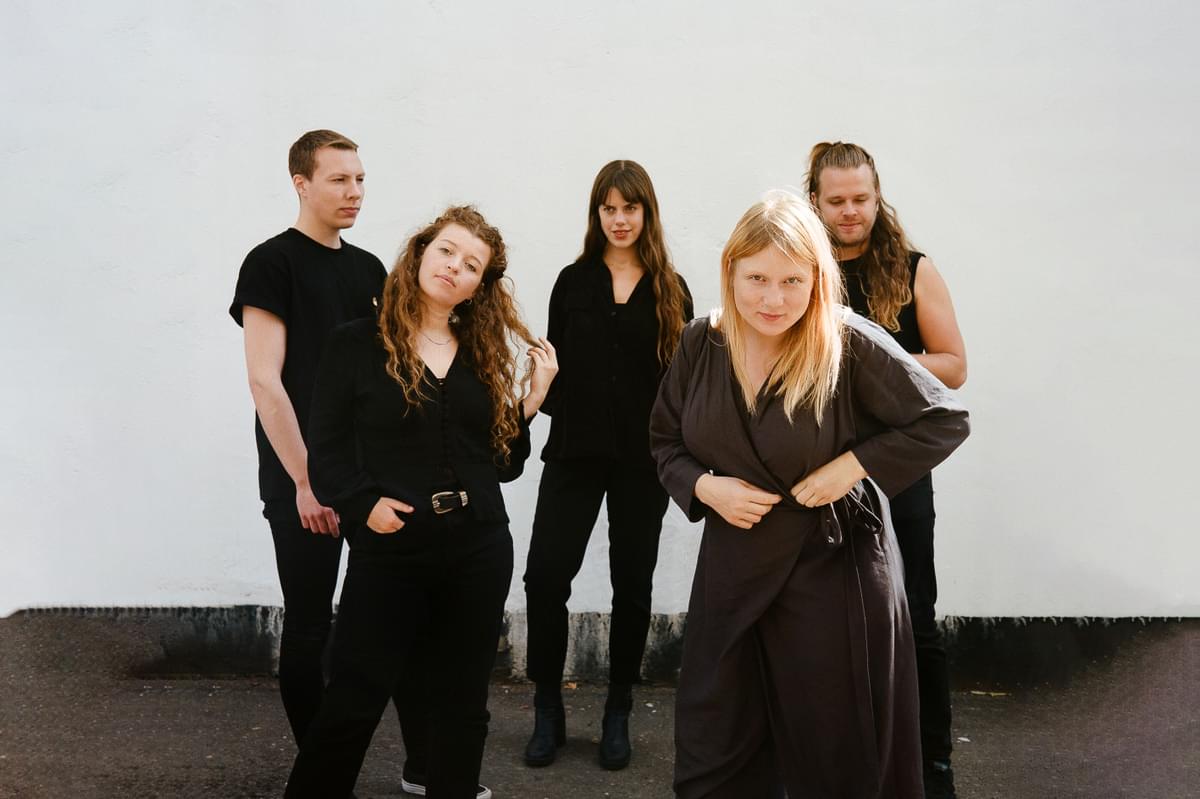 Mammút are heading down a rabbit hole to find out what's next
30 August 2019, 07:30
"It's more speculating – asking questions and not answering them," singer Katrína Mogensen says of Mammút's upcoming fifth album, set for release in early 2020.
The new music is a direct response to the visceral, heavy sound of 2017's astonishing Kinder Versions. "It's a lot about the silence after the storm. With both music and life, it's like looking back on a tornado and saying, it's ok to be quiet.
The Icelandic five-piece are in London for the album's last few sessions, and revelling in the experimental, communal nature of a still-ongoing process. "We're recording in an artist complex called Cable Street Studios," says bassist Ása Dýradóttir. "It's an old candy factory, there are a lot of painters, musicians and dancers. There's a lot of good energy and it feels very special." The band are working with fellow Icelander Árni Arnason, best known as the bassist of The Vaccines, for what will be his first full length album as producer – a collaboration Dýradóttir describes as "heavenly."
This shift in producer is not an unusual one for the band – they use a new producer for each record, adding a fresh perspective to the tight-knit musicality that they have developed over the 16 years they have spent playing together.
This is the first album the band have recorded in two countries – Iceland and the UK – but what other differences have characterised these sessions? "It's the first album we've made that we haven't done as a garage band," explains Mogensen. "The previous album was mostly recorded live, but for this one we've been recording drums without knowing what's going to come next, for instance. We have been improvising in the studio, which is very refreshing." This approach has led to surprising, collaborative thinking, and miraculous-seeming results. "Sometimes it feels like the songs are writing themselves – they kind of appear because you don't know how they will sound when they start. It's really fun." "It's been a really great creative process," agrees Dýradóttir, "because all ideas are going back and forth so quickly. Every session is different. You have to put all your trust in the song, your producer and your bandmates."
This trust in each other is long-established. Mogensen, Dýradóttir and guitarist Alexandra Baldursdóttir formed the first incarnation of Mammút as teenagers in 2003, expanding to a five-piece the following year with the addition of guitarist Arnar Pétursson and drummer Andri Bjartur Jakobsson, who has since left the band. These sessions also see the newest member of Mammút made official: drummer Valgeir Vernharðsson, who had been playing live with the band for a number of months before being asked to join as a full member. "We found him in a tiny fjord in the western fjords of Iceland," says Dýradóttir. "We were so excited because in Iceland if there's a drummer he's usually in five or six bands already." The tour acted as a kind of trial run before they went back into the studio. "It must have been really intimidating for him," says Dýradóttir, "because we've known each other since we were kids. But we asked him [to join the band] and it was an immediate yes."
Mammút have always been met with critical and commercial popularity in Iceland, but Kinder Versions saw their appeal spread even wider. As well as being their first album recorded in English, it was their first full-length release after signing with current label Bella Union, home of artists such as Susanne Sundfør, John Grant and Ezra Furman. The album was notable for its vast, raw emotionality, and its expansion of their already heavy sound – a deep, guttural amalgamation of metal and prog that blew the possibilities of the traditional rock 'n' roll set-up wide open.
The fifth album is set to be an even further excavation of these sonic depths. "It's a massive guitar album," explains Dýradóttir. "On our third album [2013's Komdu til mín svarta systir] we found the sound we were comfortable with, and now we are going deeper into our guitar sound, and treating the composition differently." Baldursdóttir expands on this: "For some of the songs it's like following a feeling. Usually in a song it's verse-chorus-verse-chorus, but with this it's different – a few of the songs are kind of weird if you look at them on paper."
"The songs are like small movies. Everything is held together with guitars, but they're like short stories. I think it will be a very visual music." - Katrína Mogensen
"It has been said that we have a cinematic sound, a visual sound," says Mogensen. "I think we've taken that even further. The songs are like small movies. Everything is held together with guitars, but they're like short stories. I think it will be a very visual music." They have also used the sessions to confront some long-held stylistic fears. "It's even theatrical at times! We've gone from cinematic to theatrical. One time it would have been a nightmare, making music like Queen and Kate Bush and stuff. Kate Bush has always been a hero, but it took me a very long time to come to peace with her theatrical side."
I wonder if this loosening up has something to do with growing older, coming to terms with the complications of taste and worrying less about appearing cool. Mogensen agrees: "I definitely think it has something to do with the transition, going through your thirties. And it is a transition. Because the twenties is just a tornado, and we made three albums in that tornado.
"[On this album] I think we have a few songs that are just straightforward corny, the lyrics and stuff – we're not too worried about it. I hope it lands on the right side of the line, and I think it will. We're just following the songs."
"I think it would be dishonest if we were trying to fit in a box that we have left," adds Dýradóttir "We're really privileged to be able to say we've been developing as a band for fifteen, sixteen years."
Mogensen has also seen this more relaxed, open approach reflected in her lyric writing. The upcoming album will be her "second try" in English, and sees her collaborate on lyrics with Dýradóttir for the first time; a writing process that they liken to the simultaneous musical improvisation that has been happening in the studio. "Kinder Versions and Komdu til mín svarta systir were two very emotional albums, and we couldn't make another one like that. We couldn't take another! We can hear now that it is kind of lighter, not as much about digging into our core. So it's a bit about calming down, or thinking about calming down. I think it's much warmer, and more forgiving."
"It's super exciting for us to try the new songs at Airwaves. It's going to be very special again this year. We can't wait to try them out." - Ása Dýradóttir
The new material will be debuted at November's Iceland Airwaves, in their home city of Reykjavík– the band's first live outing after the scheduled completion of the album in early autumn. Mammút are something of a fixture at the festival, playing almost every year since 2005. "We're the house fools of this festival," Dýradóttir deadpans.
Airwaves – which celebrated its twentieth anniversary last November – is a showcase-style festival, transforming the bars, record shops and museums of downtown Reykjavík into venues for four days and nights, hosting artists from unsigned local acts to international underground icons. Bands often play a number of times during the festival, an opportunity that Mammút use to try out new material in different settings and contexts – including playing a whole set of new material, as they did at Airwaves in 2016 ahead of the release of Kinder Versions. "It's super exciting for us to try the new songs at Airwaves," says Dýradóttir. "It's going to be very special again this year. We can't wait to try them out."
The band can trace their evolution as performers through their appearances at the festival. "It's spanned all our working lives as musicians, and a lot of our milestones," continues Dýradóttir. "The festival was where we gained a different kind of confidence, both with performing and our position in the music industry. And we also remember when we were really young and we actually started moving on stage. Before we were just like trees." Mogensen laughs, "Well I was moving, then there were just four statues in the back!"
She remembers a review of one of these early performances from Airwaves that stated that the reviewer, "would rather take a shift at the morgue than watch Mammút," but insists that such reviews helped the band develop more confidence: "This was actually one of our favourite reviews ever, and we still remember it." Now they are an electric unit on stage, with Mogensen leading with an unrivalled intensity.
How will the new album's shifts and evolutions affect their live show? "We need like twenty more guitar players live, but we'll work on that," Dýradóttir jokes. "It's a really exciting period that we've got left," says Baldursdóttir. "We're very excited for the period when we figure out how we will play the new songs."
Usually we hear from bands after an album is mixed and mastered, when the press release is written and the talking points are established. It's refreshing to speak to musicians who are still in the process of making a record, in the midst of figuring out what this amorphous thing is going to solidify into, especially when they are treating the process as an exploration with no fixed end point. "I think we're even realising things in this interview, what it's about," says Mogensen. Dýradóttir agrees: "We feel like it's a journey, like going into a rabbit hole. And we're still finding out what's down there."
Mammút play at this year's Iceland Airwaves which runs from 6-9 November. Find out more at
icelandairwaves.is
.
Get the Best Fit take on the week in music direct to your inbox every Friday