"Poetry-wise, I think Leonard Cohen will always be my hero. Especially when I was writing the album—I mean I've been writing it for several years—but during the first most intense period in South America, there was a lot of Leonard Cohen going on in my head, as well as Bob Dylan," says Olof Grind enthusiastically.
The Sweden-based twenty-nine-year-old is the photographer behind Punisher's iconic photos of Phoebe Bridgers. This past April, he released his own album, at the end of the dream, a project originating from a trip to South America several years ago, under the name Luminous Kid. Elements of folk, spoken word, pop, and the horn and string arrangements heard throughout at the end of the dream sound like a hodgepodge of Grind's influences—such as Belle and Sebastian, Swedish pop-sensation Håkan Hellström, Leonard Cohen, and Bright Eyes—fused into his own unique style.
The release of at the end of the dream is accompanied by a book of his photography with the same name. The photo collection is a vivid exploration of colour, bodies, and nature—a lovely visual counterpoint to his music. Grind describes the book as a time capsule containing the evolution of his psyche from twenty to thirty years old—the span of time covered in the book.
Grind grew up in the picturesque Swedish countryside, surrounded by a lush, vibrant forest—-think the movie Midsommar minus the ominous cult. His parents are both artists: his father a multi-instrumentalist, and his mother a painter. Because of his upbringing, he explains over Zoom, the arts came quite naturally to him.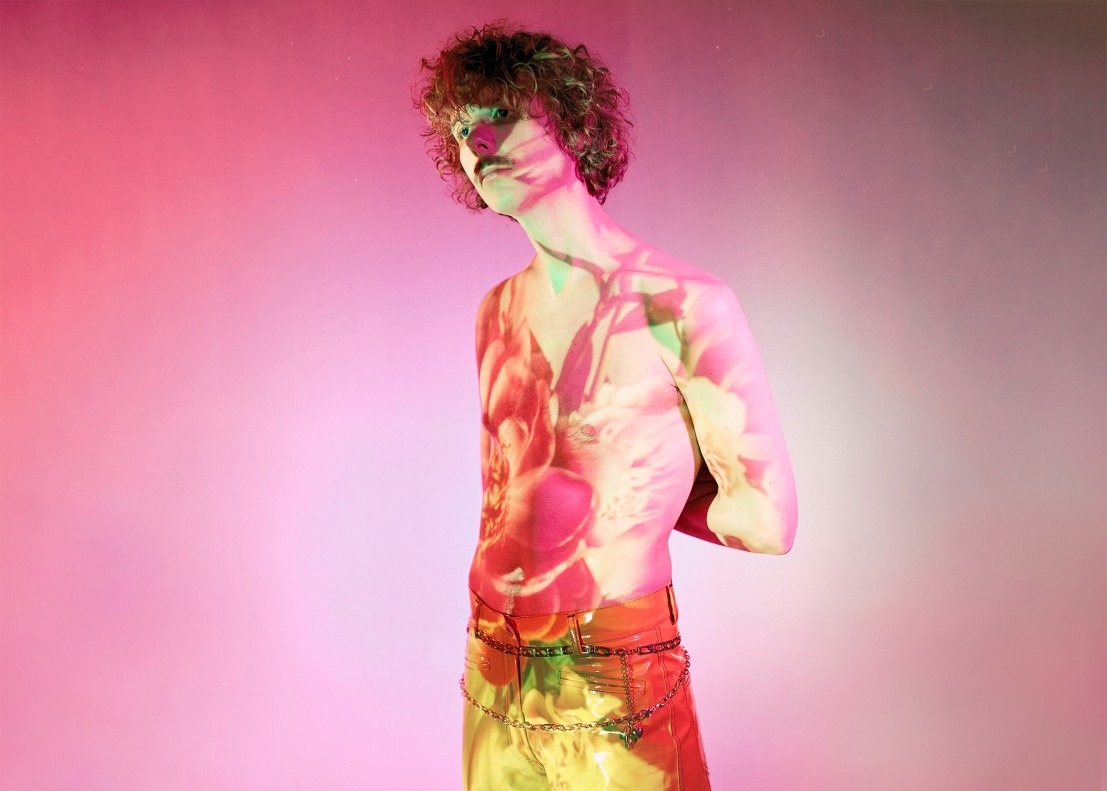 Through Zoom, I am able to see his modern open-air artist studio. There is a vast skylight above the apartment emanating warm, gold light over him, making his long hair, which drapes over his eyes, glow. He speaks softly yet is talkative about his life, music, and photography. Every so often, he parts his hair away from his eyes and politely asks me if he's rambling, which, to me, is never a bad thing when getting to know a person.
"I started getting into it when I was 12," says Grind about his photography. "I just picked up one of my parent's old analogue cameras and started playing around and thought it was so much fun. I lived in the forest up north in Sweden. Nature was just so beautiful. I was a really lonesome kid, so I was always outside with my camera. It was good company to have lots of countryside. Growing up as a queer kid in the countryside, it was nice to find some form of medium where you can express yourself," says Grind passionately.
Grind describes his parents as "the most hippie-like parents out of my friends." His parents would change professions periodically, following their passions wherever it took them, which taught him that you can still grow wherever you were in life. Despite being bohemian parent figures, they did become endearingly paternalistic once when his twin sister told them she wanted to become a doctor.
"My parents' reaction was like 'Medicine? But you're going to work so much. What about your beautiful singing voice?' Grind says, laughing at his parents' response. "Most parents would react the opposite. 'Yes, do medicine! That's going to give you a safe and nice future.'"
Even with the luxury of a supportive family, Grind was exposed solely to heteronormative culture and lacked a supportive queer community. Because of his environment, Grind internalized homophobic ideas he wouldn't have otherwise. He, however, overcame his homophobic mindset after moving away from Sweden for the first time.
"I was twenty when I moved away from the countryside. It was the first week [in Paris], and the first time I went out to a club, this cute french guy approached me and wanted to make out, and I was terrified. I was like, 'Is he...should I make out with him?' And I shyly explained, 'Oh, I haven't really made out with boys before.' And he was like, 'It's fine,' and then we made out, and I was like, 'Wow, wait. This is what I'm missing out on? This is awesome!' And then it felt so natural. Of course, it took a while to become comfortable within my own skin. But that was the first time I made out with a guy."
Grind's travels were possible because of his success as a photographer, boasting Vogue, i-D, and Vice appearances, as well as exhibitions in both Sweden and Australia. Through his travels, Grind learned French, English, and Spanish and was able to get in touch with his authentic self. Serendipitously, it also opened the door to music. A few years ago, while filming a music video for Swedish producer Linus Hasselberg in Spain, Grind was inspired by Hasselberg to create music. Since then, Grind began concentrating on songwriting.
"I was working with this Swedish musician who had just moved to Spain for six months to write his album, and he asked me to come down to film a music video for the weekend. I had not much to do at the moment so I was like 'I can go down to Spain for three weeks. Don't worry about it.' I was excited to go down there to see how the process was for him when he's creating an album. I came down, and he was renting an apartment and brought his guitar and microphone, a bunch of instruments, and just sits and plays around all day for six months. I got really inspired and decided to travel for six months in South America."
Grind's original plan was to stay along the coast and slowly make his way to Argentina. But he ended up loving Colombia so much he spent three and a half months there. Lured by the landscape, he travelled to the mountains to write music, absorbing the inspiring views that the Colombian forests offered him, a bit of a folk cliche but one that works. Without mountains, we would have never heard "Landslide" by Fleetwood Mac (inspired by a trip to Aspen, Colorado) or "Rocky Mountain High" by John Denver (another song inspired by the mountains of Colorado), both certified classics.
While Grind wrote songs out in nature, these older churchgoing ladies would periodically approach him to talk to him about Jesus Christ. "I think I got the question several times—they started talking to me and I wanted to practice my Spanish—after a while, they were like 'Conoces a Jesus?' I'm like 'I know Jesus,'" says Grind, recalling sitting on a rock in the middle of a river writing songs about his ex-boyfriend and giving blow jobs.
Grind actually became close to one sweet church-going lady from Colombia, who would text him about Jesus Christ and how she wanted him to come back to the village to join her church for months after they met.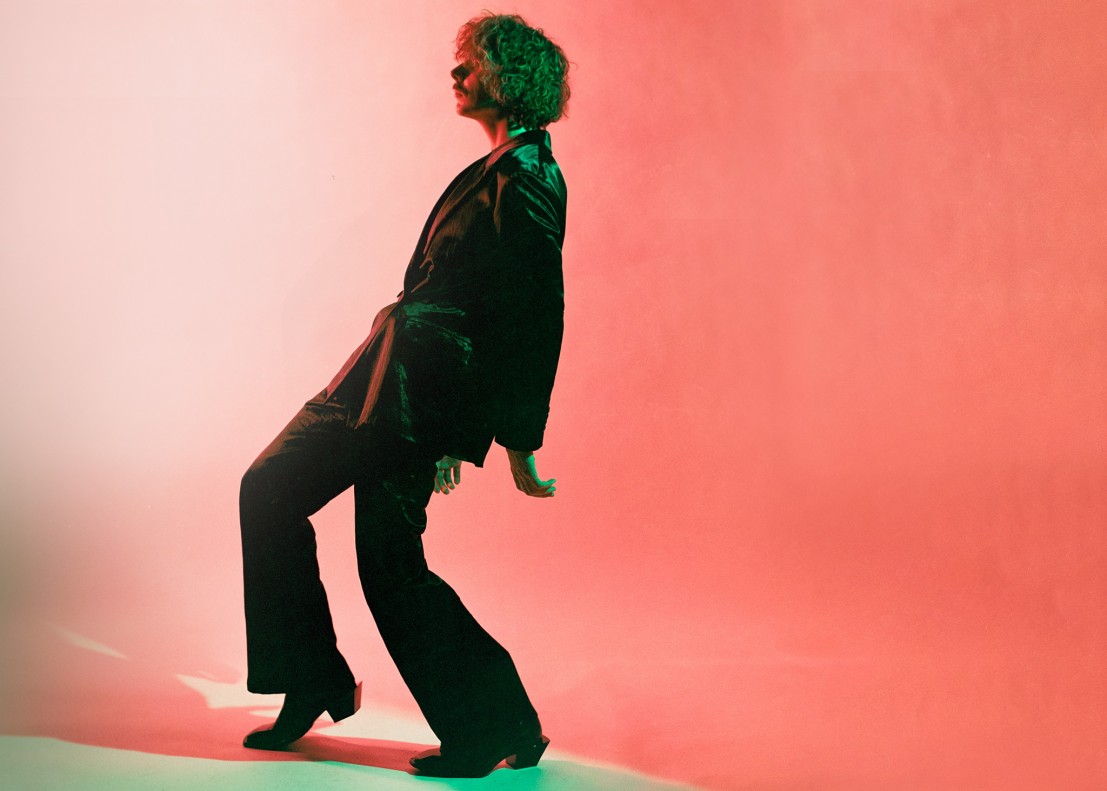 "I got invited to a lot of family dinners and stuff like that. It was an interesting contrast because I wasn't always super comfortable being openly queer with all these lovely people. It was interesting to see what came out lyric-wise while being in an environment like that."
The name Luminous Kid was inspired by this trip as well. He met a man in Colombian who told him that he emanated a bright, luminous aura. The word luminous stuck with him. Because he liked the idea of connecting his artist name to South America, a place where he wrote a large portion of his songs, the Luminous Kid moniker was conceived.
After his trip to South America, Grind was ready to produce his album. His original aim was to record the whole record in analogue with his four-track machine, but this turned out to be too time-consuming, so he ended up recording it digitally. Still, he was able to sneak some rough elements into the record to get the sound he wanted, opting to play the guitar himself instead of letting his producer Linus Hasselberg, who was a more seasoned guitarist, play his guitar parts. He even snuck in one analogue track.
"We do have one analogue track with the four-track machine. It's my dad's old recording gear from the '80s. We brought that to Stockholm and recorded it. We went to my producer's countryside house in the north of Sweden. It's this super beautiful location just by the ocean. It has a super long sand beach with pine forests on the sand beach. We went there three times. One week in the fall, [we] had the beautiful golden hour light and swam in the ocean. It was kind of nice to let the process be a little bit longer. We started working on some songs, and then we let them melt a bit. I don't know. That might be a direct translation from Swedish," says Grind, grinning.
While recording at the end of the dream, he continued to work as a photographer. Around this time, Phoebe Bridges, who he met in Sweden through a mutual friend a few months before, was in need of a photographer to shoot promotional material for her new album titled Punisher. Being a fan of his work, she offered him the job. The original plan was to shoot in London, but Grind came up with the idea to shoot out in the California desert, which led to the iconic photos on Bridgers' album.
During this trip, Grind told Bridgers his plan to release an album. She enthusiastically offered her support. Grind jokes that during this time "my two biggest fans were my mother and Phoebe Bridgers." Bridgers would lend her voice to the psychedelic-tinged pop tune "Mountain Crystals," a track Grind wrote while on mushrooms, at a party, at Conor Oberst's home, which Bridgers had invited him to.
"I had just fled across the ocean to spend some time in LA to contemplate a tricky relationship," says Grind about the track. Deep in a psychedelic trip, emotions about his relationship arose, so he put pen onto paper and explored them lyrically.
Never having heard queer experiences sung in popular music growing up, Grind thought it was important to write about his own relationship experiences and weave them into his music. He adds, however, that his songwriting style is already biographical so writing about his experiences came naturally. He does hope, though, that his perspective helps his listeners realize they are not alone.
"If a song could make you feel more okay with yourself in some kind of way, even if it reaches one person that feels that way, it's a beautiful achievement."
"I just felt if you can create something that might reach people wherever in the world. If a song could make you feel more okay with yourself in some kind of way, I feel like if it even reaches one person that feels that way, it's a beautiful achievement, you know?"
Writing about relationships has also been cathartic for Grind, allowing him to process his emotions healthily. He explains that, in a way, you trap these big emotions and negative experiences in something physical and manageable, helping you let painful emotions go.
"It's been a good way of letting go from past relationships. It's been a helpful way of processing life in general. It feels like you can put a painful experience into something really beautiful even though the lyrics and the songs might be super sad. It transforms into a piece of art instead of being a sad thought trapped in your head."
at the end of the dream is out now. Stream here.