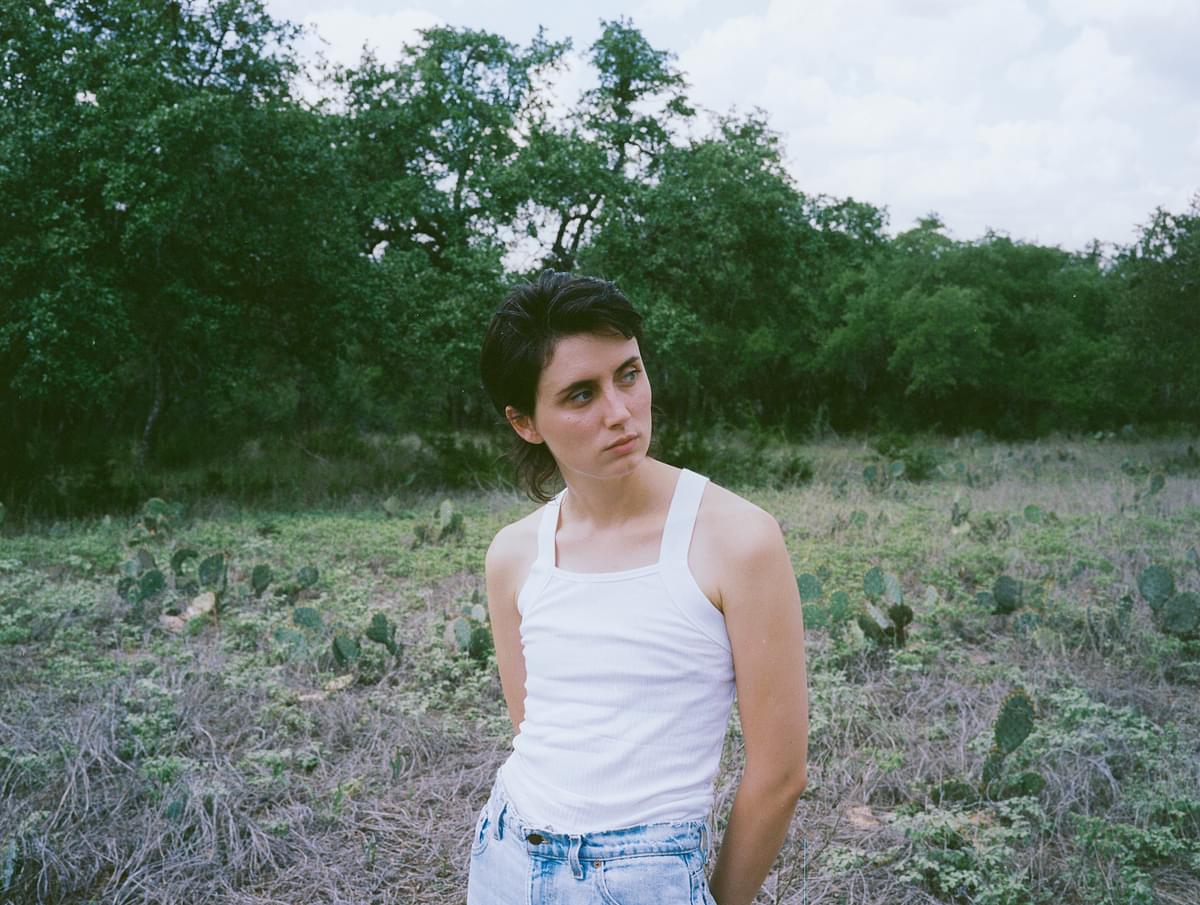 On the Rise

Katy Kirby
02 March 2021, 09:00
From Christian-pop beginnings, Nashville indie songwriter Katy Kirby is crafting authorial and delicate coming of age songs.
A cornflower canvas lights up the sky behind Nashville songwriter, Katy Kirby, as I speak to her from the ranch she is staying at in Alabama. The self-described indie-rock practitioner is bounding across the field with her adopted dog and partner-in-crime, Gizmo, flashes of bright grass and sunlight giving our call a hand-held, '90s home video vibe. There's a jarring dissonance between the glow of the streetlamp outside my window and the bright scene her phone is beaming live to me tonight where Kirby and I are chatting on the eve of the US presidential inauguration ("the vibe in the town I was staying in before this was sort of paranoid…milk…people were buying up staples in grocery stores") and where I am speaking to her ahead of the release of debut album, Cool Dry Place, out now via Texas lable Keeled Scales.
Born and raised in the evangelical Christian faith by two ex-cheerleaders in Spicewood, a tiny town near Austin, Kirby was home-schooled with her younger brother and sister. She describes them as being "super close" and they enjoyed a peaceful, largely unremarkable upbringing before being enrolled in a private, conservative high school. Modest dress was enforced, no hair dye or corn rows, and classes involved playing with the school worship band and performing in various school chapels.
Growing up on a diet of low-cal, contemporary Christian music, the type of heart-clutching anthems best reserved for a Nicholas Sparks adaptation ("Switchfoot still slaps!"), Kirby didn't have a conventional chart or rock and roll background. However, her Dad listened to a lot of barber shop quartets growing up - "anything with stacked vocals is like catnip to me" - while her music teacher at high school made them sing Africa by Toto for an event once, "he was a big fan of musical exuberance!".
It wasn't until she went to college that she started to see the limitations of her upbringing with fresh eyes. Her metaphorical third eye opening, Kirby began to feel the disillusionment with the faith-informed world she had grown up in. "It's only as I've gotten older and thought about things I was taught or the things I wasn't taught that it's become increasingly clear that it wasn't normal, nor a particularly great high school education…I didn't know who Karl Marx was until I went to college. Even if you think Marx is trash, it seems like a sort of significant cultural moment. I think (college) was when lot of people began to intellectually drift off from the tenants of the faith."
After varying musical explorations with the friends and musicians she grew up with and two EPs – 3 and Juniper - under her belt, Kirby started playing and recording the tracks that would become Cool Dry Place with her producers, Logan Chung and Alberto Sewald. Together, over multiple 14-hour days, they worked to pour water on her impulse to create the safe, hook-laden pop she was accustomed to from her teenage years. Chung helping her arrange and demo in his house, before recording in Nashville and finishing up in Texas where they rewarded themselves with some clay pigeon shooting.
The nine resulting songs on Cool Dry Place are a document of fragmentary moments – at once authorial and revelatory, a mix of electric guitar jams and folky, quietly pleasing melodies which betray her spiky, psychological subjects. A Leonard Cohen reference even appears on "Secret Language", which serves to unpack her new relationship with her faith, something she is keen not to beat over the head. "I sort of existed in a context of the American Presbyterian church for so long that it's more like sort of a sub dialect that I have in there or a way of thinking about things that I can't really shake. The mechanisms that the church uses to talk about things that I think are mostly really lovely and fascinating…that language winds up in stuff more than anything. I almost consciously have to be like no we can't say prayer in three songs!"
Elsewhere on the record, her lyrics explore motherhood, late capitalism and crumbling relationships through a veneer of sparkling electric guitars and clean, pleasant vocals that burble and dip, the anomalous use of autotune in "Traffic!" seeing an understated exploration into voice experimentation too. Discussing this, she says "Like anyone who listened to Bon Iver in 2008, I think autotune is maybe more than a gimmick and it maybe gets maligned as that.
"The reason it wound up in that song is because while I was demoing it with Logan, I had a terrible cold. I was working a job where I talked on the phone for like 40 hours a week as a customer service rep. So my voice was suffering, and I had written myself a very difficult melody. We were trying to demo it and my voice just sounded distractingly bad. To me at least! So I made him put a shitty logic Autotune setting on it so it wouldn't distract me anymore. And then I really liked how it played with the rest of the content of the song and so we kept it. When we were recording it, that was one of the few decisions I dug my heels in on". She is most proud of "Eyelids", the crackling, intimate album-opener that she kept as a fragment, trusting the lyrics to be meaningful enough in their minimalism.
A fan of Massachusetts folk-indie band, You Won't, the lyrics of LCD Soundsystem and authorial songwriters such as Mitski, Phoebe Bridgers and Haley Hendricks, I wonder if she was ever conscious of formulating 'a sound', "Having a sound is something I worried about constantly for a while and then I realised it wasn't something I had much control over ultimately, so I got over it," she tells me. During the demoing process for the record, Kirby describes feeling terrified at the thought of having to make production decisions on songs, something she'd never done before. Chung helped alleviate those fears, "I didn't think I was any good at it and I didn't know how to trust my ears and my instincts," she explains. "He had me go make a bunch of different playlists of drum sounds I liked, guitar sounds I liked and mixes that I liked and that was such a gift! And it taught me to defend the things that I think sound cool in my life because ultimately, that's all that really matters."
Through an untangling of the residual web of Christian conventionality, Kirby has fashioned a confident and assured sound on Cool Dry Place, while never truly abandoning the worship genre's winning pop sensibilities. Current album release aside, she's keen to keep pedalling forward with new projects and, after two jobs fell through due to the coronavirus, will be helping an old friend from her high school days make an album on the ranch. "I don't know if this is a blessing or a curse, but I get to be in the middle of nowhere for the presidential changeover which I think will probably be nice," she says. "It'll be me, the coyotes and Gizmo" And of the next few days? "My friend has gone back down to Nashville and then he'll come back with everyone I love, and we'll work on this record together which is really great. We'll have a little reunion."
Cool Dry Place is out now
Subscribe for news and competitions