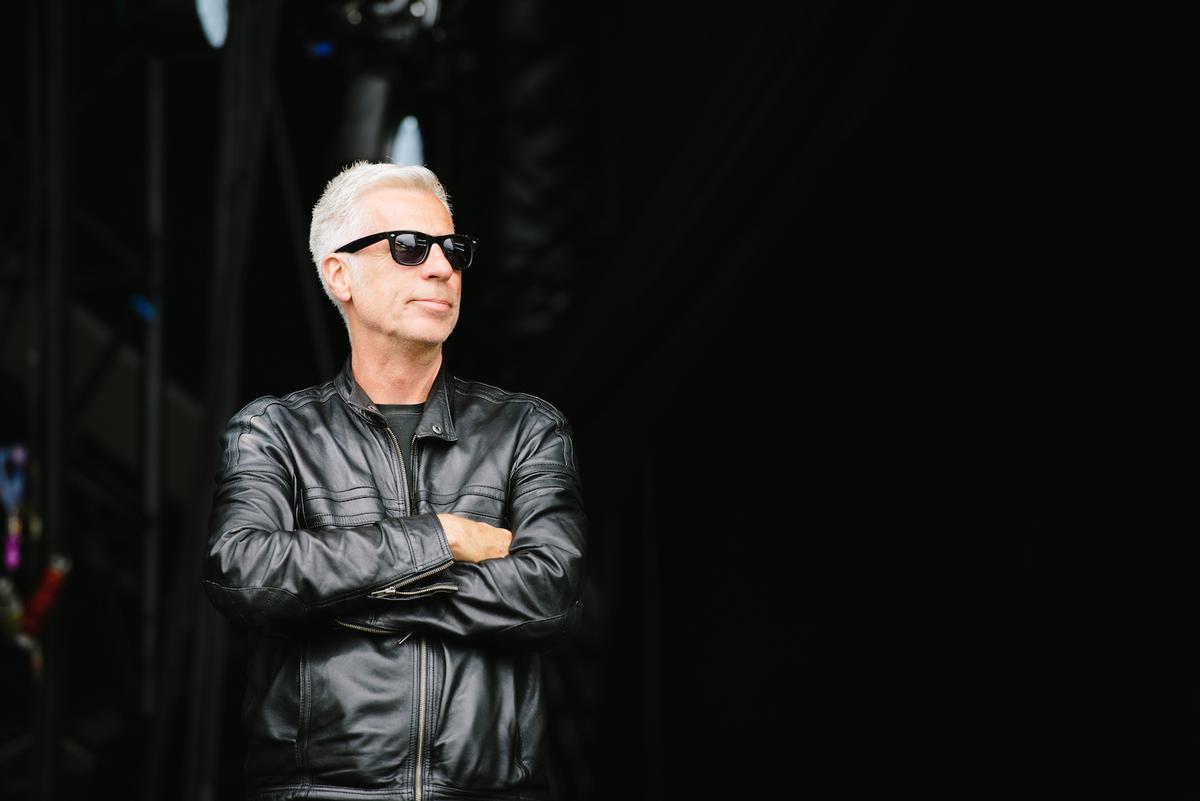 John Giddings on the Isle Of Wight Festival: "Characters keep the music business alive"
27 March 2015, 12:30
For almost 14 years, the Isle Of Wight Festival's John Giddings has been slaving away at his dream job. As the man who orchestrates one of the UK's biggest festivals, he's secured headline slots from David Bowie, The Rolling Stones, Neil Young, R.E.M., Bruce Springsteen, Jay Z, Paul McCartney and many more – though perhaps this year's coup of Fleetwood Mac as world festival exclusives is his crowning glory. "Without trying to sound arrogant…" he begins, with a touch of earned arrogance, "I think we're going to have the best lineup of the summer."
Giddings, a St. Albans native with a background in philosophy, hasn't merely stumbled across the venture. After a career in the music industry spanning five decades, he's gained a wealth of experience. From being a tour promoter, artist manager, agent and more, he's worked with some of the biggest bands ever: Madonna, The Rolling Stones, Lady Gaga, The Ramones, Iggy Pop, Westlife, Pharrell, Duran Duran, The Police, David Bowie, Genesis, Celine Dion, U2… and punk heroes like X-Ray Spex and The Adverts. In the previous decade, three tours he managed were just shy of making $1 billion, and all featured in the top-grossing tours of the past ten years. Needless to say, Giddings know what works, and he knows how to work things.
Given this morning's confirmation of Blur as the final headliners, he's confident for good reason. Completed by a double-whammy of The Prodigy and The Black Keys, this year's lineup is looking rather brilliant.
"I'm really, really pleased with Fleetwood Mac," he says. "I've been trying to book them for the last five to seven years, and when Christine McVie rejoined, I thought "now's the time, I need to persuade them to play an open-air event."" Although it would take some convincing form an unlikely source to seal the long-awaited deal. "There was umming and ahhing to begin with, but funnily enough, they talked to Kings Of Leon, who played for us last year, who said they had one of the best experiences of their lives, and it pushed Fleetwood Mac over."
Though, he notes, actually booking the band to play has had a knock-on effect: "The biggest problem I've had this year was finding someone willing to play the Big Top while Fleetwood Mac are on. I was tempted to just put some DJs from Kiss Radio on…" As it is, The Charlatans have stepped up to the plate; veterans of the Southern event, Tim Burgess & Co. even headlined the festival's revival in 2002.
When delving further down the undercard, Giddings explains you need to be a bit canny. "It's like a jigsaw puzzle," he starts. "I try and avoid putting acts of the same genre at the same times; I like people to move around the site… I don't want people standing in front of the main stage watching ten bands in a row, I want everybody to discover."
A big part of that is rooted in basic research, and keeping two ears firmly pressed to the ground, ready to catch the rumble of something great. "Every day I study what's going on and what the future of music is. You've got to be ahead of the game." Whether this news is from the classic music press, online sources, or random hearsay, it doesn't matter – even awards shows provide some inspiration. "James Bay is someone I've paid particular attention to, but just because someone's won an award doesn't necessarily mean I want them to play… there are people who have won the Mercury Music Prize or BRIT Awards who I wouldn't touch with a bargepole!"
Giddings cites MOJO and NME as goldmines for new music. "I like to keep up to date. NME is always good – I mean, I know only two people read the magazine nowadays – but online it's massive. Even now, they're still out there discovering new bands on a regular basis." Although it's generally down to his gut on who plays, he's not naïve in assuming he can lone wolf it and still conjure excellence. "Sometimes you can't always do it yourself; sometimes you need advice from other people. What tends to happen is someone will mention a group to me, and I ignore it completely. The second time that name is mentioned, it registers in the back of my brain, and the third time I hear that group mentioned I think I should probably go and check them out. If three people tell me about a band I've never heard of, I go and see them."
This has been especially true at some points during the past 14 years. "I remember, back in something like our third year, I wanted someone to play lower down the bill, and the scout from Sony told me about a little band called The Darkness who were playing with Def Leppard at Brixton. I went to see the show, and when I walked in, Justin [Hawkins, lead vocals], was on the shoulders of a roadie wandering through the audience playing a guitar solo, and I knew we had to have them. Anyone with that kind of showmanship and that kind of flair is worth putting on a stage. I remember chatting with them in the pub afterwards, and I asked them if they wanted to headline the Friday night the year after, and they all got really excited and said yes straight away…" but, alas, it was not to be: "…and then Reading and Leeds offered them three times as much money and I never saw them again!"
Of course, as with many people, streaming services have made an impact on his musical discovery. "I've finally started using Spotify," he admits. "I watch a couple of TV shows with brilliant soundtracks and I've been able to look them up and listen to them whenever. The Sons Of Anarchy soundtrack is phenomenal, and full of bands I've never heard of, which I've then gone on and been able to phone up and invite to play the festival… though often they just ask "Who are you?"" Giddings laughs. He goes on to spout effusive praise for the immediacy of online music finding, and although it's an invaluable tool, he knows it's just one elements of the wider process. "You must pay attention to good websites, but you also need to judge a band when they're in front of an audience. I remember I went to a pub called The National – which is now called The Three Kings – just on Cromwell Road to see a band recommended by a mate of mine. They got on stage, and the lead singer had on a Pink Floyd t-shirt, which he'd written across the top 'I Hate'. He was stubbing out cigarettes on his arm, and the audience were bouncing up and down in front of the stage, which I later found out was called pogoing. That band was The Sex Pistols. They were amazing. The audience reaction was just incredible. You just knew they were going to be successful, even though they were shit. You knew they would be successful just because of their presence – they had such belief in themselves, and they projected that."
As spearheads of the UK punk scene, that couldn't have been truer. They even wound up headlining the Isle Of Wight Festival back in 2008. "When they played I asked John [Lydon, lead vocals] to do a TV interview for me. He said "Who's it for?" and I just said "I'm not telling you," as I knew it'd be more fun that way. So I just put him into this room with a camera in it. It was for The Money Programme on the BBC, and the first question they asked was "How much do you think John Giddings is making from this festival?" and he said with feigned exasperation, without missing a beat: "I wouldn't ever ask him that. I'm a gentleman." He's definitely a character, but it's so great working with people like that because those characters keep the music business alive."
That showmanship, Giddings expounds, is crucial being a great festival band. "You've got to be able to project to 50,000 people in a field. Just because you can make a good record, doesn't mean you're necessarily a good festival performer."
This is becoming more of an issue Giddings says, with bands forced to leap in before they're ready because of overexposure. "Bands learn their craft the hard way; you don't learn it overnight. Nowadays, with social media so prevalent, there's not really such a thing as a warm-up show anymore – it's all immediately on the Internet. You can't go to somewhere like Rhyl, and hide away and practice your art, because from the off you're in the public domain. It's a much quicker process nowadays, and sometimes groups get ahead of themselves."
To be successful, he reckons you need both a rich seam of music to draw from, and to be able to hold the attention of tens of thousands of people. "You learn that and develop that through gigging and having successful records, but it's pretty hard to have a successful record in this day and age because everyone just steals it off the Internet."
Despite the hardships for modern bands trying to take off, Giddings is tipping Royal Blood for big things. "They have got a good shot. They were phenomenal at the BRITs, even though a lot of people watching it on TV apparently had no idea who they were. But then it's a tough thing to call these days as bands don't build up in the same way. You don't get bands like Simple Minds or U2 because record companies won't allow them five albums to develop. If they're not successful on the first or second album, they get dumped very quickly."
Giddings spends a hefty portion of the year piecing together the puzzle, but he's not even able to take a few days off to enjoy his creation. "I spend the whole festival moving around the site. There's always fires to put out, and slight dramas, but it's all in the planning whether they evolve into something worse or they're dealt with. If you've got a good team, you'll be able to ride above it." But even with all that damage limitation going on, he admits that he will always "try and catch one or two songs from most of the acts, to see what they're like and to see how well they're going down with the crowds."
It's in these brief breaks from mayhem that Giddings finds his highlights of his time at the Festival. "Last year we had a table football table set up backstage because of the World Cup, and I turned round at one point on the Saturday, only to see Anthony [Kiedis] of the Red Hot Chili Peppers was playing against a load of my mates, and none of them had any idea it was him. It was hilarious.
"One of the biggest highlights for me was seeing Jay Z [in 2008] when Kanye West came onstage. I didn't think an audience could be more excited, then Kanye walked on and it was absolutely amazing. The Rolling Stones, of course… The Foo Fighters are always welcome too… when Dave Grohl got into my racing car, it was a magical moment for me. All his PR and management said he wouldn't do any interviews or blah blah blah, and then he turns up at my office at 10 in the morning and just says "Need any help John? Anything I can do?"
"But, you know, I think the Spandau Ballet film Soul Boys of the Western World has one of my favourite moments. The last 10 minutes of the film is the band playing on a sunny Sunday afternoon at the Isle Of Wight festival [2010]. It's incredible the reaction they get. There's a bloke in a gold onesie, who I never noticed on the day, who's singing every word."
Giddings isn't born and bred on the Isle Of Wight, but its citizens have welcomed him nonetheless. He contributes thousands of jobs and upwards of £10 million to the local economy, and the respect is palpable. "I was there in 1970, and that's one of the main reasons I took the whole thing on back in 2002. When the Isle Of Wight council started inviting everyone in the music business to tout for it in the early '00s, no one was interested because they thought it was stupid to do a festival on an Island you can only get to by ferry, and I was the only person that answered. I became quickly passionate about it.
"With all due respect to Cleethorpes, I never would've started a festival there. The Isle Of Wight was the Woodstock of Europe. I think the whole world was there at one point, there was something like 600,000 people [the Island's permanent population hovers around 150,000]… even today, if you go to those fields where it was held in the '60s, and you kick up dirt, you'll find Coke bottle tops and stuff from the original festival, almost 50 years later. When I went, I walked halfway across the Island to get there as it was totally impossible to get there by public transport. The main thing I remember is that the loos were just a ditch with a scaffolding pole across that people sat on, and at one point I turned round to see this guy, slowly but surely, fall backwards into the ditch… it was the most disgusting thing I've ever seen. It's a little bit more civilised now."
Even with his trove of experience, he was never sure that it would get this far off the ground. Nothing could've prepared him for the whirlwind of success that's carried him, almost two decades later, to one of the planet's biggest music events. "That first year, we had 7500 people in a one-day event. I never thought it would still be here now… I still had brown hair when I started. It's all grey now."
Colour-zapped barnet or not, Giddings is adamant that he wouldn't trade a thing. "The audience pay me to come to the festival and book artists. When you see a band getting the crowd invested, so much so that everyone, right the way in the back, has their arms up high… it's a magical moment in life to bring that much entertainment to that many people. Fantastic. There is no more fun you can have in the world than paying the groups you love and inviting your mates to come to a field a see them. Nobody else has that privilege."
Isle Of Wight Festival 2015 will take place at Seaclose Park, Newport, Isle Of Wight, 11-14 June. Tickets are on sale now from here.