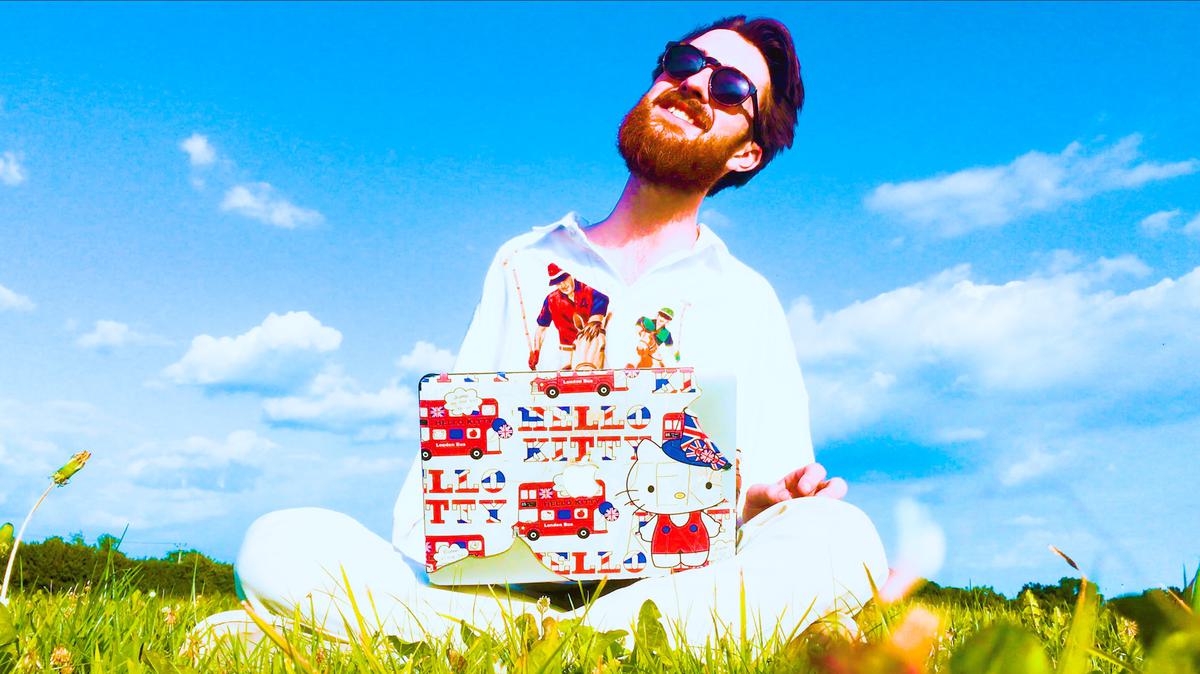 Jerskin Fendrix makes music driven by artistic curiosity and enamoured by the absurd
09 April 2020, 09:01
Sitting in his kitchen, Jerskin Fendrix has not long finished an Instagram Live where he stated the three most important albums this century all belonged to The Killers. It's not that he particularly likes or dislikes the band, he just enjoys throwing people off the scent.
For Fendrix — real name Joscelin Dent-Pooley — there's a lot of this dry humour built into the fibres of his lyricism. "I've got horrible visions of people just being pissed off with me," he explains in the context of the jarring visuals in his music videos.
"I would never call myself a shock artist. I'm not just putting out mindless images of slaughter or trying to get a rise out of people." He's right. While his art can come off unapologetic and twisted, there's a cohesiveness to his work that is enough to pique anyone's curiosity. "It's the separation between something being surprising and something being shocking. That's the mark of an artist I guess."
Music videos for songs like "Black Hair" and "Swamp" borrow from dystopian imagery and feign the appearance of an artist who would get a kick out of making his audience squeamish. As someone set to continue Aphex Twin's legacy, it's hard to piece together exactly what this has to do with the music, but it somehow fits together.
Minimalist synth lines and wet bass sit underneath Dent-Pooley's baritone voice which is reminiscent of singers such as Nick Cave or Lou Reed. "In terms of how contemporary music works, the personality of the artist and the album cover, even the more extraneous parts of it like Instagram, imagery, and press shots, I think that really matters." It's shocking in its rareness but Dent-Pooley is adamant this is more for the sake of branding.
He's not a new artist. He's been writing and working through different names and projects for years. In that time, his affinity for literature and absurdist art have followed him in all his press assets, and speaking to the man himself, it's hard to ignore. He uses words you'll have to look up later on and will happily reference centuries-old literature to add context to his artistic choices.
One example being the naming of his debut album, Winterreise. "It means winter's journey. It's named after an 1827 Schubert-Die song of the same name." It's a beautiful sentiment but what does it have to do with Dent-Pooley's music?
"Well, it's interesting," he begins. "The original is a phenomenal piece of songwriting. It's 24 songs and arguably a breakup album." The perfect inspiration for an album he started at the beginning of 2017 as his relationship came to an end during a New York blizzard.
"The first four or five songs start out as a doomy introduction, but it becomes completely not to do with the fact he's had this melodramatic breakup situation. I liked the idea that if you work on something for such a long time that's based around a specific feeling, over time it can warp into something a lot more bizarre."
Naming your album in a language you don't speak and creating music that's innately profound — it makes you an easy target for people to write you off as pretentious. But this is an area where Jerskin Fendrix feels people are too quick to judge. "If something is difficult or lofty, it's an easy throw away to put that artist down. It's just when someone is trying really hard to appear super serious or strangely well-read and have this genius complex I find it quite shit. That's the stuff that pisses me off.
"It's the big Kanye West problem," he continues. "The idea of someone being unbearably arrogant and probably not the best person to work with. It's weird in those situations. It comes back down to that way we want to know artists and fall in love with the visual side as well. We're all full of double standards... If we look at someone like Grimes or potentially Nick Cave, I think people look for that. Music is just sound and it's very difficult to experience all of it in isolation. I think it is very helpful to have more to help show these things."
Considering this is his first album, he seems to have a firm grasp on branding and imagery. Coming through The Windmill in Brixton, It helps having support from other artists and bands like black midi and Black Country, New Road, but it seems he's found his footing as a solo artist. Even if this means it usually takes him three or four months to write each song.
"I think when you're a solo artist, and the only person producing and writing your songs, there are two ways you can go about it," he clarifies. "One of which is the SoundCloud rapper and Bob Dylan approach where you just fire out as much as you can. Some of it will be lost by the wayside, but you're being hyperproductive. The other way around is you end up being a lot more long term."
It's a concept that's hard to understand. How can you hold onto music for more than three years before releasing it and still expect it to be relevant to the audience? "One of the big things that isn't obvious to the people who don't make music is the massive lag between creating something and it being released," he tells me. "You have to predict trends or just completely ignore them."
It may be a long-winded process but it means when a song does eventually surface, Dent-Pooley can do so without second guessing himself. "Some of the songs on the album I wrote and produced in 2017 and I'm still very fond of them."
You'd think that so much time to contemplate your music would keep your songs consistent in their sound. Of course, that's not the case for Jerskin Fendrix. "Oh God" is a minimalist synth ballad that carries the same emotional draw of bands like LCD Soundsystem, while "A Star Is Born" represents a side of the artist that can flex his production chops and put together a huge pop song.
"I realised it would be great to have a big ass banger in my live show. Pop, in general, is something I'm getting a lot more interested in, regarding the dynamics of how it works. It's probably one of the brighter songs on the album. There are a couple of others in there that are also a bit more upbeat and I guess easily digestible."
Pedaling back and forth between genres and sounds has turned Winterreise into an album he describes as "teasing". One which picks up its pace in the second half, rather than being stacked near the front. "It becomes this test. If you can't get through these two minutes of sunken bass ambient samples then you're not going to reach the pop songs," he laughs.
"Isaac Wood [Black Country, New Road] originally thought I was playing bullshit experimental stuff when he first saw me and then after the fourth time he saw it, he was so overtly positive. He, and other people, made a point that they hated it the first few times they heard it...
"I'm so past understanding it, so I'd love to see if that's the case with this album. Despite having no explosion of colossal success, I feel like other musicians really like it. It's a pretty nerdy accolade of success."
There's a reason he mentioned self awareness before. It's something he's fully considered. Not for a second does he believe he's created music you'd describe as 'accessible' but the care and time he puts into each song means there's sounds, subtleties and silences to dissect and analyse.
If it's enough to convince some of the most exciting bands in the UK right now, Winterreise could be the album that turns a slow burner into a big hitter.
In an era of pop obscurity that's already being dismantled, appropriated and redesigned by PC music and avant-garde pop, the amalgamation of synth-heavy production and contemporary song structure has left a place just waiting for an artist like Jerskin Fendrix.
But what does he hope people take away from the experience? "Tell me if it's good and if it isn't, I'll make another one that's better." It's dry, it's funny, and it's completely on-brand.
And just like that, a star is born.
Winterreise is out on 17 April via untitled recs