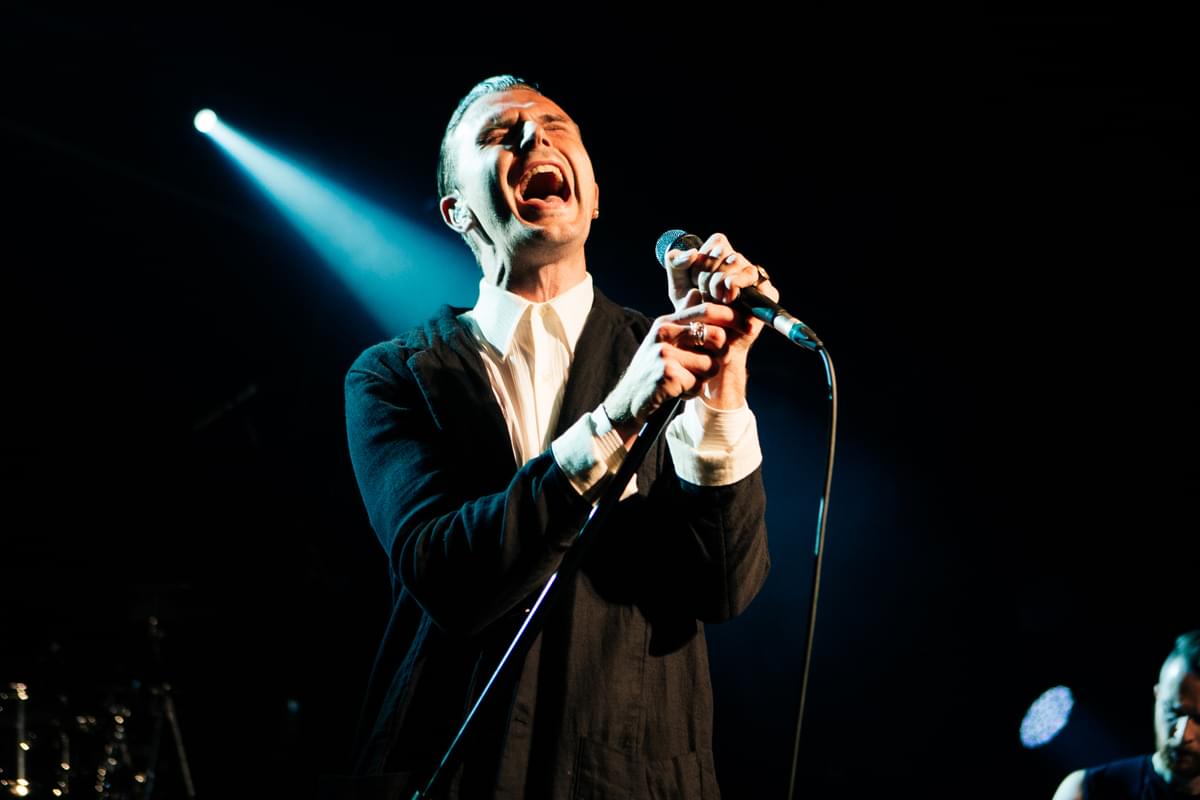 Hurts: Sadness is Easy
31 July 2015, 09:00
Standing at the back of the Lido in Berlin, I'm aware of a shift in the crowd. While there's a relaxed atmosphere, there's also anticipation rippling throughout as the house lights dim.
This is my second Hurts show of the week after initially seeing the synth-pop band at London's Scala two days prior. That date was the first time the band had played material from their upcoming third album Surrender, and the reaction was good, if a little subdued; London is a notoriously difficult city and teaser shows can be tricky to get right.
I'm interested to see how the audiences differ between the two cities. The story of the band's success across and in the expanse of Europe is well known, but I'm sceptical about the actual levels. We often get told of the 'success' of our home talent in other parts of the world only to find out that the reality is quite different.
However, in this case, it's true. The audience in Berlin hangs on every word that singer Theo Hutchcraft sings as he throws roses into the crowd; the snippets of German he sprouts result in hysterical screaming. After the 13 song set, which lent heavily on new material, I'm exhausted by it all but totally exhilarated. The crowd also seems reluctant to leave, milling around outside the venue until bouncers shepherd them on.
Later I'm told of how the band was chased to their hotel by paparazzi.
Talking to the Theo and band mate Adam Anderson a week later in a Soho restaurant back in London, they seem unfazed by what I would say were Beatlemania levels of madness. Instead they were focused on how easily the fans got stuck into the new material.
"You know the vibe of the older songs," Theo says. "When you slot in a new one you're wondering whether anyone's going to get into it. But the reaction was instant. It was more instant than anytime we've played new songs in the past, which was shocking."
The immediacy here, the band say, is the opposite reaction to the material from their previous record Exile. "Due to the nature of the music, it took a while for the crowd to get involved," Theo explains. It's no wonder, as Exile was an album full of angst and turmoil.
"[Exile] was aggressive, which came from touring for three years," Adam says. "The whirlwind of touring can do things to your mind. We came off that tour and just started making an album and unfortunately, or maybe fortunately for the album, we decided to lock ourselves away in a tiny room for a year and record."
While Exile went top ten in the UK it failed to set the charts alight like their debut album, and was met with a mixed critical reception, with the stadium sized grandeur and Arctic production drawing weak comparisons to U2 and Muse. The band is aware that some found the change in sound challenging. "We still stand by it as an album because it captures a moment in time," Adam says matter-of-factly. "It's just classic lack of perspective. That gets more intense when you choose to spend a year in a flat in Manchester and Russia making music. You lose perspective very quickly."
So how, after even more years of touring, have the band avoided this introversion with Surrender? "I think we wanted to approach it by having a lot of freedom," Adam says. "With a title like Surrender, I think when you've stopped resisting things you can suddenly become quite free."
This liberty is totally apparent over the eight songs from Surrender that I've heard. First off there's the galloping lead single "Some Kind Of Heaven", a joyous amalgamation of cinematic strings and energetic drums all topped off with Theo's incredibly emotive vocals. Or there's "Lights", which might be the poppiest, funkiest thing that Hurts have ever recorded.
"Making sad songs comes quite easy to us, for some peculiar reason," Theo says laughing. "However, we've always liked things like Prince, Fleetwood Mac and New Order, and we're not in as dark a place as before, so we'd be feigning sadness for other people's benefits. The joy and the happiness are because we've both lightened up."
Continuing, Adam adds: "Naturally when I play piano I usually go for minor chords, but I'm really proud of what we've been able to do with "Lights". It's the most relaxed that we've ever sounded, and I think it's the most confident song we've ever written. A few years ago I never thought we'd be able to write a song like that."
For me, Hurts' music has always held confidence and even some significance. Their debut single "Wonderful Life" soundtracked a particularly dark time in my own life, so watching the band perform this song live was a deeply moving moment.
"We like to tell tales and we've encountered a lot of people that could have been the protagonists in songs on our travels," Theo says of the "Wonderful Life" and new album track "Rolling Stone", an epic tale of alcoholism and terrible childhoods. "Every paradise has a strange undercurrent, an undertone that's dark. In these places like L.A., Ibiza, here [London], there are characters that have had a lot of trouble. People search it out. That's a tale for us."
Do they find that their fans, especially in Europe where they're stratospherically big, are able to tell them anything? "Oh yeah, and it's flattering in a way. In a personal sense it's quite a lot to bear, that strain of what people feel like they can tell you. It's often the darker elements of our music that they're attracted to, and music gets people through difficult times," Theo says. "We're not separate to that; I can relate. When we've written songs about particularly dark or sad instances in our own lives, all it takes is one person to say that they understand it makes you feel instantly better.
"That's why we've got to go and do shows in places that people would never go," he continues. "We've been to parts of Russia that no western band had ever been to. It's almost an obligation for us. It's exciting, but it's also because there are thousands of kids out there. We went to Siberia and there were 6-7000 people there. These people have invested in us and we owe it to them to go and say hello and sing the songs."
It's here that I ask the obvious question: why do they both feel that people in those areas are so drawn to their music? "It's an endless question and it changes with different people and records. There's something about it that we can never put out finger on," Theo says, subtle hints of astonishment punctuating his words. "We can try to analyse it and try to come up with answers but, maybe, it's because we actually go there?"
Continuing he adds: "Because we got interest in Germany first when we first started Hurts, if there was any country or people that valued us we were like, 'lets go'. Someone would be like, 'you can do a gig to 200 people in Finland', and we were like, 'we've never played to 200 people. Let's fly to Finland and see what it's like.' We've chased it around."
Do they wish that in the UK they held a similar status as they do in the rest of Europe? "We've never held Britain or any country in higher regard than anywhere else," Theo says decisively. "Everywhere has people, everywhere is a country, and often the countries are bigger than here. We'll go to Ukraine and we'll do six or seven shows through the country. You're playing in huge venues and you sort of think, 'Well, there aren't this many people in Britain to play to.'"
However, Adam also attributes it to something else. "I think in Europe people connect to the hope that's in the music, particularly the first and now this album. The songs are set in a very dark place but they're usually a sense of redemption and hope in them. The language is simple to understand. I think if you're a teenager in Minsk they can, perhaps, connect with that."
Personally, after seeing the band play in both their home country and in Germany, I can safely say it's a mixture of the two. Framed against the dark architecture and the devastating history of those areas of Europe, you can see why Hurts' music resonates. However, there's also a sense of ownership there, too. Here's a band that makes the time to travel and, as Theo's phrases of German show, are willing to engage with fans all over the world on a personal level.
"We always want to be very direct with our music," Theo says finally. "Lyrically and whatever, it's direct in its intention. It's always more powerful when something's as potent as it can be. Our music is a straight arrow; it doesn't leave much to the imagination, it's emotional, it's raw and it's pop music."
Surrender is released 9 October via Columbia. Stuart Price, Jonas Quant and Ariel Rechtshaid have worked on the record with the band.
Get the Best Fit take on the week in music direct to your inbox every Friday