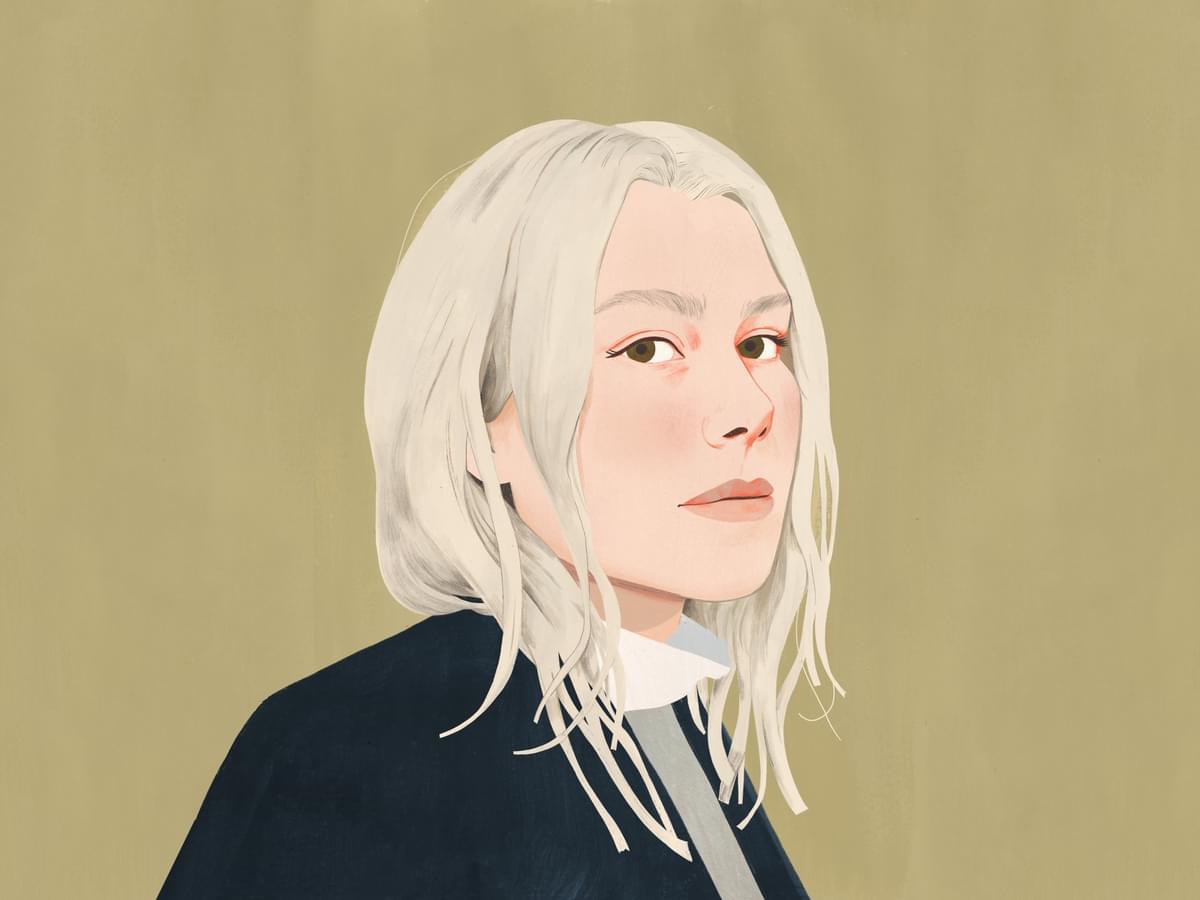 How Phoebe Bridgers made "Kyoto" into the best song of 2020
10 December 2020, 11:15
Phoebe Bridgers doesn't strike you as the kind of person likely to burst into song but when she's frustrated with writing, she has a tendency to sing what's happening – quite literally.
"So, right now, I'd be like 'there's construction outside / and I'm on the phone'," she sings in a deadpan tone from her Los Angeles home. A trick to stir up something - anything - from the world around her, this is how the very beginning of "Kyoto" came to be: where in a stream of consciousness, she stumbled across the song's melody.
The second single from Punisher and Best Fit's favourite song of 2020 "Kyoto" is one of the record's most loved tracks, with an ability to heart-wrenchingly grab the listener and place them firmly in Bridgers' headspace. The song relates to the collage of everyday thoughts which inspired it, with Bridgers leading the listener to reflect on a fraught relationship, recall a distant trip away from home, or realise that what they've been longing for isn't actually what they want after all.
At the time the opening line "Day off in Kyoto / Got bored at the temple" was first offhandedly sung, Bridgers was visiting Japan for the first time. It was the beginning of 2019 and her trip centred around a Tokyo show, a live experience she remembers fondly, laughing about the light clapping of Japanese audiences as "psychological torture" and the memory of walking out the venue to a group of five teenagers who screamed when they saw her. "It was a 500 capacity show," she tells me. "It wasn't huge, but it made me feel like a rockstar."
Her remaining time in Japan was spent like most other tourists including the now famous trip to Kyoto, a city she loves for its "mythological quality… kind of exactly how I pictured it and more," she tells me. She spent her days there developing an obsession with Onigiri rice balls ("I think they're for kids' lunches but I don't give a shit"), eating at 7-Elevens, and visiting temples. "I actually only got bored at one temple – little known fact," she relates, referring to the track's opening. "I don't remember what it was called and it was just a bunch – [and] this is so disrespectful – of suits of armour or statues. The first hundred were super interesting, but as you got to the five hundredth you're like… alright, let's go!"
Arriving home with the song's first verse, Bridgers' life at this point was all consumed with touring. The song began to take shape in the background as she worked on the Better Oblivion Community Center record with Conor Oberst, and found its second half once she was alone in her apartment again, reckoning with the contradictions of dreaming of home while away. "I feel totally cursed," she says of Punisher's descriptions of days at home - given 2020's pause on performing - likening her writing to "a bad genie wish."
The bulk of "Kyoto's" lyrics actually relate to Bridgers' father, describing their relationship from childhood, and riffing off recent feelings since her parents' divorce. The tension between a child and parent is one of the hardest relationships to face head on; it's a subject most struggle with in the safe space of therapy, let alone articulate well through song. "You were off by like ten days," she sings, a lyrical kick in the shin referencing a missed birthday. "Weirdly my dad is actually spot on with birthdays – of all the issues I have, that's not one." That lyric actually relates to her grandfather ("a rodeo cowboy who I love") she spent each summer with growing up."He does space out on birthdays and stuff," she tells me, "so I think I was kind of combining them [both] in a way."
Despite their difficult relationship Bridgers began talking to her father again during lockdown: "It's strange, but it's been really nice," she explains. The pair have never discussed the song or its meaning, although following her four Grammy nominations (with "Kyoto" singled out for both Best Rock Song and Best Rock Performance), he did remark that he'd "like to take some responsibility," she says. "I was like… oh my god." ​
Bridgers also lays bare her own superstition that, "songs make themselves true, kind of, in a way." It's a concept she has hinted at in the past, explaining to The New Yorker earlier this year: "Sometimes I'll write a song, and I'll be, like, 'Oh, I don't actually feel this way, but it's a good line'," only to reveal, "in retrospect, that's exactly how I felt."
"Kyoto" acts in this way - only in slight reverse. Bridgers' father phoned her on 10 October this year to check that her brother Jackson received a package for his birthday. "I don't know if he was fucking with me or something," she tells me, "I was like dude, Jackson's birthday is 19 October – which also means he was early! I was just like what the fuck... it seemed completely genuine. He wasn't making references, and it was nine days early, but what the hell!"
Bridgers had planned for "Kyoto" to be a ballad and was only tempted into speeding it up by co-producers Tony Berg and Ethan Gruska. The pair had a similar approach when they first worked with Bridgers on the recording of "Motion Sickness", one of Stranger in the Alps' faster tracks, and the result of Bridgers "kicking and screaming into a lot of change," she recalls. The plan for "Motion Sickness", much like "Kyoto", was to be "soft at the beginning and scream at the end – I wanted it to sound a lot like Julien Baker because we'd just been on tour." Berg initially wanted to add drums: "I was like fuck no!" Following an argument, "for like five minutes, finally I relented," she adds.
Although Bridgers credits Berg and Gruska for channelling her songwriting into sounding the way it does, back in 2017 she wasn't so sure: "I was like man, was that first version better?" she recalls. "Are my instincts better? And they just weren't." Her trepidation around producers also stems from earlier experiences: "I had worked with 'producers' before," she recalls. "Like, Ryan Adams fuckin' sat there and pressed play on a tape machine and 'produced' my first seven inch of songs, that I wrote, without his help at all. I was basically like, 'a producer is a glorified engineer who doesn't have any creative ideas'. Like seriously, I thought that." Her opinion has changed over time, with Bridgers now taking a production role herself; first on Christian Lee Hutson's Beginners record this year, and also as a co-producer on Punisher.
Although the trio didn't argue once during the making of Punisher, Berg proved to be a provocative creative presence. "Tony was all up in my business, all the time, trying to change my shit," she tells me. His input shifted her perspective on the process - and her musical influences too. Hints of his previous work (the first Blake Mills record, The Replacements and "tonnes of cool shit"), appear across Punisher. Gruska, originally brought into record piano for Stranger in the Alps ("I can't play piano really at all, I mean I can a little bit, but I wanted crazy piano") ended sticking around at the studio each day, adding many of the tiny details across Bridgers' songs, including the high pitched pocket piano on "Kyoto".
Two details in particular on "Kyoto" - the adding of horns and even a "woo!" - feel at odds with Bridgers' song writing. Joyfully juxtaposing horns against the what Bridgers describes as, "the most fucked up words" grew from her thinking "that if I were to make real rock music, I want it to sound like The Replacements." Referencing bands like The Cure for the same ability, the horns - supplied by Nate Walcott - were added purely intuitively: "He played every hook on my favourite Bright Eyes albums," she tells me.
The same goes for Bridgers' small "woo!" at the end of the song's first chorus - a second-long moment adored by fans (a comment on the track's video just reads I LOVE THE WOO!). "I was embarrassed to do it, so it sounds super apathetic," she recalls. She has similar feelings about the screams and whispers at the end of the record: "I hadn't gotten over how funny it was yet, so I start laughing in the middle because it's so ridiculous to do that, and watch all these people take you really seriously in the control room. With those things once you're done mixing you never think about it again, but I definitely stayed awake thinking 'are we gonna keep that?'"
While speaking so honestly might seem natural for Bridgers in her songwriting, she has laid awake at nights running over her lyrics a few times: "I have spiralled, or felt like I had to show somebody a song before it came out and freaked out about it for days," she says on her struggles with oversharing. "There's definitely been times where I've been like, 'am I really going to do this to myself?'"
The personal nature of her songwriting is also obvious in a recently posted Twitter thread – "comment a lyric and I'll tell you exactly what it means" – following memes about her lyrics' ambiguity. It revealed that (mostly) her fans' interpretations are completely wrong – notably the line "25 felt like flying." "A lot of people think it's my age which is weird because it's just like miles per hour," she tells me. These mix-ups are a factor Bridgers actually quite enjoys: "It makes me feel kind of safe," she says when I ask if it's frustrating to be misunderstood. "I always feel like I'm being super obvious, so when people misconstrue things that I say I actually kind of relax, and think maybe I'm a little safer that I thought."
Over the course of our conversation we touch on what this year could have meant for Bridgers if the pandemic hadn't hit. From speaking about old shows, through to how amazing it will be to hear the horns on "Kyoto" live for the first time, the real shame is that she won't get the full Grammy experience she deserves: "It feels weird y'know, I feel both grateful and ripped off where I'm like, are you serious? I don't get to get drinks with my friends?!"
As we discuss the difficulty of balancing personal emotions with those on a larger scale given the difficulties of 2020, she again throws out a relatable feeling summing up a year where her artistry has gone from strength to strength - while she mostly sits at home. "Maybe it's kind of a blessing that I don't feel overwhelmed by the world right now, but I feel overwhelmed by the world in theory which is really scary.
"It's just exhausting to be an American and focusing on an awards ceremony," Bridgers adds, "but it's also fun having something to spend my time thinking about. It can just kind of make me feel like a spoiled brat where I'm psychologically damaged from this year, but also super grateful."
Get the Best Fit take on the week in music direct to your inbox every Friday