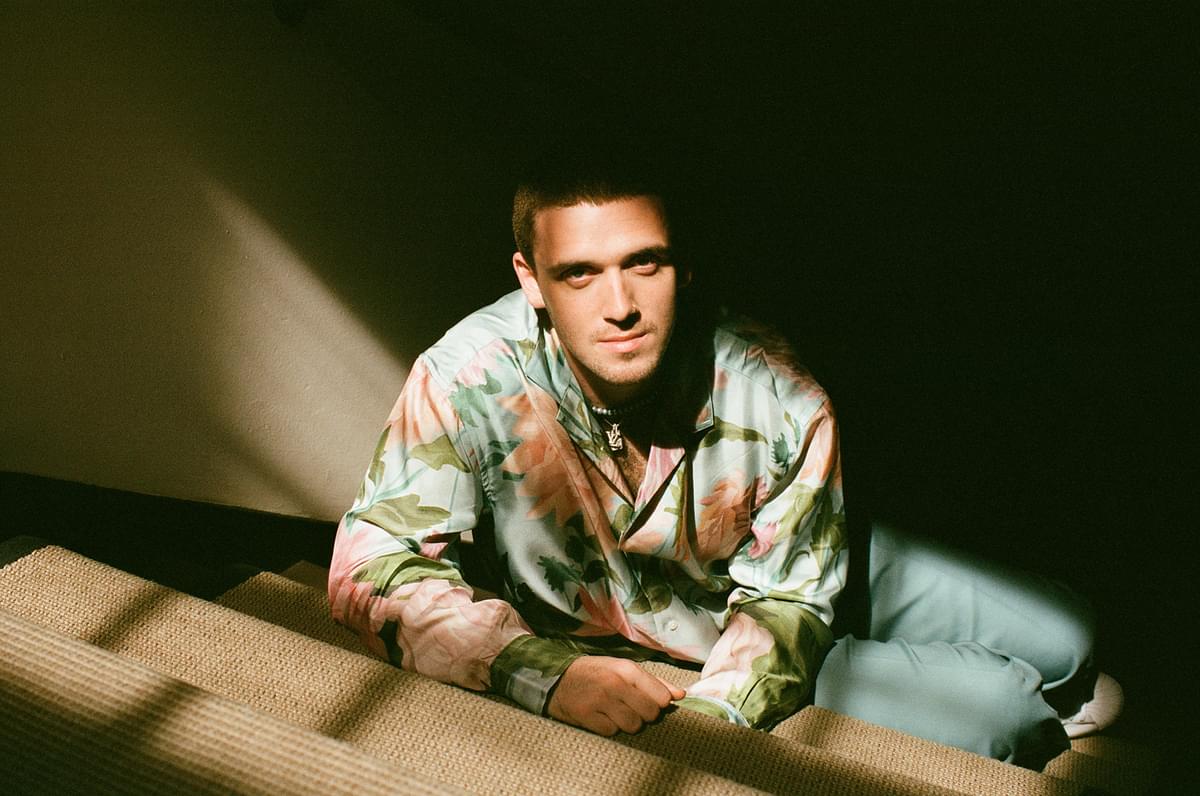 How Lauv connects to his inner child
10 August 2022, 09:00
Dialling into the complexities of relationships, unearthing emotions and exposing vulnerability, all whilst producing radio ready chart toppers, Lauv has undoubtedly achieved the vision he had as a 13-year-old: to be a star.
"Kids Are Born Stars", the third track on his sophomore record All 4 Nothing, hears acclaimed 27-year-old singer, songwriter and multi-instrumentalist Ari Leff reflect on his childhood, describing the dream of being a "really big star" as a mantra used in the face of rejection from others.
It would be fair to say that this dream was met head on by Leff, who burst onto the scene as Lauv five years ago with electropop hit "I Like Me Better". Yet for someone who has achieved a level of success that makes selling out shows look easy, when Leff sits down to chat me, his humble and self-effacing energy is palpable.
Our zoom call is scheduled three days out from the release of his highly anticipated record, as well as a new video for the most recent single "Stranger", another example of Leff's vulnerability when it comes to song writing. The record tackles a plethora of themes. Everything from battles with inner demons, finding love and falling deeply and, possibly a standout theme, rekindling feelings of childlike wonder. "I am so excited" he tells me, "I can't believe it's coming out! I just can't wait to see what people think."
Nearly three years on from the release of his debut ~how I'm feeling~, an album that boasted collaborations from Anne-Marie, Troye Sivan and a little-known K-Pop band called BTS, the excitement he speaks of is expected. The buzz that followed the record was quickly halted when the pandemic descended onto the world. With this came a wave of uncertainty and anxiety that found Leff turning inward and trying to connect with childhood memories. "I was craving the feeling we have as little kids" he explains, "you know, before we're told who to be or what's cool and having to put up with anxiety. This album was honestly just me connecting with my inner child and just trying to be free and have fun. Making it during lockdown meant I needed that freedom."
The throws of the pandemic saw many artists take pen to paper and begin new projects. When I ask how the pandemic served him as an artist, Leff laughs that it gave him "way too much time to overthink."
"Honestly, if there was a silver-lining to it, I just desperately needed to get close to myself again," he admits. "My life had become so frantic with my career, and I was on this kind of trajectory where I had lost touch with myself. I feel like writing this helped me heal the relationship I had with myself".
The record is ever-confessional, littered with honesty and deep-cuts whilst still maintaining a sense of hope. Album opener and lead single "26" begins with a bar that hears Leff ask, "Can I tell you a story, 'bout a boy who broke his own heart?". We hear this exposure again on the new single, "Stranger": "I'm no stranger to loving / I'm no to stranger to falling apart / no stranger to secrets, and monsters and demons / I'm scared of the dark," he passionately sings in the chorus.
Throughout his career, Leff has consistently proven his advocacy for mental health awareness, whether it be through the honesty he expresses with his lyrics or creating his non-profit, The Blue Boy Foundation, a project that has raised funds for mental health initiatives and created a space for fans to open up about their own struggles. Does song writing serve as a catharsis for him? "Definitely", he says, "I think of it like this, I'm figuring my life out via making the songs".
The songs he's made in a bid to figure his own life out have undoubtedly served a purpose to others. As part of the Blue Boy Foundation, Leff created a global platform called My Blue Thoughts, where fans could share "whatever they are going through" and "let go of something that's weighing them down". This space, which comes in the form of an online portal, as well as a booth at Lauv's live shows, is proof of the artist's advocacy for the on-going need to speak up when it comes to mental health.
"I think that's part of the job when it comes to music and art," Leff tells me. "It's not always on purpose either, when I think about my favourite music, it can create an escape. It can take me to a place where I feel heard and seen. It's so cool that something I do for fun, and something that helps me, can help someone else. It's crazy, honestly".
Although many of the tracks on the record tackle themes of depression and anxiety, what makes All 4 Nothing so special is the sense of hope it gives. It's near impossible to listen to "Kids are Born Stars" without smiling, whether it be down to its upbeat production, the prominent theme of igniting our inner child, or the endearing moment in the song when we hear his manager's son Joshua repeat the leading line of the chorus; "I'm gonna be a really big star!".
"Whenever I found myself stressing out on Facetime to my manager," Leff explains, "Joshua would be there in the background to tell me 'Ari you got this, don't worry, it's okay,' and one day we were playing around with the lyrics from 'Kids Are Born Stars' and I caught him on the microphone, and we threw it in the song.
"The inner-child theme came from this experience I had in therapy where I was guided through this meditation, it was this visualisation where I was in this space surrounded by different Ari's, all at different ages. It was me at eight years old, twelve years old, sixteen years old and so on. I went on these little journeys where I was connecting with myself and remembering parts of myself that I had forgotten. I kept going with this meditation and it became a big part of the record".
While therapy, meditative practices, and a healthy amount of soul searching served as writing fuel on the new record, Leff took a step back from production this time. "Everything I was doing was annoying me, and not inspiring me," he says, "I had a handful of people I really trusted and loved working with [who led the production]. I was focusing on the lyrics and freestyling with the melodies. It was a really freeing experience, because I'm usually so locked in when it comes to perfecting the music. So, it was nice to be a little more hands off".
Leff's face lights up whenever I mention the looming release of the record; he's itching for fans to hear it, and is keen to get back to live performance. He hits the road this week with Hayley Kiyoko for a North America tour and he's spent the previous weeks in rehearsal. "Everything is looking amazing," he says, "the shows are always really dynamic. Everything from super crazy, explosive moments, to just me on the acoustic guitar. There's also a little meditation vibe, that will make sense when the show happens. I didn't get the chance to tour the last record because of Covid, so I'll get the chance to play those songs as well. It's gonna be a hot, sweaty, funny and emotional show".
Although no dates in Europe have been announced, Leff says he is "very patiently, but also impatiently, waiting to come back". The current tour runs until the end of September, playing iconic venues such as the Greek Theatre in Los Angeles – a testament to how successful he has become over the last few years. He's accrued an army of devoted fans across the world too, who have connected deeply to his work and have taken something from his music. What will they take from the new record? "I think, if anyone out there is feeling a bit floaty or anxious and disconnected from themselves, or wondering why life isn't the way it was, then I hope it gives them some hope that they can have that connection again," Leff explains, "even if it's just for a moment. I think it starts there, just having a glimpse of feeling really connected to beauty and love of life".
All 4 Nothing is out now via A5B
Get the Best Fit take on the week in music direct to your inbox every Friday