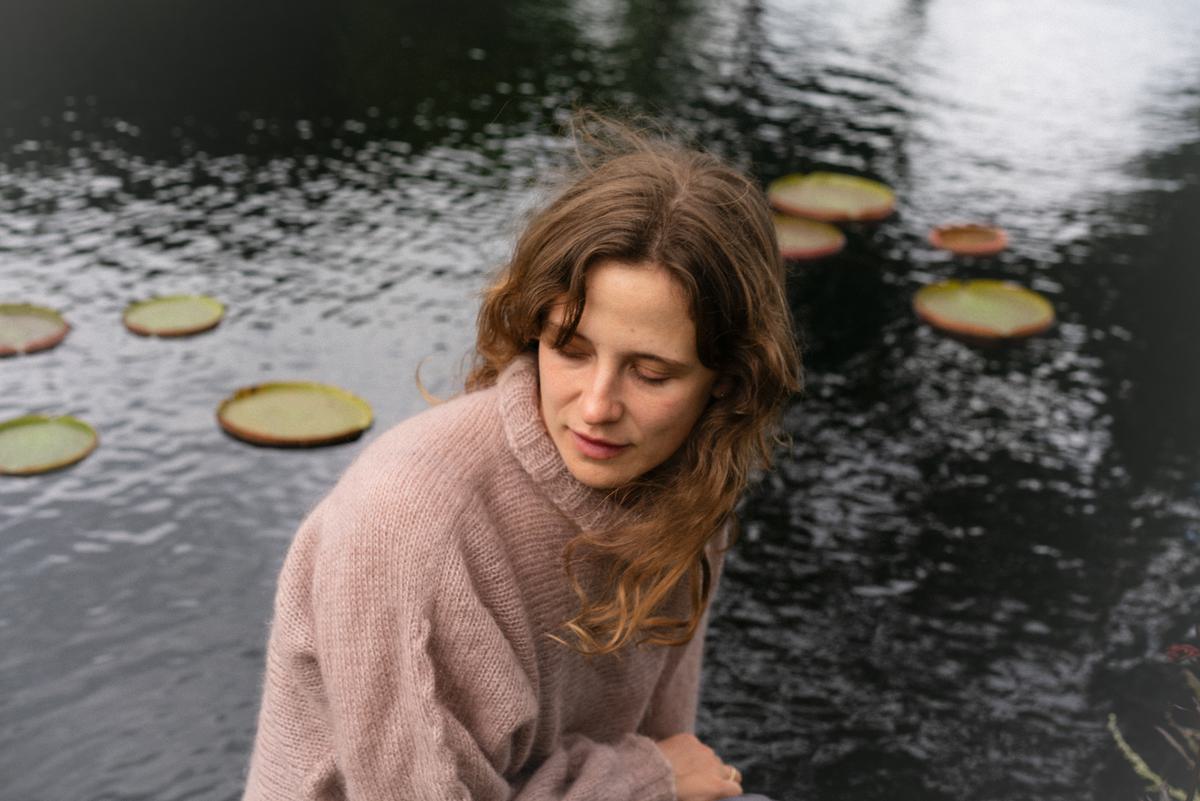 Helena Deland and the language of letting go
12 October 2023, 15:30
Spinning gold from grief, Helena Deland's new album Goodnight Summerland is a naturalistic marvel. She talks to Alan Pedder about embracing her acoustic side.
Growing up in Québec City, Helena Deland always thought it was just a fun quirk that she was born on the other side of Canada in a place called Summerland.
Roughly four hours' drive west of Vancouver, Summerland is a small lakeside community in the Okanagan Valley with a rich farming heritage and a thriving wine industry. Deland's parents lived there in the early '90s, studying for their master's degrees in agriculture, but left before she was old enough to say more than a few dozen words. Too young to store her own memories of the time, all she knew about Summerland came to her secondhand – in her parents' grainy photographs and their tales of student life – and, for a long while, that was enough.
Deland had no real motivation to dig into her past, not when the future had so much fruit to bear. Moving to Montréal aged 20 to study literature, she found herself spending more and more time on music: singing, playing bass in short-lived bands, and eventually demoing songs of her own. One of her first studio experiences was guesting on a track by Montréal-based indie-pop trio Men I Trust, and it wasn't long before she became an integral part of the city's small but galvanising music community.
Wanting to take her time in making something as official and defining as a debut album, Deland at first favoured bitesize bouquets of songs. The feet-finding Drawing Room EP arrived in 2016 and was followed soon after by the shimmering From the Series of Songs "Altogether Unaccompanied", which arrived in four volumes across two collections – deliberately obtuse, lest anyone mistake it for a record. Along the way, she racked up a staggering amount road time, touring with Weyes Blood and others, bedding in some of the songs and ideas she was harnessing in preparation for phase two.
When her debut album did arrive in October 2020, it was in the stifling confusion of the pre-vaccine pandemic – not ideal timing, but Deland had waited long enough to make her first big statement. Honouring her devotion to the album as an art form and as a narrative, Someone New was a finely examined and generously textured exploration of her identity and the dynamics of its perceived limitations. "At a certain point, I began to question everything," she told Best Fit at the time. "How I felt as a woman, how I felt in relation to men, and how I felt in relation to myself."
Looking back in 2023, she's both grateful and amused. Revisiting the title track for a solo gig recently, Deland says she was struck by the realisation that, while the song comes from a place of fear that things wouldn't change, so much in her life was already so different. "Listening back to old songs is like re-reading a diary, which can sometimes be extremely uncomfortable – like, who even is this?" she says, laughing, feigning disgust. "But it's also a way to remind yourself of the things that have changed, and by how much."
For Deland, the most profound change happened only months out from the release of Someone New, when her mother Maria was diagnosed with a terminal illness. She passed away in the summer of 2021, leaving Deland reeling in the wake of her first true experience of grief. Writing, she says, was a way of demystifying the grieving process; what she couldn't communicate through speaking came to her in song. "It was useful for me to put what grief was teaching me into music, even if just to have that process reflected back at me in a way that felt very intimate and personal."
Shortly after her mother's diagnosis, Deland says she "went through a fundamental change" and began to try and patch up and preserve everything she could about her mother and their relationship. "We were very similar, which sometimes created a lot of friction," she explains. "I think there was a deep understanding between us but also a deep projecting from both sides."
Towards the end of Maria's life, Deland says she would sit and read children's books aloud to her, "because I think there's great comfort to be found in those stories." One of those books was the classic bedtime story Goodnight Moon, written by American author Margaret Wise Brown in the 1940s, and the title of her new album, Goodnight Summerland, is partly a nod to that. "Looking for a title is one of the phases of making an album that I really love," she says. "I love trying to look for a certain combination of words that will unlock something more for me within the songs."
That 'aha' moment came when she idly googled 'Summerland' and saw it clearly for the first time in her life, wowed by the beauty of the lush green valley and sparkling blue waters. The realisation that she knew so little about the place she was born came as a surprise, followed by sadness that her mother's memories of their life there had disappeared for good. Deland describes this movingly in her foreword to the record, writing "In losing her, I have lost her stories, her experiences and her ability to understand mine."
When we speak, she's just returned home to Montreal after spending the weekend out at a friend's cabin, closing it down for the winter ahead. With Goodnight Summerland out this Friday, she's trying not to let her feelings of excitement overtake her ability to savour the moment. It's been quite a journey, after all.
Although Goodnight Summerland wasn't completed until the tail end of this winter, the song "Swimmer" was released way back in February 2022. Written for her mother, it draws inspiration from both the Mary Oliver poem "Clamming" and the growing climate emergency, deftly weaving together those strands of losses, each too large to comprehend alone.
"It was very gratifying talking to people who have connected with 'Swimmer' in a deep way because of the subject matter," she says, recalling the long months on tour in the spring of 2022. "I was still writing the album at the time, so it felt like a confirmation for me that music was a way in which I could connect with people about grief."
"Grief, like many other vulnerabilities, is dealt with awkwardly in our culture. It's kind of kept to one side."
(H.D.)
Goodnight Summerland is not a cheery listen, but it's not entirely downbeat either. Released in late May, "Spring Bug" is delightfully breezy, full of warmth and sweet, melodic charm, while the later singles "Bright Green Vibrant Gray" (written shortly after her mother's death) and "Strawberry Moon" (written before) are brimming over with buoyant, tender romance. "It was important to me that there were songs coming from different angles on the album," says Deland, "just because that's what my experience has been like over the past 2 years."

Even so, she says she felt the need to offer some kind of disclosure up front with the piano instrumental "Moon Pith". "It felt important to me to have that at the start, as a way to buffer into the rest of the album," she says. "It's a way of setting the tone. Like, if that song doesn't feel appropriate in the moment for the listener, they can put on something else."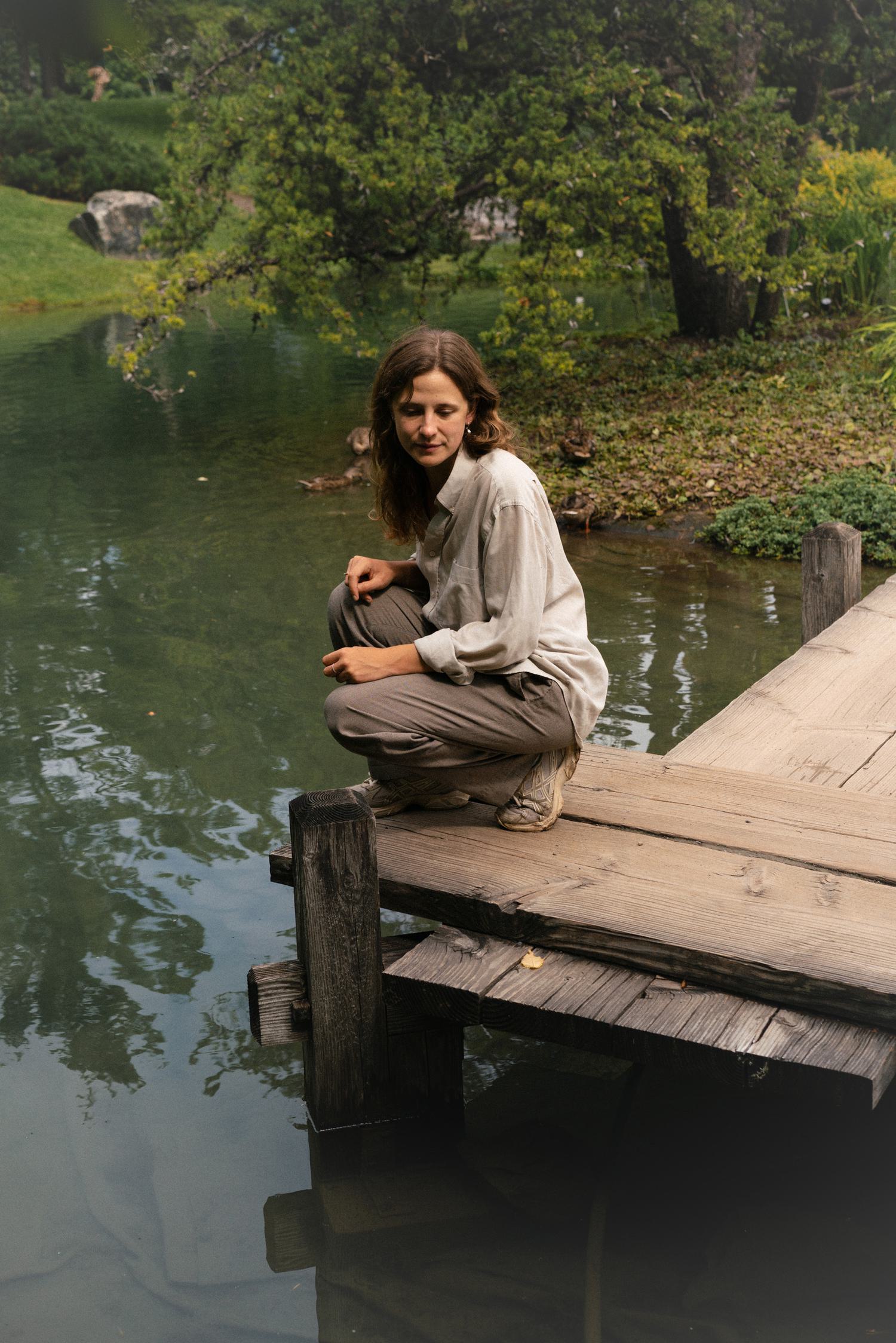 On a more conceptual level, the choice to bookend the album with two variations on the same melody ("Moon Pith" and "Strawberry Moon") ties into Deland's contemplation of the idea that grief has its own timeline. "It's not cyclical exactly, but there are definitely returns," she explains. "In that way, I thought it was interesting to incorporate a literal return, not just of something thematic but also in content."
The arrangements on Goodnight Summerland may be less fussed over than the ones on Someone New, but it's details like these that keeps me coming back to the record. Though Deland didn't necessarily set out to make a folk album ("Sue me," she joked on Instagram), as the songs developed she says it felt more and more necessary for the songs to exist in that form. Besides, her mother was a huge Joni Mitchell fan, so that had to count for something.

"With Someone New, trying to cover all of my musical interests almost felt like a bit of a burden," she says. "It felt like a lot was tied into trying to arrange the songs out of their original form, which was guitar and voice, so this time it felt like an interesting challenge for me to just stay as close to that as possible."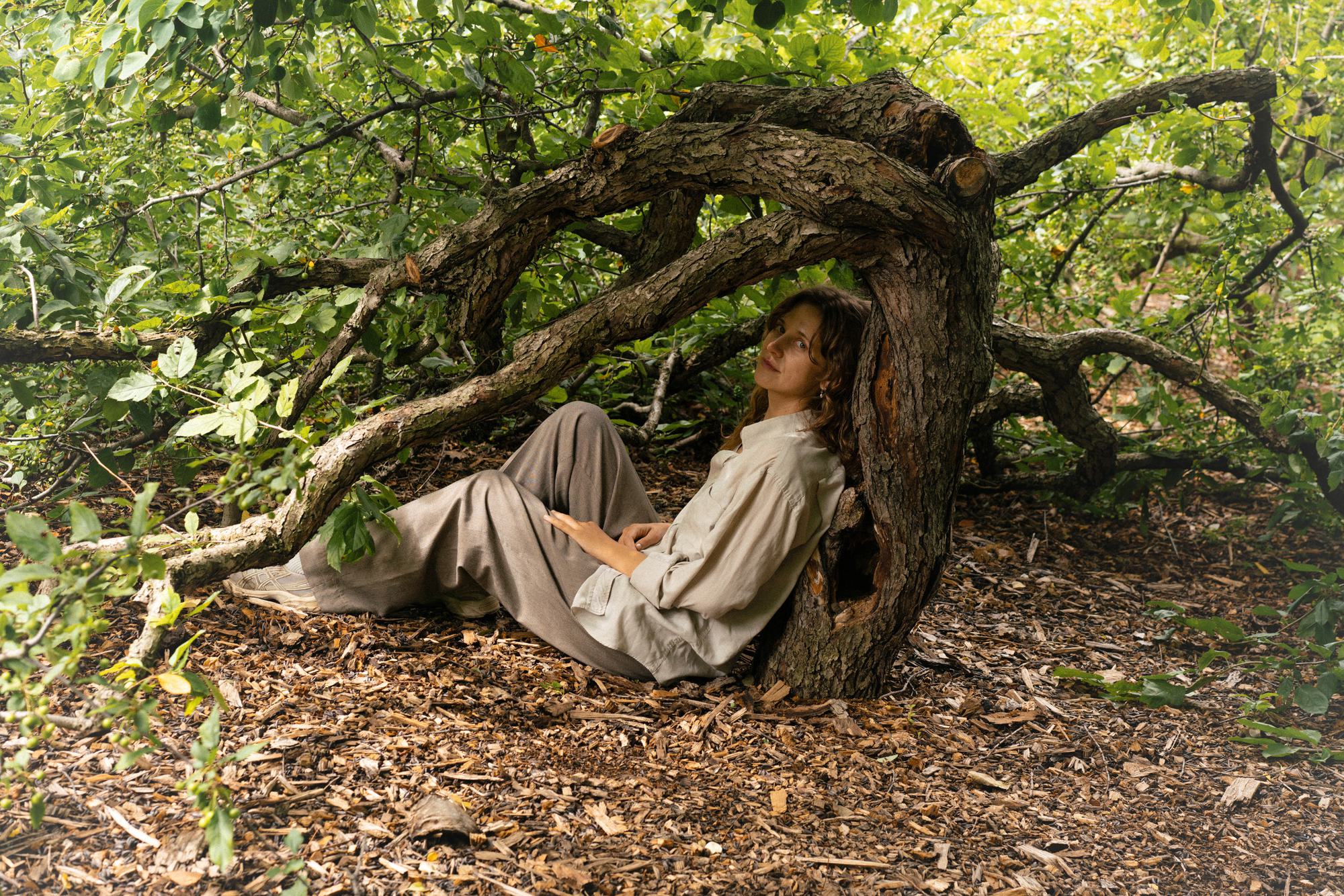 Working with producer Sam Evian, who recorded most of the album at his Flying Cloud studio in the Catskills in upstate New York, Deland tried to restrict the recordings to just a few takes each and keep the tinkering to a minimum. "I feel like I'm very sensitive to music that sounds imperfect and that opens up a lot of space for the listener," she says. "I'm always grateful for artists who are making those decisions and I wanted to make them for myself. I felt like taking that risk."
Beyond the collapsing piano line that closes out "Moon Pith", you have to look hard for any trace of the imperfection that Deland admires. Clear as a Catskills mountain stream and open as the Summerland sky, the care she's invested is returned a hundred-fold. Where it might have laboured under its emotional weight, Goodnight Summerland instead feels like an embodiment of thanks: for companionship, for life, for the erudite lessons of death, but mostly for the language to express it all.

"It's a testament to this sort of letting go that comes with writing," she says, thoughtfully. "The moment you can finally put your finger on what it is you're trying to say, I think there's a relief there."