"I'm worn out!" laughs twenty-two-year-old Frances Baker from her dorm room in Boston. Fresh from supporting Arlo Parks on tour in the UK, she's straight back to classes and her part-time job in a local pottery shop. For Baker, a self-confessed introvert, the past six months have been surreal, exciting and a little exhausting.
Born and raised in Nashville, Baker attended the Lipscombe Academy, a private school which runs from primary classes right through to university courses. Associated with the Church of Christ, it's a tight-knit college that enforces some very strict rules. "Sixty-percent of the kids in my grade went to college on the same campus as our high school," she explains, shaking her head. "You can't drink, you can't dance, we don't have musical instruments in the chapel. We didn't have school dances. You couldn't drink if you went to the college and were above twenty-one."
The picture she paints is quite at odds with what most would dream up at the mention of Nashville. "It does have all these honky-tonk bars," she nods, "but it's also in the bible belt to the point where I had a drive to school that was twenty-minutes and I passed, maybe eight churches on the way."
Luckily, Baker's parents were much more relaxed and certainly had an effect on her listening habits, their influence clearly audible in her music today. "My mum only listens to '70s on 7, which is just 70s top hits, and then my dad's in his mid-60s and he's always been into music," she explains. "My parents weren't musicians, but they're very artistic in their own sense. I thought Janis Joplin was alive until I was, maybe fifteen?"
As Baker began to experiment with writing music in her teenage years, she attended writers rounds in town where she developed her ability and talent. "That's where I met a lot of mentors, because obviously I was a lot younger than the people I was playing with," she smiles. "I just had a nice community of songwriters and then in high school, towards the end, I got a band together and that was really nice because that changed my songwriting."
However, the clash of cultures between school and home did have a slightly humbling effect on Baker. "That environment, it made me be really OK with doing my own thing and people not caring about it," she laughs. "At a school like that, people aren't like, 'Oh, you do music? That's so cool!' They're like, 'You're weird.'"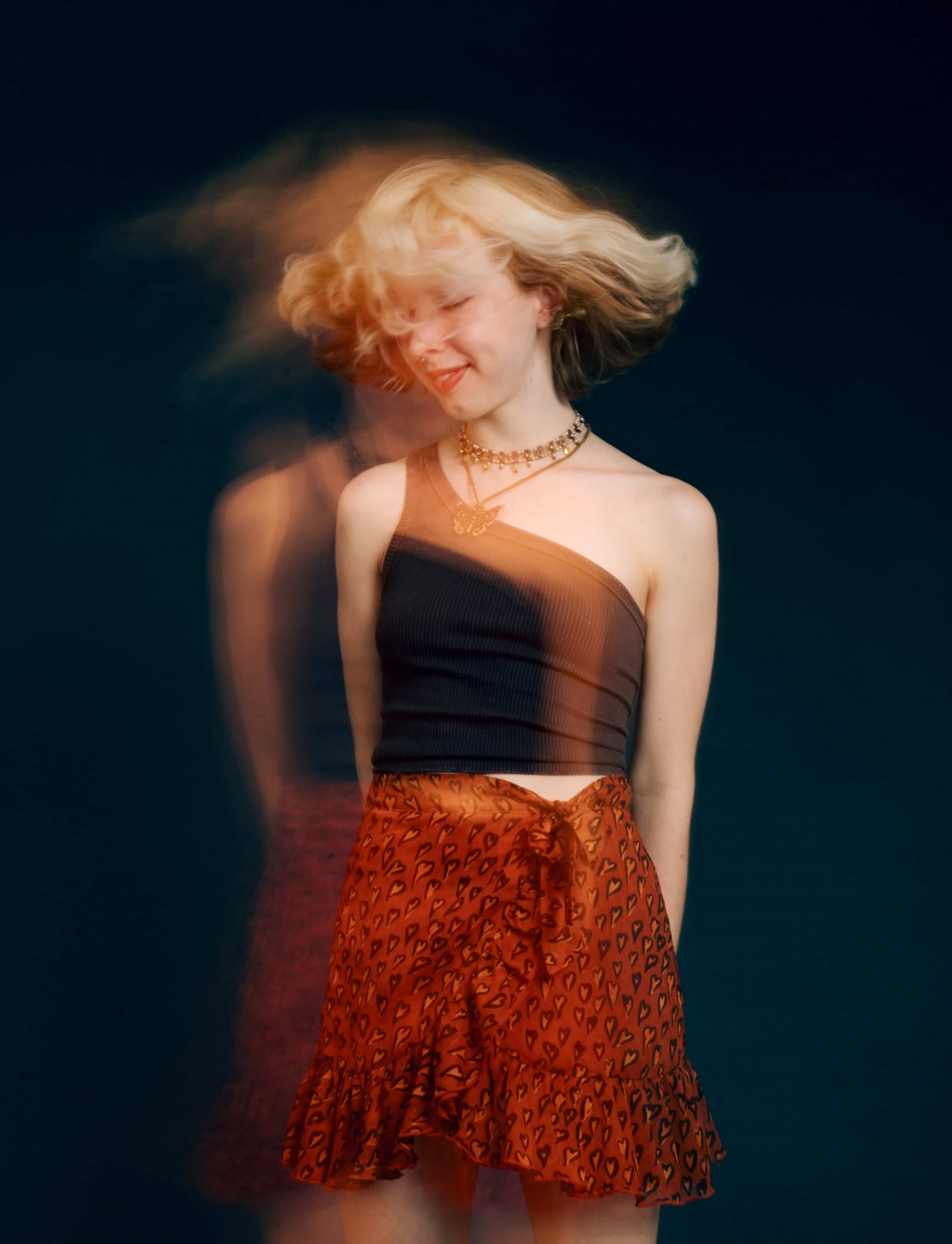 After graduating high school, Baker made the move to Boston to study Music Business Management at Berkeley. It proved something of a culture shock. "It took me a while to get my footing, because the thing about having the same hundred kids in your grade for fifteen years is that you can't really go round being an asshole. You have to live with your actions in an environment like that," she explains. "When I came to Boston, I didn't have a good people gauge. I really grew up in a bubble."
Baker formed a band in her first year, before refining things and focusing on her solo work, the gigging culture in Boston playing an inhibiting role. "It's harder to play shows," she admits. "Whereas in Nashville, you can play in a clothing store, you can play in a cafe, literally any building doubles as a venue."
When the pandemic hit, Baker began writing on her own, with a band in mind. She wrote first single "Bringing Me Down", a glistening soft cut of nostalgic indie with a modern synth lick, scoring out the parts for future bandmates using the software Finale. Exporting her work into GarageBand, Baker realised she had a track. "I was like, 'Oh my gosh, I've just produced a song!" she exclaims. "I had never done that, that was not my intention. I showed my friend and she was like, 'You should show a real producer, this could sound really good.'"
Baker showed her work to a friend named Sean, a Berkeley graduate who was living in Nashville at the time. She received a crash course in production and continued to write, playing through the songs at his house in her downtime. As they were working on the material, Sean's housemates, Courtney, Kyle, Josh, and Ciaran, would dip in and lend a hand. Together, they recorded Baker's debut EP. "Everyone who's on that list lived together when we made the EP," she smiles. "Then Sean does the mixing and Kyle does extra flair production, because he's like an EDM guy and Sean mainly does live recording."
At the start of the year, Baker independently released her debut EP and began emailing out to blogs and websites looking for coverage. She was a team of one, hustling for plays and promo. However, she didn't expect how far her music would travel. Within a couple of weeks she checked her DMs to see a note of praise from Mercury Music Prize winner Arlo Parks. "My theory is, my friend's boyfriend opened on tour for Clairo, and Clairo's roommate is the one who showed Arlo Parks the songs," she explains. "That's the only connection I can think of. But I have no idea."
That same day, Baker also received a DM from Parks' manager Ali Raymond, who runs the Beatnik Creative label. The two started a dialogue, eventually meeting in person and agreeing on a re-release of her original record, with a few small alterations. Baker's debut self-titled EP is due for a full release early next year, with new single "Crazy Now" shared today. It's a smooth and soulful percussive drive that showcases Baker's timeless vocal and talent for blending genres and concepts with effortless style.
Off the back of their new relationship, Raymond set up Baker with management and offered her the opening slot on Parks' recent UK tour. It all moved so quickly, not only was Baker out of practice, she'd never even tried playing the new material live. "Every single day after they asked me to go on tour, I ran through the set," she grimaces. "I've never played without a band and I've always played guitar on stage, so it was really out of my comfort zone. I honestly treated it like I was getting ready for a high school play. I just prepared as best I could."
Now back from tour and gearing up to release more music, she's balancing her college work with her new career, and a little leisure time on the side. She may be exhausted, but she's not relenting. "It's so exciting to see what's happening to the songs," she grins, as the possibilities continue to unfold.