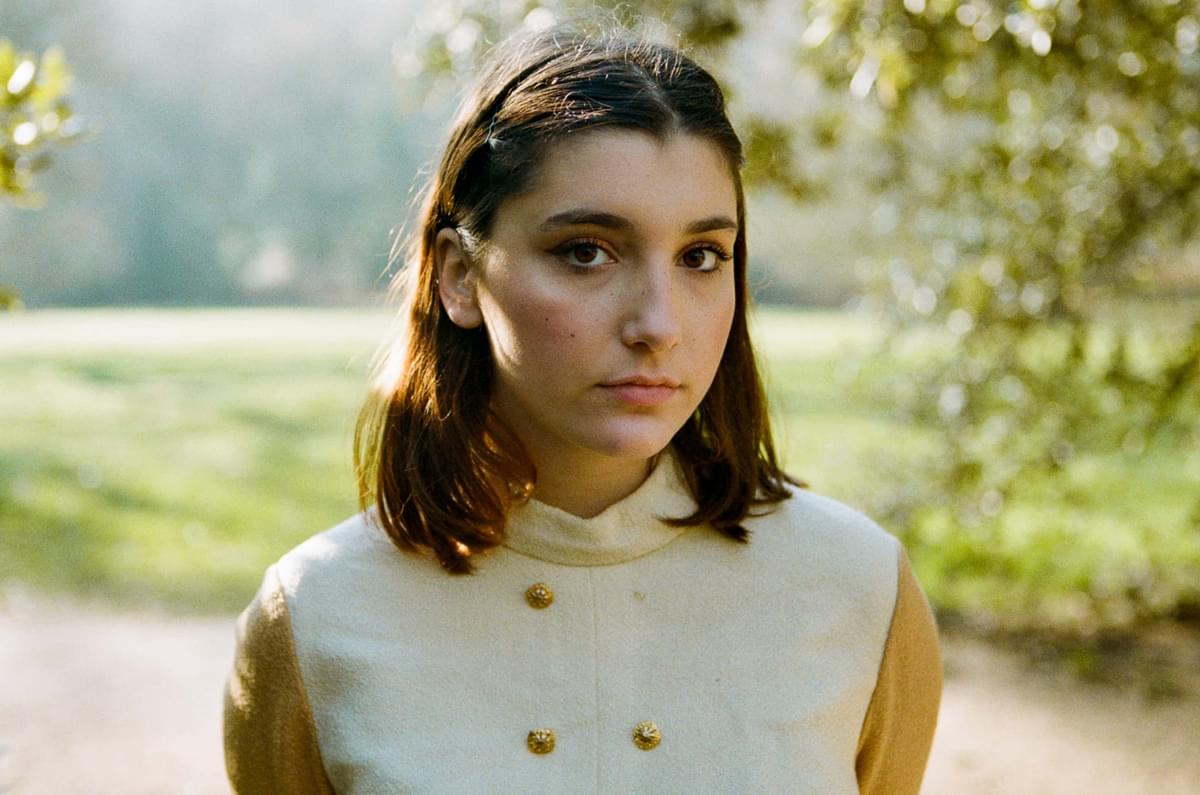 On the Rise

Eve Owen
08 May 2020, 08:00
An introvert finding pleasure in an extroverted world, singer/songwriter Eve Owen is finally letting us read her secret diary.
You may already be familiar with Eve Owen's delicate tones from her guest vocals on The National's last record I Am Easy To Find, but you can get even more familiar with her through emotive debut Don't Let The Ink Dry, released today.
The record has been a long time coming for the 20-year-old London-born Owen - some of the songs have been reverberating around her head since childhood: "This album for me is a collage of different material from over the years," she tells me. "Songs were never set in stone – themes branch out into different songs, and I just mix them together".
Owen was only at the end of primary school when she first remembers using song-writing as catharsis. "Something had bothered me at school and it makes more sense in my brain to turn it into music. To be honest, I still can't really do that when talking." Even now, she describes song-writing as a very exciting and wholesome experience.
On this record, Owen has made a new imprint on folk music, taking its foundations and twisting it together with electronic elements. On album opener "Tudor", which she says "encapsulates the whole album", the song uses five notes with a very simple structure, which has then been produced into "a type of chant". "You can sort of imagine dancing to it by a fire", Owen says, "it's got the instincts of a folk song, but the way it's been translated is so new to me. I really am in love with that one.
"I do feel like the process of making this album has been quite long. But that has been one of the greatest parts for me and Aaron".
The Aaron she's referring to is of course Aaron Dessner of The National, who produced the record via 37d03d, the label co-founded by with Justin Vernon, and Berlin entrepreneurs Tom and Nadine Michelberger. "The more we recorded, the more we collaborated, the more comfortable I felt in voicing my ideas," Owen tells me. She'd never really collaborated with any other musician before, instead writing songs and maybe presenting them to industry folk, but the making of the album with Dessner felt "really nice" to have their inputs merged together.
Owen had managed to record some demos at the studio of legendary composer, producer (and Robbie Williams songwriter) Guy Chambers at just 15 years old, and these were heard by Dessner, who picked up on Owen's natural talent. At 16, Owen went to Dessner's Long Pond studio and the pair recorded song after song together. A foundation was built, and Owen could not be more full of praise for the producer and musician: "Aaron has never made me, or anyone, feel like what they have to say is unimportant or irrelevant".
Owen describes herself as a socially anxious person, and singing deeply personal songs to someone she's just met would ordinarily fill her with terror. But with Dessner, it was a safe and thoughtful process – one that is certainly reflected in her poignant debut album. Each song feels carefully crafted and developed, able to evoke a multitude of emotions in one breath – vulnerability and power, neatness and recklessness, strength and helplessness.
Speaking from lockdown in North London, Owen displays a mix of childlike enthusiasm and wise-beyond-her-years insight when describing pretty much anything, and becoming friends with her favourite band is no exception. She describes Dessner has her mentor "before I even met him" due to her deep personal love of The National's music: "I look up to their discography like the Bible".
"They are my friends and they are my idols", she says. There is a giddiness about her when she talks about them, evoking images of Owen as teenager lying in her bedroom in the middle of the night listening to their lyrics. It's a beautiful story to hear, of a person relating to and being comforted by music she now gets to sing onstage: "I'm meeting them again in a whole different way", she says.
Owen's music taste aligns with her output and her love of The National – she mentions her adoration for Bon Iver, Sufjan Stevens and Sharon van Etten, but she also credits some of her song-writing ability to listening to Taylor Swift's early country music. "Taylor always said 'You can make a lot of songs with four chords', so that got ingrained in me". Owen plays down her guitar abilities, but said that discovering how far a single chord could go made her think that she too could have a go at writing songs.
The piano player in the house is Owen's sister, Hannah. The two sisters have always played music together, and collaborated professionally on Don't Let The Ink Dry. Owen's anxieties are brought up again as she speaks about the partnership: "When I first started singing, even to my family, I'd get really nervous! But Hannah and I can just harmonise and it's not scary at all!" she laughs.
The way Owen speaks about her sister is on a similar vein to her pure idolisation of The National. The partnership with her sister has clearly inspired Owen's ability to open up and share her music, especially on stage. Every video for the album is directed by Hannah as well, which continues to enforce the familial themes that run through the tracks: "She is amazing at filming, and it was great because she could be brutally honest. If it was someone I didn't really know I would probably freeze up".
A picture of a very close, collaborative family is painted by Owen. Her father, Children of Men star Clive Owen, understandably grew up surrounded by creative people. "My dad's hero was David Bowie," Owen explains. "So seeing him – not to be mean or anything but – obsess over Bowie, made me realise how much music can change someone's life".
Owen is carrying out the lockdown in her family house in London, the city she grew up in. She thinks London life has subconsciously shaped her experiences and the way she writes music. "The busyness and amount of things happening in London is quite overwhelming if I'm honest," she tells me. "And I notice when I do go outside of the city, the songs I write are very different". She describes the way a song can sound different in various locations – taking a song to new location can produce a different feeling or a new direction to take the song in. "There are so many different opinions and mindsets in London just because of how many people there are".
It's a good way of thinking about Owen's music – the songs never have a direct aim, they're often accumulations of different thoughts and feelings that have melded and collaborated with each other.
The idea that everything is changing, busy, and fluid is a central theme on the album, and lends itself to the album's title. 'Don't let the ink dry,' was a phrase borrowed from a teacher Owen met at a screen printing class. "The teacher said, 'One thing you must learn before we start on this course is, you cannot, whatever you do, let the ink dry. It ruins the machine'", recites Owen, "and I just love that idea so much. That nothing is really permanent, and the sharp things, the things that hurt, won't always stick".
With a lot of love for her debut, Owen is also looking to the future. "It's been quite a long time since I wrote some of the songs of the album, so I feel like subconsciously it will free up my mind for new ideas. I like the idea of having a clean slate again, and diving into a different collection of ideas". Already working on her next set of ideas, Owen is dreaming about touring and song-writing – though she describes those two acts as polar opposites – song-writing as personal and introverted, and touring as giving and energy expelling. Though still introverted on stage, she insists touring brings her peace and happiness.
"I'm just so excited for the future. I have big goals that I want to achieve."
Don't Let The Ink Dry is our now via 37d009CD
Get the Best Fit take on the week in music direct to your inbox every Friday