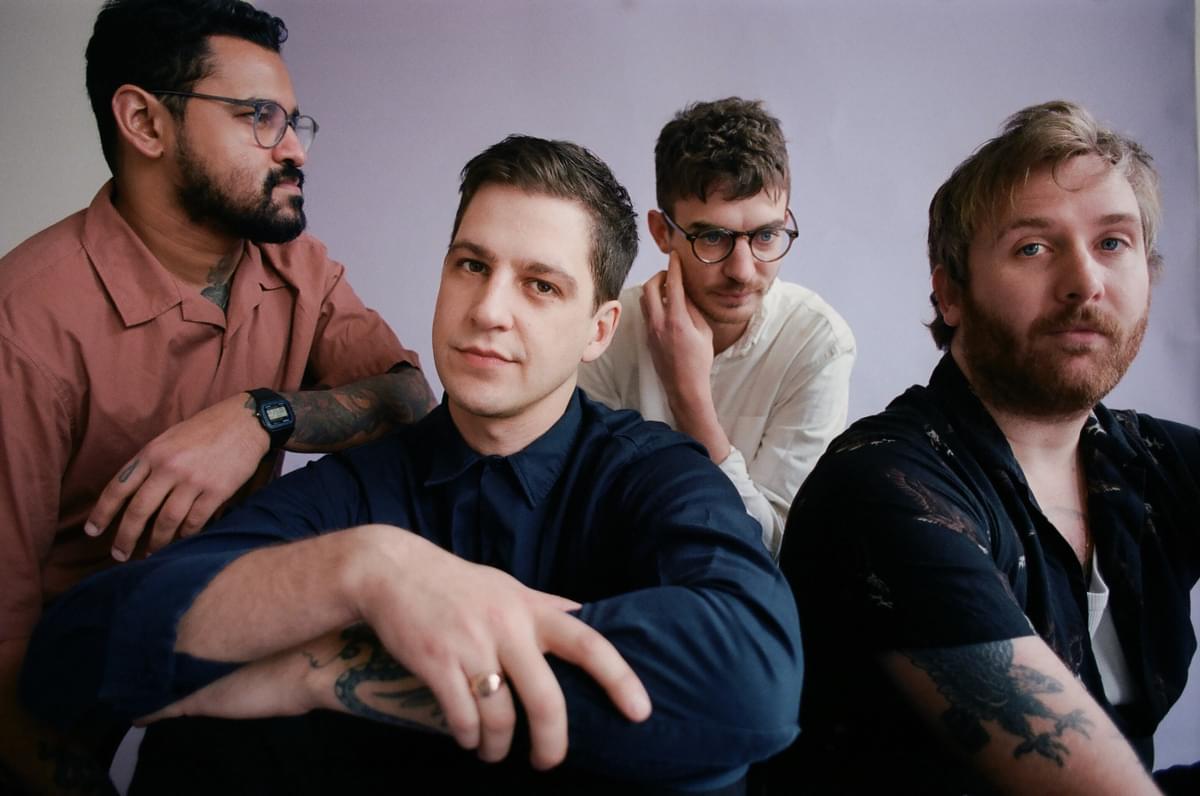 Crows are true believers
16 April 2022, 09:53
In 2019, everything was going well for Crows. They released their debut record Silver Tongues via the Idles-run Balley Records, supported the Bristol heavyweights on tour, and were back in the studio completing their second album when the unprecedented c-word ruined everything.
"Hopefully we haven't fucked it too hard," says drummer Sam Lister across a phone screen, backstage at Cardiff's Clwb Ifor Bach. It's been a testing few years for the post-punk quartet, going from gathering momentum to complete standstill, and then straight into a fresh album and shows. Finally releasing new record Beware Believers via London tastemaker label Bad Vibrations, the group are fresh from showcasing at the SXSW music festival in Austin, Texas and back on tour.
It's a return to a life they knew well. Renowned for a chaotic, visceral, adrenaline-fuelled and pummelling live show, when the live industry shut down, so did the band. "All we did was tour. Releasing became second to playing," says singer James Cox. "We just toured all the time, and that's what we love to do."
Despite several years playing shows and growing a passionate following across Europe, they struggled to find a home for their debut record. That was until Cox, who was working on a burrito stall at Latitude Festival one summer, went to watch Idles' set and felt inspired, messaging singer Joe Talbot on Facebook. "I was like, 'Yo, I love your band. I know you've been doing it kind of as long as we have. It's just given me a breath of fresh air and belief that it can still happen for the band.'"
Already a fan of Crows, Talbot replied straight away, the conversation eventually culminating in the release of Silver Tongues via his Balley Records label and Crows supporting Idles on a sold-out UK tour. The group decided to capitalise on the momentum they were building, quickly writing and recording their second record and planning a trip to the US for the 2020 edition of SXSW. We all know what happened next.
So dependent on live shows to promote their releases and connect with their audience, and so reliant on the income from live to further their growth, Crows came to a stop. Lister moved to South Africa for several months, Cox moved back to Wales. Along with fellow members guitarist Steve Goddard and bassist Jith Amarasinghe, they ceased to write, record or perform, stuck in a covid-enforced limbo.
As frustrating as it may have been, it was the right move. The record they were sitting on, the newly released Beware Believers, is an album that not only truly represents the equally destructive and cathartic force of their live show, but one that doesn't deserve a release which slips under any radar. It's an electric and demanding collection of songs that riff on direct and volatile inspirations.
Lead single "Slowly Separate" disdainfully spits against the relentless unforgivingness of life in a city like London, while "Garden of England" is a Brexit anthem for all those who had the sense to reject the ideologies of Vote Leave. On "Sad Lad", Cox pays homage to Daniel Johnston, while the soaring "Healing" takes another personal spin, using Rupi Kaur's Milk and Honey as a jumping off point.
"With this album, I felt I was a bit more direct," starts Cox.
"I would call that a lack of nuance," Lister cuts in laughing, before favourably expanding. "We wrote it all really quickly, so I think we were all a bit pressured into going with stuff. We're normally deliberating over things for ages, but this was written and recorded in three months, so our hands were tied over overthinking. That's probably why it's so direct and to the point."
Sonically, it's not as abrasive as their previous offering. The energy and ferocity that's present in their live show is prominent, but the guitars are rich, Cox's vocals are strong yet oddly mellifluous, his melodies instant. The basslines are heavy, the snare strident, but there's a warmth in their tonality. On Beware Believers, Crows strike an affirming balance between sentiment and delivery.
"I'm really glad we went to America with this album, because I think it's much more representative of what we're like live, and I just think it's a stronger album," says Cox. "We did add some strings to it. We never thought there'd be strings on a Crows record. To be honest they're barely audible, but they are on there."
The time between recording and releasing the record also allowed the band to get creative with their artwork and vinyl pressings. Working with longtime collaborator, tattoo artist Elliott Lane, the band created four different packages of their record. "That enhanced the release massively. I think that makes it more worth the wait," says Lister.
Going out on the road now, three years after the album was written and before the world changed, songs like "Garden of England" have taken on a new meaning. European touring for artists like Crows has become more expensive and restrictive since the Brexit vote. "Before, a band of our level really benefited from being able to go and do a weekend of shows in Europe and that helped us sustain everything. But now, it's much more difficult to do that, which is a massive shame," says Lister. "Aside from the wider context of it being this awful, xenophobic shit thing that happened, the actual practical realities are really hard to bear as well."
But despite the grief that covid inflicted and Brexit brought, Crows are still ready to pick back up where they left off, and the last few months have been testament to their endurance and adaptability. "SXSW was a massive bucket list for everyone and ended up going much better than we expected. That gave us a bit of a push forward that there's still life in it yet," Lister smiles.
"The whole campaign's been fucking great. It's been nice to see people still do give a shit. Everything's gonna be OK," says Cox. You've just got to believe.
Beware Believers is out now.
Get the Best Fit take on the week in music direct to your inbox every Friday