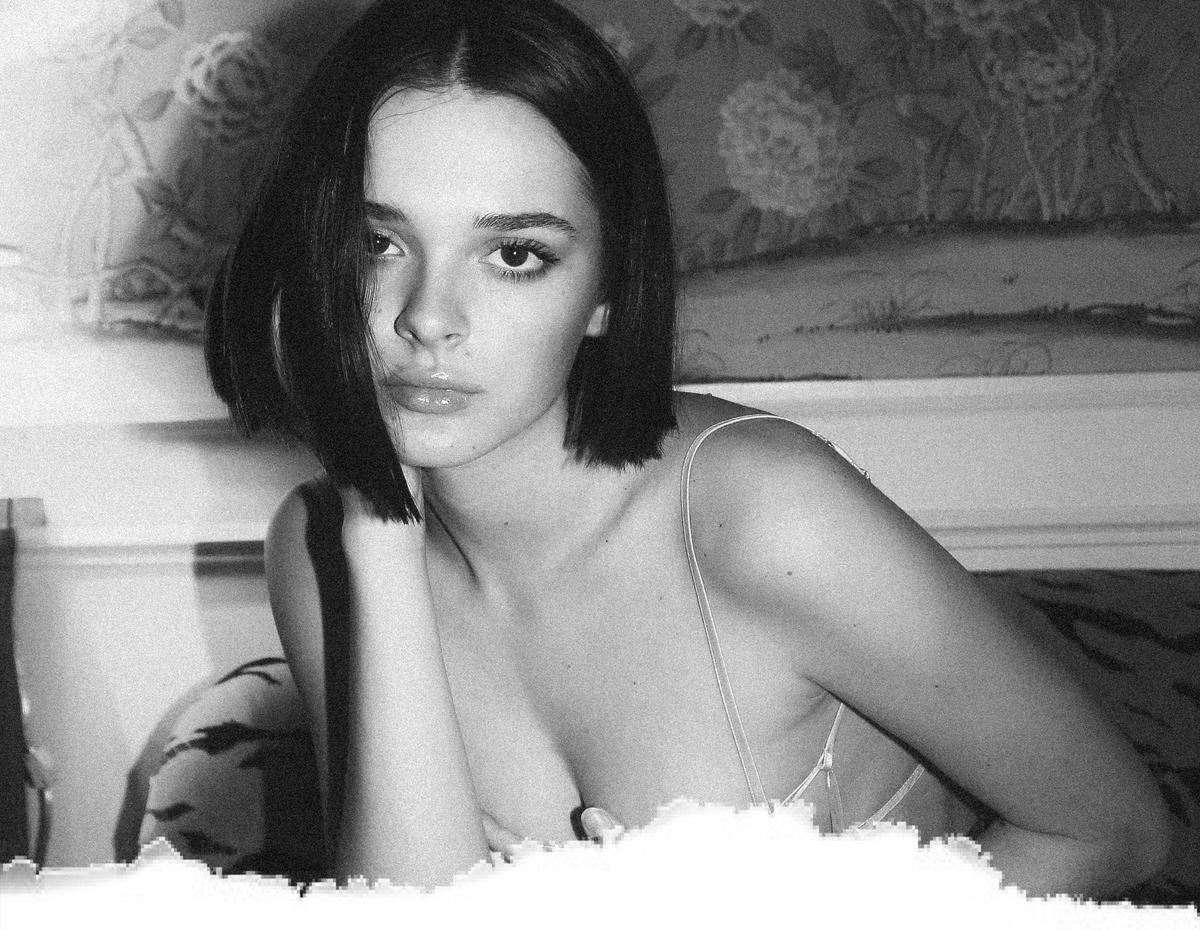 On the Rise

Charlotte Lawrence
01 April 2019, 08:15
Los Angeles upstart Charlotte Lawrence embodies Generation Z's passionate new frontier, delivering of-the-minute pop with a strong social conscience.
"The people that have something to say, and the people that write for a purpose and feel like they need to share their story or their emotions with the world [create] a different type of experience when you listen to their music," Lawrence enthuses, namechecking Bon Iver and Phoebe Bridgers as leading examples.
Bon Iver's influence on Lawrence's writing may be hard to hear on first listen, but it was through a cover of For Emma, Forever Ago classic "Skinny Love" that a 12-year-old Lawrence rose to notoriety.
"My first song that I ever recorded – ever! – the first time I ever stepped foot in a studio, had a microphone in front of me," Lawrence notes of the cover, recorded with Snow Patrol vocalist Gary Lightbody and guitarist/pianist Johnny McDaid.
This star-studded introduction to recording might give an indication as to Lawrence's background: a childhood set against the glittering backdrop of the entertainment industry predictably resulting in a polished output from such a young age. Unlike many in her position, however, Lawrence has a good head on her shoulders, understanding the responsibility her platform has conferred to her since the beginning.
"I completely do [feel a responsibility]. The people that follow me and are my fans, or listen to my music, or like all my Instagram photos, they listen to me. What's the point of having this following without educating people, and trying to help them stand up for what they believe in? I think, with this voice that I have, even though it's not that large, everything counts. Every opinion, every voice, every step, every person involved counts. I'll do whatever I can to help that."
Lawrence cites her age as a major factor in her own socio-political engagement – and as a driving force behind her music. 2018 single 'Keep Me Up' – on top of being a flawless R&B-infused electro-pop track – is an ode to the anxiety that keeps Lawrence awake at night. Whilst she acknowledges the therapeutic effect writing it had on her own mental health, "Keep Me Up" serves a greater purpose in the support it has provided to her listeners.
"I understand what a lot of people are going through. I feel it too. I was able to find something that heals me, so I hope that other people can find their saving grace with that."
"I'm so grateful and blessed [that] it seems like it's helping other people," Lawrence gushes. "Having people resonate with it – even just getting messages from people being like, 'wow, this song helped me', or 'I heard this and it made me feel seen' – is very consoling.
"I've had anxiety since I've been little," she continues. "I get it constantly, whether it's fully mental or fully physical, it always comes in different ways and surprise attacks me. When I first started getting it, I wouldn't really speak about it 'cause I'd feel a little bit embarrassed, or like I was just being crazy. As I started learning that a lot of my friends and a lot of people that I look up to have the same issue, I was like, 'we have to speak about it more, and we should bring light to it.'
"If I have an anxiety attack, I'll pick up my guitar and I'll start writing and it will calm me down. Even to talk about it out loud gives me a sense of relief. Through writing "Keep Me Up", it helped heal me. It helped get that feeling out.
"It's not my duty, per se, but I feel a responsibility because I understand what a lot of people are going through – so many more people than I ever thought. I want to be like, 'look, I feel it too. This is what helps me. Maybe this can help you, and you can relate to this.' I was able to find something that heals me, so I hope that other people can find their saving grace with that."
Mental health is not the only issue with which Lawrence is keen to engage, both on a personal and a political level. Indeed, the singer attended 2018's March Four Our Lives, an event founded by survivors of the shooting at Marjory Stoneman Douglas High School in Parkland, Florida. As per its mission statement, March For Our Lives sought to take a stand against "senseless gun violence" – something Lawrence is quick to condemn.
"I went to this march with my best friend, and it was just so amazing," Lawrence asserts. "You look around you and you see adults – grown women and grown men – but you also see so many 10-year-olds and 18-year-olds and 20-year-olds: young people speaking up for what they believe in.
"I strongly, strongly believe in reforming gun control laws," she continues. "I think America is one of the few countries where this regularly happens and we have yet to do anything about it. It breaks my heart. We have a tendency to just say, 'I'm praying for these people and their families, I'm sending all my love,' but not actually do anything about it. Although we have many negative stereotypes, one of the most incredible things about my generation is that we're finally speaking up politically for what we believe in and trying to make as much of a difference, as young as we are. This march, March For Our Lives, was lead by kids and started by kids that had to go through this horrible, life-ruining, devastating school shooting.
"I do believe you can either do nothing, or you can do something. I want to do as much 'something' as I can."
"I'm kind of careful about what I say politically online," Lawrence admits, "but I do believe you can either do nothing, or you can do something. I want to do as much 'something' as I can. It's a crazy issue to speak about, 'cause I'm standing up for children's safety – my safety, and my little brother's safety. You gotta do everything you can do. A lot of people say, 'oh, but you're only one voice, how does that count?' One voice can affect the opinion of many more people. I'm hoping for change."
The conversation turns back to music, but the collaborative ethos of Lawrence's generation remains a central theme. Last year, Lawrence wrote and recorded Spotify Single "Psychopath" with fellow musicians Sasha Sloan and Nina Nesbitt. The track, which has been streamed more than 24 million times, was the first multi-artist single to ever be commissioned by Spotify, and nobody is more surprised than Lawrence by how well the project – which also included a jointly recorded B-side, a cover of "Girls Just Wanna Have Fun" ­– turned out.
"I truly think in music you cannot just find your sound and find who you are without trying and failing a million times before."
"Spotify put us together and wanted us to make a female empowerment song," she explains. "The first day we met was in the studio, all three of us, and we were expected to write and record this song in the one day that we had together. We ended up instantly bonding on a personal friend level, but also on a creative level, and wrote 'Psychopath' in such minimal time with all of us contributing equally. We stayed friends, and have a group chat! Tonight Nina Nesbitt is performing at the Roxy in LA and I'm gonna go onstage and sing 'Psychopath' with her. It turned out that we all just loved each other and bonded and clicked. Very lucky! Good job, Spotify."
Of course, despite her collaborative success, Lawrence is working on plenty of solo material. Another fan favourite – and indeed one of Lawrence's most treasured projects – is recent offering "Bloodstream". The track is currently only available as an acoustic version, via Vevo DSCVR, but Lawrence is committed to finding the perfect way to lay it down in the studio.
"I wrote it probably a year ago, with one of my best friends Jesse Thomas," she says of the track. "We wrote it in a half an hour just hanging out; we had no plans to write a song, and it just kinda came out. I instantly fell so in love with the lyrics, the music, and the melodies, that I was like 'guys, I need to put this out! I need to start recording it! I need to start performing it!'
"I've been through so many rounds of production with this song – a little bit faster, a pop song, very slow, with a lot of drums, electronics… every single time it's not as good as it is just me with my guitar. I still do not know what we're going to do with it, but I perform it at every concert, just me and my guitarist Scott. It's so much fun! All I want to do is get this song out, but I still don't know if I want to keep it acoustic, or if I need to add something. It's a very difficult process."
This frustration is not unfamiliar to Lawrence, for whom studio sessions have been a big part of her life from an early age. She reflects on previous experiences, laughing at how much has been written off in the years it's taken to hone her sound to its current incarnation whilst giving an insight as to the growth on the horizons she is ever looking towards.
"I truly think in music you cannot just find your sound and find who you are without trying and failing a million times before. I'm only 18 – I still believe that I haven't fully found my style yet. I know what I'm doing right now I love, and I know what I'm writing right now is me and authentic. What I'm making now is something that I'm so passionate and proud of, but 100%, in a year from now I'm gonna sound different. I'm gonna be interested in something else, I'm gonna develop in a different way just by learning and experiencing and listening to the world around me."