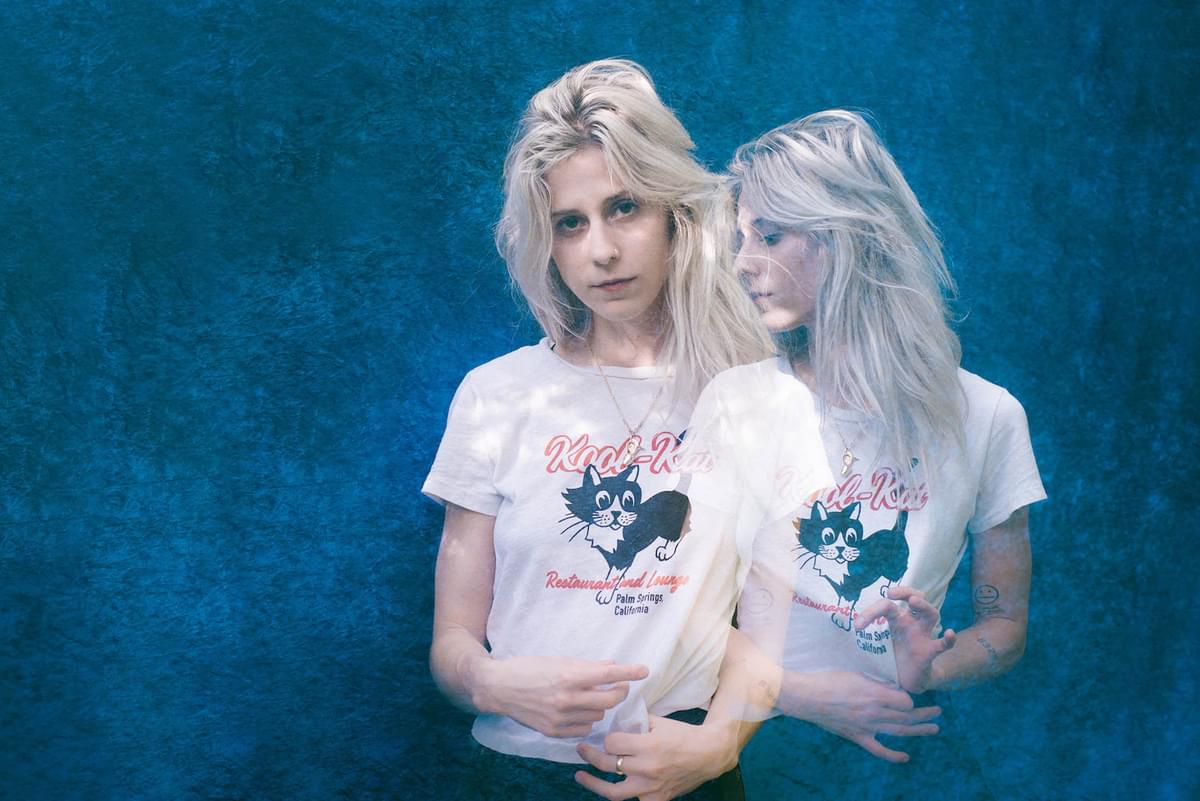 Bully's Alicia Bognanno is allowing herself to fully enjoy the creative process
13 August 2020, 09:00
Alicia Bognanno, the brains behind Bully, has always felt that she had something to prove. Guitarist, songwriter, vocalist, engineer, producer; you name it, Bognanno was it. But following the release of her sophomore record, Bognanno's self-confidence and self-worth hit rock bottom—until she learned the beauty of letting go.
"I didn't wear shorts for five years of my life, and then this year I was like, fuck it. It's just too hot," laughs Bognanno via Zoom from her sunny backyard in Nashville, Tennessee.
"I was insecure about my body in shorts, which is so stupid," she continues. "The first time we played Bonnaroo I saw pictures of myself and I was like, 'Ugh!' but now I'm like, 'Why was I so hard on myself?' You gotta be comfortable, you know?! Fuck it".
'Fuck it' has been Bognanno's ethos for the past year. In the time following the release of the indie-punk band's second LP Losing in 2017, which consisted of some of her darkest material yet, Bognanno went through changes—personally, and then professionally. Intense struggles with a lack of self-confidence, fear of judgement and a need to constantly prove her worth to herself, her peers, and to the world; Bognanno's mental health took a nosedive to an all-time low.
"I've always felt like I had something to prove," says Bognanno. "I don't know if that's because my self-confidence plummeted so much because I never knew if the way I was thinking was rational. I was so far off from knowing if I was in a good state, or a manic state, or if I even felt stable enough to make certain decisions."
A breakthrough in a mental health diagnosis and sobriety, however, allowed Bognanno to let go of the reins she once held so tightly with everything concerning Bully, finally coming to terms with the fact that she no longer needed to prove herself so intensely the way she had before—as she'd already done it all.
Having once overseen all of Bully's studio work—writing, recording, engineering and producing both of Bully's first two records—Bognanno finally broke free from the emotional cage she put herself in that was weighted by her being her own worst and harshest critic, and enlisted John Congleton to produce her latest studio effort SUGAREGG.
"I'm so glad I did that," she says. "I didn't think I'd do that. I wanted to try it, because I was like, who knows? Maybe I'll do it and I'll love it."
The result is a renewed sense of self-worth on SUGAREGG, a sun-kissed departure from the gloomier and darker tones of Losing but still retaining every inch of the trademark grunge ethos. It is the first Bully record not produced or engineered by Bognanno, but still the one that Bognanno shines through the most. Stepping back from engineering allowed Bognanno to fully embrace the musicianship side of the project (she also doubles up on rhythm and lead guitar duty for the first time in Bully's recording process, layering multiple guitar tracks on top of one another).
SUGAREGG is Bognanno in her most natural frame of mind. "I just felt I was back in the place where I kind of started Bully," admits Bognanno, recalling the lead-up to the album.
"John was really straight up. It was, like, 'I know you can record your own records. You've done it. So why do you want me to do this?' I really liked that. I told him I didn't want to have that weight on me. I got in there and I was like, 'I don't give a fuck.' I think that it served the music a lot better."
With a new lineup that includes drummer Wesley Mitchell and bassist Zach Dawes in tow, SUGAREGG has Bognanno returning to her roots, exemplifying how Bully has been, and ultimately always will be, the artistic vision of Bognanno. To recall The Fall's Mark E. Smith: "If it's me and yer granny on bongos, it's the Fall"—except, in this case, it's Bully.
"In the past, I wasn't able to do both of those a hundred percent," says Bognanno. "I was watering down both sides, trying to juggle. I think if I were to have been with a hotshot dudebro, it would've been different. Being able to work with people who respected my leadership role was huge. It was definitely the most enjoyable studio time I've ever had."
Even though SUGAREGG is a departure from the heavier tones of Losing, recalling the more lo-fi pop punk of debut album Feels Like, but that doesn't mean its subject matter is any less intense.
Songs like "Where to Start" see Bognanno grappling with a relationship that has her regressing, and is the quintessential Bully track. Bognanno's trademark Kurt Cobain screams reverberate amid sunny, surf-rock guitars in a perfect example of how two can make an absolute banger of a song.
Tracks such as "Come Down", and "Fire", however, touch upon more serious issues like Bognanno's struggles with bipolar 2 disorder, and, later, her reckoning with the diagnosis. After Bognanno's self-confidence plummeted due to constant anxiety about being judged, it was the act of learning to have faith in herself and her abilities that eventually got her through.
"It's definitely not gone. I have to actively work on it, and it's really frustrating to deal with," says Bognanno. "My chest tightens up thinking about it. I remember that feeling of paranoia all the time. It got to the point where it was hard for me to work because I didn't want to do anything. I didn't want to share anything. I was so afraid of backlash for no reason."
"But now," she says, "I know how to go with my gut a lot more. When I was first being diagnosed, I had no gut. I was so disconnected from myself. I was a shell of what I could be. Working that out has helped me in every aspect of my life, particularly with [being] able to do music and being okay with myself."
And so Bognanno got to work. Taking time away from writing and touring with Bully allowed Bognanno to explore other creative avenues that didn't invite so much pressure - such as writing the music for the 2019 feature film Her Smell starring Elisabeth Moss.
Another breakthrough for Bognanno was realising that constantly trying to create art when you're at rock bottom doesn't always provide the right, or healthy, kind of catharsis. Poor mental health within the music industry - derived from the pressures of touring, producing, and everything in between - is a topic that is under-discussed in the mainstream.
"You don't have to go through death to create beautiful art," says Bognanno.
"When you feel like you can't make it through the day, you're not turning out the best songs. You're just crying over your guitars. It's a shame that [poor mental health] still is romanticised. That's not to say beautiful art can't be made in whatever state you're in, but thinking of that as the only way to make something creative… it's just not true."
"Every Tradition" is one Bognanno's most literal songs, detailing her frustrations at certain expectations thrown at her as a female musician. Bognanno voices her exasperation at being expected to conform to certain "traditional" roles as a woman in society: "It's like pressure to have a baby / When I don't want one in my body / You say my mind is gonna change one day / But I felt this way forever some things / Stay the same, I stay the same".
"Everyone can decide what to do with their own bodies and there's nothing wrong with that," explains Bognanno. "It's not for anyone else to decide or to tell you what you want to do with your body. It's that condescending tone of when people are like, 'You'll change.' It doesn't have to be that for me. It almost like I was being shamed for it."
It's surreal that despite being as successful as Bognanno is with Bully, some people still think that there is something 'missing' in her life - as if it isn't enough to be a musician. It is the false idea that a woman is not fully "complete" unless she bears a child. And though female rockers such as Kim Gordon and Viv Albertine have juggled both motherhood and musicianship, it ultimately is in the choice of the woman.
"It's okay to not want to do something just because you're able to. I don't say that with judgement of somebody who wants to have a baby," Bognanno exclaims. "I love that. Have your beautiful babies! The whole point is that I'll do what I want to do and you do what you want to do, and there's no right or wrong. It's your life!"
So, if you find yourself buckling under the constant pressure of self-imposed anxieties or feeling like you need to appease societal ideas made for you, just listen to Bognanno... and "fuck it".
SUGAREGG is out on 21 August via Sub Pop
Get the Best Fit take on the week in music direct to your inbox every Friday