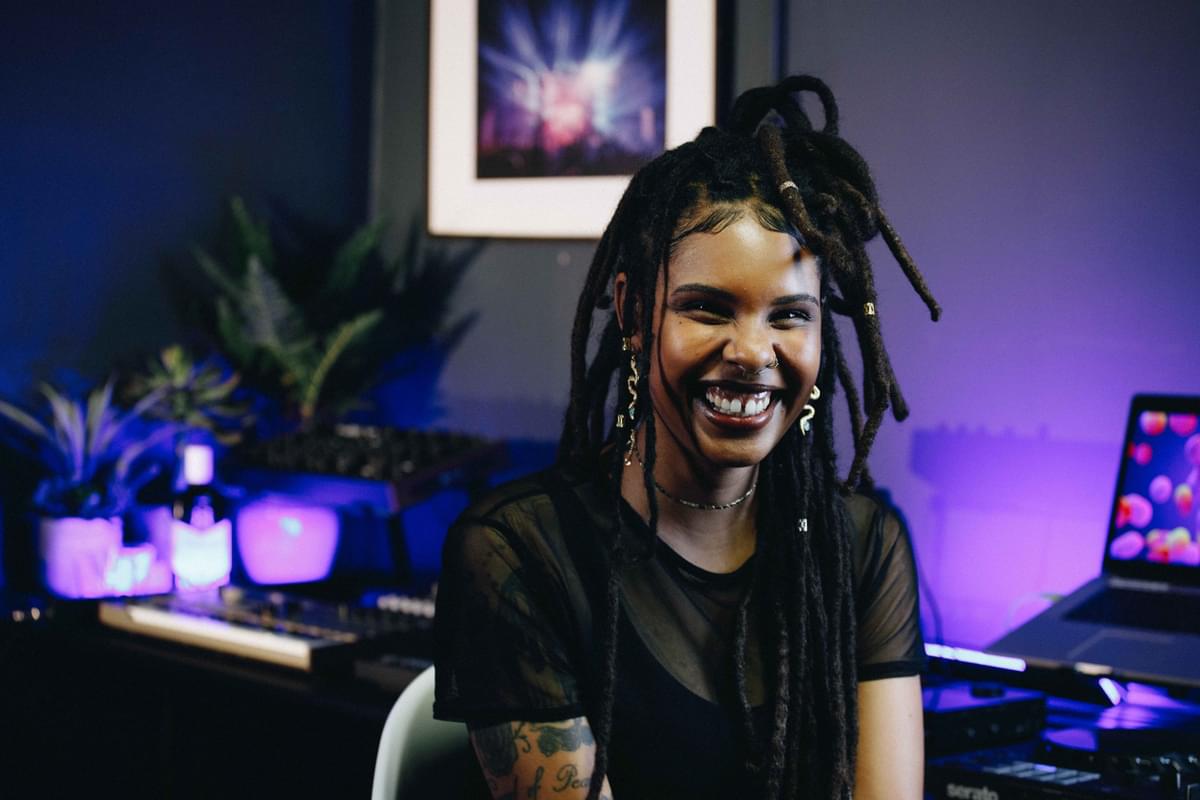 How Ballantine's is supporting marginalised creative communities to promote diversity and inclusion
20 December 2021, 15:00
Rapper and musician Dope Saint Jude talks about helping foster a safer future on our dancefloors following the release of a report by Ballentine's about the scale of discrimination at live events.
There is defiance on the dancefloor. Under the strobe lights you can find suspended reality; self-expression without apology. The dancefloor has always been a fortress for marginalised communities who have both defined and pioneered its experience, claiming it as a refuge from the world beyond its doors which, for one night, can be forgotten. But when the global pandemic saw this lifeline severed, it offered a time of reflection to appraise just how inclusive and diverse the dancefloor we left behind truly was, and how we can lay the foundations to rebuild it.
Dope Saint Jude, a South African rapper and musician, entered into music with the firm belief that it should elevate her community of queer creatives of colour who are just as intrinsic to her output as her own identity. The visuals for her floor-filling anthem "Grrrl" places that community squarely in front of the viewfinder, where their visibility is not optional but a matter of fact.
It's an aim that Ballantine's Scotch whisky shares, recognising the need for global brands to step up and provide the oxygen to grassroots music communities like Dope Saint Jude's around the world. With these underrepresented scenes struggling during the 18-month hiatus of the pandemic, Ballantine's created the True Music Fund, totalling £100,000, to support marginalised creative communities to promote diversity and inclusion.
In collaboration with Dope Saint Jude and six other music industry figures (including Berlin-based DJ Honey Dijon and SB.TV founder Jamal Edwards MBE), as part of the Ballantine's True Music Collective, they have been given a £10,000 grant each to give to a chosen grassroots organisation to foster a brighter, safer future on our dancefloors. The four remaining grant recipients will be selected via a panel of diversity and inclusion experts led by Vice.
In their report, Resetting the Dancefloor Ballantine's discovered that 1 in 3 people have been victims of discrimination at live events. It's a statistic that, to Dope St Jude, comes as no surprise. She says, "I think that goes for a lot of spaces, especially as minorities: you walk around with a shield or some kind of armour in a world that isn't created necessarily for you." She resonates with a statement eloquently made by Honey Dijon: "You have to learn to be comfortable with being uncomfortable."
In 2020 there was an unparalleled demand for change in the fallout of the global pandemic. Issues of social justice that would usually be drowned out by the hum of our own lives were brought sharply, and unavoidably, to the forefront. "There was a time for pause," remembers Dope Saint Jude. "I think people were able to reflect a lot. While the pandemic was hard for people, it provided a rare time of introspection. So I think, we, as larger communities, evaluated our place and the way we engage with each other, like how the Black Lives Matter movement had a big resurgence. It was a time to think about our shared humanity."
A dancefloor, Dope Saint Jude feels, is only as safe and inclusive as the people who are facilitating it will allow. "There are certainly dancefloors which felt unsafe, and I think in those cases, the people curating the space didn't take the safety of queer people seriously. But then I've been on queer dancefloors where our safety was prioritised, and I knew that I was in no danger of being attacked or objectified for my sexuality, and that my queer trans friends were safe. The responsibility really falls on the people organising the space."
"I've had trans friends be excluded because of their gender expression on gendered dancefloors where men and women are expected to dress a certain way."
Another long-outdated facet of our nightlife is restrictive dress codes, thinks Dope Saint Jude. "I've had trans friends be excluded because of their gender expression on gendered dancefloors where men and women are expected to dress a certain way," she tells me. "I think it's quite archaic. They're turning away a big group of people because they don't subscribe to those gendered dress codes, and having to go through the bouncer asking, 'What are you?' I've been with my friends when they've experienced that, and it can be heartbreaking."
But the question is, with Ballantine's True Music initiative pledging to encourage a more inclusive global music culture, how can we make this a reality? "I think it's quite a mammoth task," Dope Saint Jude acknowledges. "When we talk about diversity, often we think in terms of having people of various races or socio-economic groups or different sexualities represented, but I recently received a message on my social media during the 'Resetting the Dancefloor' campaign, and she was saying she was a disabled woman who was struggling to access live spaces," she shares. "There needs to be an overall awareness and an understanding of the different walks of life that people come from. It's difficult to answer because there's so many layers to it, you know, but I think it starts with having these kinds of conversations."
Through her own involvement with the campaign, Dope Saint Jude has been constantly learning: "This is what excites me about being involved in a project like this, because I didn't even consider how inaccessible the clubs I perform in can be. So now, whenever I book events, I'm going to say that I'd like it to be wheelchair accessible and maybe, in the future, even have a sign language interpreter. I love that through doing this, I've been able to have these conversations and make changes with my team going forward."
Through its True Music platform, Ballantine's is also committing to ensuring that no fee gap exists, by taking an active role in making sure talent are paid fairly, in partnership with London-based live music platform, Boiler Room, to take action. Slowly but surely, Dope St Jude believes that we're moving closer to that goal. "I think that, now, line-ups are changing quite substantially," she says, "and while we have a long way to go, I think it's maybe more in terms of the music economy: I'd like to see artists of all backgrounds with similar followings to be paid similarly. The line-ups are changing, but it hasn't always been my experience that this transformation has happened in terms of artists being fairly as well. Like I said earlier, it's about the people facilitating these spaces to start treating this as a priority."
"Young people feel emboldened to create spaces that they completely define."
Dope Saint Jude has chosen to award her £10,000 grant from the True Music Fund to Bridges for Music based in Langa, Cape Town, which was founded in 2021 with the goal of bridging the gap between creatives from communities lacking resources, and the privileged international music industry. It's a group that is local to her. "It's a difficult socio-economic place to grow up in," she shares, "and I know that education helped me to access a better life and to become a better resource to my community. I believe in what Bridges for Music are doing because they're using education as a way to give young people access to a more fulfilling life path that I think should be available to kids in that area."
Through collaborating with Ballantine's True Music initiative, Dope Saint Jude is more optimistic about the live music landscape than ever. "I feel especially excited about the future when I look at mainstream music," she shares. "I'm seeing changes. The biggest-selling rap artist is a gay Black man: Lil Nas X really inspires and excites me. I see the kind of parties that are being thrown in Cape Town back home and the spaces that young people have access to, and it has transformed so much in the last few years." But more than anything, Dope Saint Jude believes that "young people feel emboldened to create spaces that they completely define" – their mission is already well underway.
Get the Best Fit take on the week in music direct to your inbox every Friday