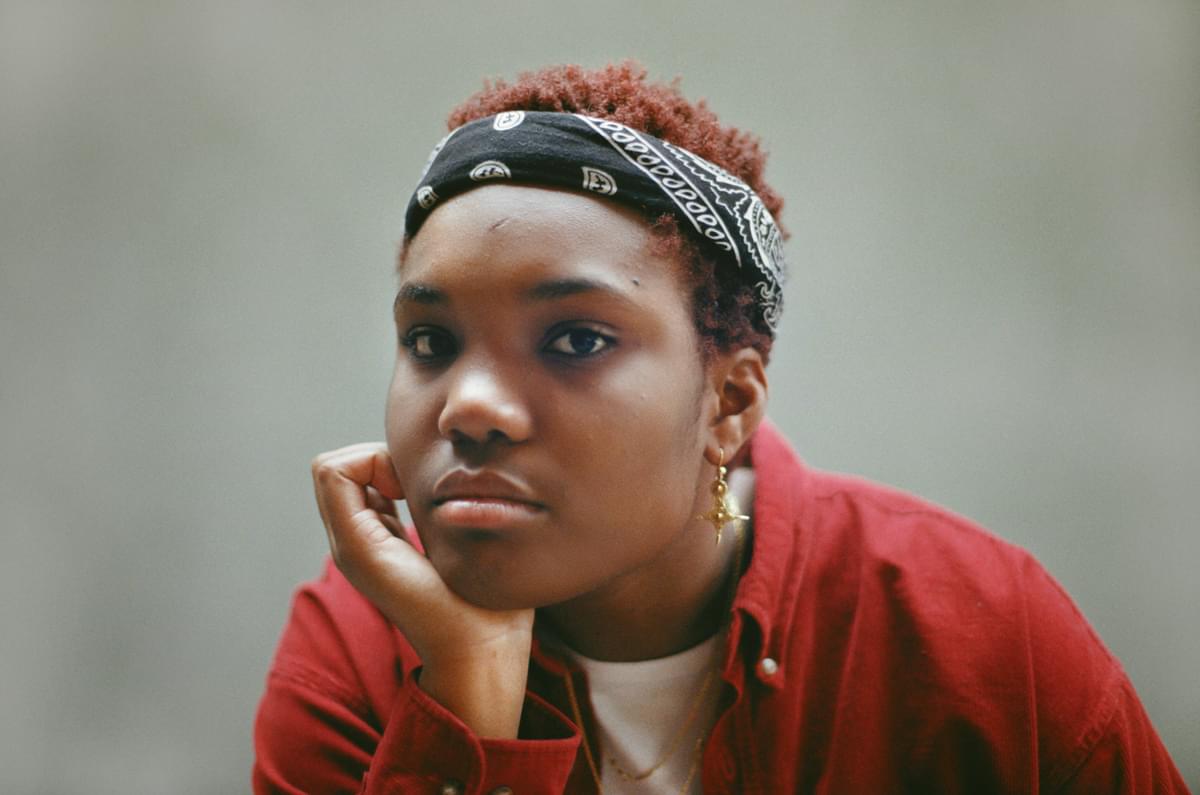 On the Rise

Arlo Parks
28 January 2019, 22:00
18-year-old South Londoner Arlo Parks puts identity and generational anxiety at the heart of her affecting, soulful left-field pop.
"Cola", the lo-fi debut from Arlo Parks, snuck onto our list of the best songs of last year without fanfare: it simply belonged there. Unpretentious, confessional, and deliciously vibey, it generated effortless hype and now all eyes are on Parks for the imminent follow-up.
"I didn't really expect anything," Parks says, of the response to "Cola". "Having people reaching out to me being like, 'oh, this helped me during a difficult time in my relationship,' or really connecting to what I was saying… I didn't expect that. I'm brand new on the scene and I just put it out there. It was way better than I ever anticipated."
What we've heard from Parks so far is undeniably beautiful, but to appreciate it fully it's worth taking a moment to get to know the person behind the music; where she comes from, and where she wants to go.
Parks sits at the forefront of Generation Z – the digital natives born into the uneasy wreckage of this new millennium. Unlike their burnt out millennial forbears, Gen Z are fiercely individual: dreamers, optimists, creators. All this, in spite of the global uncertainty and chaos they're faced with every day. It's this contrast that Parks encapsulates in upcoming single "Super Sad Generation".
"I'm not sure if it's social media, or what it is, but my generation are all fucking sad!"
"In my age group, there's a lot of prevalence of mental health [problems], being self-destructive, and quite hopeless," she explains of the track's inspiration. "I'm not sure if it's social media, or what it is, but we're all fucking sad!
"A year ago, my friend took his life. It shocked me, and ever since I've been trying to encapsulate that feeling into a song: kind of lost, but also hopeful. It was quite an important song, I felt, for me to make."
When probed, Parks elaborates on from exactly where her generation's well of hope springs.
"There's so much talent, so much vibrancy, and we still have that youth. If you look at LGBTQ issues, there's more awareness, and I feel like – obviously not in all places ­– there is more acceptance. More people are talking about depression and anxiety; it's been made more okay to look for help. Even though online communities can be quite toxic, there's more space to get support. In some places it's not as accessible as others – it's not there yet – but it's growing."
Having touched upon the LGBTQ theme, it seems pertinent to mention that Parks is openly bisexual. This is perhaps less surprising than it might have been even just five or 10 years ago, as Generation Z is by far the queerest generation in recent history. However, Parks speaks maturely on the importance of providing role models to those yet to come out, particularly given her identity as a black woman.
"Coming out as bisexual was freeing in a way, because it allowed me to talk about experiences and feelings about certain things and people that I didn't feel able to before.."
"I wanted to put [my sexuality] as a facet of myself because it's not talked about as much for queer people of colour. It's an important thing for me to show people that it's okay. Some people are terrified of it, and I understand that.
"Coming out as bisexual was freeing in a way, because it allowed me to talk about experiences and feelings about certain things and people that I didn't feel able to before. Obviously there's still judgement and it's still taboo, and I didn't want to pigeon-hole myself as the bisexual artist, that's just a part of who I am. That's it."
She's also not alone as a new queer artist – even as a young, female one. When asked who inspires her, "Pussy Is God" singer King Princess is one of the first names to leap out.
"I think she's sick. She's got so much swag. She's really dope, and she's so unapologetically who she is that it made me feel like I could talk about things."
Other inspirational artists flow thick and fast, spanning time and genre.
"I've always loved Earl Sweatshirt, his solo stuff. When I listen to Doris, which was his first album, lyrically it really reminded me of MF DOOM – going back to an old person! I love that.
"I really like The Internet. People compare me to Syd, and I'm like, 'ahhhh! My queen!' It's a massive compliment. I've also been loving boygenius, which is the collective between Julien Baker and Phoebe Bridgers. I think they're amazing. I listened to all of their solo stuff before – Phoebe Bridgers' first album I thought was amazing. Listen to the whole thing!"
"The best music is when you listen, and you're like 'I'm not really sure what this is, but I love it.'"
The artist who gets the most time, however, is hyperkinetic producer and Charli XCX collaborator SOPHIE.
"I was listening to something else, and Spotify recommended 'Faceshopping'," Parks explains, of how she discovered the Glasgow-born musician's synthetic sounds. "I was like, 'whoa.' 'Cause you know it starts off quite nice, and then it was like, BOOM. Now all the music's changed and it's like, thanks Sophie. Revolutionary."
She continues: "The best music is when you listen, and you're like 'I'm not really sure what this is, but I love it.' A lot of people were like, 'I don't like this, because I don't understand it,' but honestly, I think she's amazing."
These modern influences all feed into the melting pot that is Parks' inspiration, but they don't comprise the entirety of its contents.
"I don't necessarily just take influence from music," she notes, adding that it is a dream of hers to release a book of poetry "in a couple of years". "I'm inspired by art as a whole."
An important literary touchstone for Parks is the work of famed poet and novelist Sylvia Plath – in particular the semi-autobiographical "The Bell Jar".
"I found it really moving," she says. "Obviously Plath did, in the end, take her life, but [the book] weirdly gave me a sense of hope – especially the quote which is listening to your heart saying 'I am, I am, I am.' It inspired me; I can't really say how – some of the imagery that she uses about being a young woman and struggling with mental health. It connected with me on various levels."
"My computer is backed out with a million-and-a-half demos!"
Jumping forwards several decades, Parks cites active feminist poet Nayyirah Waheed as a further influence within the sphere of the written word. She contrasts Waheed's work to the "long, old, English poetry" of the classroom (Parks sits her A-levels this summer) and praises her innovative, accessible brevity.
"I like the fact that it's so concise. It's like a little voicemail of a poem. You can interpret it in so many different ways. The topics that she covers, like womanhood, being empowered, relationships, sex, being a person of colour… it's amazing. I go by the philosophy that less can be more. If you give someone an idea, then they can apply their own [perspective]. I'm sure people see 'Cola' in a million different ways. People were saying that for them it wasn't about romantic love, it was about platonic love, and I like the fact that people can interpret it however they feel."
One final piece of the seemingly never-ending puzzle that shaped Parks' palate into what it is today is the key force of her upbringing in South-West London.
"What got me into music were the records that my Dad would play at home. If you grow up listening to a certain genre, you're always attached to that. For me it was jazz, mainly. I'd go to underground jazz clubs, and when you grow up with certain rhythms or certain instruments – I love the saxophone! – that informs the type of music that you make."
Of course, this list of inspiration is not exhaustive. Its staggering breadth, however, comes back to the qualities of a Gen Z upbringing. To the youth of today, it makes no sense to respect the arbitrary divisions between media of different types or ages. Indeed, Parks has always had the whole world of art at her fingertips: Spotify's archive spans the breadth of human audio recording, whilst Nayyirah Waheed's poetry is freely available on Instagram and Twitter. Once you understand how culture is consumed in 2019, you begin to grasp how it is created. Parks' work simply happens to embody this new frontier.
So, what's next for this bright new talent?
"My computer is backed out with a million-and-a-half demos," Parks admits. Her manager explains her schedule going forwards, estimating we'll hear around ten of those million-and-a-half tracks within the next year. "I don't want to make any concrete plans this early on!" she laughs, but does share that her debut EP will arrive in March, and we'll hear the third (self-produced, Massive Attack-inspired) single very shortly.
"Super Sad Generation" is out 31 January via Beatnik Creative.
Get the Best Fit take on the week in music direct to your inbox every Friday