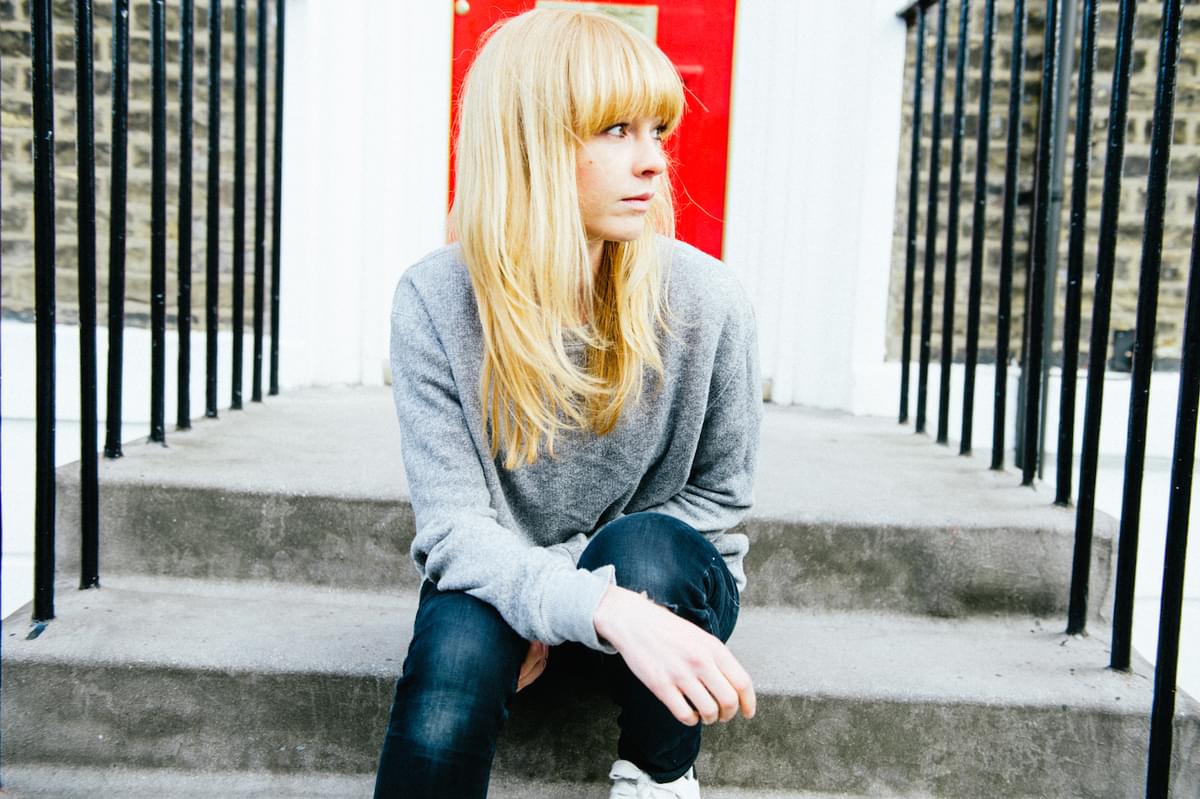 "There should be more girls": Lucy Rose on festivals, feminism and honesty in music
15 July 2015, 09:00
The first words on the first single from Work it Out, Lucy Rose's second album, are "I'm alive". As indications for positive approaches go, you can't get much clearer than that.
Although her 2012 debut Like I Used To wasn't short of confidence and showcased a songwriter with a burgeoning talent, the Lucy Rose of 2015 feels like an altogether more assured beast. Perhaps a brave choice of single for fans who may have been expecting more acoustic guitar/folk/singer-songwriter fare, "Our Eyes" is an electrifying introduction to album number two Work It Out and just a taster for the bold, bright and eclectic treats to be found across its fourteen tracks.
Rose's twenties have been spent immersed in music, from being part of Bombay Bicycle Club to playing and releasing her own music and maturing as an artist. Some people have the luxury of not doing their growing up in the glare of a media spotlight and so their transformation from an insular, unconfident person to a self-assured adult might go unnoticed but with Rose we've been able to experience this journey through her music. Work It Out is the sound of an artist who finally knows where they are heading.
I interrupt a Periscope session that Rose and her band are taking part in to chat to the singer about her new album, the demands of being on a record label and what to definitely avoid calling her music.
Although Rose is now in full festival mode, she attended Glastonbury as a mere punter and left impressed by the last-minute Friday headliner: "Florence blew me away big time," she effuses. "Not that I wasn't already a fan – I definitely was –but she blew me away with everything she was doing. And also it felt like she was doing it for the girls in a really big way…just everything: the way she holds herself, what she was wearing, she's just gorgeous!"
Rose has been vocal in the past about the lack of female presence on festival bills and when I point out she's one of the few women on the Reading and Leeds bill, asking if it's something that moves her to action she's quick to respond: "Yeah I feel passionate about it all!" exclaims Rose. "There should be more girls and it's totally unacceptable that 89.6% or whatever it was are all male acts at Reading and Leeds, which is insane. But there's all sorts of things that wind me up." The singer goes on to cite another example of the way women are treated in the industry. She tells me "there was something in Clash magazine this week with Little Boots, and she was reviewing my song. And it just started, like her first sentence, with 'girl with acoustic guitar' ["girl with a nice voice and guitar" is the offending quote]…that was her first line of describing my music! I don't care if you love it or you hate it, I'm not precious about it at all, but I wish people could just talk about music without it having to be described by gender."
If you thought that was bad, Rose explains that Little Boots continued to dig a hole for herself: "I think she even said 'if you like girly guitar parts' ["nice dreamy girly guitar dream pop" is the clumsy, embarrassing, misguided and downright awful quote] and I was like 'girly guitar? I don't feel like I play the guitar any differently to a guy…just because I'm a female!""
Rose's annoyance is clear to hear, and it's completely understandable: "It's all these small things I think people should be aware of, it's really grating sometimes because you never have 'boy-ish guitar playing', do you?"
Whether you like Florence or not as an artist, the fact that there was a woman on stage headlining the Pyramid stage on a Friday night is about a million steps forward from the likes of Kasabian in previous years, or the lumpen meat-and-potatoes nostalgia act of The Libertines immediately before her. That's something Rose is delighted about: "Seeing a woman up there headlining Glastonbury was just awesome," she affirms, "but definitely a rarity. Was Beyonce the first [woman] to headline? And that was only about three years ago…it's kind of mad." I say that despite comments like the ones made by Little Boots, or the safe (often sexist) choices made by festival bookers 2015 does seem to be the year when people started to vocalise their displeasure. "Yep, at least people are talking about it," agrees Rose. "I think a lot of the time people are scared to talk about it, especially if you are a woman in music. You've got to make people aware and not pigeonhole women as making the same kind of music…but I think it's getting better."
Rose's honesty is something that comes across in new album Work It Out; it's not that debut album Like I Used To wasn't an honest version of the singer, but there's something about the variety of styles, the eclecticism and the positivity that rings true second time around. Maybe it's a depth beyond the acoustic troubadouring, maybe it's a developing maturity that's changing Rose but it's something she agrees with: "Yeah, definitely. I mean, it is the most honest version of me because I could never…." Rose tails off, but the suggestion is clear. She's not here to pretend. "I've got lots of different sides to me," she says, "lots of different personalities – and it's hard to get that through in an interview or just meeting someone for the first time. Everyone's got extra depth to them and it's more than what you see on the outside….and I guess musically that's what I try to get out – the most honest version of me." From only speaking to Rose for a short period of time it's becoming clear that she wears her heart on her sleeve…but sometimes that only extends as far as the music: "That's [the honesty] something that even people close to me might not know about. I only write because it's about things which are important, that's what I want my songs to be about. I don't want to write about a mundane day or something, it's got to be something important to you and a big part of who you are. It's nice that you can see all that because I wouldn't want to write a song if it didn't mean anything."
Upon hearing the first single "Our Eyes" it was abundantly clear that Rose was broadening her horizons. A huge pop tune with processed beats and electronics, it points to the path that Work It Out often takes. While the acoustic guitar still makes an appearance – the light and countrified "Like An Arrow" is the best example – the album is littered with technicolour pop, from the hard-edged "Koln" to the caffeinated and deeply sunny "Til the End", yet Rose's folkish vocals never let you forget her roots. With a widening palette came new recording techniques and experiences; Rose explains "the demos were recorded differently, and the final recordings too. The first was in a DIY-esque studio, which was my parents' living room, and this time around it was my first time in a recording studio and that was huge for me." Not all her time was spent in the studio, though, and the rough outlines of many of the songs began in the back of a van, working on a tablet: "The demos were written on a Beatmaker 2 app," reveals Rose. "I guess it starts with drumbeats and basslines, and that meant I wasn't confined to playing an acoustic guitar in a basement. I got really into the technology side of things, the beat and the electronic stuff which I could do while sitting in the back of a van somewhere."
Given Rose's extensive time singing and touring with Bombay Bicycle Club it's not much of a surprise to learn her experimentation on Work It Out was partly influenced by that band: "I think the first time I was introduced to it was when I was touring in Brazil with Bombay Bicycle Club and Jack [Steadman, singer and guitarist] had a tiny app on his phone," she begins, "and that could have been before my first record was out. I remember using it all week with him, making beats and recording anything, stupid things like a coke can opening up! I think he was the first person to introduce me to that."
With Rose revealing that the genesis of Work It Out goes a way back, coupled with the fact that "Our Eyes" was released around a year ago I wonder if she's been sitting on her hands waiting to release the record for a little longer than she would have liked. A peril or pitfall of being on a major? "Yeah I guess I'm still learning how to deal with different parts of the job," she agrees, "because it's not all as simple as you'd like it to be. I'm in a delicate situation where they're [Columbia] funding this thing – it's mine but they think it's theirs!" But before anyone thinks Rose is getting precious, no-one needs to give her a reality check. She continues: "I just have to remember how fortunate I am; if anything annoys me or I get frustrated – like everyone gets in their job – I have to remind myself of how insanely fortunate I am. I cannot complain about sitting on a record I've made…and if I did all my friends would go mad at me and say 'I work in an insurance company, so just shut up Lucy!'"
Another sort of pressure applied by the label was attempting to get Rose interested in doing a spot of co-writing – hardly a surprise with such a talent at their disposal. After an initial outright rejection of this plan, she began to soften slightly to the idea: "That was the toughest part of it all – for me and the label," says a serious Rose. "I think they wanted to cushion me and they thought that – and they might be right – if they got me in the room with a great writer we could write a really great song. But I guess I took it personally, like they thought I wasn't good enough, you know what I mean?" Not wanting to dismiss it without even trying, Rose decided to take the co-writing plunge: "I got my head around it and thought 'give it a go'….I mean, I kind of didn't have a choice, I had to just try it to see. So I went and did it, and I actually really hoped we'd write something amazing that people could connect to – but honestly, it wasn't even about the music for me…it was the enjoyment."
Once again, Rose's commitment to honesty came to the fore: "It was like, every time I would sing that song live I would think about this terrible day when I was in this room trying to write a song!" she says, without a hint of regret. "It all came from the wrong place; I guess I'm a bit romantic about what a song or song writing is – and for me I guess I just felt that why I do it is to make me happy, number one, and that I'm okay at it, I'm good at it – and then I went in this room and felt uncomfortable with the one thing I felt okay about." Rose wasn't willing to sacrifice anything for that truthfulness which is found throughout Work It Out, and for better or worse she's completely happy with the decision. "I felt like…as you said, this isn't the most honest version of myself. I felt like this was the easy option, to go and write these songs…and this is not what I'm about personally. That's nothing against co-writing because lots of my friends do it and enjoy the process, it's more me feeling dishonest to myself. I couldn't be open with the person I was in a room with…I can't talk to him about my feelings and be as honest as I'd want with someone I'd only met half an hour ago."
With that honesty comes happiness, and as we talk playing the new songs live and people connecting immediately with them at headlining shows and in support of Damien Rice I mention again that Work It Out feels positive and a huge step forward for this single-minded artist: "I guess I'm in a happier place than I have been," agrees Rose. "I feel like the album does have lots of ups and downs but overall I feel the happiest I've felt in my life. I was writing it for many different reasons but I definitely feel more complete than I did the first time around."
Work it Out is out now via Columbia
Get the Best Fit take on the week in music direct to your inbox every Friday