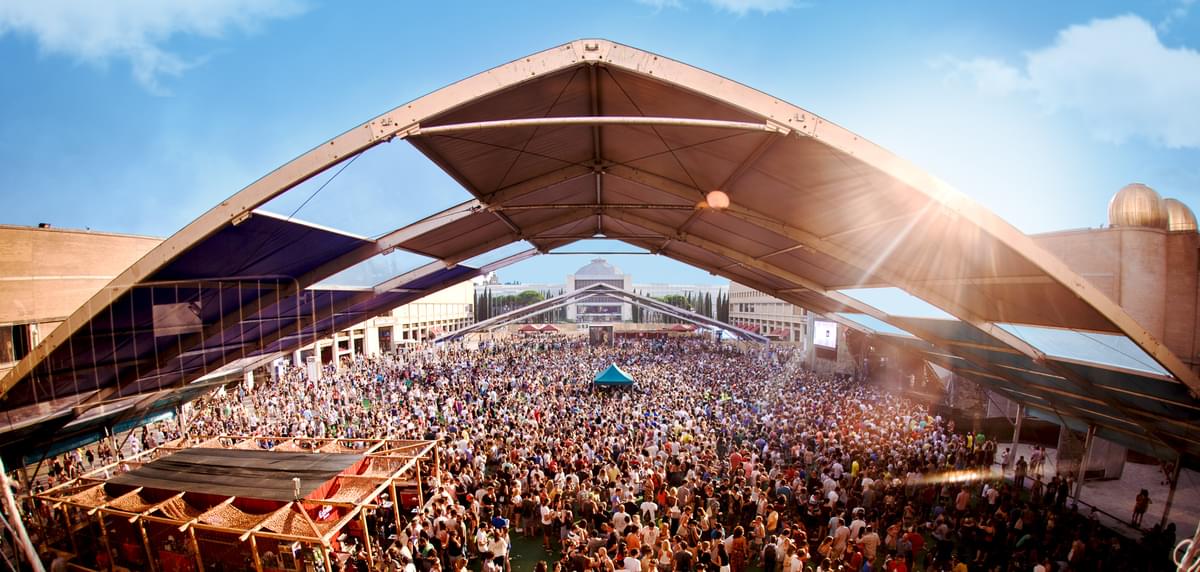 Cerebral music and blissed-out raving at Sónar Barcelona
22 June 2017, 07:53
The 24th edition of Sónar Barcelona showcased artists and DJs at the top of their game as well as the hottest newcomers on the global scene.
The festival proper takes place over three days, on Thursday, Friday and Saturday, though opening and closing shows happen on the Wednesday and Sunday nights. The shows are split in two programmes and two locations.
Sónar by Day happens in Fira de Montjuïc, a conference centre by Plaça Espanya in the centre of Barcelona, from 1pm until 11pm. Sónar by Night takes place on the Friday and Saturday nights between 9pm and 7am in Fira Gran Via L'Hospitalet, a gigantic warehouse compound just outside of town. Sónar+D, a conference dedicated to technology, creativity and innovation, runs alongside the festival on the site of Sónar by Day.
Sónar Week also comprises of events in various venues and museums around town, including the Icelandic queen's boundary pushing project Björk Digital, the touring V&A exhibition Bowie Is, and an installation by Brian Eno.
The headliners at Sónar Barcelona
Björk opened the festival with an exclusive, sold out DJ set on the Wednesday evening, and a selection of equally exciting names made up the rest of the line-up: Justice, Nicolas Jaar, Arca, Soulwax, DJ Shadow, Jon Hopkins and Heidi, just to name a few.
Fulfilling the festival's mission to showcase the latest experiments in electronic music, the programme included some particularly unique sets. Daphni & Hunee shared the decks for the first time ever, Carl Craig introduced his latest "symphonic techno" project Versus Synthesizer Ensemble, and LA producer Nosaj Thing and Japanese multi-talented creator Daito Manabe presented their technologically innovative audio-visual show.
The programme didn't stick to strictly dance music though and artists like Fat Freddy's Drop, De La Soul, Anderson Paak and Thundercat shared the spotlight with house and techno heavyweights like Nina Kraviz, Eric Prydz, Masters At Work and Marcel Dettman.
Getting around at Sónar Barcelona
A shuttle bus takes festival-goers from Sónar by Day to Sónar by Night, and another shuttle bus line connects Sónar by Night to Plaça de les Drassanes in the city centre. A single ticket costs 2,50€, VIP buses are free of charge. There is wifi at the festival sites, though the connection is not always optimal.
Sónar operates a cashless system, and all wristbands incorporate a microchip card that you top up at various cashless points using card or cash. You can check your balance at these points as well as when you order food or drink, and you can reclaim the money that you have not spent at the end of the festival. Security also scan your wristband on your way in and out of festival sites, so take good care of yours.
The tourism thing
If you have time / are not incapacitated by a blinding hangover, you might want to wake up early one morning and head towards Barcelona's most famous landmark, the Sagrada Família, a basilica designed by Catalan architect Gaudí that has been in construction since 1882.
We'd also recommend some aimless walking around; getting lost in the narrow streets of the Gothic Quarter is a beautiful thing. Avoid Las Ramblas, the main touristic artery, a zone ruled by pickpockets and clueless tourists. Explore the city and trust your instincts, you might stumble upon the best tapas you've ever had or find a hidden bar to enjoy 'una caña' (= a draught beer) with the locals.
Eating and drinking at Sónar Barcelona
While Michelin-starred chefs cook high-class food for VIPs, a selection of trucks serve various street food options in the main festival area. Highlights include a tasty spicy tuna burrito-maki roll and a porchetta sandwich, with juicy pork and crunchy salad leaves.
The drink of choice at Sónar is of course the staple Estrella beer, main sponsor of the festival. But for a lighter early afternoon option, ask for 'una clara', the Spanish version of a shandy. It's half beer, half Fanta, and though it sounds wrong, it tastes deliciously refreshing. Another sponsor is Thunderbitch, which despite what its name would suggest, is not a Nu Rave tribute night but a brand of Spanish whiskey, worth trying for 'un chupito' (= a shot).
Our survival guide for Sónar Barcelona 2018
Our tips for Sónar 2018 are common sense but worth bringing up. Do not forget to bring sunscreen, the main stage at Sónar by Day is outdoors and you wouldn't want your blissful experience of dancing in the sunshine to result in a painful, damaging sunburn. Don't forget to drink water, even if it means spending some of your money on it. Rucksacks, cloakroom queues, and piles of tote bags on the dancefloor are annoying for everyone so embrace bumbags; they are the most useful invention since the wheel. Wear comfortable shoes if you intend on dancing for hours, which you should.
These simple tips will help you steer clear of the risk of being one of the lobster-red, limping, hungover-looking travellers at the airport on your way back. Though in terms of the hangover, I'm afraid there's nothing we can help you with.
How do I get to Sónar Barcelona?
You can fly direct to Barcelona-El Prat airport from most cities in Europe, and a quick search on Skyscanner or any online travel agency will let you know the cheapest flight options. To avoid prices increasing every time you refresh the page due to evil cookies (they're a thing), a trick is to research cost and times of flights on an app or on your mobile browser (using your phone's internet provider and not your home wifi), and fire off your desktop or laptop when you're ready to book all in one go.
Transfer to and from Barcelona-El Prat airport is easy thanks to the Aerobus, a bus that takes you to the city centre in 35 minutes, with various strategic drop-off points within the city. A one-way ticket is 5,90€, a return 10,20€ and you can buy tickets directly from the driver before boarding the bus.
Where can I stay during Sónar Barcelona?
Once you know you're going to Sónar, or even before then, you'll be researching places to stay in Barcelona. We'd recommend heavily scanning your contacts for a friend of a friend with a spare room/sofa/hammock in the city. You'll be better off staying with someone who actually lives there; first of all, it will be cheaper and second, chances are they are going to Sónar too! You never know, you might end up staying in your boss' goddaughter's gigantic flat in El Born quarter or catch up with an old friend from school who's recently quit their office job to move to Barcelona and life their life to the fullest.
But let's be realistic, if the friends of friends set up is not an option, Barcelona has thousands of beds to offer tourists and festival-goers. There are options for every budget, from the 30-euros-a-night bed in a hostel, to large flats that come to pretty cheap when shared in a group, to rooms in boutique hotels with a spa to help with the hangovers. We'd recommend scanning offers on booking.com, a site that lets you cancel at the last minute if you find something better later down the line.
Hopefully you're reading this in preparation for Sónar 2018, in which case you're doing good, because when it comes to booking a place to stay in Barcelona, the earlier the better. The tales of windowless, overpriced Airbnbs are a sad reality. But don't panic if you have left it too late, you're probably not going to Sónar to stay in, and so as long as you have a decent bed and earplugs, you will be just fine.
What we saw at Sónar Barcelona
Princess Nokia
Minutes before of her scheduled start at Sónar by Day, Princess Nokia's name was replaced by that of Madrid-based DJ Bawrut on the screens surrounding the SonarVillage stage. Dismay spread amongst the crowd of impatient fans, and after thirty minutes spent trying to enjoy Bawrut's fun house set while frantically questioning the Internet and ourselves, Destiny finally appeared. This delay, and the show that followed, confirmed what we knew already. Princess Nokia does exactly what she wants, whenever she wants to do it.
Every track she played, from her already cult "Tomboy" to the drum and bass influenced "Dragons", showcased different facets of her sound and personality, from anger to romanticism, empowerment to vulnerability. Destiny gives a lot to her audience and takes the time to appreciate the energy and love they give back to her. Whether she is throwing oversize inflatable toys into the crowd, taking selfies with first row fans or giving motivational speeches to her fellow brujas, Princess Nokia stays true to her badass self and has lots fun while doing it.
Forest Swords
Matthew Barnes, aka Forest Swords, released his debut album Engravings through the New York-based label Tri Angle in 2013. The record was extremely well received but it took Barnes four years to deliver a sequel. "Compassion", released last month on Ninja Tune, is worth the wait though, and Forest Swords' live show was a definite highlight of the festival.
The producer's obsession with both ancient sounds and computer-generated music results in a haunting kind of gothic dub that is all the more spellbinding when experienced live. Barnes' mostly instrumental sonic landscapes are deeply expressive and the addition of vibrant visuals, directed by artists Matt and Sam Wiehl, make for a powerful show, emotionally charged and yet danceable.
Nadia Rose
Croydon-born rapper on the rise Nadia Rose took over the SonarVillage stage on the Saturday afternoon, along with her squad of course. With her rapping partner and DJ, she brought her Highly Flammable EP to life and performed a mix of grime and dancehall tracks to a packed audience. Delivering a smooth flow of tunes, she interspersed her own material, such as her hit "Sqwod", with versions of classic tracks like Daniel Bedingfield's "Gotta Get Thru This", which felt relevant on the third day of a festival, when the partying is starting to take its toll. Rose strangely disappeared off stage for the last ten minutes of her set but her DJ kept the bangers coming, closing with Lumidee's summer 2003 anthem "Never Leave You".
Bad Gyal
20-year-old Alba Farelo, aka Bad Gyal, might well be the most exciting act to break through from Spain this year. Her first DIY video "Pai", a version of Rihanna's "Work", racked up over a million views on YouTube last year and since then she has been garnering the attention of producers, DJs and fans with her dancehall influences and empowered lyrics in Catalan. Bad Gyal is obsessed with dancehall and also a fierce feminist, and somehow it makes sense.
Strutting around the stage in a thong and crotchless chaps, Bad Gyal mumble raps in Spanish, twerks and performs some seriously acrobatic moves with her equally fierce gal pals.
AJ Tracey
Who better than London's latest highflier to represent the UK's booming grime scene at Sónar by Night? AJ Tracey is part of the MTM collective along with other upcoming MCs such as Big Zuu and Jay Amo, and the West London-born rapper can count A$AP Rocky and Clams Casino among past collaborators. With instrumentals that would do the original Ruff Sqwad crew proud, Tracey showcased his clever lyrics and deft spitting skills at a high-energy, late night show at the SonarLab stage.
When is the next Sónar?
2018's Sónar Barcelona takes place on 14-16 June. The second edition of Sónar Hong Kong takes places on 17 March 2018. Find out more at sonarhongkong.com.
Get the Best Fit take on the week in music direct to your inbox every Friday