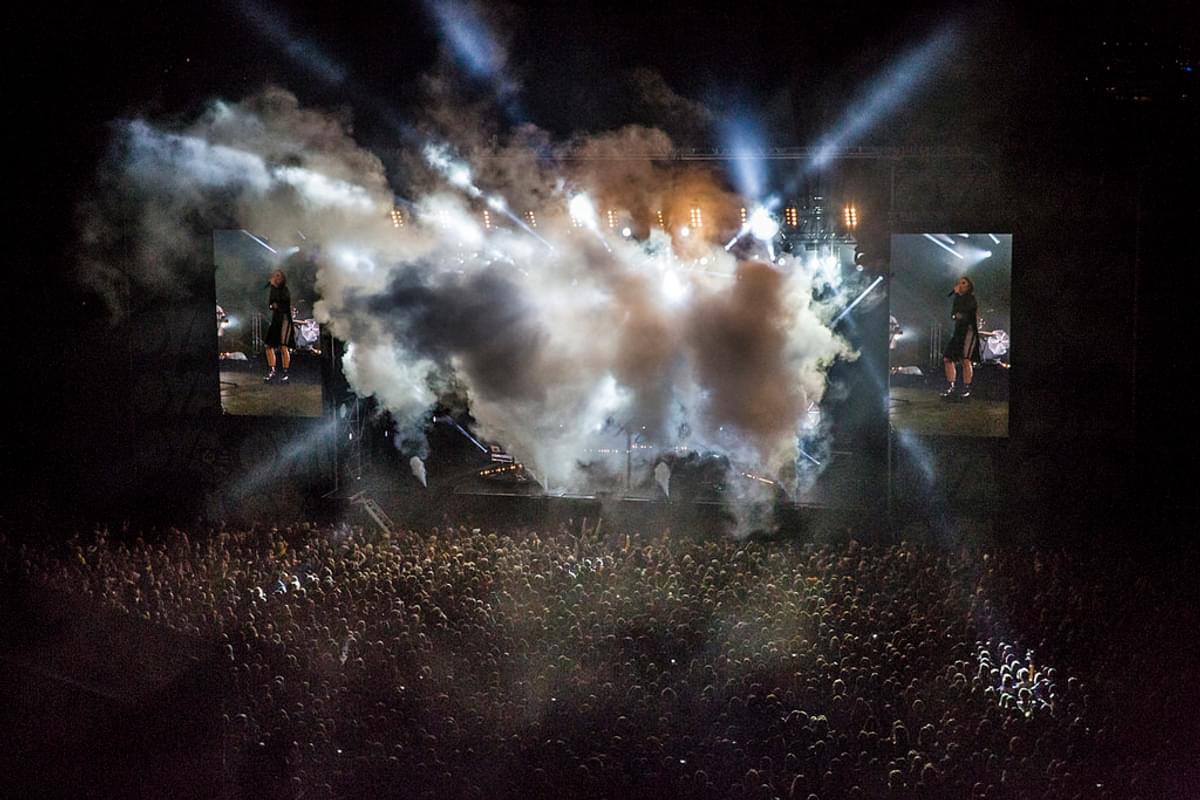 "This is a free space" - The Øya festival experience
17 August 2016, 09:00
I realise that as a journalist, the festival experience is one that's made all the more enjoyable by everything that's put on for you. From food and drink to trips to islands, museum and ski jumps, the European festival experience from a journalist's point of view is as good as it gets.
Yet as I surveyed Tøyenparken at various points over the four days of Øya festival in Oslo and noticed an almost universal relaxed enjoyment I've never seen at a UK festival, I wondered if the generosity of the organisers was entirely needed given the utter serenity in this particular gorgeous park in the Norwegian capital.
Maybe it's the city. Oslo, to me, seems like perhaps the most perfectly situated city in the world. Venture south and you're in fjords territory, head to the north and you're in ski jump territory and altitude-worrying forests. East and west you have beautiful countryside once you get through rejuvenated and arty districts, and fascinatingly terrifying sculpture parks and elegant apartment blocks respectively. The centre itself has history and modernity battling for supremacy. Fortresses which positively hum with the weight of battles lost and won nestle next to new cultural superstructures. The opera house – an incredible building which slides into the sea in one direction and juts into the sky like the front of a Viking longship – is the crown jewels in the development around Gronland and Gamlebyen where skyscapers (not too tall, of course, this is Norway) are popping up and a new city library is soon to be completed,along with the new (Edvard) Munch Museet.
Oslo (the city) doesn't stand still and the music scene moves with it. Øya is an example of that as it enjoys its second year in the Tøyen district, a deal struck in an attempt to regenerate the gritty eastern reaches of Oslo. Grünerløkka, an eastern district you could compare to a less intense Shoreditch, is already on its way and the Sofienberg and Tøyen areas are being dragged – unwilling or otherwise – with it. It's an area comparable with Glasgow's southside which despite attempts at gentrification has pockets of beautifully real resistance, and is perhaps all the better for staying that way.
Before we even get to the greenery of Tøyenparken on the Wednesday, there's the terrific KlubbØya on the Tuesday evening showcasing both Oslo's best venues and Norway's best rising acts. It begins with SLØTFACE, who just two years ago were playing to a handful of people in Charlie's Bar in Kristiansand and now have a room of 500 people in raptures, Hayley Shea initiating moshing and a circle jerk at every given opportunity. Not simply transformed in name, SLØTFACE are now the dynamic rock band they have always hinted at being. At the other end of the noise scale the beautiful voice of Siv Jakobsen, backed by strings and keys, was a brief moment of serene respite as we race from stage to stage around an Oslo city being battered by the rain. In the same venue following Jakobsen, it was only the second live outing from The Hallway, a band formed out of ex-Team Me! members. While keeping the childlike, wide-eyed quality of that act, The Hallway added some emo muscle to their hopeful indie.
With some time to play some shuffleboard (a curiously popular pastime in Oslo) and vintage arcade games in Tilt with some of Oslo's best known indie faces, it was on to take in gentle Teenage Fanclub jangle of Strange Hellos' live debut and stand at the back of a narrow club while the excellent Sauropod hammered away in the distance. There's barely a chance to get a handful of hours' sleep before the outdoor action starts….
With five stages (two in tents and the other three as ingeniously designed amphitheatres sloping downhill so as to avoid the risk of tall Nords blocking your view) spread out across the park it's hard to even tell that there's 80,000 people at the festival each day until you see bodies covering every blade of grass during each of the headlining sets on Amfiet, the main Øya stage.
It's tempting to suggest that I saw the best act of the festival on the opening afternoon. As the sun came out, a crowd huddled under the Sirkus tent (more a pop-up warehouse than "tent") to watch Christine and the Queens beguile, seduce and entertain us with songs from Chaleur Humaine. Of course the songs are all pop hits in waiting but the way Héloïse Letissier moves with her dancers is both fascinating and a feat of the most incredible choreography. It's a truly emotional moment when she moves to the music for the first time. Between songs she tells us that "this is a free space; you can be whatever you want" and it's a mantra to be memorised, repeated and acted out across the rest of the days in this park.
The first taste of Norwegian acts at the festival itself comes in the surprisingly enjoyable Aiming for Enrike, a two-piece who create music comparable to Battles and Three Trapped Tigers but on a slightly smaller scale. That's swiftly followed by ARY, who draws a huge crowd thanks to her fast-developing rep in her home country. Having seen ARY a few times previous to this show, the set is well-known to me and there is little doubt the singer has huge potential. However, on such a large stage there's something a little anodyne to the performance as she struggles to connect through her undoubted pop bangers.
Someone who doesn't struggle on the main stage is AURORA; a hugely gifted performer making the job of entertaining appear effortless, Aurora Aksnes' huge voice and restlessly artistic hand movements mean she's right at home, the darling of her adoring countrymen and women. Appearing on the middle stage of Vindfruen, Ane Brun was as powerful and soulful a presence as she always is, infuriatingly still largely ignored in the UK despite a dazzling back catalogue.
It was Massive Attack and Young Fathers who closed out night one; while 3D and Daddy G are still powerful voice for change and political angst and a live force to be reckoned with – as the blistering "United Snakes", complete with sloganeering visuals, attests to – they truly come to life when joined by Edinburgh trio Young Fathers. Spiritual heirs of a kind, it's an explosive and thrilling end to day one.
Due to being taken to the island of Bleikøya, an example of space being given back to the public for summer holidays and community projects, to experience seasonal Oslo life, Thursday was a late start at the festival site. Upon arrival we were treated to the sparkling R&B and rap of Bergen's Sushi X Kobe; with the sun beating down and sun loungers to be used, this outfit's music was shamelessly ideal for relaxing into the day. Missing chances to catch both JLin and Julia Holter, the next port of call was the preposterous prog metal of Mastodon. While not exactly matching Sushi X Kobe for seasonal mood, the hairy veterans put on a fine show which trod a fine line between brilliant and baffling.
With the sun disappearing, it was time for Stormzy to serve up his call-and-response grime. Interspersed with regular shouts of "ENERGY CREW!" and "hashtag merky 2016", the high water mark (merk?) was of course "Shut Up" where he urged the whitest crowd in the world to tell Croatia, Malta and Aya Napa to "SHUT UP". It was a ridiculously brilliant set peppered with some seriously great rhymes and beats.
But the night belonged to PJ Harvey. Stalking the stage and dressed head to toe in raven black, Polly Jean gave us something special based around her most recent album The Hope Demolition Project. On record the songs feel claustrophobic but here, thanks to Harvey and her band's reliance on brass and percussion, there's a real muscle and menace to the likes of "The Community of Hope", "Chain of Keys" and epic closer "River Anacostia". For those who wanted vintage PJ, the triumvirate of "50ft Queenie", "Down By The Water" and "To Bring You My Love" brought extreme chills.
For those of a strong disposition, there was Øyanatt. Music continued late into the night thanks to artists not on the main Øya lineup but who happened to be in the city at festival time. So after being thrown over a table of drinks by an amped-up member of Lightning Bolt's fevered crowd the previous evening, I ventured out to catch a live sighting of Danish newbies (and already Best Fit favourites) Noréll supporting the incredible Kill J. It was a perfect match, both acts showing off their stunning takes on R&B and electronica and without doubt one of the finest moments of the week.
Friday was all about the returning hometown heroes. Before we get to Highasakite, though, we got the chance to experience – partly thanks to the teeming rain – the smooth grooves and utterly danceable songs of Gundelach. The producer showed it's really not that hard to turn club jams into arena-sized bangers with an impeccable set. A band who are already packing out arenas, Chvrches showed once again the reasons why they're both one of the UK's crown jewels and an internationally adored pop band. Two words: "Clearest Blue". I mean, more words than that to do justice to their excellence but just listen to that song.
Just moments before the headliners took to the stage there was a chance to catch Farida. This Norwegian singer is on the cusp of something really special with her smooth R&B and a voice to die for. If she isn't massive this time next year then I quit. Seriously. "Solo Ride" and "Three Weeks" are special songs.
And so to Highasakite…and New Order. While Ingrid Håvik – who is a captivatingly intense and tortured band leader - and co treated us to a show which pulled out all the sonic and visual stops (a light-up drum kit, smoke machines, fireworks) and proved that Camp Echo is without question one of the best albums of 2016, the pull of New Order was impossible to resist. To tell you that the closing trio of "True Faith", "Blue Monday" and "Temptation" sounded as good as they ever have tells you all you need to know about a band who are as far away from phoning it in as any reunited or reignited act has ever been. The word genius is thrown away too often but Bernard Sumner and co deserve the tag.
Saturday almost felt like a disappointment after this high, and especially so after being treated to an intimate performance by Norwegian performance artist Nils Bech in a tepee somewhere far up a hill in the Oslo darkness. However, some gems shone through. Locals Apothek and Great News delivered early afternoon sets of brilliance to impressive crowds given neither have yet released an album, and Jessy Lanza's thumping electronica, enhanced by a live drummer, got a sweltering tent heaving to her intricate, intelligent rhythms.
The day, though, belonged to a pair of terrific US artists. With a seven-piece band of super-talented, sorry, jaw-droppingly talented players and singers (including his clarinet-playing father), Kamasi Washington's brilliance was one of those moments when you realise you've been standing open-mouthed for longer than socially accepted. Yet following that was the handsomely cool and wisecracking Anderson .Paak who brought his excellent Free Radicals band along to back up his impeccable and soulful rap flow and astonishing drumming. If you could bottle joy and sell it, .Paak's face would be on billboards everywhere. He's close to being the complete, and real, deal.
Superbly organised, free-flowing, friendly, not a single flashpoint of trouble and not a single queue which I can remember (and if there was it would have been sorted in a flash) makes Øya close to the perfect festival. If I can return to my point at the start of this review, I'd pay good money to have an event this serene in my life.
All photos courtesy of Øya Festival.
Get the Best Fit take on the week in music direct to your inbox every Friday