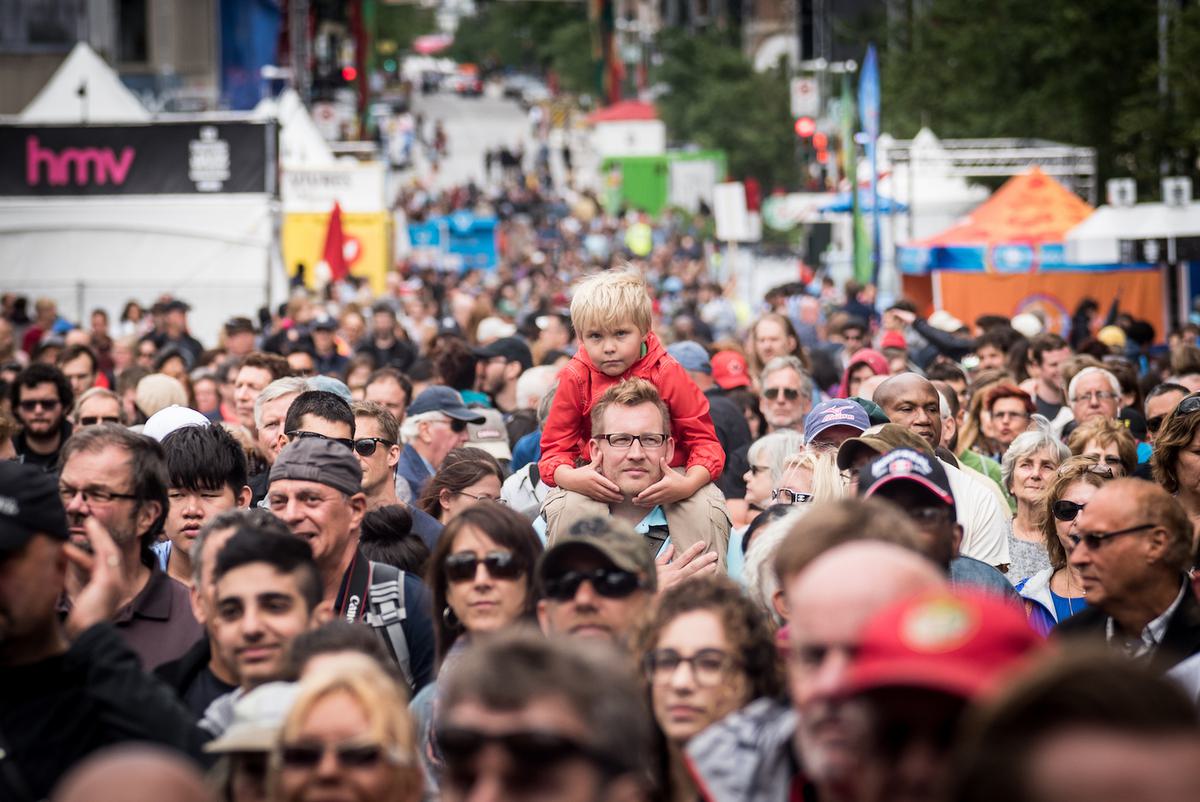 Montral Jazz Festival 2016: Beyond the Jazz
10 July 2016, 09:00
Once again Montréal Jazz Festival offers a diverse program of music that uses jazz as a suggestion rather than a definition.
2016 sees the festival rack up its thirty-sixth year with every strand of the form represented - from gypsy to samba, fusion to bop. More loosely connected sounds find their way here too: Cat Power, Gregory Porter, Jess Mac Cormack, Pantha DuPrince, Sharon Jones and Noel Gallagher all hit town for this year's event.
How the Montréal Jazz Festival works
The festival gathes together hundreds of artists and a neat two million music fans for almost two weeks of shows that riff freely around jazz, folk, blues and soul. Running from noon until midnight each day, the festival is based around the Quartier des Spectacles in downtown Montréal, taking in numerous venues and a handful of outdoors stage that fit snuggled in the temporarily pedestrianised streets.
While much of the festival is free, the indoor shows are largely ticketed affairs but don't cost the earth.
Who we saw

Jamie Cullum
I can hear the purists around me having mild strokes when Jamie Cullum jumps onto the top of his piano. They pretty much keel over once he breaks into a cover of Radiohead's "High and Dry". Cullum's credentials have him cast as a softly yobbish and quintessentially British take on Harry Connick Junior while his show on BBC Radio 2 show has made him the emissary of palatable kitchen jazz. This isn't a criticism. Cullum is the jazz world Robbie Williams: an entertainer first and foremost and someone who has chosen showmanship and audience over the cerebral and obscure.
Playing a prime outdoor space in a free show, he overcomes some of the sneers around me to almost rapturous applause - it's all smiles and good feelings, just as it should be.
Rufus Wainwright
Seven years since Rufus Wainwright's opera Prima Donna debuted at the Manchester International Festival, the production finally gets to play at home in a truncated hour-long version. Original reviews of Prima Donna were mostly negative, highlighting Wainwright's confused approach. "It's just not opera," most reviews seemed to concur.
Time has helped work out some of the flaws although Wainwright's clearly at pains with how audiences might react tonight. He even emerges on stage at the Place des Arts' Salle Wilfrid-Pelletier to assure the opera buffs and Wainwright die-hards that it's only sixty minutes to the interval.
What amounts to a highlights take on Prima Donna goes down very well, with excerpts performed by soprano Lyne Fortin, tenor Antonio Figueroa and alto Kathryn Guthrie. The orchestra doubles up for Wainwright in the second half - a packed 90-minutes of his most well-known songs, with lush, expansive arrangements. "Oh What a World" sounds sublime, the lavish strings pulsating with optimism and life. Sister Martha joins him for a duet on "Little Sister" and cousins Lily and Sylvan Lanken join for the encore of "Hallelujah". "
The Wainwright Sisters
Lucy Wainwright Roche joins sister Martha in making the Jazz Fest very much a family affair for the Wainwrights this year. The duo's first album together is Songs in the Dark, a collection of nursery rhymes and dark lullabies which form the heart of tonight's show. While at times things feel a little uncoordinated, the pair really come alive paying tribute to their famous family, with songs from their mother, aunt and father hitting the mark.
Danny Brown
As usual with Danny Brown, it's all about the crowd. His hamfisted skill as a showman is what matters - an ability to work a room up into a frenzy with a minimal set-up, sparse banter and a set list that juts around his entire career. The night's highlight at the half-full Metropolis - one among many including "25 Bucks" and "Smokin & Drinkin" - actually comes with closing track "Dip". The floor shakes. It's insane. And there's Brown: goofy grin and all, sporting a Wu Tang tee, centre-stage.
Brian Wilson
If you've ever been touched by the sad, dark and beautifully nuanced poetry of Pet Sounds, seeing Brian Wilson live can be something of a shock. In his advanced years, Wilson's found more of an audience among the surf-sound loving moms and pops (who arguably can afford the crazy ticket prizes his appearances come with) than the twenty-something geeks who define Wilson by Pet Sounds and Surf's Up rather than "Barbara Ann" or "Fun Fun Fun". A show with Wilson isn't a dark journey into the soul of a musical genius, it's a nostalgia trip.
With an eleven-piece band around him - including Beach Boy Al Jardine and Jardine's son Matt - these Pet Sounds anniversary shows deliberately balance Wilson's legacy with the reality of his paying audience. The addition of sometime Beach Boy member Blondie Chaplin (who joined the band during one of their least memorable periods in the early '70s) adds little to the overblown arrangements but there are still some tender moments. "Don't Talk (Put Your Head On My Shoulder)" sounds incredible and "Love and Mercy" melts the entire room.
The Comet Is Coming
The Comet is Coming occupy a space hinted at by Sun Ra and Herbie Hancock's Headhunters but the British trio led by Saxophonist Shabaka Hutchings could equally fit on a festival line-up next to Swans, Neu! and Can. Their debut long player Channel the Spirits isn't so much reworked for the performance setting as it is a starting point for one of the greatest live spectacles around right now. It's without restraint and without prejudice - this is a universal spiritual experience that requires only a love of music and an open mind. It's a shame they don't get to play more shows - they were made for one of the festival's free, open-air stages .
The Tallest Man on Earth
It's the first time I've seen Kristian Matsson's Tallest Man on Earth perform with a band and it's slightly disconcerting, I have to say. Matsson's appeal for me always came from his ability to fill the space around him on the stage so profoundly and those moments when he flies solo tonight are still the most striking and memorable.
Basia Bulat opens for him at Metropolis, warming up the crowd with something not quite so intense but equally as affecting. Bulat's warmth offers a contrast to Matsson's often icy demeanour and the balance gave the festival its best pairing all week.
How we survived
Of course poutine made an appearance more than once during our stay in Montréal. The combination of chips with cheese curds and gravy isn't really anything like the British equivalent. Maybe it's the way the cheese melts. Maybe it's the lack of crisp to to the chips. Whatever the case, we're hooked.
We also took at trip to the Mile End to visit the famous Fairmont Bagel. A culinary staple of the area, the bakery has been serving up Montréal's twist on the classic bagel for almost a hundred years. It was opened in 1919 by Russian immigrant Isadore Shlafman and is faithful to his original recipe; the bagels are honey-water boiled and wood fire baked. The Montréal bagel is denser and sweeter, with a crisper bite and a pleasing chewiness. It's easy to gorge yourself and they're cheap too.
Tips for 2017
Try and stay somewhere away from downtown Montréal. While the epicentre of the jazz festival has its charms, it's easy to get lazy and never leave. The festival also brings a lot of bodies to town and you're nose-to-tail with them for most of the free shows. It can get somewhat claustrophic after a couple of days. Stay around the Quartier des Spectacles for too long and you'll get a distorted and somewhat limited sense of the city - Air BnB it instead, maybe somewhere around Le Plateau-Mont-Royal. Add a few Uber rides to your days (or use the amazing metro) and you'll have a much better time.