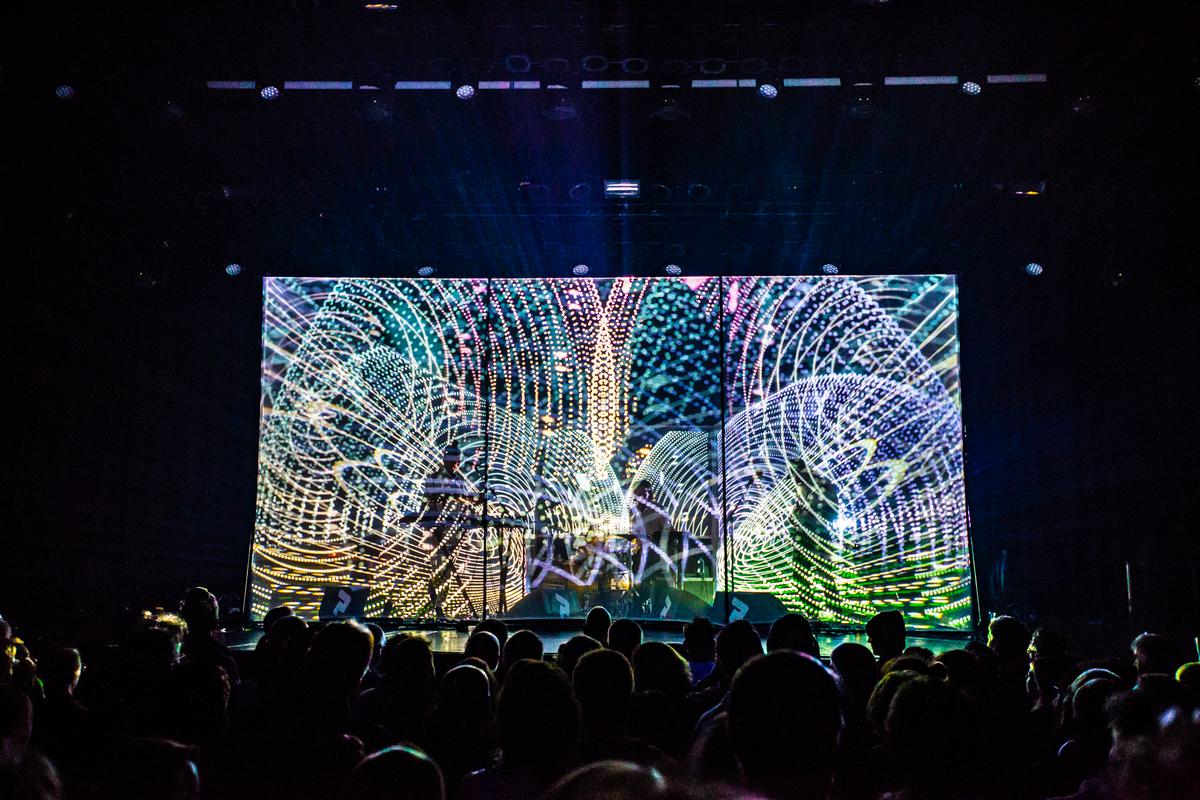 Le Guess Who? 2019 is not so ambiguous in its greatness
13 November 2019, 14:30
With the able steer of festival curators Jenny Hval, Moon Duo, Fatoumata Diawara, and Iris Van Herpen, this year's boundary-crossing festival Le Guess Who? welcomed visitors from over 60 countries and proved that even in times of political divide, music and art can bring us together into a more hopeful future.
There's a hill in Lithuania, just over 10km north of the city of Šiauliai, filled with crosses and crucifixes. Thousands of tiny effigies and rosaries have been brought here by Catholic pilgrims. You walk through fields of the emblems. In the gift shop, you can even buy one to inscribe a loved one's name. That's the backdrop for Black Country based, two-piece Godflesh and a fairly accurate way to set the tone of what is going to be a crazy quilt of genres across Le Guess Who's long weekender. Godflesh are also pretty hallowed in the industrial metal circuit with vocalist and guitarist, Justin Broadrick forming the band after he left the first recorded line up of Napalm Death. Their music is similarly brutal; coarse vocals fed through a heavy delay and all the pinched harmonics of your favourite Sepultura track.
From Lithuania to Piramida, a former Russian mining colony turned ghost town near the North Pole where Scandi, indie art types Efterklang travelled to for their fourth record back in 2012. Their set tonight among the Grote Zaal (yes, that's the great room) champions a lot of this stark ambiance with a set full of album numbers; 'Dreams Today', 'Modern Drift' and 'Black Summer'. But there's also a fair smattering of new material with the help of a bonus grand piano, flute, and even a lap steel alongside the three childhood friends Mads Brauer, Casper Clausen and Rasmus Stolberg. Much like their latest release Alltid Sammen which means "all together", the collective unite to splash their neo-classical chamber pop across the walls of Tivoli's grand concert hall.
But it's not all abstract, Arctic field recordings driving this year's sonic explorations. Utrecht's acclaimed creative print studio Kaapital teamed up with crowdfunding platform, Kickstarter to bring together a series of intimate listening sessions and unique performances. We make it fresh from a look at the Kevin Osepa exhibition at festival partners, FODOK & Casco Art Institute to catch an improv set from festival curator Moor Mother, acclaimed composer Jaimie Branch and Lightning Bolt's Brian Chippendale on drums. It's an eclectic and fluid beast that moves far more intuitively than Chippendale's own set later that night where we find him wearing some kind of Mighty Boosh tasseled mask and challenging our eardrums with a cacophony of cries and crash cymbals.
In another of the festival's new spaces, further out in the suburbs of Utrecht around the corner from the ESSO garage and down by the banks of the river lurks De Nijverheid. Like Margate's vintage mecca Old Fort Road, the warehouse is full to the brim of curios and art props from the cut-out dragon heads up in the balcony to the tendrils of fiberglass hanging like spaghetti from the ceiling. It's a fitting spot for fabled Japanese psych group, Acid Mothers Temple who are penned in the line up "the gateway drug between Black Sabbath and minimalist composer Terry Riley. Either way, their wailing guitars soar into a different stratosphere as the crowd wigs out for an extreme trip. The journey back into town from the far-out venue is much the same.

If the snaking queue outside Pandora is anything to go by, Aussie troupe Tropical F*ck Storm live up to the name drumming up quite the commotion to get to the front. Practically a supergroup on their home turf, the band fuse together Gareth Liddiard and Fiona Kitschin of art-punk psych band The Drones and Erica Dunn of fellow scuzz fans, MOD CON. It also explains why drummer Lauren Hammel is a total boss behind the kit picking up percussive duties with extreme metalheads High Tension when she's not in the eye of the 'storm.
Opener 'Chameleon Paint' is a wonk pop singalong with Liddiard channeling some serious moves and mouth arrangements from the original New York junkie punk, Richard Hell. The rest of the set is dominated by latest record Braindrops and rightly so; 'Paradise' is a huge lament for a wandering lover while 'Who's My Eugene?' tackles the notoriously unethical psychotherapist Eugene Landy (known for his unconventional 24-hour therapy and especially for his treatment of the Beach Boys co-founder Brian Wilson). It might sound intense but then Tropical F*ck Storm aren't chiming to a Blank Generation in 2019. This crowd is primed and ready for the real talk.
Part-way through Holland's own The ex, there's a very vivid memory of seeing founder Terrie Hessels performing last year here alongside Slovenia-born pianist Kaja Draksler. His discordant strings and signature drum-stick-on-fretboard-frenzy were all present and correct but tonight's performance confirms where his improv tactics work best. 'This Car Is My Guest' jabs forward with anarcho-punk power chords. With three leads jostling for the riffs, vocalist Arnold de Boer takes on a low drone baritone front and centre. Fellow 27 Passports track, 'The Heart Conductor' is the very definition of skronking (or it should be, don't Google that). Much like Hammel in TFS though, drummer Katherine Bourneheld is a real powerhouse driving the set with clattering cowbell and the kind of dramatic drum solos Janet Weiss went on to emanate in Sleater-Kinney's One Beat, The Woods...well, she's iconic. Let's put it that way.
Speaking of iconic, there are some bands that you sort of think you'll never get to see live. Some through devastating circumstances (see: Nirvana, Nick Drake, Blind Melon) and others who were a shining moment in the zeitgeist. For post-punk godmothers The Raincoats, that was the 70s squat rock scene crashing onto the DIY circuit with their enthusiasm and a few scrappy chords between them. But tonight, as bassist Gina Birch is keen to point out, actually marks the band's 40th-anniversary release of their eponymous debut (and the one that would later be reissued by DGC Records and go international) which is why we're treated to that record in its entirety tonight. Their off-kilter Kinks cover 'Lola' is dedicated to their old touring pals' granddaughter who shares the same name and only serves as a reminder of how much time has passed for Birch and Da Silva who began writing and performing together during their studies at Hornsey Art School. But this is no nostalgia trip. Even with a decade-spanning career under their belts, The Raincoats are as relevant as ever.
An artist who more than certainly takes her cues from their ramshackle arrangements and chaotic exuberance, Mega Bog is the musical moniker of songwriter Erin Elizabeth Birgy. Her sci-fi pop experiments are tonight bolstered by her full band and a drummer complete with tinkering chimes set (as an aside, just one of the winners' loot for 90s chart-toppers M People when they bagged the Mercury Music Prize back in 1995). Such is the whimsical charm of Mega Bog with her vocal precision and dry delivery she commands an almost Kate Bush prowess despite actually calling the Pacific Northwest her home. It would be crude to cast Birgy off as merely fanciful though. Deep in the quagmire of Mega Bog's rich textures and intricate clean strings lies some real grit and genre-defying nous. A whistlestop set and we're back out by the streetlight lit canals in time "to have fags and catch colds", Birgy jokes.

When you first enter TivoliVrendberg's Ronda and behold the band caged in a lightbox straight out of an Olafur Eliasson exhibition, it probably won't surprise you to hear it's Oregon krautrock mystics, Moon Duo. Much like Eliasson's own artwork, our esteemed festival curators' musical vision is just as organic. Their motorik rhythms and soft disco is suspended in a zoetrope of abstract lines and colour as the patterns and white noise dance across their figures. It's totally mesmerising. A perfect nod to the festival's own free-form spirit and sonic explorations while at the same time conjuring up the kind of cosmic chaos of a Mighty Boosh episode (and yes, that is the last and final Boosh reference for you). Galactic greatness at its best.
It's interesting that former Perfect Pussy frontwoman Meredith Graves' gets a call-out in the programme as the Music Director of Kickstarter (and host of this year's Kapitaal collaboration) as she also features in the forming of our next act too. Fresh from a dissolution of the band in 2016, drummer Garrett Koloski went on to form Philadelphia foursome Empath who we've schlepped out to DB's to see in a fuggy red stage light. They continue to champion Moon Duo's preference for synth-led bass parts and, once again, channel so much of Le Guess Who?'s best qualities; unpredictable, wide-ranging and a deft hybrid. Latest record Active Listening guides the set with 'Hanging Out of Cars' trading off scrunchy singalongs ('Soft Shape') for searing synth moments ('Roses That Cry'). Throughout, Guitarist Catherine Elicson busts out solos that even Screaming Females' Marissa Paternoster would be smirking at. It's arresting - at times almost too much - and like the album name suggests, demands your full attention.
It's been high on our list of must-see moments since the tip-off from Norwegian multi-disciplinary artist and festival curator Jenny Hval. So it's with relief we claim one of the free spots in the theatre stalls for filmmaker and music video director, Zia Anger. To be honest, it's hard to truly articulate what went on in that darkened room because A. It felt a bit uncouth to be typing on my lit-up phone screen throughout the film and B. Anger's piece centres around her typing out a (hilarious) narrative which sits side by side with her multi-media so it's easy to miss something when you tilt your head down to jot a swift note. Perhaps, that's the point, right?
My First Film explores some of her early performative work - Anger's Mum in 'Period Piece', complete with mimicked fallopian tubes and ovulating egg - and how those works have been rejected by her peers and the industry for being too "esoteric". (Cue a clever cut back to her Mum with inflated cheeks in the full throes of her journey down the uterus). My First Film explores inception - both her own and the film's. It explores the idea of aborting an artwork (we're invited to physically tear up her first film script) but also her own terminations during past relationships. And it revels in her new discovery of resurrection and the idea that something commendable can be reborn from something that dies. Like that first film then. It's all very meta and she deserves to wade into some kind of Miranda July-esque majesty because of it.
It is another of Hval's recommendations that sits with us the longest though. DNA? And? centers around a group of children with special needs and a revolving cast of adult musicians. A lesson in childhood energy and self-expression, they spend the full-hour in the intimate setting of Hertz' musical hall playing, experimenting and are unwaveringly encouraged not to be afraid to do so. It's the physical equivalent of that mushy framed slogan your Mum has in the kitchen: "Dance as if no one is watching". Only we are and we're enrapt. They go between instruments - the keyboard player bounces on with a hop and a skip - but when their hands aren't full of a tambourine or a bass fretboard, they're free to dance as the tempo takes them.
The vocalist walks over to the percussion section picking up a shaker and gives that a go. Another girl twirls on just to perform some accompanying killer moves. Somewhere through the creative and interpretive liberation, the two girls' melody lines begin to meet. ABBA's 'Thank You For The Music' starts to rise through the stalls as they join together in bashful chorus, and it sort of feels appropriate: "Who can live without it, I ask in all honesty?" It's a good job the lights are down for their performance as they leave us in a teary mess by the end of it.
Because despite the interrogative tone, Le Guess Who? asks no questions of genre, genes or geography and it wants you to do the same.
The next edition of Le Guess Who? takes place on 12-15 November 2020. Early Bird four-day Passes
are available now
.