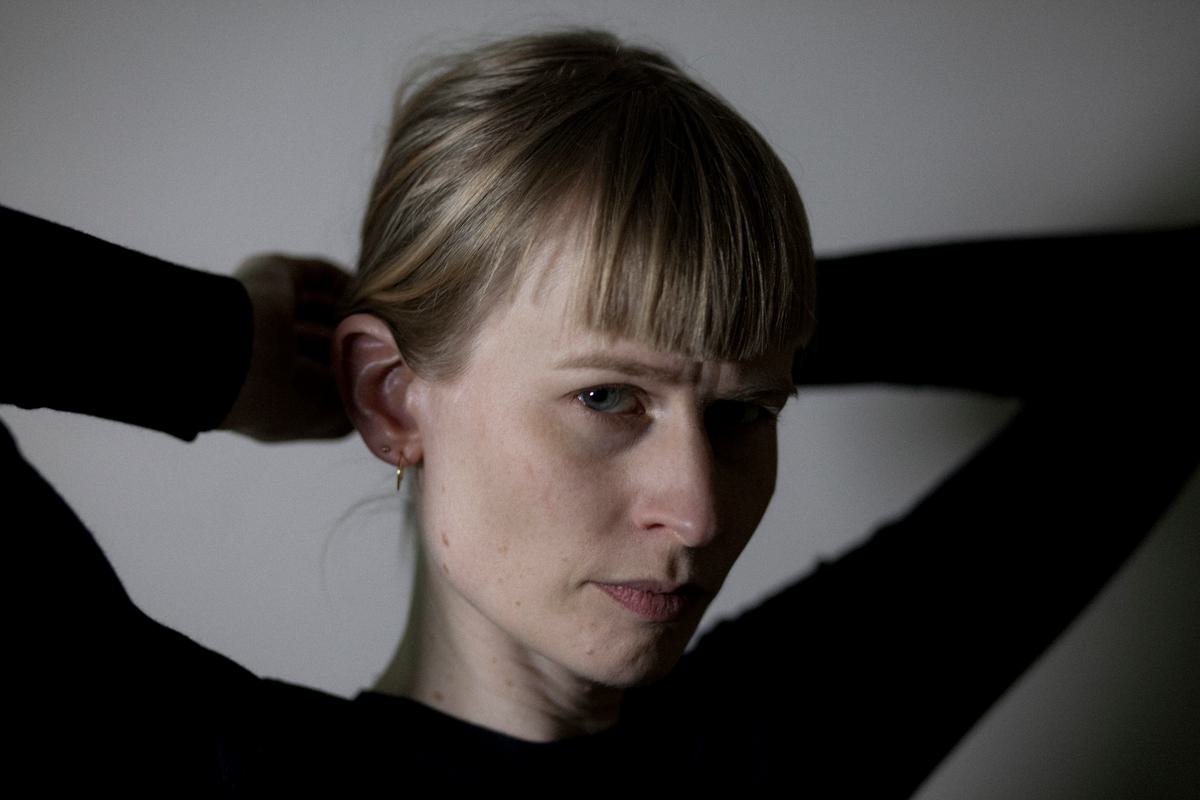 Native Tongues
24 October 2019, 17:47
Norwegian multi-disciplinary artist Jenny Hval tells Cheri Amour how her latest album helped her to find a common language.
If there's one thing you might already know about Jenny Hval, it's that she defies convention. During her discography to date, she gladly positions herself as an artistic outlier. In fact, during the last few years, as a record makes its way from the Ableton files to our ears, it almost feels like the next release is a reaction to the very idea of getting comfortable.
Take, for instance, 2015's Apocalypse, girl which many might refer to as her breakthrough record. Twelve months on from its release, Hval had already pivoted from its hallucinatory narrative and headlong into unveiling Blood Bitch; a concept album influenced by vampires, menstruation, and 1970s horror films. Possibly not as shocking when you learn that actually until the late nineties, Hval was also the vocalist of a gothic metal band called Shellyz Raven. Like I said, defies convention.
Settling in opposite her in the back of the Barbican cafeteria, Hval is dressed for the decidedly Autumnal shift in season. In an earthy mustard knit, her hair is pulled back from her face. Her blunt baby fringe slices across her forehead and frames her very exact eye contact. "I think that's why I had to go there," she admits, reflecting on why she carries the multi-disciplinary label as an artist. "I stopped caring about whether things sounded this or that and instead found myself asking 'How can we use this to say something else and be a little more playful with what music is?' Because it always exists in a larger context".
Hval's contributions as an artist have played out far and wide. Her vocals have stretched from the outskirts of a Norwegian oil town collaborating on Lindstrom's 'Bungl (Like A Ghost)' to North Wales' Snowdonia mountains for a cameo on Kelly Lee Owen's 'Anxi'. She's also appeared on US-based Norwegian Mexican musician Carmen Villain's, Infinite Album. Suffice to say, the creative output of Jenny Hval, to date, tends to tap into cultural communities across the globe.
So earlier this year when she made the statement that her new record would explore love, I probably wasn't the only one wondering how she'd tackle such traditional tropes. Sharing a statement about the release, Hval explained how love was normally "the domain of the canonized, big artists". But in actual fact, love isn't a subject that she's completely shied away from in the past. During her earlier guise performing as Rocketothesky, Hval offered us 'A Cute Lovesong, Please' where she propositions the listener: "When you think of me, do you masturbate? / I want to know I can make a man ejaculate".
Of course, that isn't the kind of schmaltz we hear from your regular chart-topping crooner. Instead, Hval's observations on love address unspoken taboos around sex. Not so much erotically but playfully. Even her debut novel Paradise Rot (finally translated into English last year, eleven years after it was first published) touches on the symbolism of temptation. Eve's elicit apple reoccurs repeatedly within its pages, a reference that isn't lost in the symmetry of her own teenage years growing up in the Bible Belt of Norway. After high school, like so many of us who grew up in tiny towns with limited bus service, she wanted to go "as far away from Norway as possible," which is how she ended up attending college in Melbourne, studying creative writing and performance.
Speaking to The Quietus back in 2010, she explained how she used music almost as a method of connectivity to combat her own isolation out there: "I was in Australia, studying creative writing for four years. I was alone, in this new foreign land, with no possessions, no history, and far away from my family. Recording sound became my new home, history, family". Draped in these feelings of loneliness, it made Hval's meeting with Sydney born songwriter Laura Jean Englert even more emotive and their friendship has spanned the decades. "It's like we have this twenty-year-long conversation that's just kind of ongoing. It feels like an uninterrupted dialogue," she says of Englert. So when Hval was looking for contributors for this next phase of work, Englert was a natural choice.
With that in mind, her latest release The Practice of Love is less of an emo ode and more of a totem for the intuitive connections between four women. Englert features heavily on the title track and feels so engrained to the collective that some people had a hard time distinguishing her from Hval. "I feel like I should say that in every conversation that it's her. Most of the lyrics are my lyrics but this is also because I didn't really meet anyone or talk to anyone except Laura." As she finishes her trail of thought, I can just about make out that distant Aussie lilt amidst the hoppy Scandi sounds.
To complete the collective, Hval approached Singaporean multi-instrumentalist Vivian Wang (who she tells me she only really met in passing) and French artist, Félicia Atkinson. The connection between the latter is marked only by a shared passion for New Mexico and a mutual admiration for each other's work. But despite the multiple time zones and locations for the contributors, The Practice of Love shares a common language. Something that Hval thinks stems from her ability to use her voice as a tool. "English is not my native tongue so I can just sort of go anywhere with it. It's more of an instrument to me than a language that fits in my body."
Opener 'Lions' runs with this idea of implementing someone else's voice. In this case, Wang who had come to Oslo during the recording process to do other things but Hval roped in to read a number of film scripts that weren't ever made. "It was a narration part for a sort of fake documentary on a place in Northern Norway that was never christened. Religion never made it there and it explored what a forest would be like if you combined the harshness of Northern Norway with the fact it wasn't a religious, baptised natural space". Wang's microscopic observations ring out over Hval's own soaring, ethereal vocals that wind through the trees like a forest spirit.
"English is not my native tongue so I can just sort of go anywhere with it. It's more of an instrument to me than a language that fits in my body."
Lead single 'Ashes to Ashes' moves away from the natural state and into a more dreamlike haze. Uptempo drum trills and strobe-like shimmers weave through the hands-in-the-air 90s electronica which might hint at some of Hval's process for this one. "'Ashes to Ashes' was the last thing I did for the album because it was at that point where I had a ton of songs. I just kept writing instead of finishing what I already had". She continues. "I would start a song from the previous song I did and it seemed to work every time but that was a new technique for me. Just meaning that I'd start in the same project in my software which was nice because it felt like I was doing this DJ set", she says with a small smile.
Much like her early efforts with 'A Cute Lovesong, please', it's in her wordplay as an artist though where Hval really shines. It's not surprising to hear that idea front and center in the title track which features both Laura Jean and Vivian Wang respectively. Through Wang's articulate spoken-word delivery, Hval confesses that she "hates love in her own language" as it contains the word "honesty" within it.
To go deeper into the semantics, love in Norwegian appears as "kjærlighet". While honesty is just stripped back to "ærlighet". Not too dissimilar to some of the gendered language in our own tongue, she's quick to suggest to me. "It's a little bit like "She" that comes from "he". It's just two extra letters and then honesty. It's like dishonesty", she lets out a little laugh. This smart analysis is almost like an academic's, or even a poet's, approach to language but the fact that this treacherous conjugation has sat in her parlance for so long seems to irk Hval. "I wonder why it took me 37 years to once think about the fact that honesty was lying in the middle of love in Norwegian?"
I try and take her back to some of those early feelings before she realised the word had been deceiving her but she's savvy to that. "I definitely know that I grew up really rejecting the Norwegian for love. I remember situations very early in my life where I thought that I would lose sight of my parents. Once I was on a tram and the door closed, and I remember those feelings much more," she says. Because love is tied up in so many scenarios for us all. Not just the raw and passionate throes of an early romance but in the mundane intimacy of folding a loved one's label back beneath the collar of their sweater.
It's something that author (and apparently also pastor) Gary Chapman talks about in his book, Five Love Languages, where he explores five key ways of demonstrating love; receiving gifts, quality time, words of affirmation, acts of service and physical touch. According to this theory, each person has one primary and one secondary love language. How does that resonate with Hval? "I remember having these memories - and this has stayed with me my entire life - of my mother's hands from childhood and admiring them very much. But it's also about observing family and how I might have the same hands someday.
"This kind of understanding or a bond that was both a generosity of those hands; receiving through them and learning with them but also knowing the relation, seeing them as some kind of future image of myself I guess. That has to do with some of those languages in a way - like the gift-giving - but also touch".
"I wonder why it took me 37 years to once think about the fact that honesty was lying in the middle of love in Norwegian?"
It's funny to think about how so much of her own appreciation of love is through physical manifestation considering a record like The Practice of Love is built entirely over online connections. To date, Hval's work has picked up international acclaim for its markedly non-traditional arrangements incorporating poetry, prose writing, and performance. With The Practice of Love she has spread those tendrils even wider, out through internet cables and across oceans to connect these artists together and find a common voice. Because while Hval might not like the idea of love, she's found the spark of something quite liberating here.
"I stopped caring and tried to focus less on what the technology did and more about what the words did and what the other voices were doing." That's evident in the record's drive towards dialogue and intimate recitations but then also to Hval's vision as an artist. Less theory, more practice. "I like to work with gear but I don't really investigate manuals unless I have to. I think that aspect of knowing and understanding, almost hacking the technology is a little over emphasised in music". Something Hval believes also ends up muddying the merits of production, a theory I mention I'd actually spoken about previously with fellow Norwegian songwriter Lil Halima.
Reportedly only 5% of music producers are women which Halima explained she felt a lot of the time was down to a person's perception of the title. If an artist holds the vision for the sound and the overall output of the track, there's an obvious overlap. It becomes more of a question of self-validation which Hval agrees with. "Sometimes that is something that's used as a gender bias so it's like 'Yeah, she produced her own album but she doesn't really know how this works'. It's this kind of never-ending story of what is music production? Because actually it's about leadership".
The acceptance of a label like "producer" has certainly shifted from the early 90s and careers like Hval's continue to empower and mobilise a young performer and producer like 21-year-old Halima. Perhaps, some of this repositioning is in response to how people are picking up and playing music nowadays, away from the haughty institutions and, instead, finding themselves crafting solitary bedroom beats. Hval wonders the same. "If you're taught music in many types of university, you are taught to be a musician or a composer. Even that division to me is a little crazy. It's sometimes forgotten this need to place yourself where you can be the creator, the visionary".
Continuing to flex her leadership skills, Hval is a curator at this year's Le Guess Who? festival in Utrecht, an event that carries the same commitment when it comes to defying convention. And what better way to continue to source eclectic artists than roping in a musician who is consistently evolving. Hval will be joined by The Practice of Love collaborators - Laura Jean, Vivian Wang, and Félicia Atkinson - during the weekend in a process that she describes as a form of magic. So far, all I've gleaned is that they're looking to source a replacement for the bags of sugar on stage due to health and safety so you know it's going to be good.
"It's sometimes forgotten this need to place yourself where you can be the creator, the visionary".
"Le Guess Who? is a special festival," she expounds, continuing to comment on their trust in her to guide the booking process. "It's nice that they are doing this and allowing a wider range of music to exist together at a festival. They're very broad compared to many other experimental festivals that become a tech group basically. Le Guess Who? is far more adventurous." That's certainly true of this year's line up that finds space disco icon, Asha Puthli sidling up alongside Australia massive, Tropical F*ck Storm.
For her own left-field offerings, Hval called upon longtime collaborator Zia Anger as part of this year's listings. Anger who, in addition to many of Hval's own videos, has also directed Mitski's 'Geyser' and Maggie Rogers' 'Alaska' to name just a few. Again, it's something that you might not traditionally find on a festival line up, as Hval explains. "It's definitely not the kind of thing that would easily be booked by a musical festival, for sure, yet it's a show that I think really discusses curators, gatekeepers of many different kinds and how this works so I find it interesting to include that kind of meta aspect".
"Her show will also be really valuable as something that actually talks about what language we use to keep the status-quo when it comes to what is accepted and what is not - in this case, film festivals because she talks about how she made a film and it was never able to be released so it's listed as abandoned or failed".
She continues. "Another experience I wanted the audience to have at a festival - especially a festival that is pretty open-minded and allows a lot of music that is labelled as experimental to be seen - is the DNA? And? project from Oslo. The reason why they have DNA in the name is because I'm not sure if all of the children have down syndrome but it's a group of kids who are fierce, fearless and they play improvised music.
"I mean, it's sort of a collective run also by some adult musicians who are amazingly important for the Oslo scene; these musicians who work with the kids also. They just released an album for the first time but they've existed for quite a while. Just seeing how these kids explode onto stage through improvisation, sometimes more guided than others, is just a really wonderful thing. Of course, it comes with all these thoughts about how we look at art and what is valued and the paradigms of what good art is"...she trails off here before picking up again. "They just played at a really prestigious art exhibition in Oslo called the Autumn Exhibition and performed for three-hours straight and that was something they didn't know before it happened. It's hardcore".
At the end of her pitch explaining some of the artists she was keen to bring to the festival, Hval starts to expand on how she's not actually sure if she'll really be able to catch any of them as she's obviously performing herself. Although she's quick to reason that she'd rather "give it to the audience" and, perhaps, Hval's primary love language has been gift-giving all along.
That's not to be mistaken for materialism. Instead, it's Hval's attention to detail, her thoughtfulness and precision behind every creative decision as an artist. Because if you speak this language too, you'll understand that the perfect gift shows you that you are known, you are seen and you are cared for. Hval's art embodies this generosity. As she explained to Lindsay Zoladz in The Ringer last month. "I really want art to be about giving. … I'm just trying to do less but be more focused so that I can give people something that is not necessary. Because I think that's where the art lies. In doing something that you didn't have to, but you're giving it anyway."
Jenny Hval performs at
Le Guess Who? festival
in Utrecht, Thursday 7 - Sunday 11 November.
The Practice of Love
is out now on Sacred Bones.