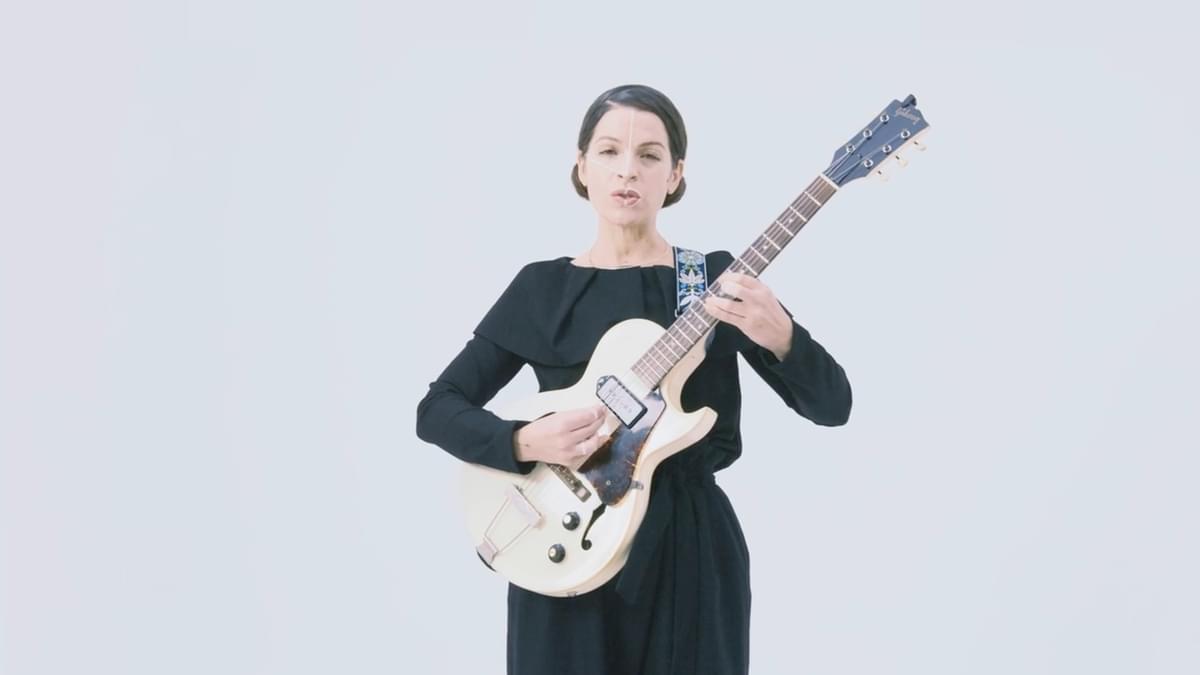 Jesca Hoop goes fantasy record shopping at Le Guess Who? Mega CD and Record Fair
06 November 2017, 13:00
While the main attraction of Utrecht's Le Guess Who festival is clearly the abundance of musical riches, curated this year by Perfume Genius, Grouper and Shabazz Palaces, the gathering also hosts the world's biggest CD and record fair.
We've asked some festival attendees to pick some records they'll be keeping an eye out for during November's festival/fair, and the next artist to make their choice is US songwriter Jesca Hoop.
Which three records would you be on the hunt for at the Mega CD and Record Fair?
"Blake Mills - Break Mirrors;
Agnes Obel - Citizen of Glass;
Elbow - Seldom Seen Kid."
When and how did you get to know these records?
!I got to know Break Mirrors by getting to know Blake… oh… and singing on it as well. I was given one of the original pressings with the handmade packaging made with cardboard, black duct tape, some Xerox printed image and glue.
I got to know Agnes Obel's Citizen of Glass through BBC 6Music and the first single 'Familiar' which truly resonated with me and prompted me to purchase the album.
The Elbow boys brought me out as their support act for about a month through Europe during the Seldom Seen Kid era and turning point for Elbow. I didn't know them or their music when I arrived on the tour. I would watch the show every night and I got to know the music that way. No better way to fall in love."
What's so special about the albums, and why would you recommend them to others?
"Break Mirrors is his [Blake Mills'] debut record and it was released in 2010. Blake self-produced this record and what I find compelling about it is how he has treated his own songwriting and supported his craft of song by the arrangements he chose and executed. Blake is as strong a guitarist as any you are likely to hear and he can boast any style with conviction. In the context of arranging to dress his own songs however, he underplays his abilities, leaving much in his cannon. I believe he has done this to serve and protect the songs which clearly come from the heart and are sung with his true to himself voice. This reveals an integrity and intelligence in him. There is one song in particular that is a good gateway into the album and it's called 'History of My Life'.
From what I have read, Agnes Obel produced, engineered and mixed this record as well as wrote, arranged and performed all the songs. That is a lot of work and it is encouraging to see another female taking the reins and in such fabulous fashion. It is not always of course, but most usually, men filling up the credit section of an album and its refreshing to see Agnes take charge. The result is a gorgeous one especially as heard in the dark hearted 'Familiar'.
As I mentioned, I fell in love night after night travelling across Europe, listening to and watching Elbow live in concert. I fell in love with their music, and I fell in love with a very lovely man who has been my partner and rock ever since. That was almost 10 years ago. Wow. 'Mirror Ball', 'Friend of Ours', 'Some Riot', 'Weather to Fly' and 'Starlings' are my favourite from this album. Listening to them bring back a flood of warmth. Elbow create a very lush landscape of sound and Guy Garvey as a writer is very nurturing. This album feels like chilling with old mates."
What album have you been listening to the most over the last year
"I've been listening to David Bowie's Lodger. I have been a lover of David Bowie's music as long as I can remember but I didn't come across this album until I dug out an old stack of my boyfriend's LP's just this year. How did I miss it? Who knows. 'Oooooooooooo learning to live with somebody's depression and I don't want to live with somebody's depression'...I mean what a lyric. This album is filled with music, voices, ideas and humour. Bowie is one my ultimates and through his songs I gained a lifelong friend."
Jesca Hoop performs at Le Guess Who on Saturday, 11 November, together with Pharoah Sanders, Kevin Morby, Cate Le Bon, Mario Batkovic, Moon Duo, Julie Byrne, Midnight Sister and many more. Full line-up and tickets can be found at the festival website.
Get the Best Fit take on the week in music direct to your inbox every Friday